Home & Garden
8 ways to host a Kardashian-style holiday party on a budget
Party like a Kardashian.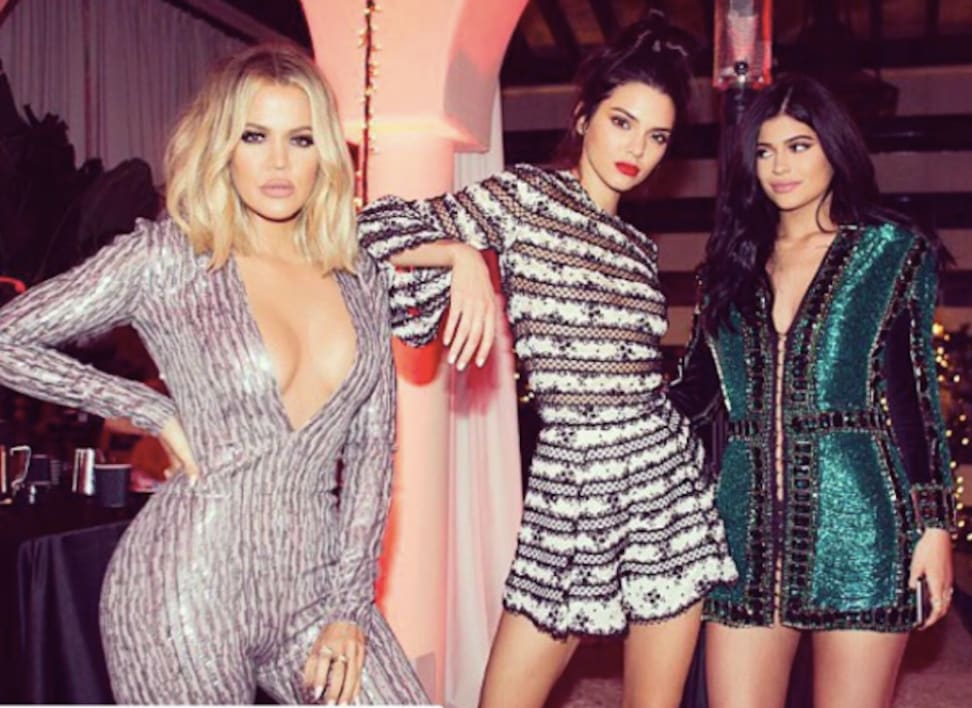 Credit: Instagram / Kris Jenner
Go ahead and judge me, but I love the Kardashians. And, like anyone else who follows the reality TV family, I know that this clan can throw one lavish event. The biggest party of the year? Kris Jenner's Christmas Eve affair that happens each season to celebrate the magic of the holidays. The party brings together some of Hollywood's biggest stars. This means that in a few short days the K crew will be blowing up their Instagram feeds with over-the-top decor, unfathomable amounts of sparkles, and enviable designer outfits.
Loyalists to the famous family have drooled over images of the annual celebration for years. But mimicking it seems a little tough on a non-celebrity budget. After all, we can't all afford to hire a caterer or buy lavish designer clothing, let alone dig up the funds to build a Kardashian-level glam winter wonderland.
But don't worry—if mimicking this holiday happening is on your list of #goals, we've come up with some brilliant ways make a Kardashian sized statement—even without out a Kardashian-sized bank account.
1. Entertainment throughout your home
Every party needs a little something to liven up the mood. For years the Kardashians have hosted musicians, dancers, and even a reindeer petting zoo to entertain guests throughout the evening. If that all seems like a bit much for you, consider purchasing the Echo Dot. I know it sounds like far less spectacle, but hear me out:
The Dot is a hands-free, voice-controlled device that connects to speakers through Bluetooth or 3.5 mm stereo cable to play music from any of your preferred streaming systems. Even cooler, it can control elements of your home such as lights, fans, thermostats and more. It's no reindeer petting zoo, that's for sure, but it's a major step up from ordinary speakers. The Echo Dot is the easiest way to seem super fancy while not spending a lot of cash.
2. Let there be light
Let's face it, Jenner clearly didn't climb up on a ladder and string these glorious lights herself. But you can! Adding simple strands of white lights instantly makes a space feel festive, putting every guest in the holiday spirit. A box of 100-count clear Christmas lights runs just over $7.00. Use these brilliant strands to highlight countertops, wrap around windows, and even dress up the ceiling.
3. Dress up!
Designers flock to help the Kardashians get dressed. Even if you're lacking that particular luxury, there's no mistaking the convenience of online shopping. If you're looking for the perfect party-ready ensemble, you'll want to check out Amazon Fashion for a range of styles. The best part about the shop is its filters, which allow you to separate items by discount, price range, and brand.
Prime Members are especially in luck, high fives for FREE Two-Day Shipping!
4. Photo booth fun
No family loves taking photos more than the Kardashians—which is probably why a photo booth has become such a staple of their celebratory gatherings. And who can blame them? It's a fun way for guests to gather together just to be silly. It also acts as a cute souvenir from your party, so guests can remember how much fun they had. Make a DIY station equipped with a camera, phone, or even a laptop in front of a blank backdrop. All you'll really have to purchase is the props—and Tinksky's 38-piece collection of holiday inspired hats, glasses and signs will do the trick. Say cheese!
5. Santa sitting
Saint Nick always makes an appearance at Jenner's annual extravaganza. While it could be fun to hire a friend to dress up as Kris Kringle, a costume can be a bit pricy, especially when it's for one-time use. A budget friendly alternative? Pick up numerous Santa Claus hats for everyone to wear, photograph, and take home (don't worry—Amazon sells cheap ones in bulk.) Each year following, when they pull out their seasonal storage, they'll think of how much fun they had at your event.
6. Decorate a tree
The tree is always the belle of the ball. Just look at this Instagram Kim Kardashian posted last year of her mother's house; it's as if the North Pole itself landed in the entryway.
Whether you live in a small apartment or boast an extra large living room, having a space-appropriate, well-lit, and beautifully decorated tree is a welcoming gesture, and it can be had for dirt cheap.
7. Don't forget flowers
Another important decor element is flowers. While it may be easier to simply pick them up from your local florist, the price tag can be a bit shocking. Opt for blooms from Whole Foods or Trader Joe's and assemble the arrangements yourself. Shop for winter whites, seasonal stems, and potted poinsettias to set the mood. It's a fresh way to decorate coffee tables, staircases, and window sills. Pro tip: flank the plants with small votive candles for an intimate and cozy feel.
8. Food displays
Last but certainly not least, make sure to serve some great food. Costco and other big box stores will have a plethora of items for creating the ultimate spread. Build your own charcuterie boards with cheeses, meats, and fruits. In true Jenner fashion, make sure that there's a little bit of something that everyone can devour. This could include purchasing multiple finger foods and an assortment of mini desserts. Simply align them on a countertop within your favorite serving platters and voilà, a beautiful display.
Polish off your food and beverage purchases by making sure there is plenty of wine, champagne, and seasonal brews. Keep it simple and stick with these three staples. It is wallet friendly and offers your guests more than enough variety.
Cheers to a very happy, oh-so-Kardashian Kristmas party.
Related Video