Home & Garden
Can you make your own weighted blanket?
And if so, would it actually save you money?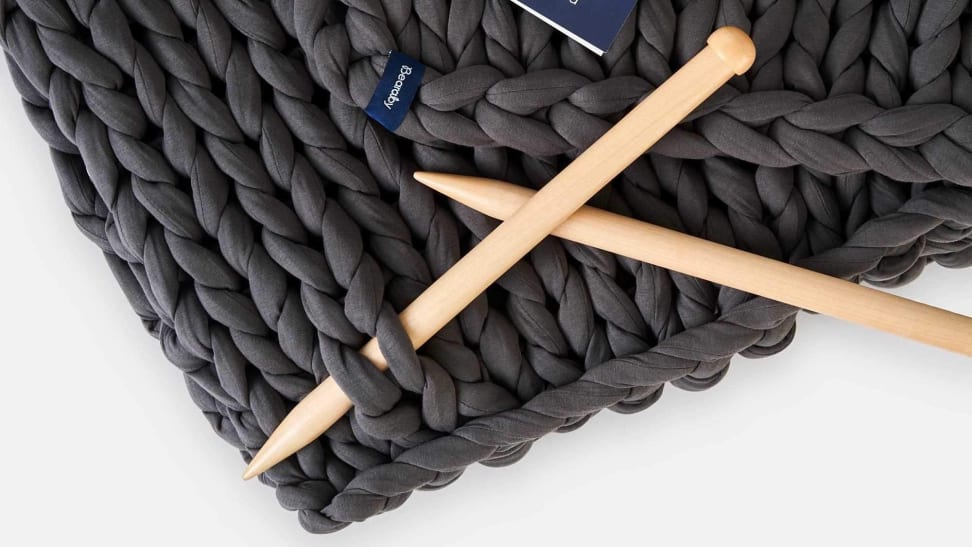 Credit: Bearaby
Weighted blankets have been an extremely buzz-worthy product for several years now, and as the lucky person who got to test the best weighted blankets for Reviewed, I can tell you that they're 100% worth the hype. Cuddling up under a weighted blanket is like getting a big hug, and it can definitely help you to relax when you're feeling stressed.
However, the issue with weighted blankets is that they're so darned expensive. Our favorite weighted blanket, the Gravity Blanket retails for a whopping $189, and it's only big enough for one person to use. If that isn't within your budget, you might be wondering if you could make your own weighted blanket. Here's both the short and long answers to that question.
The short answer is yes
After some internet sleuthing and consulting with several crafty friends, I've discerned that it's definitely possible to make your own weighted blanket. However, my conclusion comes with a few caveats:
It helps to have at least basic crafting skills.
It might end up being just as expensive as buying one.
If you're still interested, here are the two ways you can (theoretically) make your own weighted blanket.
How to sew a DIY weighted blanket with pellets
The first method requires a whole lot of glass beads—essentially, you're going to replicate the construction of a weighted blanket you'd buy in the store, and it will undoubtedly be easier if you know your way around a sewing machine.
If you go this route, one of the first things you'll need to do is find durable materials. After all, the fabric and thread are going to have to stand up to several pounds of beads sloshing around inside, so they need to be sturdy. Your best bet might be heavy-duty upholstery thread, which is made from nylon, and a tightly woven fabric.
Oh, and you're also going to need several pounds of glass beads or poly pellets. The cheapest we found was around $43 for 15 pounds of RolyPoly Glass Beads, which isn't too bad. You can also get a 10-pound box of Poly Pellets for around $40, but plastic beads take up more space and are less eco-friendly.
Of course, you may need more or less beads, depending on how heavy you want your blanket to be. The general rule of thumb is that your blanket should be around 10% of your body weight.
Once you have your materials gathered, the basic idea is to put together the "shell," then sew vertical columns where you'll put the beads. You want to pour a small amount of beads into each column, then sew a horizontal line to create a baffle-box construction that will keep the beads evenly distributed across the blanket. (You can do the math to figure out the exact amount of beads to put into each box—e.g. if you're making a 10-pound blanket with 20 boxes, put ½ pound of beads in each section—or you can just eyeball it.) Repeat this process of pouring in beads and sewing them into place all the way up the blanket. If you're looking for step-by-step instructions, check out this tutorial from DIY Network.
All in all, this method could save you some money, depending on how much the materials costs you. Keep in mind that you might also want to make a cover, too, since you can't very well toss a 15-pound blanket in the washing machine.
Or, you could arm-knit a heavy blanket with chunky yarn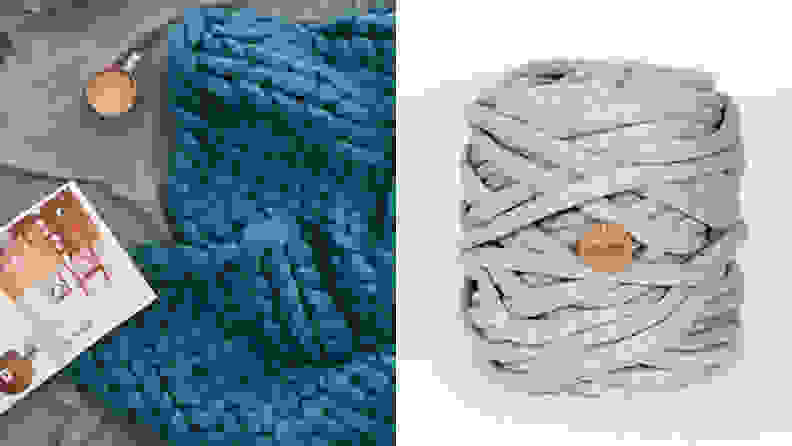 If, like me, you have no sewing machine or clue how to use one, you might be better off arm-knitting a blanket using really thick (and thus, heavy) yarn, a method inspired by the Bearaby Napper Weighted Blanket (review coming soon). The chunky, knitted appearance of these blankets is incredibly hygge and attractive, and arm-knitting is actually really easy to do, even if you aren't all that crafty.
However, the problem with this method is that chunky yarn is very expensive. For example, roughly 9 pounds of this Epic Extreme Merino Yarn will make a 58-by-58-inch blanket, but it costs a whopping $190. Even non-wool options, like this Chunky Acrylic Yarn will run you $186 for 9 pounds.
The benefits here are that you'll be able to say you knitted your own weighted blanket, and you also get to customize the color. However, it's no more affordable than just buying yourself a pre-made blanket.
Not crafty? No worries—just get a budget-friendly weighted blanket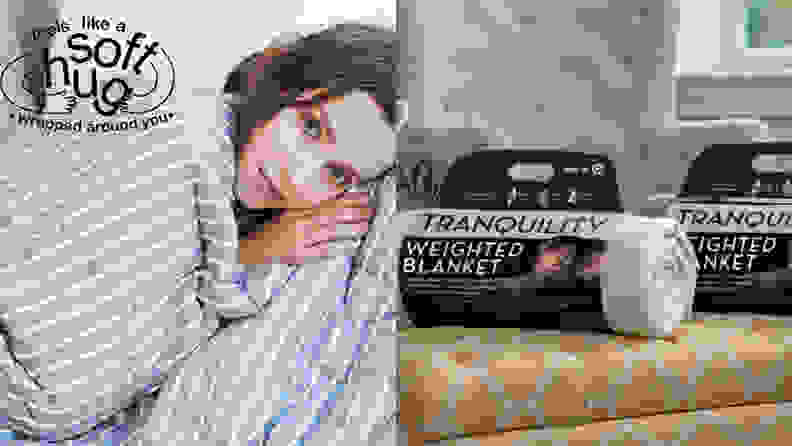 Seem too complicated? I can't say I blame you. The good news is that there are actually several affordable weighted blankets that you can buy instead, saving yourself the hassle of spilling glass beads all over your living room floor.
In our testing, the YnM Weighted Blanket, which costs around $65, took home the award for best value. It comes in a variety of weights and sizes, as well as several pretty patterns that you won't mind displaying on your couch.
Another good budget option is the Tranquility Weighted Blanket from Target. Its performance was similar to that of the YnM, but it doesn't come in as many color options.
As you can see, you've got options. If you're deadset on making your own weighted blanket, it's definitely possible and might even save you some money if you're comfortable around a sewing machine. However, if you're not up to the task, just buy yourself a weighted blanket with 2-day Prime shipping, and you'll be cozied up on the couch in no time.
The product experts at Reviewed have all your shopping needs covered. Follow Reviewed on Facebook, Twitter, and Instagram for the latest deals, product reviews, and more.
Prices were accurate at the time this article was published but may change over time.