Home & Garden
Home office or nursery? For parents to be, here's how to pick
Limited space doesn't mean limited options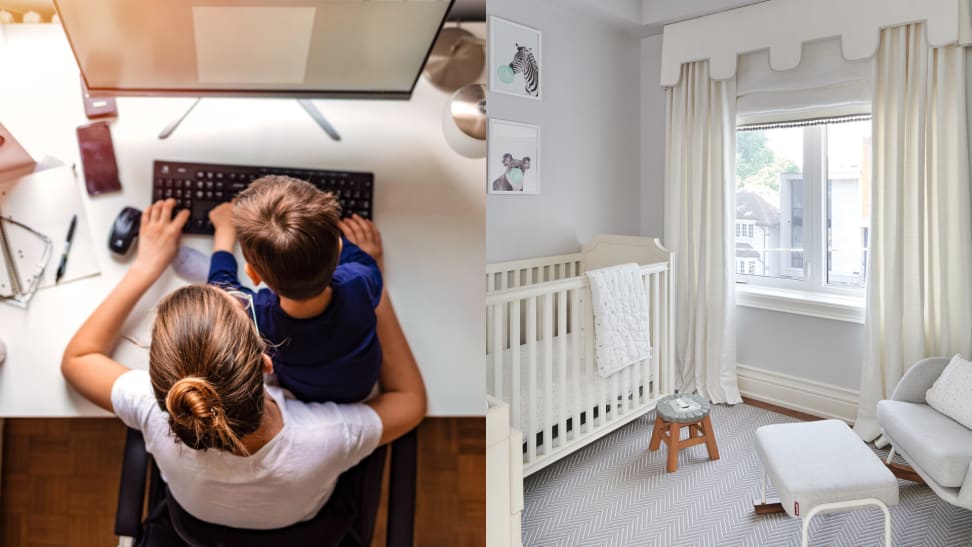 Credit: Getty Images / ljubaphoto / Homekin
The pandemic has drastically affected how we live, and its effects will linger well after vaccines have been rolled out to everyone. For those contending with major life changes such as welcoming a new baby, it begs the question: Is a home office or a nursery more important when you have limited space, you work from home (WFH), and you've got a baby on the way? Can you have both?
As it turns out, there's no right or wrong answer. In fact, solutions that work for one family may be drastically different for another. In light of this, here are some considerations to make, according to Natasha Penzo, a design expert and mom of two.
Penzo is also the founder and owner of Homekin, an online interior design platform that helps you acquire a vision for all your home-related needs. More than ever, Penzo has noticed that many people are seeking her out and asking for help in transforming spaces pertaining to work/life balance.
She came up with the vision for Homekin based on a missing niche in the marketplace.
"I wanted to make access to interior design and décor services and living beautifully, accessible and mainstream," Penzo explains, "so that everyone can love their home."
Additionally, when contending with a global pandemic, it's been even more overwhelming for many to make these changes safely and comfortably.
As a result, Penzo always advises clients to ask themselves key preliminary questions to assess their individual needs before starting any big projects. Such questions include, "What industry are you in?" and "What's your budget?" She also wants to know about your situational circumstances, like your routine and living arrangements.
Meanwhile, Penzo advises work-from-homers who are also starting a family to (ideally) start planning when you are around 20-25 weeks pregnant.
"There are a lot of hormonal changes during pregnancy, and it can be difficult to make decisions," she says. "As a result of this, I recommend starting at the earlier part of the second trimester."
Once you've answered these questions, you can determine your priorities and design/living requirements.
You need a home office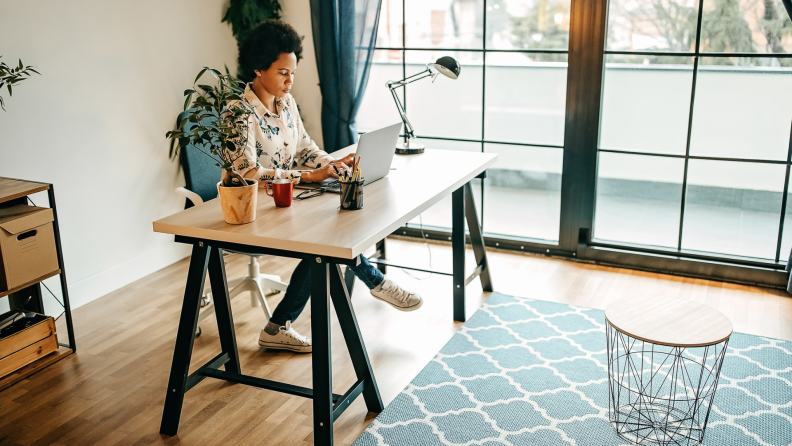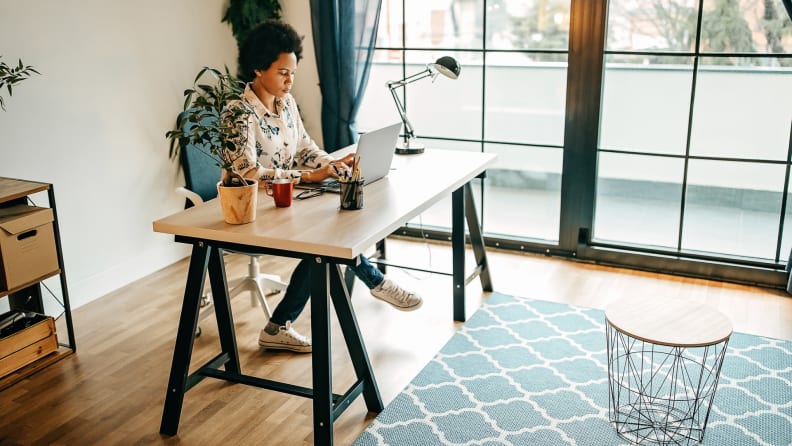 If you're low on space and torn between devoting it to work or to baby, consider what industry you're in. Your answer will inform the aesthetic and functional needs of any space.
"If a couple is working from home together, then I recommend determining which individual requires the most amount of privacy," says Penzo. "If that individual is primarily on phone calls most of the day, then having a well sound-proofed space that is comfortable, for instance, is important. For an individual that works in a more creative role, having a lot of natural light is important, especially if reviewing any products is part of the role."
Speaking of lighting, this should be a top consideration, not only because it impacts eyesight, but it also hugely affects mood. Penzo advises, "Opt for lighting that is bright enough to see things clearly but with a warmth that's appealing to you. It's amazing how a particular table lamp can create the right ambience."
While function is certainly the most important aspect of prioritizing a home office, design is fun to focus on, as well.
Penzo suggests, "If you are in a creative industry, such as beauty, fashion, or interiors, I recommend a more stylish backdrop for Zoom calls and conference calls, such as an interesting gallery wall or wallpaper."
Conversely, Penzo recommends that someone in a corporate role should go for a more sophisticated backdrop with bookshelves and minimal décor.
When it comes to budget, create a framework to stick to because it will force you to think about and prioritize your needs.
"For example, if you require a lot of storage, then investing in a desk with storage should be at the top of your list," she advises. "But, if you store the majority of items online, then other items may be more of a priority, such as a rug, light fixtures, chairs, and décor items."
You want a full-fledged nursery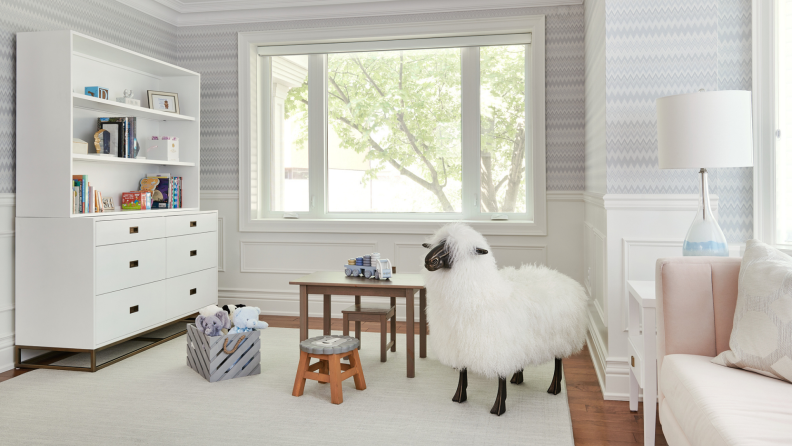 Yes, you and/or your partner WFH now, but you're prioritizing your baby over personal and professional comfort. Maybe you can turn your closet into an office instead.
Since you're all-in nursery, Penzo recommends adopting the mindset of designing a room with more timeless elements.
"You want something that the child can grow with rather than opting for anything too permanent that reads completely 'baby.' For example, spending a substantial amount of money on a wallpaper that has baby blocks will be short-lived," she says. "Instead, consider themed options that balance whimsy and youth with sophistication—travel, astronomy, enchanted forest, hideaway, art and graffiti, woodlands."
When you do go about choosing a theme, take care to avoid subject matter that is trendy and time-specific. Choosing a theme is a wonderful way to create learning opportunities between baby and parent. For instance, you can ignite a curiosity and passion for travel in your little with wallpaper that pays homage to adventure and exploration, like in this geographically-inclined wallpaper from Rifle Paper + Co. that Penzo adores.
Where you should feel free to baby-it-up and exercise some playfulness is with bedding that is inexpensive and can be easily swapped out, like this set from Babyletto.
Instead of overdoing it with toys, be mindful about buying a signature animal or showcase piece that can grow with the child and still look stylish in a room.
"Consider an oversized giraffe, sheep, llama, or bunny," says Penzo. "It can not only contribute to a fun theme that the child appreciates, but he/she can name the creature, which gives them a sense of security in their bedroom."
You want both, i.e. a fusion of a WFH space and a child-friendly dwelling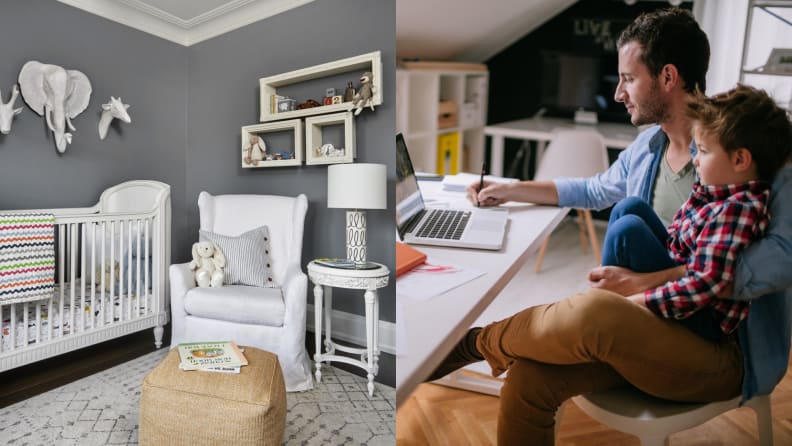 And then there are those who prefer to have a harmonious fusion of both worlds. The key to realizing this vision is to seek out multifunctional and mobile pieces that can transform a room instantaneously with minimal fuss.
"A WFH and child-specific living area is 100% possible, no matter how big or small your place is," says Penzo. "In fact, I work on many one-plus-den condos for young families and are able to accommodate those who work from home."
It's important to strike a balance between the baby's and the parents' needs. You can do this by creating invisible divisions between the kids' area and the work zone.
Defining areas within one space allows children to know where they should be coloring, for example, and otherwise respecting someone else's workspace. It's no different than creating a designated WFH area for yourself.
"By having child-sized furniture, easy-to-access bins or baskets for storage, and a soft rug to play on in a specific area, children can learn to identify their 'special spot,' while exercising freedom and independence with some child-friendly limits in place," explains Penzo.
Be smart and savvy when selecting pieces to fill out the room. Moveable islands are great for storage. Standing desks are ideal for a designated WFH space; they help delineate the "work" versus "off-duty" mindset simply because they give you an ability to "close up shop" at the end of the day. For parents, Penzo suggests floating shelves or a mounted table that safely puts your belongings out of reach but isn't an eyesore.
Help define the kid's space with an area rug that's easy to wash. Chic and modern baskets or bins can serve as storage for toys and stuffed animals. And a table and chair set doesn't have to be chunky and colorful to be durable and safe.
When it comes to selecting a design aesthetic, Penzo says the goal here is to be child-friendly, not childish. "We find a certain merging of worlds happens when decorating these spaces. It is definitely possible to achieve a balance of the parents' sophisticated aesthetic and that of their inner child. When you achieve this balance, the result is a space that is fun enough for a child but luxurious enough for the parent to enjoy."
The product experts at Reviewed have all your shopping needs covered. Follow Reviewed on Facebook, Twitter, and Instagram for the latest deals, product reviews, and more.
Prices were accurate at the time this article was published but may change over time.