Home & Garden
8 gadgets for cooking outdoors this winter
How cool is cooking outdoors in winter? Ice cold.
Credit: Pexels.com
Are you tough enough, hungry enough, or insane enough to cook outdoors this winter? Whether you're camping in the middle of nowhere or just grilling out on your deck, we've got the scoop on the coolest (get it?) winter cooking tech and practices.
Into the woods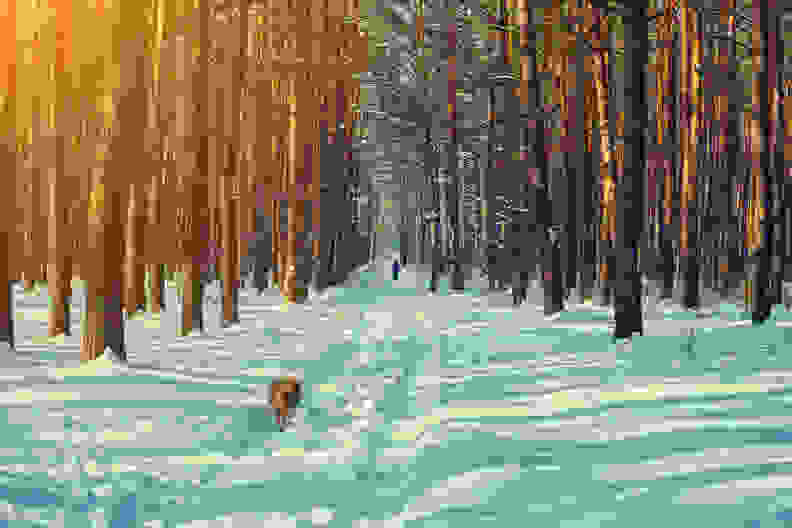 Winter camping is crazy-talk to some people, but there's nothing more tranquil than the silence of the outdoors dampened by snow. Our advice here revolves around preparation, economy of space, and animal-proofing.
Dehydrator
Dehydrating your food is a great way to save space and money. Or, by making your own trail mix with what you like, you won't end up with fifty banana chips at the bottom of the bag. Aside from saving space, dehydrated foods last longer, which is essential when electricity is at a premium. We like the Nesco FD75A because it has 12 internal trays, and it's made of BPA-free plastic.
Pie Iron
Pie Irons are classic outdoor cooking tools. Crispy toast or perfectly grilled cheese offer such a boon when you're away from your normal creature comforts.
Then, when you come home from your excursions, a pie iron works great with a fire pit. We like the one built by Rome Industries because it's made of cast iron, so it's easy to clean.
White Gas (AKA Naptha)
When it gets cold enough, canister fuels like propane can malfunction. As the external temperature drops, the internal temperature inside the canister drops too, decreasing the pressure and preventing vapor from flowing. White gas, or Naptha, does not suffer from this quirk of nature.
White gas is highly distilled petroleum. With less impurities, this fuel burns cleaner, creating less fumes. Coleman is probably the most well-known producer of white gas, but we prefer MSR. User reviews shows that it's cleaner burning than the competition.
Odor-proof bags
Leaving no trace is always a good policy while camping. Even more so in winter when critters are hungry and looking for grub. Odor-proof bags will help deter animals from invading your site, but since many animals can still get the scent from your clothes or tiny crumbs, your garbage bags should be tear resistant, too.
That's why we recommend the trash bags made by Basecamp. They're reusable and biodegradable. And when you're back home, they're great for keeping garbage from stinking up the kitchen.
On Winter Grilling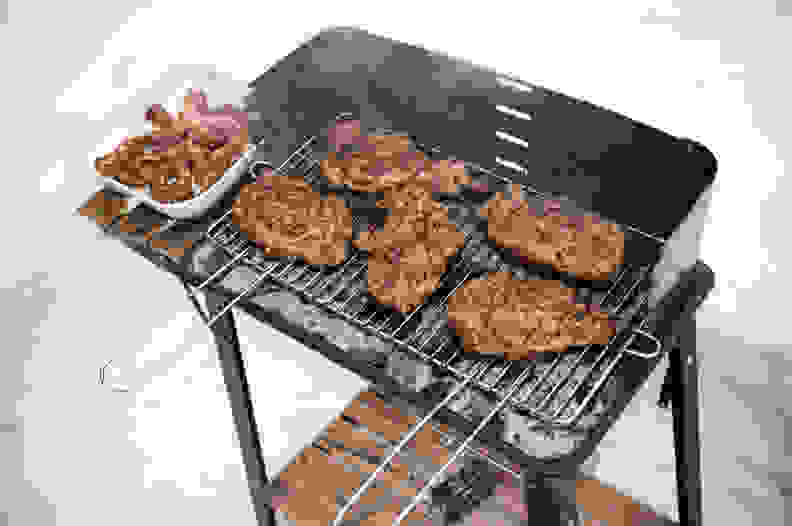 For those of you that don't have the passion, grilling in winter might seem crazy, but it's not. Don't present us any evidence that it is, because we won't believe it, no mater how convincing. When it comes to outdoor grilling in the freezing cold, heat retention, cooking time, and temperature are the most important things to think about.
Cast Iron Pans
For those of us that cook entire meals out on the grill, the toughest part of winter grilling is maintaining the temperature of various ingredients. Known for their heat retention, cast iron pans are great for keeping food warm after it's off the heat.
It'll remain so hot, in fact, that you should take food off the grill a little early so it can finish cooking in the pan. Lodge makes well-priced cast iron products and the 10-inch pan is perfect for medium cuts of meat or veggies. And Lodge preseasons, so it's even less work for you.
Ceramic Cookware
When you're done cooking, you have to transport your finished product into the house. Keep it warm with some ceramic cookware, which will help trap in heat during the long trip between the grill and the dinner table. Sur La Table makes a stoneware baker that's 13 inches long and 9.5 inches wide. With a sturdy lid, it can help keep food warm while you wait for for the next course to finish cooking.
Other Cookers
There are other devices that can cook outdoors too, and we're not talking about smokers. Did you know you can get an outdoor wok? Fueled by propane, King Kooker makes a model with a 24-inch frame and includes an 18-inch wok. Its 54,000 BTU burner means the food you make will just like what you'd find at Chinese restaurants. An outdoor wok will never be able to replace your grill, but it's good to have choices.