Home & Garden
This massive weighted blanket is bigger than a king-size comforter
It's really, really big...
Credit: Reviewed / Camryn Rabideau
Weighted blankets have been a hot-ticket item several years now, and while you can find all kinds of weighted blankets—such as cooling, patterned, inexpensive options—one product that's been noticeably missing from the market is a multi-person weighted blanket.
You see, most weighted blankets are meant to be used solo, typically measuring around 48 by 72 inches. This small size makes them nearly impossible to share, so if both you and your partner wanted to sleep with a weighted blanket, you'd have to get two to cover your bed.
So when we saw that Big Blanket (a beloved brand among our editors) was coming out with an extra-large weighted blanket, we were instantly intrigued. Could it be that the common request for a two-person blanket was finally being answered? We got our hands on the XL Weighted Blanket, which costs $279, to see if it was truly what we've all been waiting for.
What's the deal with weighted blankets, anyway?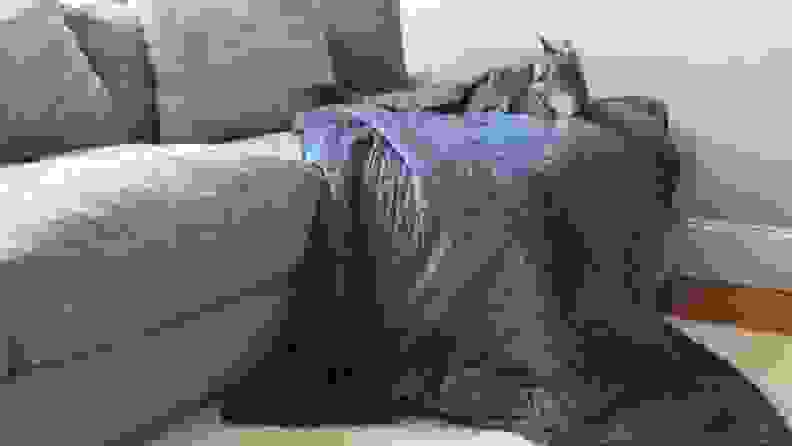 If you're still confused about the appeal of weighted blankets, let me explain. These blankets are heavier than your standard throw, typically weighing somewhere between 10 and 25 pounds thanks to plastic or glass beads sewn into the fabric.
Why so heavy? Well, have you ever curled up under a particularly thick comforter or a stack of blankets? The extra weight is incredibly cozy and soothing, and a weighted blanket recreates that same delicious feeling. Not only is it comfortable, but a lot of people find the gentle weight to alleviate stress and help them sleep better. It's actually a concept that's been used in sensory integration therapy for years.
For optimal results, you'll need the right amount of weight—too little won't give you the comforting feel, and too much will make you feel like you're trapped—and your ideal blanket weight actually depends on your own weight. Experts typically recommend opting for a blanket that's 10% of your body weight, but in my extensive testing, I've found you can go a little higher for extra comforting action.
Why is the Big Blanket XL Weighted Blanket special?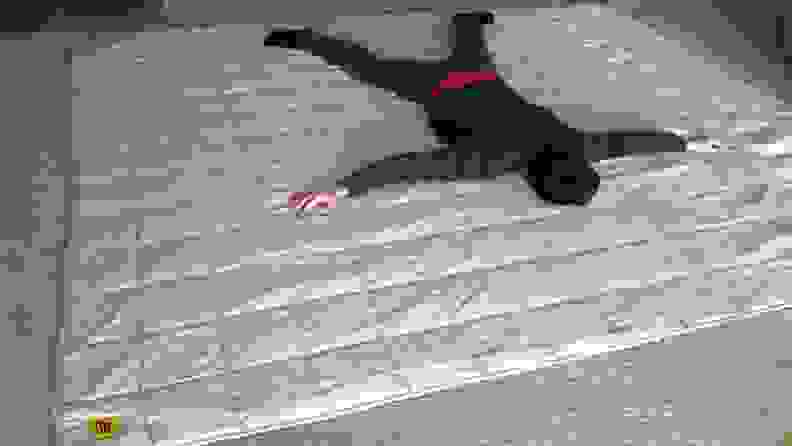 As I mentioned above, weighted blankets have been around for several years now, and there are lots of options to choose from—you can check out our roundup of the Best Weighted Blankets for details on some of the most popular ones.
However, the Big Blanket XL Weighted Blanket stands out from the crowd for a few reasons. First and perhaps most importantly, this blanket is big. We're talking 100 by 120 inches, which is larger than a king-size comforter and any other weighted blanket we've tested. As such, it's ideal for sharing, whether you're snuggling on the couch with your family or snoozing in bed with a partner.
Additionally, this blanket is also heavier than most, with 30- or 40-pound options available. This is significantly more weight than most products, but keep in mind that since the blanket itself is larger, the weight is spread out across a wider area. However, if you want to keep the 30 pounds all to yourself, you could simply fold the blanket in half for one-person use.
Everything we loved about this extra-large blanket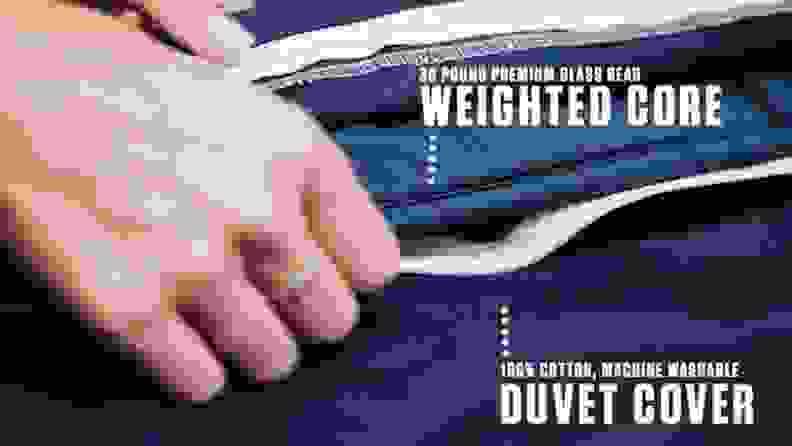 For our testing, we used the 30-pound XL Weighted Blanket in the light gray option (dark gray and navy are your other choices). After a few weeks of use around the house, here's what I loved about this weighted blanket.
It's super warm and cozy
This product is everything a weighted blanket should be—warm, cozy, and comforting. I found the weight to be ideal (for reference, I weigh around 150), and it was great to lie under after a particularly harrowing day.
I do have to say that this blanket is extra-warm. This might be a good thing for some people, but personally, it was actually a little too warm for my taste. When sleeping under it, I usually ended up pushing it off halfway through the night because I was overheating, but my boyfriend (who's always cold) thought it was the perfect temperature, so it's really a subjective thing.
It's ideal for sharing
My favorite use for this weighted blanket was relaxing on the couch. The blanket is big enough that it can cover both me and my boyfriend, even with our dog lying between us. Seriously, this blanket's 10-foot width provides ample space to share with one, two, or maybe even three people!
It comes with a washable cover
I have to give Big Blanket props for including a cover with this extra-large blanket. The weighted sheet itself is hand-wash only, so it's ideal to have a machine-washable cover to protect it. Plus, I'm guessing it would be nearly impossible to find a duvet cover this size, so it's nice to have one included with the product. (However, I didn't love everything about the cover, as you'll see in the next section.)
It fits nicely on the bed
If you're looking for a weighted blanket to use as a comforter, this one fits the bill. The XL Weighted Blanket covered my queen-size bed with plenty of room to spare, ensuring no one ever hogged the covers. Given that it's larger than a standard king-size comforter, I'm guessing it would even work on larger beds.
Here's what we weren't crazy about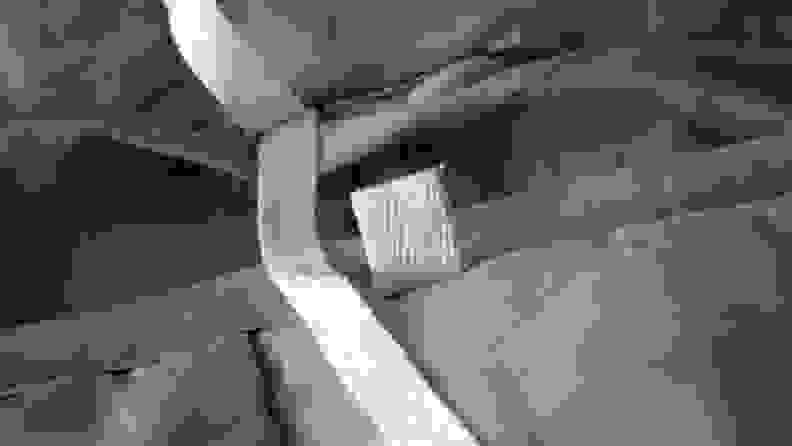 While the XL Weighted Blanket certainly has its strengths, it's not without flaws. We didn't love a few things about this product—spoiler alert: most of them have to do with its size and/or weight.
The duvet cover is nothing to write home about
Putting a normal duvet cover on a normal blanket isn't exactly a fun task, so you can only imagine how frustrating it is trying to put a duvet cover on a 10-foot blanket that weighs 30 pounds. It takes quite a while to set up this blanket's cover, as there are five ties on each side, and the ties themselves are quite flimsy, making it a hassle to get them through the corresponding loops.
Once you finally have the cover in place, you're probably going to be underwhelmed. It's a thin piece of cotton fabric—the weight and texture reminds me of an average flat sheet—and the inner weighted blanket shifts around a lot. (This is only to be expected in a battle between a thin cover vs. 30-pound blanket, though.) While it serves its purpose of keeping the blanket clean, it's definitely not a stand-out compared to the covers of other weighted blankets we've tested.
It's cumbersome to move and adjust
This is not a weighted blanket that you're going to be moving from place to place (unless you're some sort of body builder). I had to carry it upstairs at one point, and I honestly thought I might fall backwards. Not only is it heavy, but it's so large that it's hard to move around by yourself. Plus, if you want to pull it up during the night, it feels like you're doing a bicep curl and may very well leave you with sore arms in the morning.
You can feel the beads
High-end weighted blankets typically have some sort of extra padding inside that prevents you from feeling their inner beads, and this is something the XL Weighted Blanket is lacking, unfortunately. Without its cover, the blanket feels like a bean-bag chair, and the cover isn't thick enough to stop you from feeling the beads.
Should you buy this oversized weighted blanket?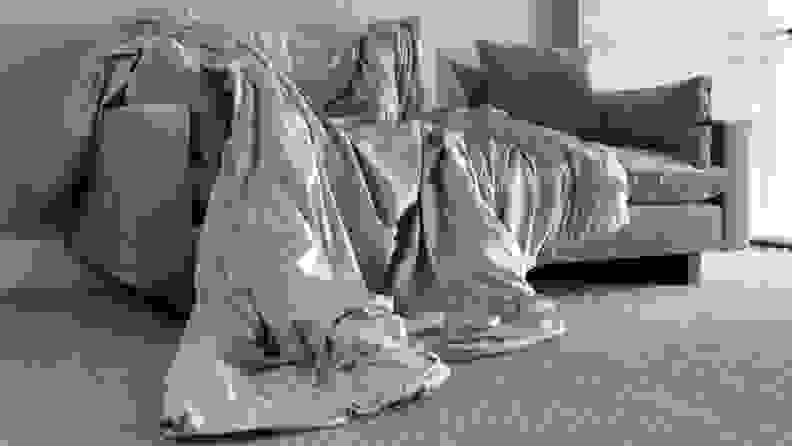 True to claim, the XL Weighted Blanket is certainly extra-large, and it's hefty, to boot. It costs a cool $279, which is high for a weighted blanket these days, but it's also double (plus some) the size of regular options.
As for whether you should invest in this behemoth of a blanket, it's really a personal call. If you've been looking for a weighted blanket to use on your bed or share with your family, this one will serve you well with its comforting weight that's big enough to share.
If you're not necessarily looking for a weighted blanket to share, I'd recommend you check out our list of the Best Weighted Blankets, as there are other options available that will really wow you—and cost significantly less than this XL option.
The product experts at Reviewed have all your shopping needs covered. Follow Reviewed on Facebook, Twitter, and Instagram for the latest deals, product reviews, and more.
Prices were accurate at the time this article was published but may change over time.