Home & Garden
In Focus: NuTone Haven Backyard Lighting & Mosquito Repellent System
Convenient, season-long mosquito protection.
Credit: Reviewed.com Content Studio
---
This article is sponsored content and was written in collaboration with the sponsor.
---
Mosquitoes are a serious nuisance. They flourish in hot, humid environments and prefer to breed near wetlands and marshes, but are found in all 50 states. Mosquitoes are attracted to the carbon dioxide that humans give off. You may be hosting a big barbecue this weekend, but to the mosquitoes, your guests will be the real buffet.
In addition to the itchy bites, mosquitoes are tied to the spread of numerous diseases and continue to make headlines today. There are lots of ways to repel them but few offer much in the way of convenience. Sprays can be cumbersome, citronella candles smelly, and torches a potential fire hazard.
Enter the NuTone Haven Backyard Lighting & Mosquito Repellent System, an integrated mosquito repellent system that's as easy as it is effective. It's a permanent installation, like landscape lighting or an in-ground sprinkler setup. So while you'll need to put time aside for setup, once it's installed Haven offers season-long protection.
Design and Functionality
Haven fixtures come in two types: one is integrated with a landscape light and the other is just a repellent device. An optional timer/controller lets you operate the repellent and lighting systems independently, setting them to kick in at certain times of day or by solar sensor.
Each Haven fixture produces an odorless mosquito repellent that protects up to a 110-square-foot area. Four fixtures can protect an average deck or patio.
Inside each Haven fixture, a vaporizer disperses an invisible mosquito repellent. The repellent is registered by the EPA and won't harm plants, flowers, shrubs, or lawns. Each repellent cartridge lasts up to 90 days (assuming about 2.4 hours per day of use).
A small green LED light on the unit illuminates when the repellent system is on. When the repellent system has been used for about 195 hours, the green light will start flashing to let you know it's time to replace the cartridge.
Haven can be installed on its own or as an add-on to an existing low voltage lighting system. The fixtures are designed to be seated on a stake in the ground, or on a deck post or railing with an optional mounting flange.
×
Design
Installation and Operation
The first step in installation is to plan the location and quantity of fixtures you need, which will determine the size of transformer and amount of cable you will need for your installation. Suitable transformers and low voltage cables are sold at many big name hardware stores. Haven fixtures include easy-to-use cable connectors. With some basic wiring know-how a typical installation can be completed in 2-3 hours.
Once the fixtures are installed, it's pretty simple to insert the repellent cartridge into the fixture and secure with a twist. Once the system is turned on, it only takes about 15 minutes to begin repelling mosquitoes.
If you're not comfortable with basic low voltage wiring (don't worry, lot of people aren't!), just hire a professional electrician or landscape company to install Haven for you. All the more time for you to sit around enjoying the weather.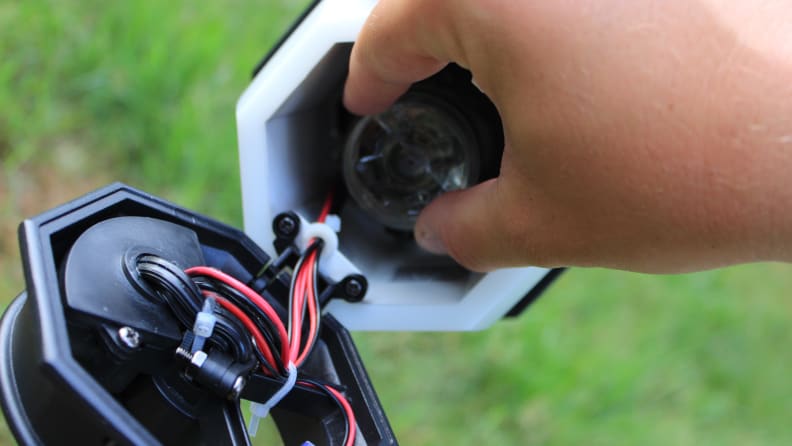 ×
Installation
Enjoy More of the Season
There is a special feeling of ease that comes from walking out onto the patio knowing you don't have to put on spray, light candles, or be prepared to slap your arms and legs all night. The NuTone Haven Backyard Lighting & Mosquito Repellent System is an innovative new product that lets you relax and enjoy your patio or deck all season long.
Visit NuTone Haven to find a dealer near you.
Related Video