The Best Smart Sprinkler Controllers of 2018
By Florence Ion
It can be difficult for a tired human to stay privy to what's happening outside in the yard, but you shouldn't have to sacrifice your summer harvest to a hectic schedule. A smart sprinkler controller will help keep your plants watered, and so much more.
These sprinkler controllers are unlike the old plastic dials and timers. They're app-connected, support zoning, and help conserve water—especially vital if you live in a drought-ridden area. They're also surprisingly user-friendly, which is not always a guarantee in the ever-expanding world of smart gadgets.
So this summer we decided to start testing smart sprinkler controllers to help you find the best way to keep your lawn hydrated and keep your garden growing. We're still testing a few more devices (and we'll update this page once we're through), but so far, we really like the Rachio 3 (available at Amazon for $227.99). Not only is it easy to use, but it also has one physical button and LED indicators so that you don't have to fuss around with the app unless you're setting up a schedule.
Here are the smart sprinkler controllers we've tested so far:
Rachio 3 Smart Sprinkler Controller
Orbit B-hyve WiFi Sprinkler Timer
Skydrop Arc Smart Sprinkler System Controller
Updated July 23, 2018
Advertisement - Continue Reading Below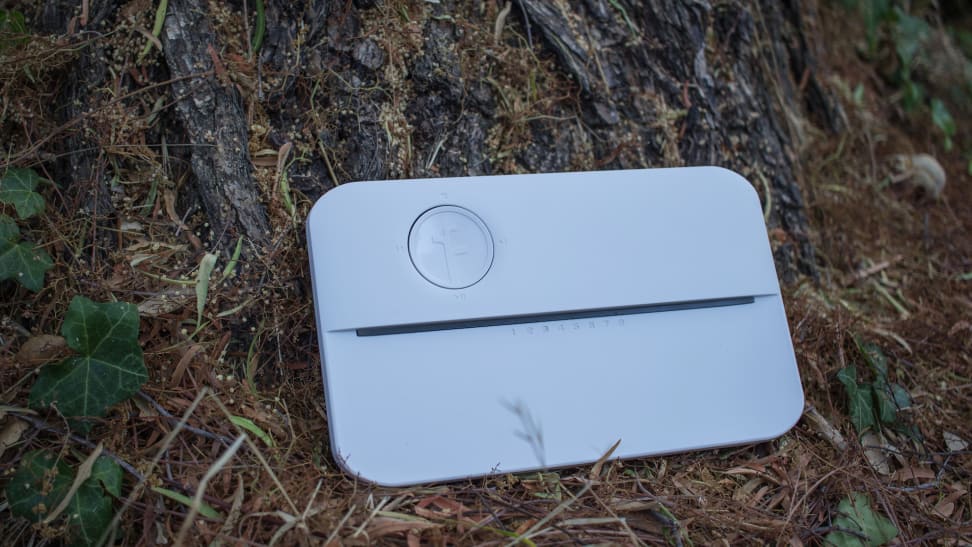 Rachio 3 Smart Sprinkler Controller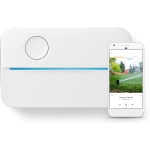 Rachio 3 Smart Sprinkler Controller
The second-generation Rachio 3 Smart Sprinkler Controller is currently topping our list because it offers a ton of user-friendly options and isn't intimidating to install.
The model we tested offers control over eight zones, though there's an additional model that supports up to twice that. Smart-home junkies will appreciate the integration with Nest, Amazon Alexa, Google Assistant, and Samsung SmartThings. There's even a host of IFTTT recipes available to customize. Apple fans may have to wait a bit, however, as there's no word on HomeKit compatibility.
The Rachio app has a busy interface, but it's easy to navigate. By uploading photos and entering details about things like soils and sunlight, you can then set a manual watering schedule, or have the Rachio app figure one out based on the criteria.
When I let the Rachio 3 set the watering schedule, I chose the Flexible Daily schedule option, which uses public weather data to determine soil moisture depending on the questions you answered. There are additional features like Weather Intelligence, which enables the ability to automatically skip a session if rain or excessive wind is underway, and Smart Cycle, which splits watering times into shorter, more frequent cycles to prevent runoff. For more accurate results, you can choose to sync the Rachio 3 with a personal weather station, like the Netatmo.
The Rachio 3 isn't the most affordable smart sprinkler controller, but it does offer the most features while still being user-friendly enough for anyone to use. Serious gardening hobbyists will like the Rachio 3 for its fine-tuned scheduling and robust automation abilities. There's also a bundle sold with an additional Wireless Flow Meter that can better monitor how much water your yard is getting, as well as shut down the system when there are leaks. Rachio will start selling those separately later this summer for $120.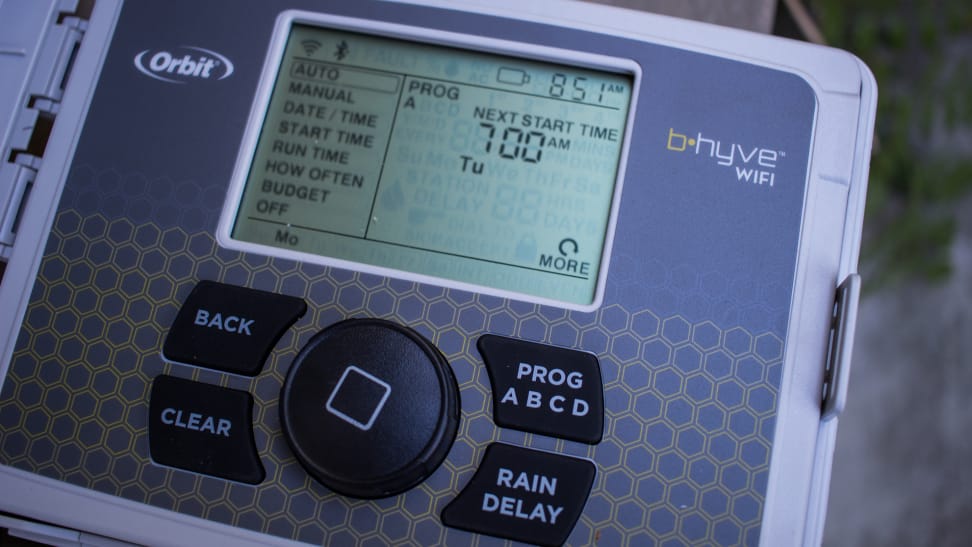 Orbit B-hyve WiFi Sprinkler Timer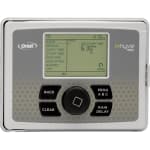 Orbit B-hyve WiFi Sprinkler Timer
The B-hyve WiFi sprinkler is Orbit's initial venture into the smart sprinkler realm, though the company has been in this business for 40 years. Its sprinkler controller is an affordable choice as long as you don't mind the bulky, industrial design. It's available with support for six or 12 zones.
The B-hyve's main design draw is its outdoor-friendly chassis, which comes with a keyed locked to keep the LCD control panel covered. It might seem decidedly low-tech compared to the other sprinkler controllers tested here, but the fact that you can set it up without even touching the app makes it friendly for first-timers.
Installing the B-hyve controller is easy. Instead of spring clips for connecting wires like the Rachio 3, the B-hyve uses recessed screws. After it's hooked up, you can then schedule the unit manually via the LCD panel, or download the B-hyve app for more functionality, like pairing the device with your WiFi network.
The B-hyve's smart watering algorithm consults the data you put in regarding the soil, the type of plants, and the amount of sun each zone receives to generate a water plan. You can also toss your zip code into the mix so that it factors in the weather. The program offered to me suggested two 10-minute watering intervals, six days a week. But our garden can't go a day without it, so I turned it off completely and set a manual watering schedule instead.
Though it could use some aesthetic sprucing-up, the Orbit B-Hyve offers nearly as much of the same functionality as the Rachio 3 and its companion app at a fraction of the price. That makes it a solid second-choice for smart sprinkler controllers, especially if you like the familiarity of pressable buttons.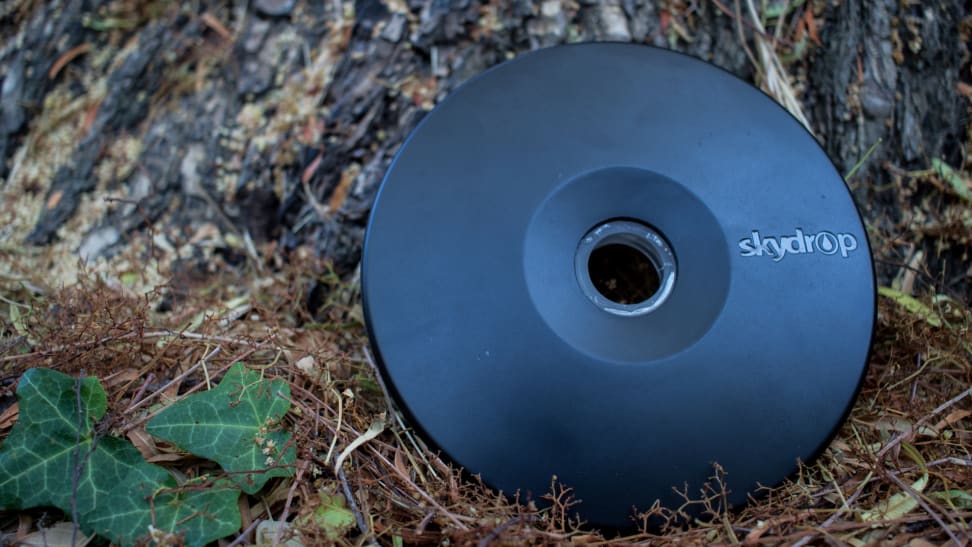 Skydrop Arc Smart Sprinkler System Controller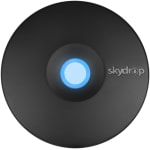 Skydrop Arc Smart Sprinkler System Controller
The $150 Skydrop Arc might look bare-bones, but it's just as loaded as the competition. This circular smart sprinkler controller supports up to 12 zones and uses hyper-local weather data to figure out how much water you need for each. The Skydrop app will also consider the information you feed it about your soil and the types of plants you're growing to determine sufficient watering rates. Skydrop claims that its features help reduce water usage by up to 50 percent, but I was unable to test that with my particular setup.
Getting the Skydrop Arc up and running is quick and straightforward, and the company even offers video tutorials that are simple enough for first timers to follow. The Arc uses WiFi direct for configuration, and you can adjust the controller by directly connecting to it in the event there is no internet connection. Android users might have trouble with the initial pairing process, as WiFi direct can be tricky on some phones. I would have preferred the Arc use Bluetooth for this reason.
After I was able to get the device paired, scheduling was fairly intuitive. However, the Skydrop app interface could use an update, as I often experienced touch delay issues. It would have been nice also to have the ability to invite additional users to edit the watering schedule so that any other members of the household could have access to the controller unit. I was always able to get the ground watered, though, as exhibited by Skydrop's handy log of all the times it's executed the command. It's also compatible with digital assistants like the Google Assistant and Amazon Alexa, with the ability to connect to Apple Home Kit through IFTTT.
How We Tested
Who am I?
My name is Florence Ion, and I've been testing and recommending consumer technology for nearly a decade. My partner is a hobbyist gardener who has taught me the importance of growing what you eat—it tastes so much better when it's from your backyard. However, his job requires that he travels far, which means the sprouting seeds are in my care. I don't have a green thumb, nor do I care to tinker where insects roam, so I aimed to solve this problem the best way I knew how: with a gadget of some sort.
The Tests
Smart sprinkler controllers are great because not only do they control how much water goes into your yard, they allow you to configure the water supply based on what you're growing. My existing sprinkler setup isn't very sophisticated, however, as I only have one main line routed through a planter box and alongside the back of the house. I added three faux-valves with switches to the existing sprinkler system so that I could test the viability of zoning with each unit, though I only actually watered one zone.
A worthy smart sprinkler controller should support a minimum of eight watering zones. It should be WaterSense certified, which means it meets the EPA's requirements for water efficiency. It should be controllable through an app for Android and iOS, and provide configurable options for smart watering schedules based on landscaping, vegetation, and the weather forecast. It should also have a backup option for when the internet goes down, offer some smart-home integration by way of a hub or a digital assistant, and be well built so that it can live outside the house.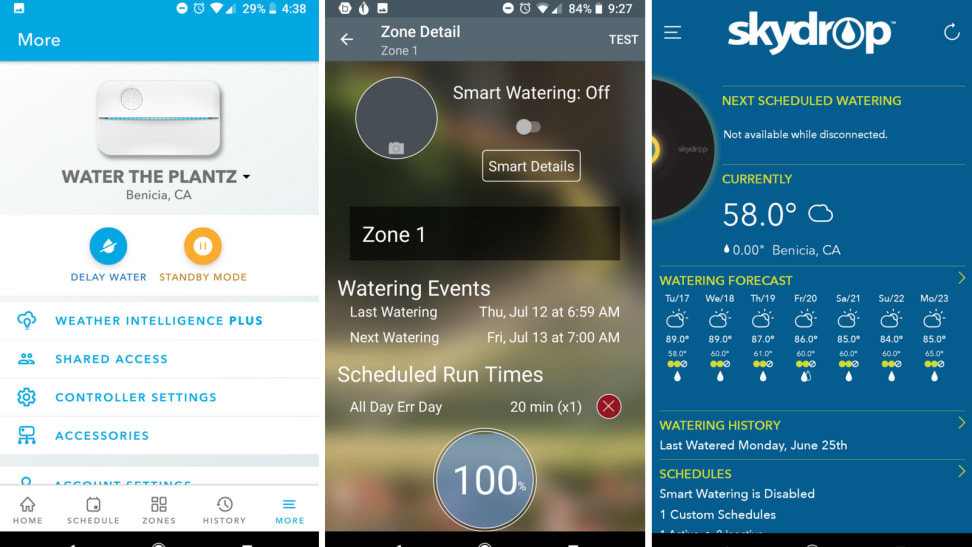 I tested each smart sprinkler controller for about a week, taking many screenshots and noting whether the smart watering schedule aligned with the actual forecast. I kept track of the vegetation to watch for any plants that were affected by the smart forecasting water schedules. I also evaluated general operability, and whether the sprinkler system remained responsive and sent out notifications even while I was miles away from home. And with every unit, I determined whether the setup process would work for those who might be tech adverse.
Things to Know About Smart Sprinkler Controllers
Smart sprinkler controllers don't control the flow of water. They automate the task of opening and closing individual valves, like a traditional electronic or manual sprinkler controller. What makes them "smart" is their ability to connect to the internet for weather data and send you notifications. They're also good if you have a lawn you want to put on autopilot so that it doesn't brown out.
Smart controllers work best with wired sprinkler controllers and are not recommended for use with battery-powered controllers or hose timers. For best results, you'll want to install the sprinkler controller near a covered outlet (under an awning is fine) and within range of your home's WiFi network. You'll also want to mount it away from the ground to prevent critters from taking over—the Orbit B-hyve, for instance, comes with an external covering, and almost immediately after installation, it became inhabited by a black widow spider.
Your results will vary with features like smart watering, as it depends entirely on the climate in your region and what you have growing. Each sprinkler controller tested here asks for your home address at setup so that it can best determine the forecast to avoid overwatering. I didn't always find that to be the case, however, and still ended up using the manual scheduling function. I have a garden that relies on daily watering; the smart watering system would often default to watering only a few times a week. (I lost some strawberries because of this.) Smart watering algorithms are better tuned for sprawling lawns rather than a medium-sized planter box.
Advertisement - Continue Reading Below