Home & Garden
Target just launched an Anthropologie-like home decor line—and it's affordable
The new Opalhouse collection is boho chic—and we want it all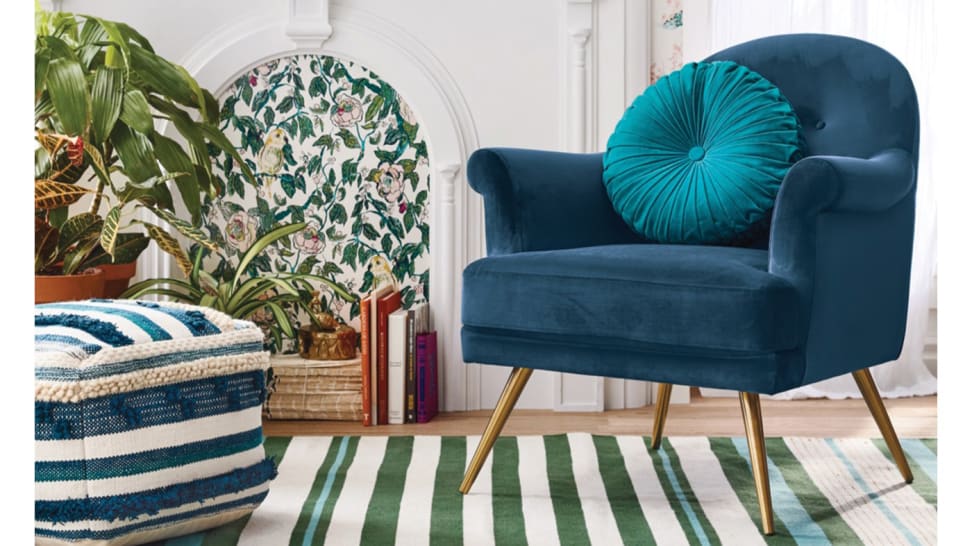 Credit:
Target has done a great job creating affordable home décor that elevates our houses without emptying our wallets. The mid-century modern look of Project62, and the farmhouse feel of the Hearth & Hand with Magnolia lines have broad appeal, even for style mavens who can afford to spend more. Now, Target has released its Opalhouse collection, and I'm smitten.
I admit it: I'm a home design geek, a design writer, a color designer, and I live to read my favorite designers' blogs and Instagrams. Seems like Target's Opalhouse line is driving everyone crazy. One of my favorite bloggers said after seeing this stuff, she was ready to burn down her house and start again with this collection. (kidding—her house is perfect already)
These boho chic products are eclectic, globally inspired, richly textured, and brilliantly colored—in other words, they look like they come from Anthropologie—only without the huge markup. You have to hand it to Target: it knows exactly what we like.
Opalhouse is actually three styles:
Indochic, fusing French-Vietnamese elegance and vibrant jeweltone color
Canyon Sunrise, adding Southwest flavor and warmth to any room in pinks and corals
Mallorca, bringing fabulous texture and neutral color to set off everything else
Can you mix and match them? Absolutely. That's how you create your personal aesthetic.
When I went to my local Target store the other night to visit the pieces on display, I absolutely loved everything I saw, but these 12 were my favorites:
1. This gorgeous bedding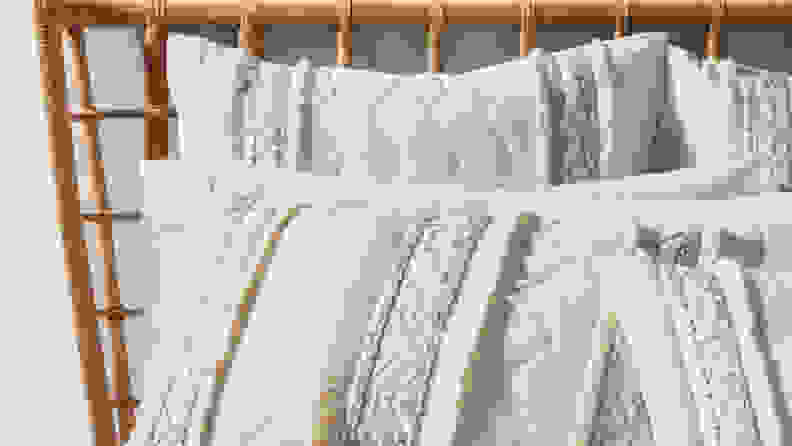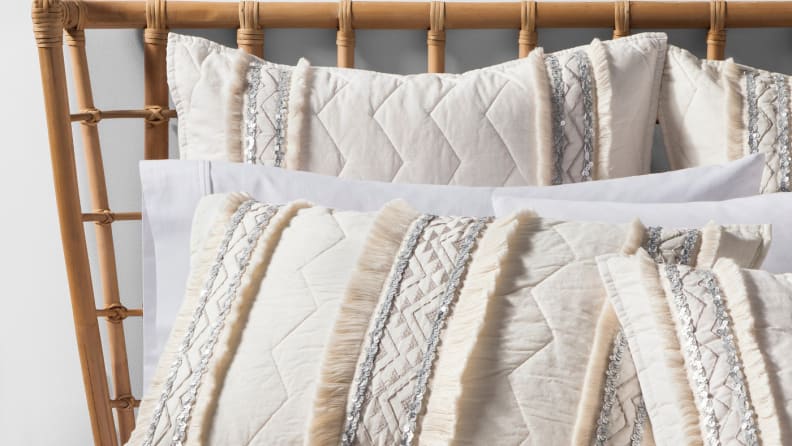 With its luxurious texture, in a neutral that goes anywhere, this bedding looks like it's handmade. The embellishments are a real luxury, but you may want to fold it up at bedtime, otherwise, the sequins might scratch.
Buy the White Moroccan Wedding Quilt for $66.99
2. Removable wallpaper that's perfect for an accent wall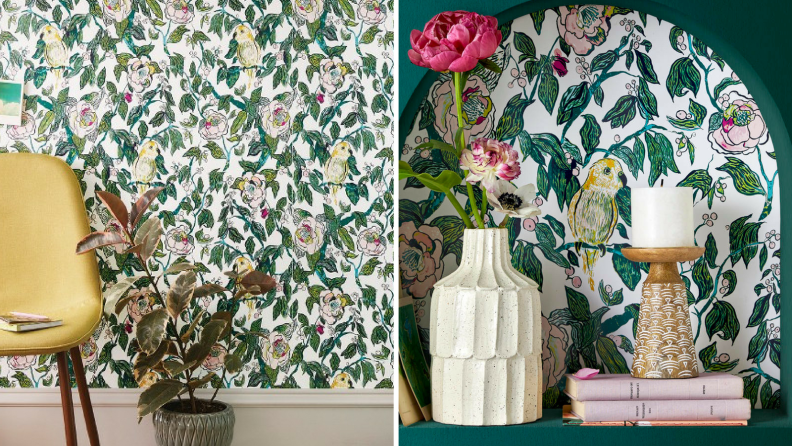 Love the freshness of a summer garden? Target's Canary Floral patterned wallpaper is just as lush, replete with vines and birds. One roll of it will help you create a feature wall in any room. I also see it as a way to create a backsplash in a rental kitchen. And when you're ready to move out, peel it off and choose a different design for your next apartment.
Buy a roll of the Canary Floral Peel & Stick Removable Wallpaper for $29.99
3. The pineapple lamp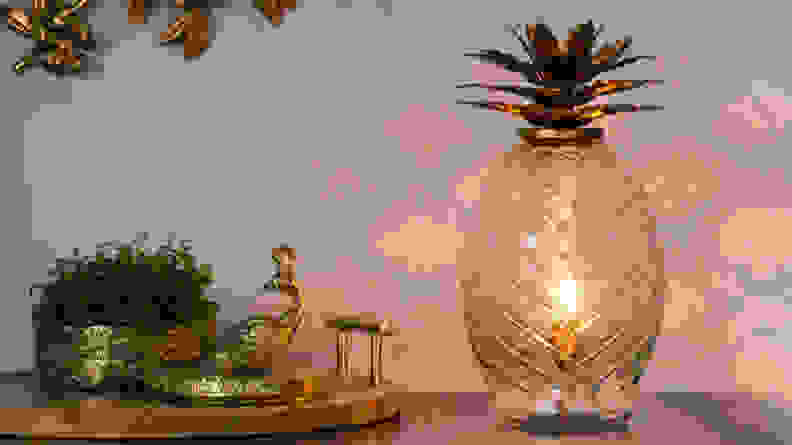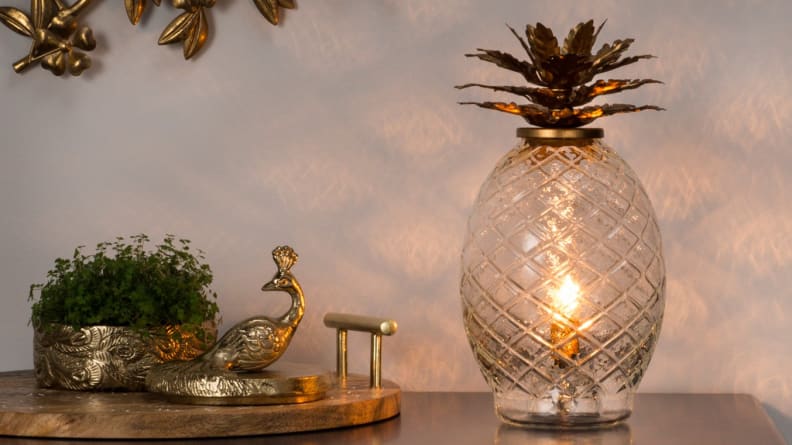 Pineapple is a current style icon. This lamp looks like crystal, almost, and the gold pineapple leaves are so pretty. Put one on a console table in your foyer and a soft glow will project onto the wall. The warmth is so welcoming.
Buy the Glass Pineapple Ambient Lamp from $39.99
4. A fancy gold chandelier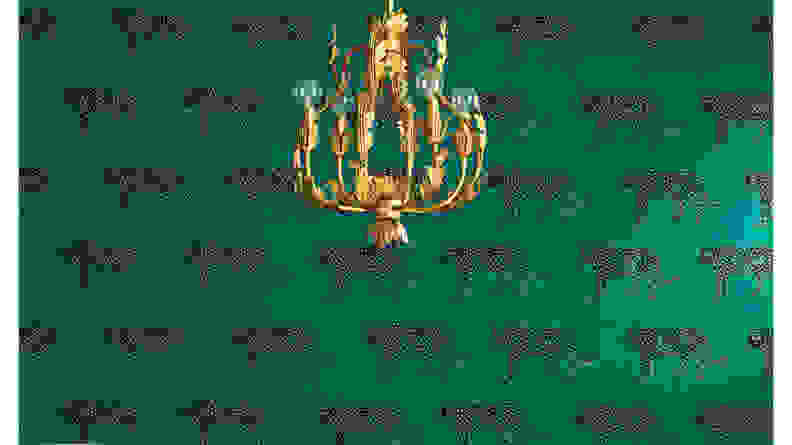 A little opulance for a little money, this leafy-look tole chandelier is the key to dressing up any room. Go ahead and make a statement by hanging it in the front hall. But you'll really want one for over your bed, where it will look crazy romantic.
Buy the Tole Chandelier Italian Gold for $79.99
5. An adorable elephant basket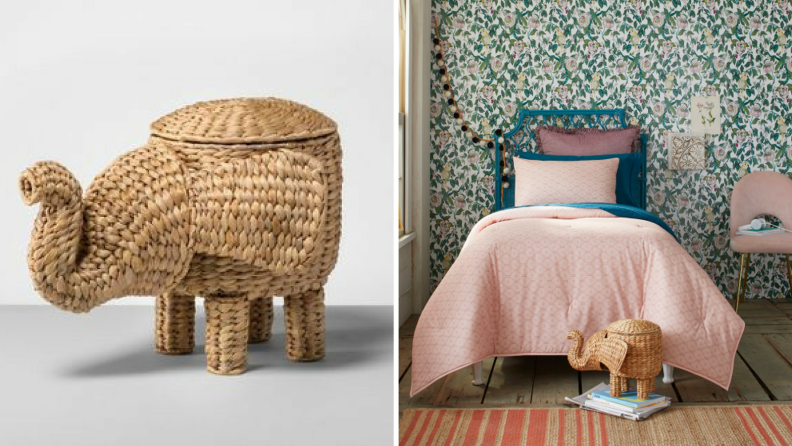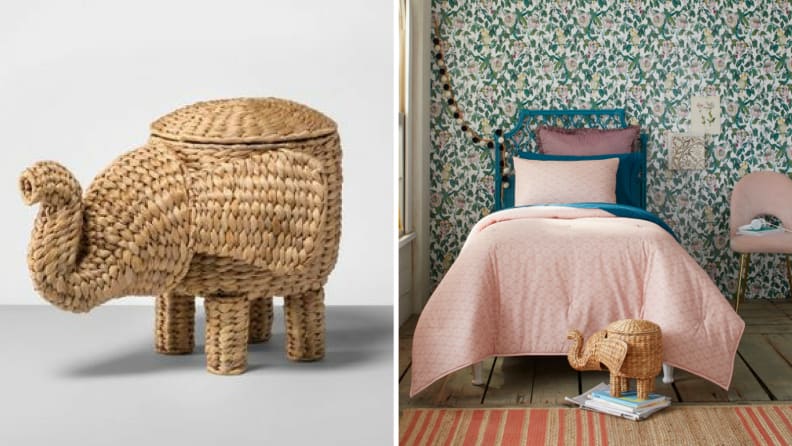 So cute! You can use this textured basket to store some small items anywhere, but I think you should put it in your kitchen and stick a plant in it. No worries, a fake plant is fine.
Buy the Elephant Basket for $24.99
6. The shower curtain that transforms the bathroom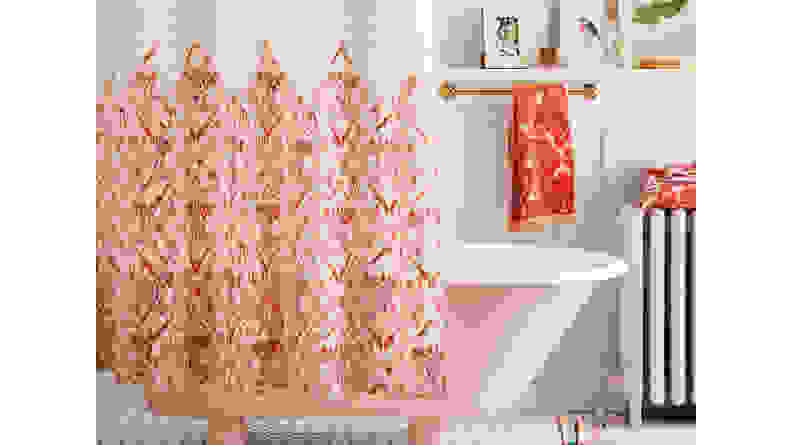 The stylish ikat print is a big step up from the plain vanilla shower curtain that's hanging in your bathroom now. Plus, your complexion will blush sweetly against the pink and orange print.
Buy the Ikat Print with Fringe Shower Curtain for $24.99
7. An on-trend round mirror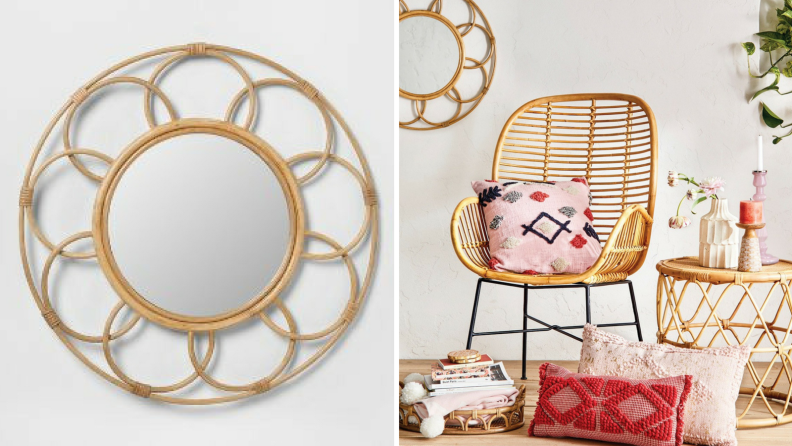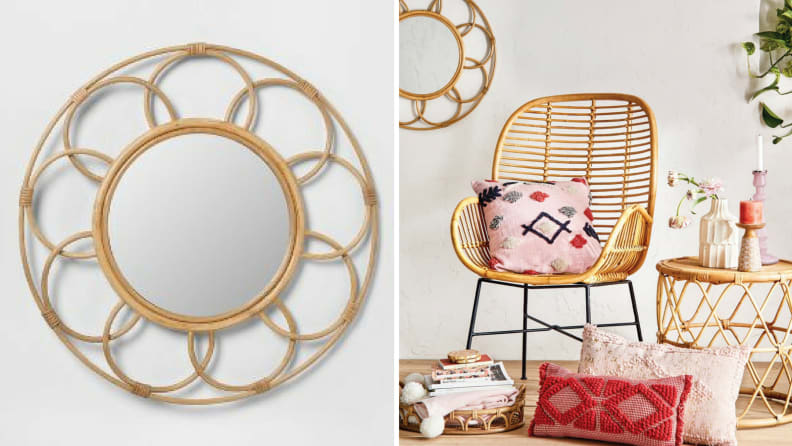 Framed in rattan with a loopy loop design, this mirror would rule in a dark corner, reflecting light and make the room seem bigger.
Buy the Round Rattan Mirror with Scalloped Border for $49.99
8. A headboard with a geometric weave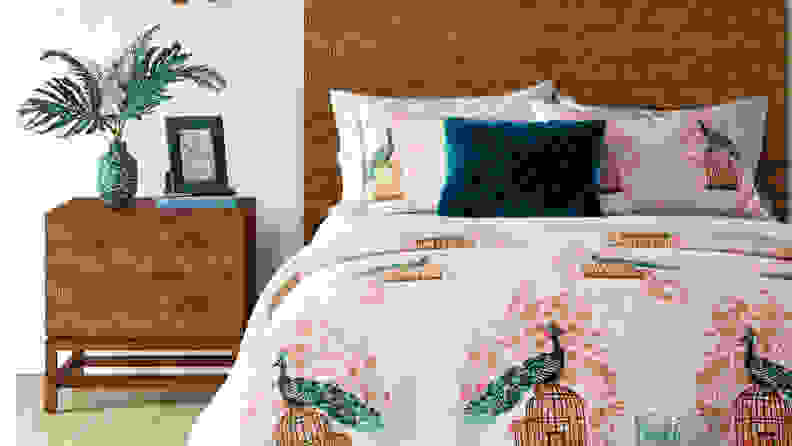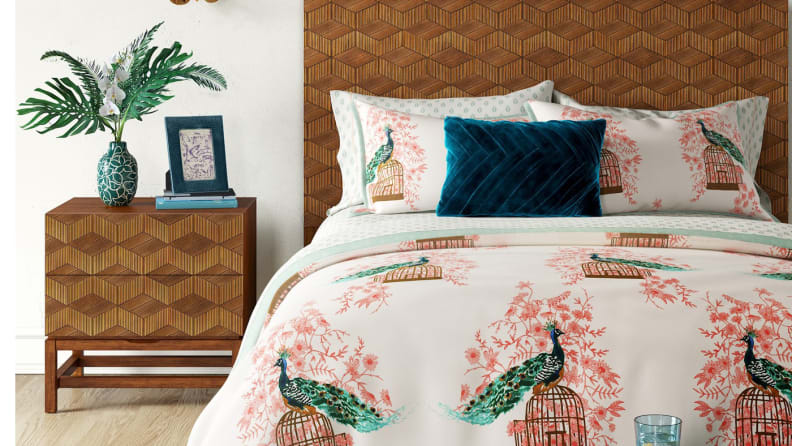 You've told yourself that you need a headboard, but you haven't gotten one yet. The Tachuri headboard is THE ONE. It will add a tropical vibe to any sleeping space and make your bedding look incredible.
Buy the Tachuri Geometric Front Queen Headboard for $199.99
9. The most awesome bar cart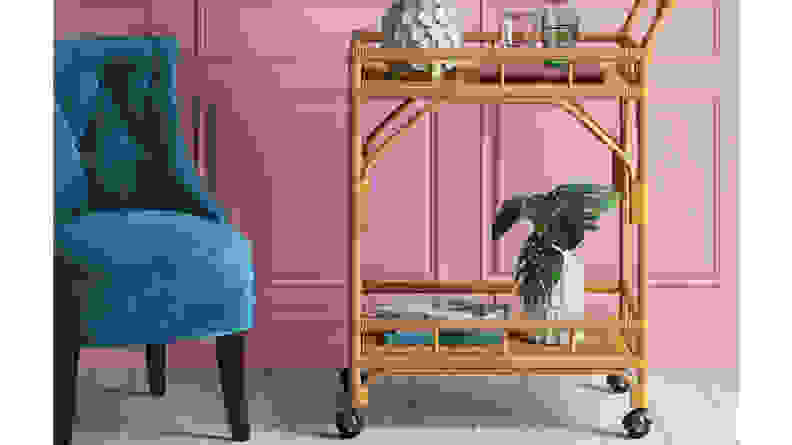 This cart is basically a vacation on wheels. If you owned it, you could use it serve exotic cocktails at summer tiki parties. Once the guests went home, you would roll the cart into your living room, and enjoy a quiet apéritif.

Buy the Cassia Rattan Bar Cart for $149.99
10. This wild panther throw pillow
Cat lovers will want to caress the gold fringe on this long lumbar pillow, which looks like jewelry for the furniture. It's as wide as a loveseat, a truly substantial accessory, and a conversation piece, too.
Buy the Panther Oversize Lumbar Throw Pillow for $24.99
11. A tufted velvet chair in yummy colors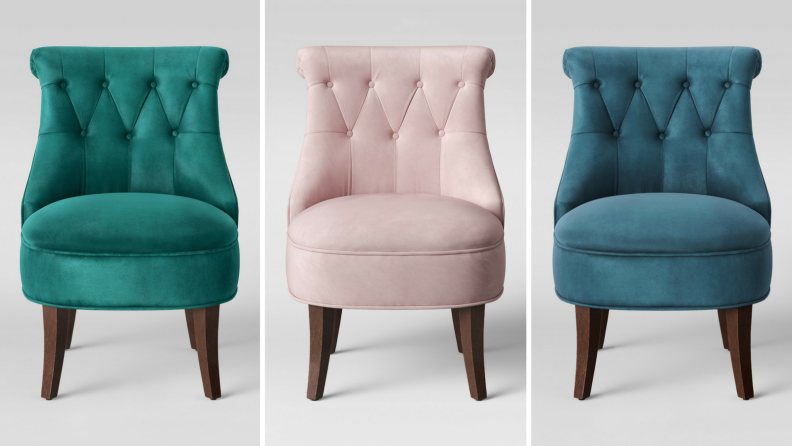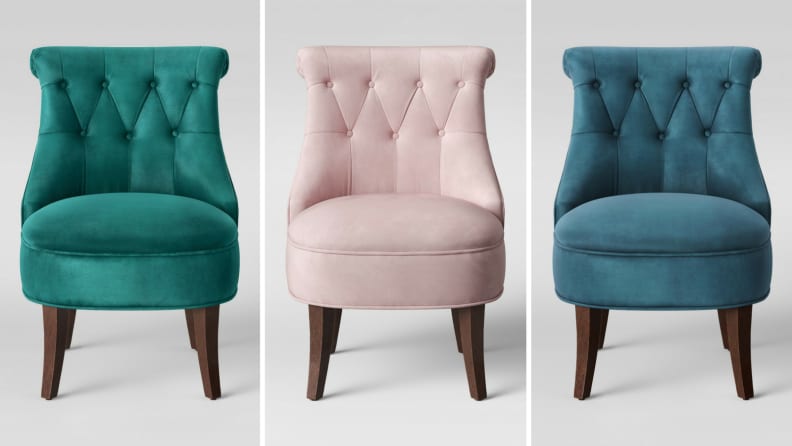 Comfy and expensive-looking, this chair could be a stunner in your home. In teal, blue or lavender (that's the new millennial pink) it would look just as cushy. The dark wooden legs really class it up.
Buy the Nerine Tufted Velvet Rollback Accent chair for $129.99
12. This basic but beautiful table runner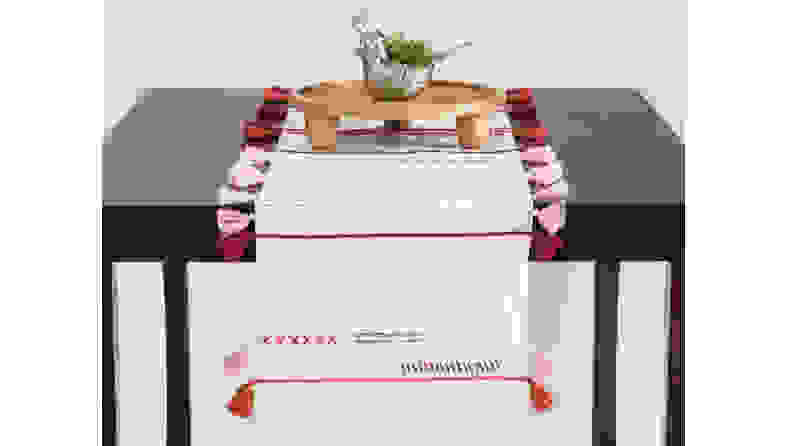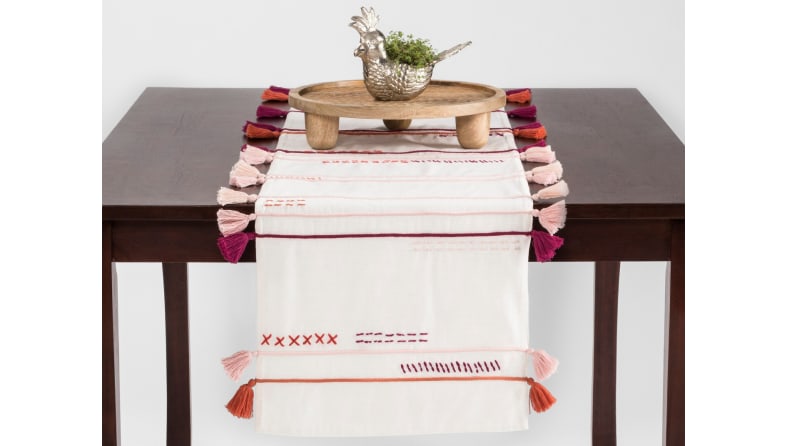 Something as simple as a table runner can dress up your dining room. This one is so pretty, people will think you hand-embroidered it. So, I think you should take off the tag and smile modestly.
Buy the Embroidered Colored Tassel Table Runner for $17.99
Target has included about 1,300 pieces in the Opalhouse line, and the best part is, most are under $30. To see more from this collection and pick up your favorites, visit the Opalhouse site.