Home & Garden
The best Black Friday appliance deals of 2018
Shopping for a new refrigerator, dishwasher, or other appliance? Here are our top recommendations.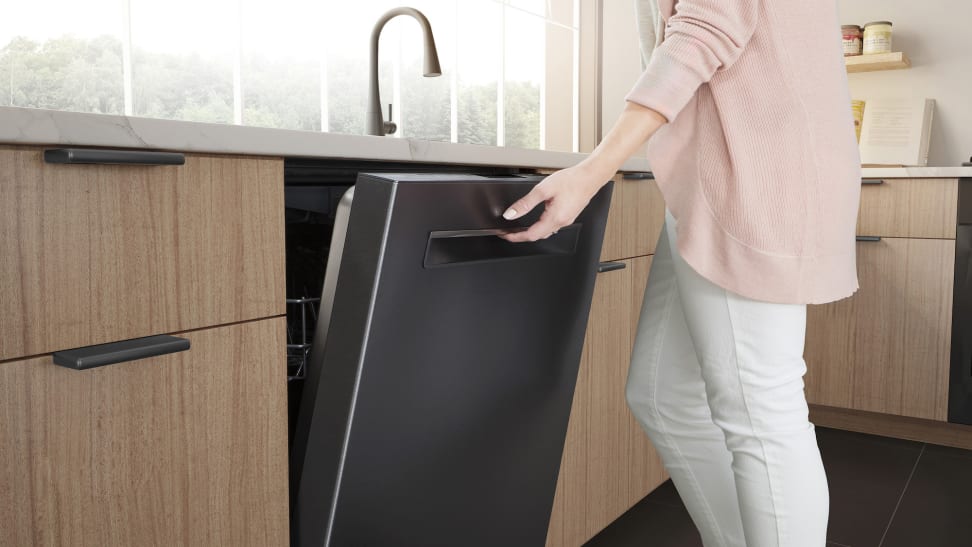 Credit: Bosch
As Thanksgiving comes and goes, we're not reminiscing about turkey and stuffing. Oh, no. We're hungry for something else: great deals on appliances we can buy, so the next holiday dinner is easier to prepare and faster to clean up. At Reviewed, we're appliance experts. We've put thousands of major appliances—refrigerators, dishwashers, washing machines, dryers, ranges—through the paces. We've tested them meticulously and found the best performers, and the best Black Friday deals on them.
Face it, there are so many (too many?) choices in the appliance world, and we want to make sure you get the very best ones you can afford. At this time of year, several big box stores, including Home Depot, Lowe's, and Best Buy, are discounting lots of appliances by 40%. That includes some of our favorites. Right now, these primo appliances are more affordable than ever, and if you buy them in bundles, you save even more. Plus, some retailers are giving incentives like gift cards, or bigger discounts, the more you spend.
Nearly everything on the list below is a product we reviewed in our labs, and every one of them is a solid performer:
Refrigerators
These Black Friday deals will help you buy a cool new fridge:
Samsung RF260BEAESR French door refrigerator—$998 at Home Depot (Save $776): This French door refrigerator is a stylish update for any kitchen, with a sleek stainless look. It uses storage space well, and the deli drawer has three temperature settings you can adjust, depending on what you want to store there. Best Buy is selling this one at the same price.
Whirlpool WRT318FZDB top freezer—$498 at Home Depot (Save $181): Not everybody needs or wants a fancy fridge, so, here's a value-priced old school top freezer model. It's got both fixed and adjustable storage, and solid glass shelves in both the fresh food and freezer compartments. The deli drawer can be moved, and our tester noted that the crispers glide smoothly. You get all that for under $500!
Frigidaire FFTR1821TS—$543 at AJ Madison (Save $376): If you're looking for an economical American-made fridge for a smaller kitchen, this is the one you need. When we tested it, we discovered that it uses space really well.
Dishwashers
Clean up with these excellent dishwasher deals:
Bosch SHXM78W55N dishwasher—$939.10 at Appliances Connection (Save 10%): Our best-testing dishwashers are the Bosch 800 series, and this model is our perfect 10. This price is the best we've seen, and you'll save 15% if you go for the bundle. We love this dishwasher's near-silent operation and top notch cleaning performance. The folding tines are a real plus, making room for lots of crusty baking pans. A third rack? Yes, of course.
Whirlpool WDF330PAHW—$299 at Lowe's: This basic dishwasher is at a really great price point right now. It cleans well, dries the dishes completely, and it's one of Reviewed's top under-$500 dishwasher picks. At under $300 today, it's practically a steal, but don't forget, you have to add it to your cart to see this price.
Washers
Laundry days fly by when you score a deal on a dream machine:
Kenmore 41302 front load washer with steam—$899 at Amazon (Save $400): Owners give this model 4.5 out of 5 stars, so it's a good bet for you, too. It provides steam cleaning for better stain removal, has a spacious 4.5 cu-ft. tub, and if your laundry room is near your living space, you'll appreciate the fact that this washer runs quietly.
Whirlpool WTW5000DW top load washer—$498 at Home Depot (Save $251): Nostalgic for a simple, top loading washing machine? This one could fit the bill. It's got dials to adjust soil level, temperature, rinse, and presoak. No agitator, but a modern impeller gets the laundry moving around the drum. We used to get excited when we occasionally saw this model on sale for $539. Right now, you can get it for under $500.
Dryers
Don't wait for Black Friday to get a hot deal:
Kenmore 81182 7.4 cu. ft. dryer— $529.99 at Amazon (Save $530): This basic dryer is the top scorer in Reviewed's under-$700 category. It's a great value, gets the moisture out of the clothes, and you don't need to be a laundry expert to use its straightforward interface.
Samsung DV45K6200EW—$648 at Home Depot (Save $451): The Samsung dryers we've tested tend to perform well across the board, so we expect you'll like this one. These dryers are generous with steam, and once you bring it home, you might even be able to put away your iron. JC Penney is offering this dryer for the same price, so you can buy it from your preferred retailer.
Ranges
Whether you're cooking with gas or electricity, a great deal is in your (price) range:
Samsung NX58H5600SS 30-inch gas range—$598 at Home Depot (Save $501): With five gas burners, a bridge burner for griddles, a convection oven, and a warming drawer to take the pressure off the cook, this is an impressive gas range at a very good price. By the way, Lowe's is offering the same deal.
Frigidaire FFEF3054TS 30-inch electric range—$598 at Home Depot (Save $301): Big savings on this popular electric range will bring you five elements on the smooth cooktop, a 3000W Quick Boil, and a self-cleaning oven that will deal with burned-on nastiness in a mere two hours. And if you're short on cabinet space for pots and pans, you'll appreciate the storage drawer.
Over the next week there may be a few other deals worth checking out, but most of the Black Friday ads from stores, including Best Buy, Lowe's, and Home Depot, feature deals that you can snap up now. We'll update this listing when we find any more deals worth spotlighting throughout Black Friday and Cyber Monday, but if you want a super deal on a major appliance, this is the best time to buy.
Reviewed.com has you covered through the shopping madness, researching endlessly to find you the best Black Friday and Cyber Monday deals. For the latest updates on all our coverage, be sure to follow Reviewed on Facebook, Twitter, and Instagram.
Prices are accurate at the time this article was published, but may change over time.