Home & Garden
This scent machine lets you control aromas with your iPhone
The Moodo lets you tell Alexa to hide 'that' smell in your bathroom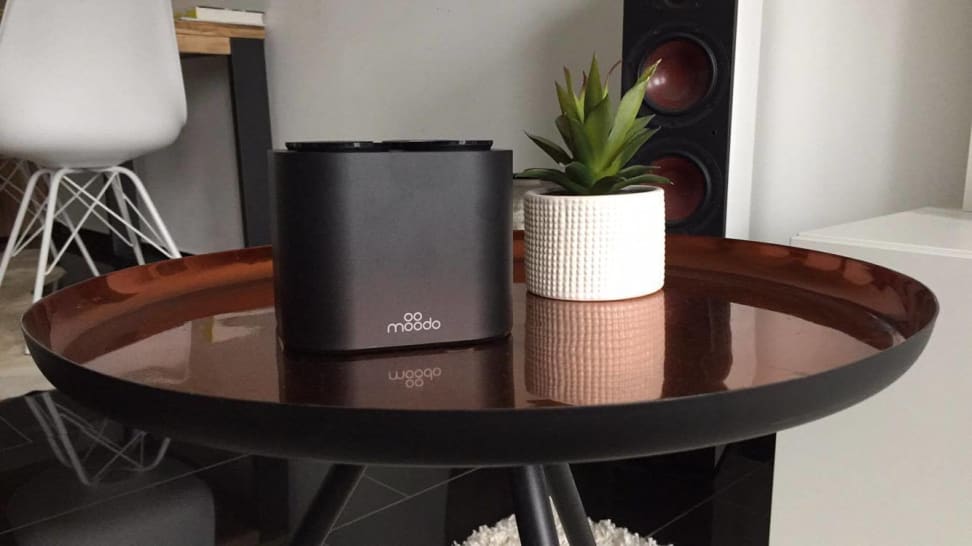 Credit: Moodo
Smell is a powerful thing. The wrong odors can ruin ambiance, wreck your appetite, and even turn a good mood sour. But the right scent creates a sense of peace and calm, boosts your mood, and adds a little extra something that can make any day better. There are a lot of aromatherapy diffusers out there, but none are quite like Moodo.
This all-new device, making its official debut at CES 2018 in Las Vegas, offers dozens of scent themes, personalization, and smart features like Amazon Alexa integration—but it does come at a high price around $200. Its features work wonderfully, it's a stunning device, and the proprietary scent capsules smell incredible.
A unique approach to aromatherapy
Most aromatherapy diffusers will diffuse a single scent at a time, which is great if you enjoy simplicity. But what if your living room could smell like a tropical paradise or a relaxing spa? The aptly nicknamed "Scent DJ," which got its start on IndieGoGo, uses four different scent capsules to create unique olfactory experiences. Not only are there 24 different scents to mix and match, but Moodo's curated them into six different scent families—and each family has a handful of preset options for different scent experiences.
The families include Beach Party, Oriental Delights, The Gardens of Kanazawa, Cozzzy, Fresh Vibrations, and Ashram Spa. You can even create your own custom family, with individual scents like Grandma Vanilla, Citrus Fresh, Divine Rose, and Eucalyptus Nights. My favorite was Wood Royale—earthy, musky, sweet, and decadent.
App-controlled olfactory ambiance
Instead of just adding a few drops of oil, pressing a button, and waiting for the aromatherapy to begin, Moodo gives you more control over your experience. Use the app to pick and choose the scent palate you want to enjoy from a number of pre-set options, or you can create your own custom balance of the different scents. In the mood for a single scent? You can do that, or you can blend two, three, or all four to your exact tastes. Once you find something perfect for your palate, you can save that profile and even share it with other members of your home. It could honestly be a mixtape… for your nose.
Smart features level things up
Not only can Moodo create custom scent profiles, but they unveiled a new feature at CES this week—Scent Shuffle. This will automatically shift the ratios of the four different scents periodically to keep your nose on its toes. You know how when you burn a candle for too long or use an air freshener in your car, you stop noticing it over time? This so-called "nose blindness" is too real, but Scent Shuffle ensures you get to fully enjoy Moodo the entire time it's on.
You can also switch between scent profiles through the app, of course. But if you own an Amazon Echo or anything that includes Alexa, you can use voice command to change things up or increase or decrease the scent intensity or just toggle it on or off. This feature is only available for Alexa right now, but they will most likely be adding integration for Google Assistant and Apple Homekit soon enough. And if you use IFTTT (If This Then That), you can set up rules to enable Moodo, such as having it turn on when you wake up or get home from work.
A sophisticated, wireless style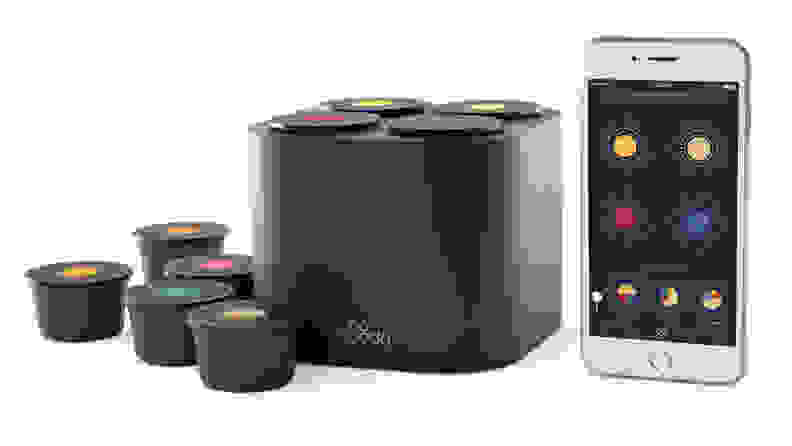 Beyond scents and smart tech, Moodo stands out from the competition for itsmore straightforward, smart-home design. Most diffusers on the market aim to emulate the "spa experience" with soft edges, light colors, LEDs, and "natural" aesthetics. Moodo leans in the other direction. The black box is fairly minimal in design, lets you see which capsules are in use, and has a handful of helpful buttons for the rare occasion you want to manually adjust it. The whole thing weighs about 2-3 pounds and you can pick it up with one hand. Plus, you can get a battery pack for it that makes it completely wireless so you can put it anywhere you want with no unsightly cords.
Should you buy it?
The fancy tech and customization capabilities do come at a fairly high cost. There are loads of normal aromatherapy diffusers for as low as $20, with oil sets that can be even cheaper. Moodo, on the other hand, costs $189. You can also opt for one with a battery pack to make it wireless for $209. That's fairly steep, but with all those features and added capabilities, it's worth it if you enjoy fancy gadgets. If you're not already obsessed with aromatherapy, you might want to pick up one of the low-cost options and give it a go to make sure it suits your lifestyle. If it does, definitely consider investing in the Moodo.
And when you want or need new capsules, the 4-capsule family packs cost $29.95. Each individual scent capsule works for up to 60 hours. That means you can make a single family pack last two months if you use Moodo for an hour a day on average. You're spending about $0.13/hour per capsule, which really isn't that bad in the grand scheme of things.