When my beloved cat destroyed two almost-as-equally beloved upholstered living room chairs, I decided it was a perfect time to replace some furniture.
But when I went shopping, I ended up with another problem: There are hundreds of thousands of options out there, and buying a chair suddenly turned into a research project. Even filtering for my unique wants—made in the U.S., under $500, claw-resistant upholstery—still left me with a dizzying amount of choices.
Enter Roomhints, an app that connects homeowners with a network of interior designers for free, one-off project help. The designer makes a commission off any product you buy through the app, but never charges the user directly.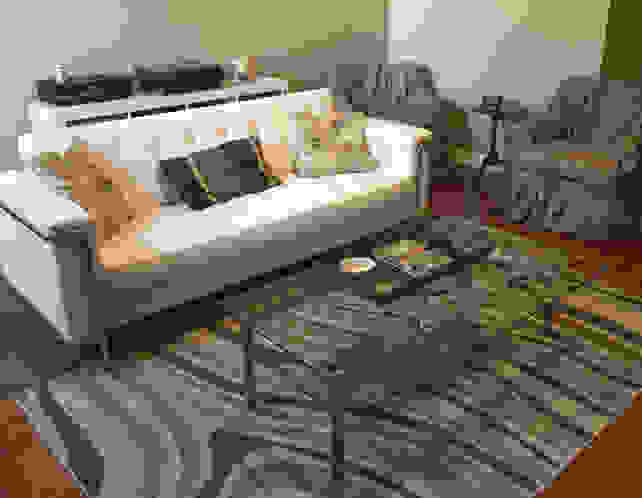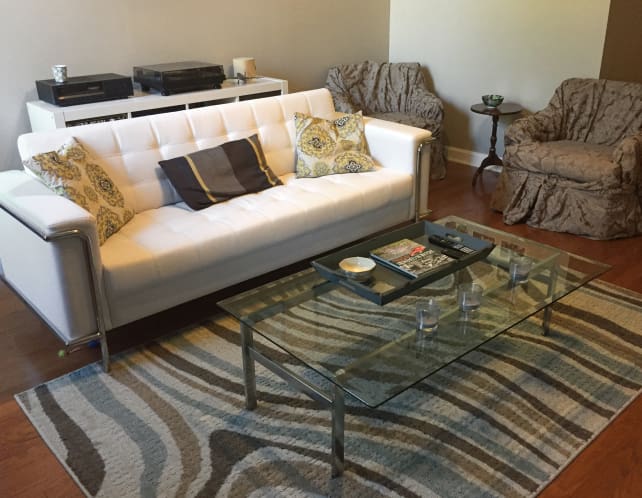 I learned about Roomhints at the Dwell on Design show in Los Angeles, where I spoke with app founder Tiff Wilson. According to her, the app is designed so users can ask for help with a small project—even if it's just to confirm a purchase or decision.
"We don't buy sofas every single day, we don't buy dining room tables every single day, and it can be very daunting because it is a big-ticket item," Wilson said. "So, we believe that we're really helping those who are looking for furniture but just want a second opinion."
Users download the app and upload photos of the space they're trying to update. Shortly thereafter, a designer gets in touch and assists with the project. You can work back and forth with the designer as much as you want, answering questions and narrowing down selections—although, since it's commission based, the designer is incentivized to steer you towards a purchase.
Wilson invited me to use the app on the show flow, but I didn't want any special treatment. So, once I got home, I uploaded a picture of my living room to the app along with my list of must-haves. I was matched with a designer within a few hours, who gave me a few disparate suggestions to get a better handle on my taste.
After I ruled a few out entirely based on design or price, I got another, more tailored list. According to Wilson, that kind of forthright discussion is another benefit of Roomhints. "Through the app, people will be way more honest than they will be in person," she said. Instead of hemming and hawing, a client can simply tell the designer what does or doesn't work.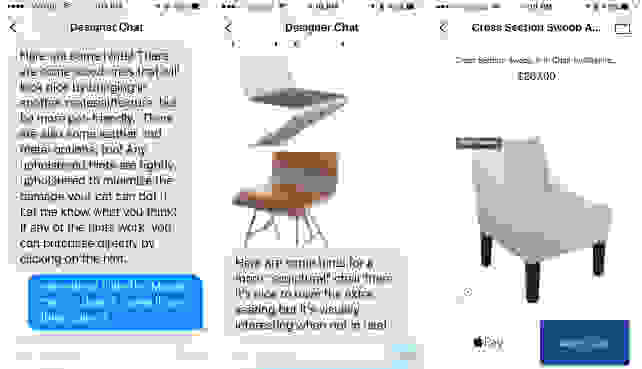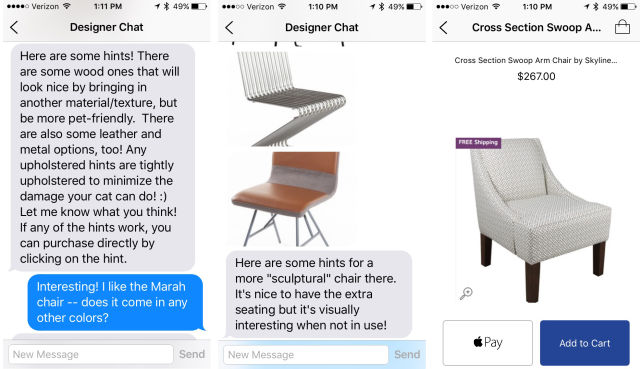 "From a designer's perspective, that's awesome, because I want to then help you understand why those weren't great, and show you ones that are."
Although I never learned his or her name, the designer and I communicated at least ten times within 48 hours. Based on the photos I'd sent, he or she suggested that I get rid of one of the chairs entirely—a suggestion I was eager to take. Even better, the designer introduced me to Skyline Furniture—a company that builds affordable, fashionable furniture right outside Chicago.
"Through the app, people will be way more honest than they will be in person."
There are a few drawbacks: Because the app is based on commissions, designers can only recommend products within the Roomhints database. That means estate sale finds, in-person sales, and reupholstery of existing products are all out. Indeed, I did ask whether a new slipcover might help, but that particular question was never answered. (I can only guess what the designer might have said.)
It was also weird speaking with a designer who never made an introduction—especially since whoever it was, he or she was looking at a photo of my living room. Plus, the app only works for iPhone.
Qualms aside, a designer did help me in my search for the perfect chair. While an app really can't take the place of an in-person visit from an interior designer, it can help narrow down the right choices in the confusing world of online furniture shopping.
Our editors review and recommend products to help you buy the stuff you need. If you make a purchase by clicking one of our links, we may earn a small share of the revenue. Our picks and opinions are independent from any business incentives.