Let me cut right to the chase: I love my mandoline and I use it all the time. There's no better way to thinly slice vegetables while ensuring they're exactly the same size. But, I also have a healthy fear of the thing. I've seen more professional cooks cut themselves on a mandoline than any other kitchen tool (myself included). You get going a little too fast, forget to be careful, and slice a finger. Turn your head to answer a question and it gets you. Look at it funny and it'll cut you just out of spite. (Okay, just kidding on that last one, but sometimes it feels like my beloved mandoline has it in for me!)
So I had to ask myself: Is it worth it to use this gadget or is it simply safer to slice by hand? I picked up the handheld OXO Good Grips Adjustable Handheld Mandoline Slicer ($14.99 on Amazon) and put it to the test against my culinary trained knife skills. Spoiler alert: after testing, I still had enough fingers left to type up this article.
The gadget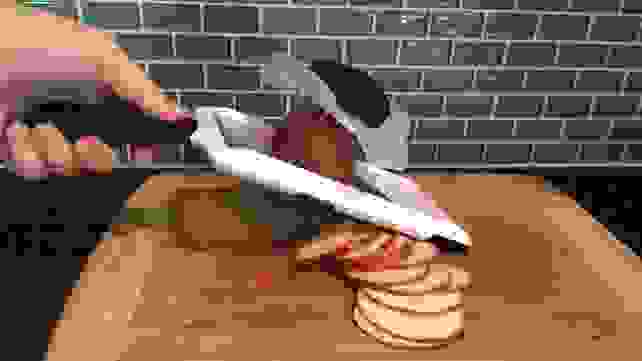 Professional mandoline slicers are big, bulky, and expensive. They're huge pieces of metal that take forever to set up and clean. I don't own one, and I don't ever plan to. However, simple, handheld mandolines get the job done for under $25—without the bulk. While the OXO Good Grips Adjustable Handheld Mandoline Slicer wasn't the highest rated on Amazon, it tested well and was highly rated on websites like Serious Eats and Good Housekeeping.
The gadget is designed to do one thing and one thing only: slice. Some models make waffle cuts and julienned shapes, but a good mandoline really just needs a sharp blade that will cut through tough and tender vegetables alike. This model has three thickness settings—1/16-inch, 1/8-inch, and 1/4-inch thick slices—that are easily adjusted by clicking the dial up or down.
Once you've chosen your slice size, place the vegetable on top of the mandoline and use the safety guard to hold it in place. Hold the slicer in one hand while you firmly press down and slide with the other, moving the vegetable back-and-forth over the blade. Watch those beautiful slices pile up underneath the mandoline.
The alternative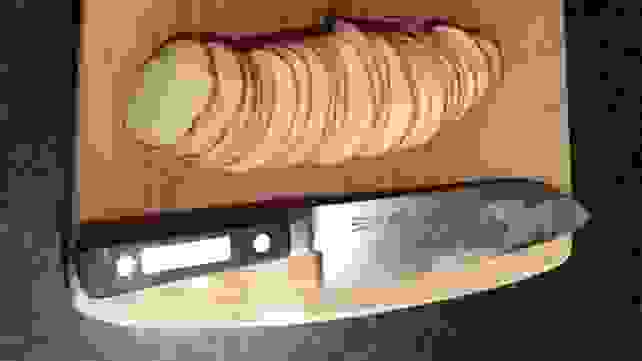 Unless you have a fancy food processor with a slicing disc, the other way to slice vegetables is (drumroll) with a knife. It's really as simple as placing the vegetable on the cutting board and slicing away until there's nothing left to cut.
The hardest part of using a knife always comes back to technique. It's difficult to make straight cuts, and it takes practice to prevent the knife from turning one way or another as you slice downward. It's even harder to make perfectly sized, 1/16-inch slices that are uniformly shaped every time! For some cutting tasks, this kind of perfection isn't necessary, but if you're making something like potato chips, you'll definitely notice any flaws.
The results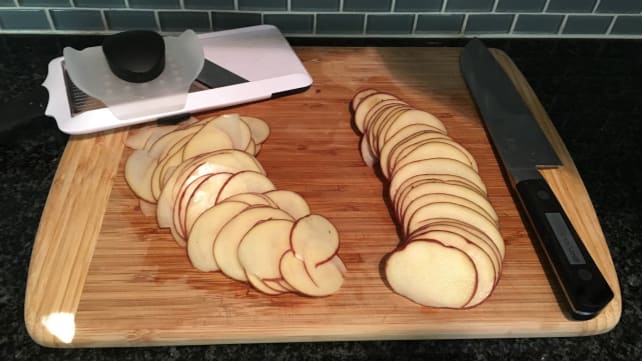 While the mandoline mostly made consistent slices, there were a few that came through uneven. I've observed this issue with a number of different brands, and it mostly comes down to applying uneven pressure during the slicing stroke—that is, human error. By comparison, the knife cuts were certainly less consistent and it took me much longer to slice each potato. I was hunched over the cutting board, concentrating on making each slice perfect—mostly in vain, I'm sad to say.
When I fried up both sets of potatoes, the mandoline chips were far superior to the hand cut chips (even given the uneven mandoline slices). At the end of the day, the mandoline made quicker work of the potatoes and they crisped up better in the hot oil.
As far as danger goes, this mandoline's safeguard kept my fingers nice and safe behind the plastic shield. While the mandoline's safeguard was a little awkward to use on the very large potatoes, it was super helpful once the potato got smaller. It had small plastic nubs to grip the food, and the rubber handle was easy to grasp. It worked well to protect my fingers from the super sharp (and I mean, super sharp!) blade.
The winner
If you're looking for an easy-to-use, compact tool to help you make perfect slices, you should definitely buy a mandoline. You can certainly use a knife, but it was painstakingly slow and the mandoline results were just better. The small size makes it easy to store, and this model has a storage lock feature that keeps the blade secure so you won't draw blood as you fumble around for it in the gadget drawer.
Just remember safety first when it comes to sharp kitchen tools. These mandolines come with a safety guard for a reason—so use it even if you think you don't need to.
Prices are accurate at the time of publication, but may change over time.
Our editors review and recommend products to help you buy the stuff you need. If you make a purchase by clicking one of our links, we may earn a small share of the revenue. Our picks and opinions are independent from any business incentives.