Home & Garden
This cult-favorite hair dryer—and your blowout—just got a major upgrade
I'll never go to Drybar again
Credit: Reviewed / Jackson Ruckar, Jessica Teich
Harry Josh just released a new update on its cult-favorite, award-winning hair dryer. The Harry Josh Pro Tools Ultra Light Pro Dryer (MSRP $349) claims to be "everything you know and love about the original Harry Josh, beautifully reimagined—Faster, quieter, and lighter."
Naturally, I was skeptical, so I tested this dryer against the best one we've ever tried: its predecessor, the original Harry Josh Pro Tools Pro Dryer 2000. This one is $100 more expensive, but claims to be far superior. Here's what we found.
It's easier to hold and use
For starters, the Ultra Light lives up to its name. It clocks in at 0.9 pounds, while the original is a weightier 1.2 pounds. The handle on the Ultra Light is contoured and slightly longer, which, paired with the lighter weight, makes the dryer noticeably easy to handle. My arm didn't get tired at all through 20+ minutes of styling.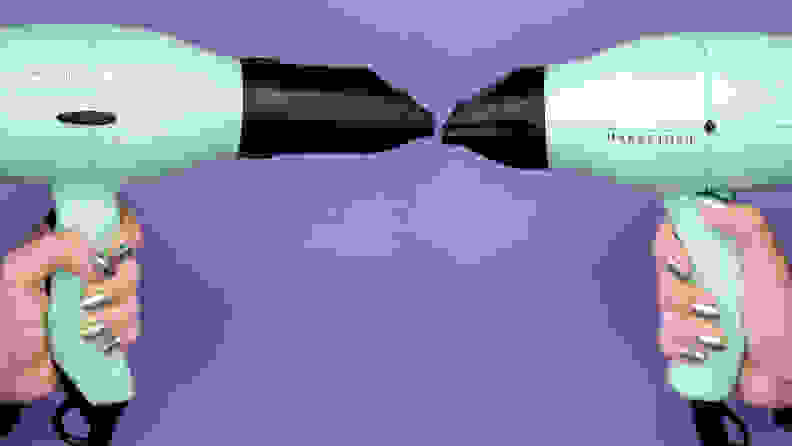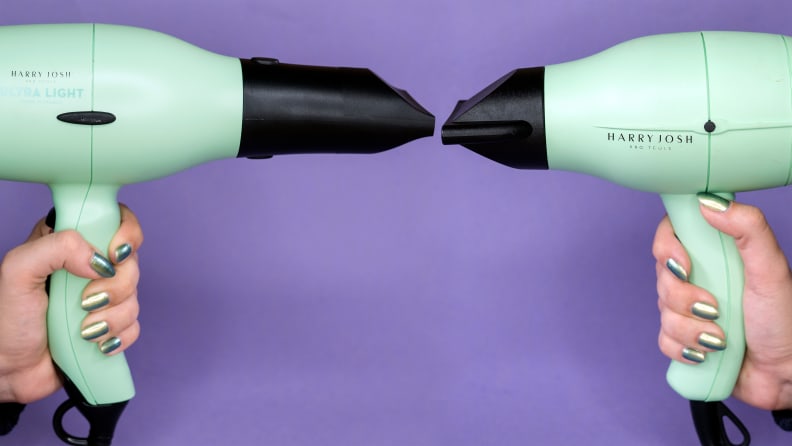 The Ultra Light has all the same features we loved on the original Harry Josh: an extra long 10-foot cord, a compact size, an ion switch for smoother styling, controls on the back of the handle, and two included smoothing attachments.
However, the nozzle on the Ultra Light is smaller, and the attachments are easier to connect—they now slide in and click into place with buttons, rather than the hard, snap-on attachments we're all familiar with on traditional dryers.
Perhaps the best update to the dryer is the extra-long nozzle concentrator, which elongates the length of this otherwise small dryer and makes the weight distribution more comfortable and controllable. It's awesome for blowouts, since you can use the nozzle as a tool to hold the piece of hair you're styling.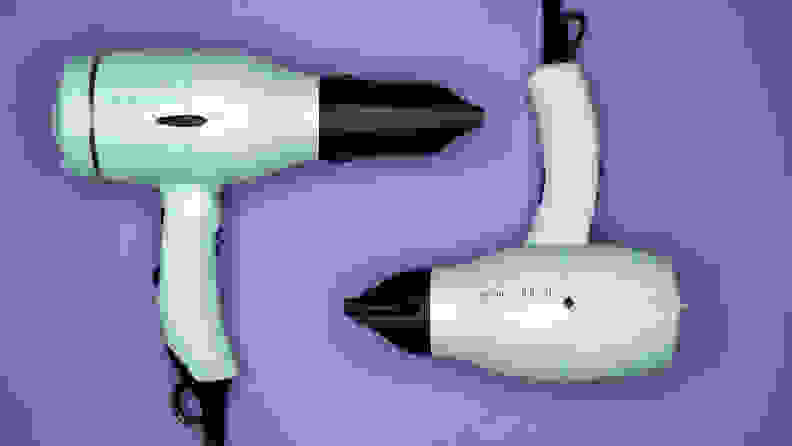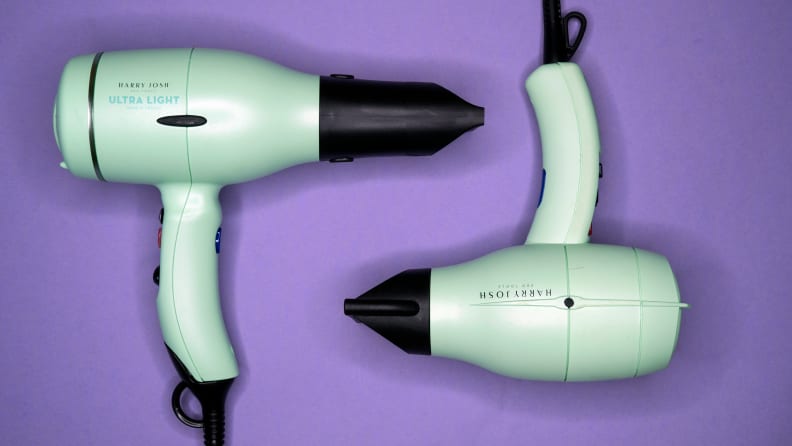 The controls are difficult to maneuver
The heat and power lever-style buttons are still on the back of the handle, which keeps them out of the way when you're styling your hair. The buttons on the Ultra Light are enameled, plasticky, and tougher to maneuver than those on the original. Maybe they'll loosen up with time, but I struggled with them a fair bit.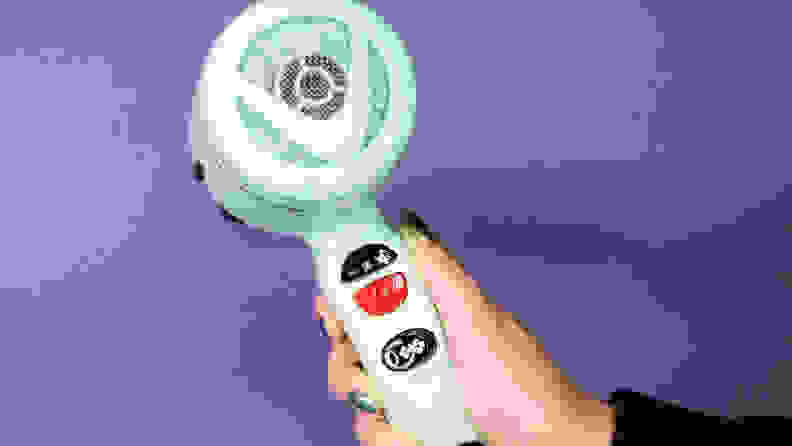 Worse, the cool shot button on the front of the Ultra Light is very uncomfortable to press. As comfortable as the dryer is to use otherwise, even a brief hold on the cool shot will have you stretching your forearm.
It's just as loud as the original Harry Josh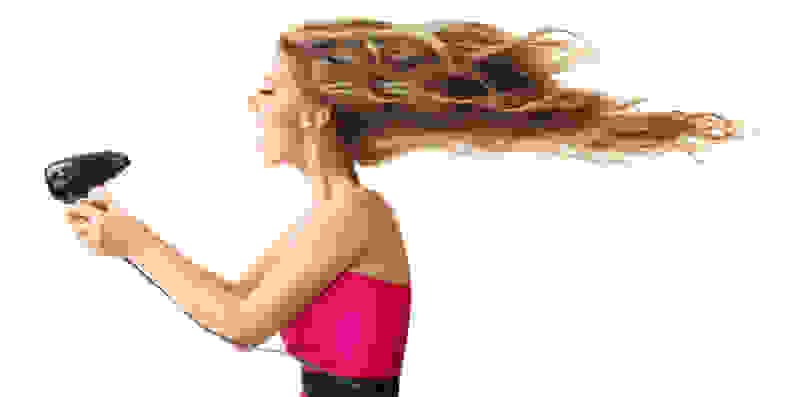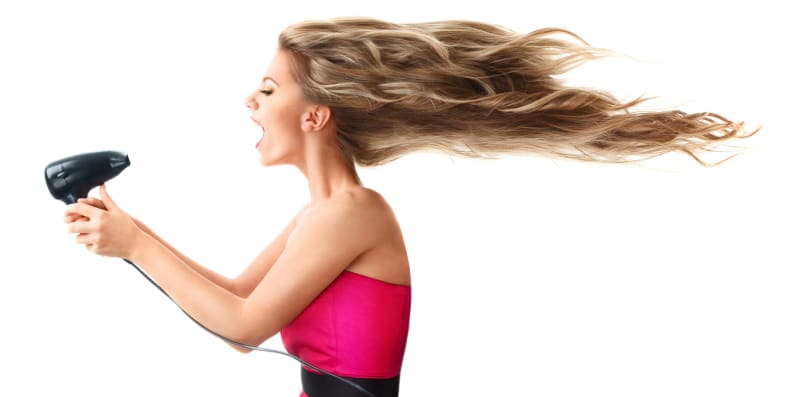 Here's where the not-so-good comes in. The Ultra Light claims to be quieter than the original, and while the tone does sound less shrill to my ear, it's not quieter: Our sound reading registered a loudness of 8.1 dBA which is higher than the original's 7.9 dBA. That's not a huge difference, but it's definitely not a "whisper-soft reduction of noise level." It has a less grating sound, but it's not quiet enough to have a conversation over. Still waiting on a hair dryer that can achieve that.
It won't dry your hair faster
The Ultra Light claims to have a drying speed of 94 mph, allegedly faster than the original's 81 mph, but we found the Ultra Light to have comparable power to the original. It actually took me 2 minutes longer to dry my hair with this newer model. See for yourself below.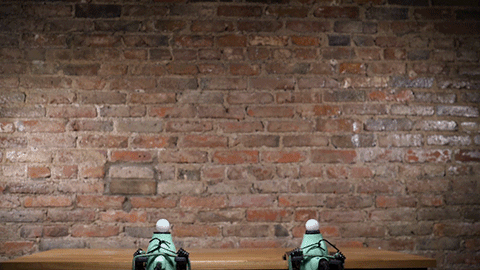 This dryer reaches much hotter temperatures than its older counterpart, too. The OG Harry Josh reached a max temperature of 101ºF while the Ultra Light reached a crazy-hot 104º, so make sure you douse your mane in a heat protectant.
It results in a beautiful style
Although the dryer didn't necessarily stand up to its claims, the real test lies within the style: And the Ultra Light dryer gave me the best at-home blowout I've ever achieved. My roommate, who I've been best friends with for 13 years, walked by as I finished my hair and exclaimed, unprompted, "WHOA. That is the best I've ever seen you dry your hair… ever." I have to agree—my crazy-curly, thick hair looked like a bodacious cascade of silk.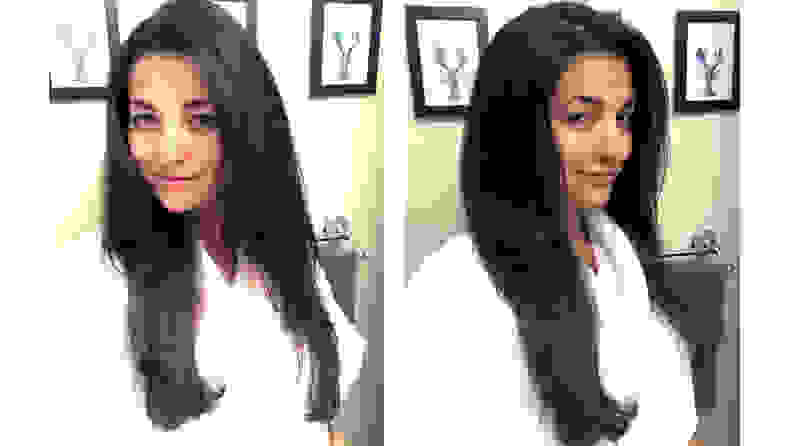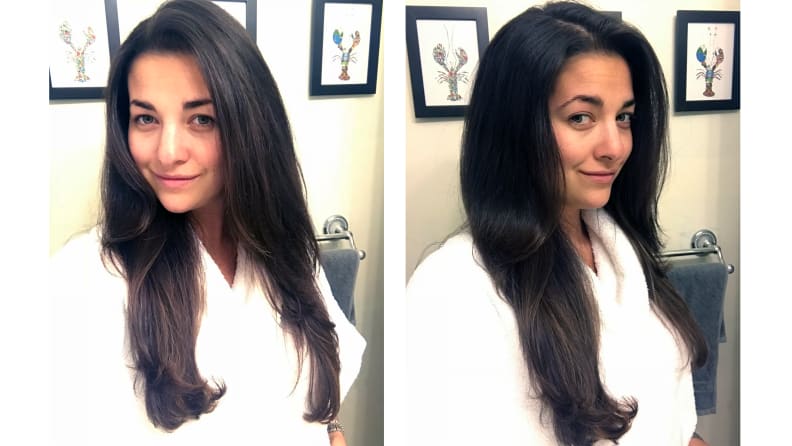 She also noted after an hour, however, that my hair was "growing"—For this, I blame the terrible cold-shot button that I skipped since it was such an annoyance to use. I couldn't seal in my style with the cool air, so I did have to run over my hair with a flat iron to stop frizz in its tracks.
Is it worth it?
For an extra $100, it really depends. It's definitely lighter weight and easier to hold for a long period of time, but the controls are a little annoying to deal with. To recap, here are the claims and the results:
Lighter—True. This dryer is 0.9 pounds compared to 1.2 pounds.
Quieter—False, but just barely. It does have a less shrill tone, which makes it seem quieter.
Faster—False. It took me two minutes longer to dry my hair with the Ultra Light, and it measured equal power, if not a slightly weaker airstream than the original Harry Josh.
Still, if I had to choose one or the other, I'd go with the Ultra Light. It was easier to maneuver and gave me the best blowout of my life. As a consumer, I could also see this new release as an opportunity to buy the (also great) original Harry Josh at a finally-marked-down price. One thing is for sure: Harry Josh makes excellent, compact hair dryers that result in the best hairstyle of your life.
Here are the best hair dryers of the year