Home & Garden
This new online-only store could be the next Trader Joe's—and everything's only $3
Brandless and Trader Joe's go head-to-head.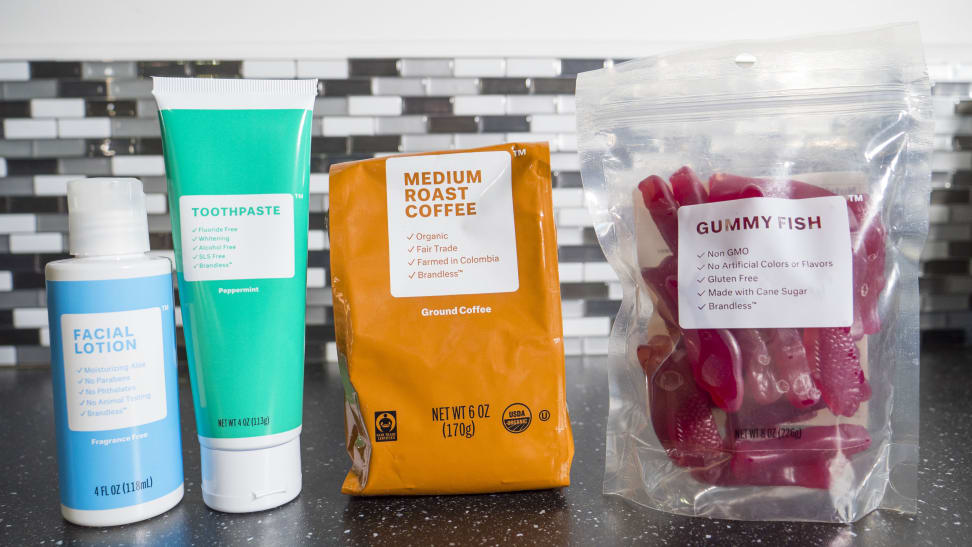 Credit: Reviewed.com / Jeremy Stamas
Brandless, a new startup which sells groceries and home essentials, knows what Millennials like. The online store hooks me carefully. I see it happening, but I can't resist—somehow, Brandless knows me too well.
Everything it sells is $3—enticing, no? The "about page" spouts some nonsense about how the brand lowers costs by getting rid of a "brand tax." I skip right past it once I get the gist about everything being $3. Brandless partners with charities like Feed America and sells products that are non-GMO, organic, and free of ingredients the company believes are harmful. Packaging is minimalist, and coconut oil is listed in both the grocery and beauty product sections.
"Nicely done, Brandless," I say to my computer screen as I scroll through the site, adding items to my cart like a docile Millennial sheep. The selection reminds me of Trader Joe's, just with a few additional kitchen tools and a much smaller selection of food.
With that thought in mind, I formulate a plan. I'll compare Brandless products with comparable Trader Joe's products and see which brand comes out on top.
The Lineup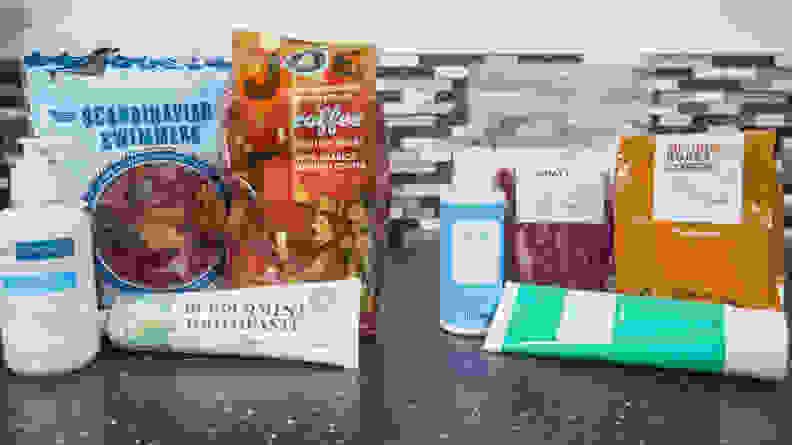 Brandless Gummy Fish vs. Trader Joe's Scandinavian Swimmers

Brandless Medium Roast Ground Coffee vs. Trader Joe's Medium Roast Ground Coffee

Brandless Peppermint Toothpaste vs. Trader Joe's Anticavity Peppermint Toothpaste

Brandless Facial Lotion vs. Trader Joe's Antioxidant Facial Moisturizer

Brandless Paring Knife vs. nothing (because Trader Joe's does not sell knives)
The Face-off
Gummy Fish: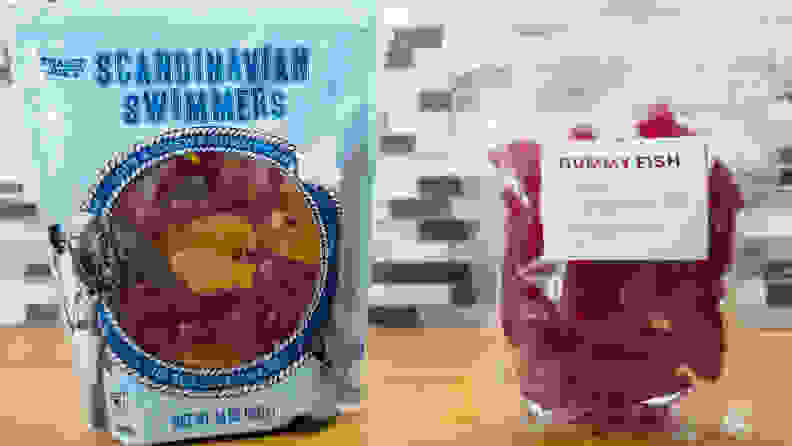 I'm most eager to taste the imitation Swedish Fish sold by each brand. This is because I have a sugar problem. Both bags of fish cost $3, but the Trader Joe's version comes with almost twice as much candy. Ingredient lists are similar (natural flavoring, cane sugar instead of artificial sweeteners) but Brandless advertises these qualities right on the front of the bag, making it easy to scan. The Trader Joe's version has fish shaped like lobsters and sea horses, and the flavors and colors vary. Unfortunately, most of these flavors are gross. The Brandless candy tastes better, but everyone who tries it hates its gummy texture. ("I won't be finishing this," says one coworker, reaching for a napkin to spit into.)
Better Deal: Trader Joe's (save 16 cents/oz over Brandless)
Better Flavor: Brandless
Better Texture: Trader Joe's
Ground Coffee: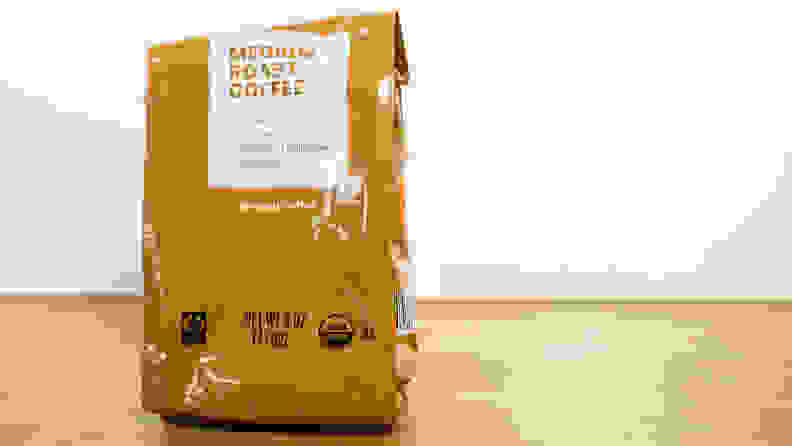 I enlist a few helpers and we brew one pot each of the Brandless and Trader Joe's medium roast coffee. Brewing coffee is one of the best scents in the world. When we brew the Brandless coffee, I swear it's more aromatic than usual. We sit with our noses oriented toward the coffee pot, entranced.
When it comes time to sip, it's just okay. "Very bitter," we all agree, but not bad.
The Trader Joe's version smells nice when it brews, but it's nothing special. A coworker pours herself a mug of the stuff and takes the first sip. "Wow, that's awful," she says. "Really thin, and it tastes like battery acid."
I'm not a coffee snob so I expect to find it tolerable, but it turns out the stuff is really, unmistakably gross. Bitter, acidic, yet somehow bland. No thank you.
Better Deal: Trader Joe's (save 14 cents/oz over Brandless)
Better Flavor: Brandless
Peppermint Toothpaste:
"Fluoride Free, Whitening, Alcohol Free, SLS Free," reads the front of the Brandless toothpaste tube. I like how informative and scannable the packaging is, although now that I know the toothpaste is fluoride-free, I already think it may not be a great option—fluoride helps prevent tooth decay.
Flavorwise, it's a little crunchy-granola for me—not a huge surprise given its fairly short list of ingredients like "peppermint essential oil," "stevia," and "fennel seed essential oil." It tastes a bit too much like fennel, but not bad. My mouth feels clean enough after.
The Trader Joe's toothpaste boasts, "with Baking Soda & Fluoride," on the front of its packaging. I strongly dislike how it tastes. I am sure the baking soda is the culprit for the mouth-puckeringly bitter, sour flavor, but I feel there could've been a more valiant attempt made to mask that ickiness.
After brushing my teeth with this hellpaste, I consider brushing my teeth a second time with a different toothpaste—that's how much I hate it. Hours later, the terrible taste lingers like an unwanted ghost. (Anyone know how to exorcise Trader Joe's toothpaste phantoms? They are haunting my mouth.)
Better Deal: Trader Joe's (save 33 cents/oz over Brandless)
Better Flavor: Brandless
Actually Has Fluoride: Trader Joe's
Facial Lotion: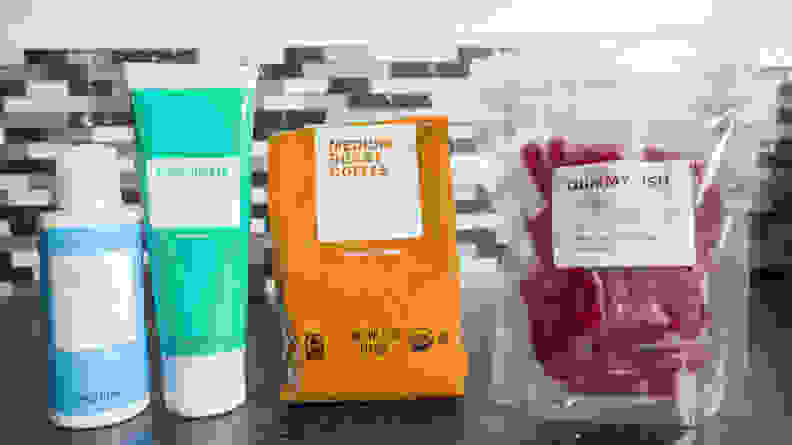 Okay, for $3, the Brandless lotion is surprisingly great. It goes on smooth and lightweight, and it absorbs into my skin almost instantly. No scent to speak of, which I appreciate in a facial moisturizer. My skin looks better after I use it than it looked before, glowy but still matte.
The Trader Joe's moisturizer, on the other hand, is not my friend. It feels a bit greasy and doesn't absorb right away, making my skin tacky to the touch. Not a disaster, but also not something I'll be using again.
Better Deal: Brandless (save 25 cents/oz over Trader Joe's)
Better Product: Brandless
Paring Knife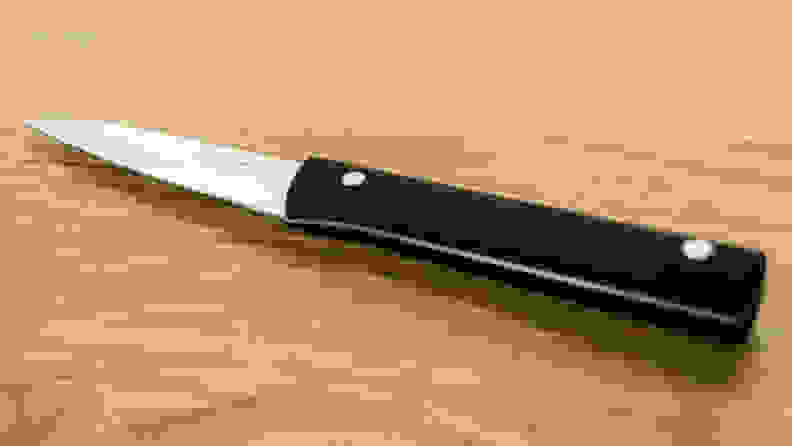 I don't expect much from a $3 knife, which is good because it means the Brandless knife surprises me. Don't get me wrong—it looks and feels cheap. The handle is slippery when damp and is uncomfortable to grip. Bits of black material seem poised to flake off where the handle meets the blade. But the blade is unexpectedly sharp, making quick and easy work of a bell pepper. It cuts cleanly through a block of cheddar cheese as well, but requires some serious pressure to get the task done. I wouldn't want to own this forever, nor would I expect it to last forever—but if you're just looking for a temporary blade to use until you purchase a better one, this'll do.
The Verdict
Brandless is a cool concept, but I don't think it quite lives up to its vision. Products are, for the most part, actually nice, and the packaging is useful—that's all true. But the "Brandless" gimmick, the $3 items made possible by removing "brand tax," the promise of a Truly Good Deal—that's where I find Brandless lacking. Some items are actually good deals, but many are just cheap because they're smaller than higher-priced items at other stores. And quite honestly, I'd rather buy larger packages most of the time anyway, especially when I'm purchasing from a site like Brandless, where you have to pay for shipping for each order.
Should you steer clear of Brandless, then? Absolutely not. Just shop around a bit first. Use your judgment. And make sure you check how many ounces of product you're really getting for your $3.