Home & Garden
Is a salad spinner REALLY worth your money?
Why settle for soggy lettuce when you can spin your way to longer lasting greens?
Credit:
Long before I went to culinary school, I had a vegetarian roommate. When we moved in together, she unpacked this weird, circular shaped gadget and placed it in a kitchen cabinet. "Oh, that's my salad spinner," she explained. She ate a lot of salads made from head lettuce and other fresh greens, so it totally makes sense now, but at the time I was stunned, shocked, and speechless. I had only cooked with pre-washed salad mix from a bag, so my young, naive self couldn't understand why she would need to spin lettuce!
Years later, I know I couldn't have run my restaurant without the industrial-sized spinner designed to clean two gallons of lettuce at a time. But, I wondered if the home cook really needs a salad spinner or if you can get away without one. I got the $25.49 OXO Good Grips Salad Spinner (the highest rated salad spinner on Amazon) and whipped up a bunch of salads to see if this is a kitchen essential or a waste of space.
The gadget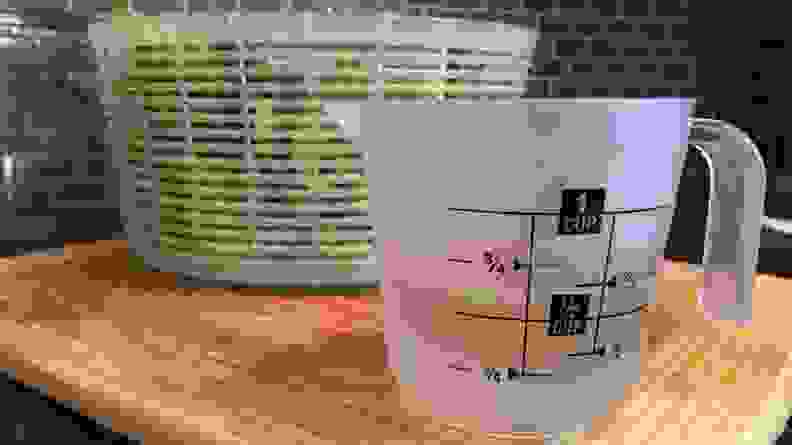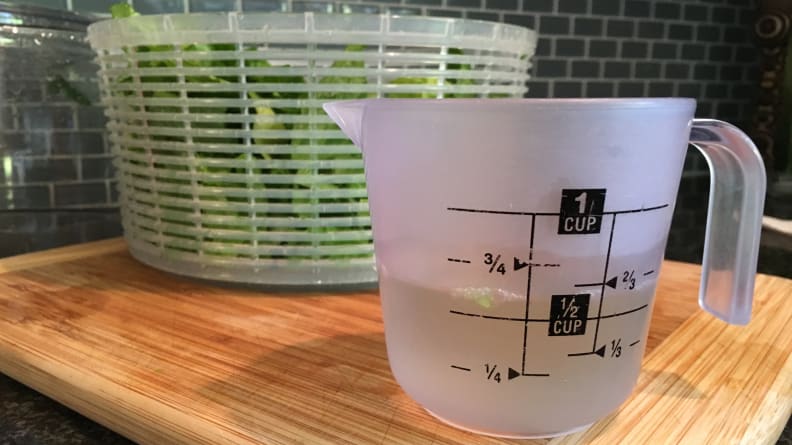 There are less expensive salad spinners, but I've learned the hard way that you usually get what you pay for when it comes to salad spinners. The inexpensive ones are cheaply made and break down after a few spins. The OXO Good Grips Salad Spinner has a large capacity (5-quart) bowl, allowing you to spin a full head of lettuce at once. The OXO also has this nice feature with a stopper button to stop the bowl from spinning, and the knob locks down so the device stores flat.
Using a salad spinner begins with chopping your lettuce. Then, submerge it in water, agitating it a little with your hands to remove any pesky clinging dirt. Drain the water, place the cleaned lettuce into the salad spinner's basket, and set the basket inside the bowl. Cover the bowl and unlock the knob, pumping it to spin the basket. Any water that coats the lettuce will spin out into the bowl. Super easy!
The alternative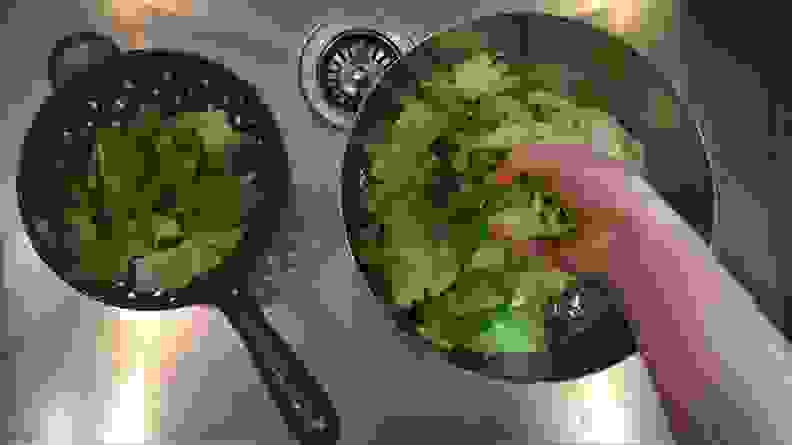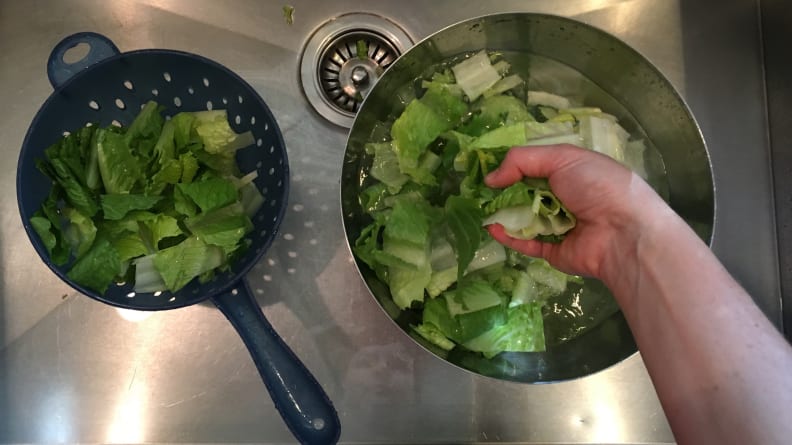 The only other way to dry lettuce is by hand. I've tried chopping the head of lettuce in half and washing it with the core intact so I can shake the water out, but that way doesn't get the lettuce very clean. The lettuce is cleaner when washed as bite-sized pieces, but you can't leave it to drip dry in the colander—the water likes to cling inside up-turned pieces. So that leaves us with hand drying, which (at least in my house) involves wasting lots and lots of paper towels.
Once your lettuce is cut, wash it like normal and place it in a colander to dry. Shake the colander vigorously to remove as much water as possible. Then, spread the lettuce out on a layer of paper towels on a sheet tray. Press down gently with the paper towels. Repeat, replacing the towels when they soak through, until you're tired of wasting paper towels.
The results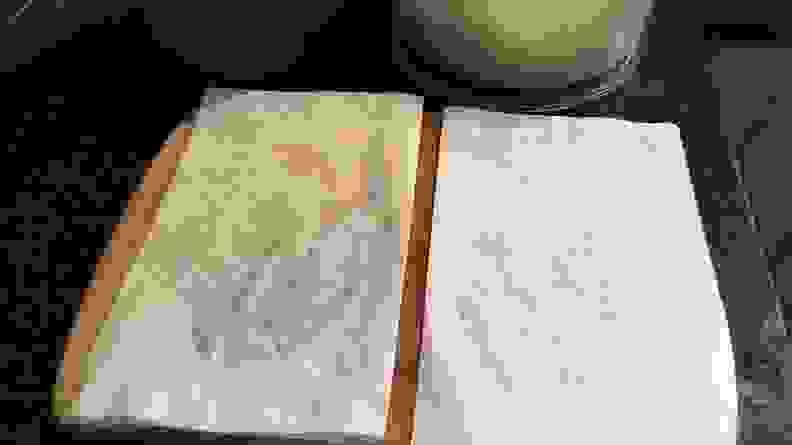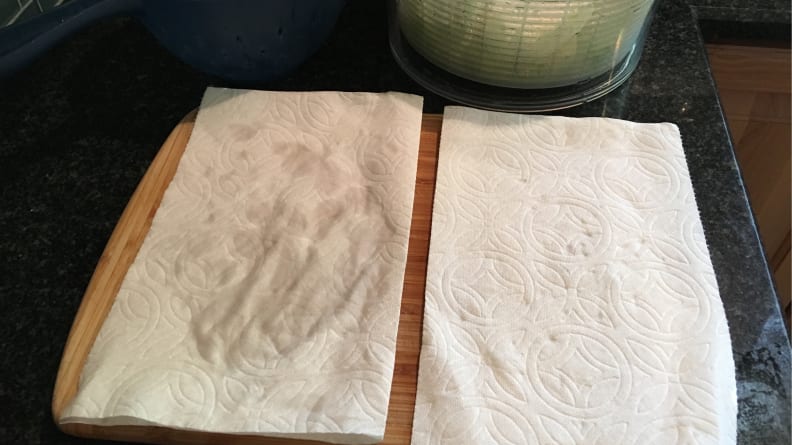 The hand-drying method didn't even come close to competing with the salad spinner. The OXO cleaned and dried an entire head of lettuce in 30 seconds. By comparison, after using a wasteful amount of paper towels, my lettuce was still not completely dry after 3 minutes of patting, patting, and more patting.
The salad spinner spun out an impressive amount of water – almost 2/3 of a cup. The lettuce was totally dry to the touch and didn't leave very much water on the paper towel. The hand-dried lettuce was not only soggy, but it soaked the paper towel through. I spun it in the salad spinner after measuring its residual water, just to see how much water was left, and it spun out over 1/4 cup!
The winner
There was really no comparison here – this one goes to the gadget. The OXO Good Grips Salad Spinner is large and bulky, so it is going to take up quite a bit of space for storage, but it's totally worth it if you clean a lot of lettuce. Dryer lettuce means an extended shelf life because there is a greatly reduced chance that the lettuce will sog out in the crisper. If a bulky gadget can save me money, I'm sold!