Home & Garden
This adorable, tiny DIY robot is also a wind-up music box
Meet Orpheus, the saddest music machine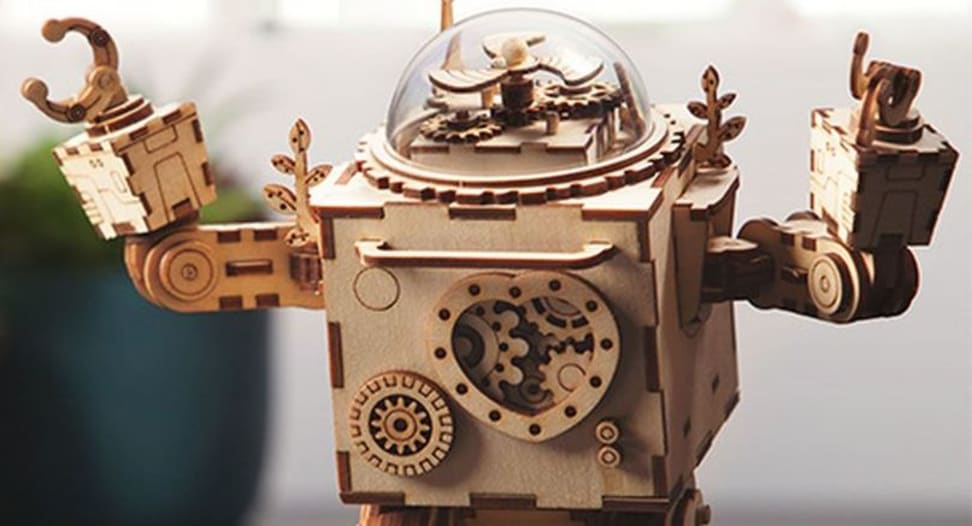 Credit: Daily Dot
Whenever I think about robots, I can't help but think about Terminator. You know, the one that wants to rid the earth of humankind? Well, this mechanical companion from ThinkGeek flips the script on the maniacal machine cliché.
His name is Orpheus, and he is a DIY wind-up robot that doubles as a wind-up music box. The kit comes with 220 laser-cut wood pieces and you're supposed to build the entire thing yourself. That's a lot of parts, making this more of a 3D puzzle than anything.
And like most puzzles, it's actually more difficult than it looks and the instructions aren't super clear—at least, according to user reviews on Thinkgeek. Still, persevere and you'll be left with your very own wind-up, wooden robot that lights up, twirls his head, and even plays a melody called "Cycle of Happiness" that is definitely "Can't Take My Eyes Off You" by Frankie Valli and The 4 Seasons.
Orpheus is available on ThinkGeek for $29.99 and is not recommended for super young children. For adults or older kids, though? This is a perfect rainy day project.
Related Video