Earlier this week, I traveled to Sony Hall in New York City—just around the corner from Times Square—to see the company's newest flagship TVs. If I thought NYC's low-rent superheroes were any kind of spectacle, Sony's new TVs changed my mind faster than a speeding bullet.
The two new TV series, called Z9F and A9F, are Sony's LED/LCD and OLED TV flagships for 2018, respectively. During the two-hour press event and three-hour following technical demonstration, Sony did its damnedest to demonstrate in precise but sweeping TV jargon what makes its new TVs superior to the competition.
Specifically, the shootout style demos—which we were not allowed to photograph, but could take notes on—had Sony's new TVs set up side-by-side with two of the best TVs we've tested this year: an (unspecified) LG OLED, and Samsung's flagship, the Q9FN.
The "Master Series" TVs will have a special, picture-perfect viewing mode designed specifically for Netflix.
Without pricing, release date information, and some lab time, I'm not about to wildly conjecture about the value of Sony's newest TVs. But they're designed to replicate the picture balance of Sony's $30,000 BVM-X300 broadcast video monitor—an RGB OLED display utilized by Hollywood directors and colorists to professionally master your favorite movies. That's pretty exciting, especially for AV nerds.
There's a lot to unpack about these high-aiming new Sony TVs, but one of the most interesting points made during Tuesday's demonstration was that the so-called "Master Series" sets will have a special, picture-perfect viewing mode designed specifically for Netflix: Netflix Calibrated Mode.
What is Netflix Calibrated Mode?
---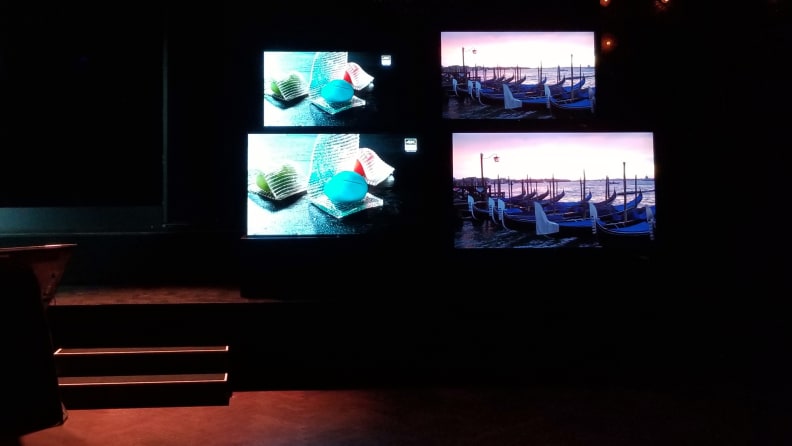 One of the main draws of the Master Series TVs is their apparent picture perfection and accuracy. In fact, Sony's various speakers said the words "director's intent" during the presentations about a hundred times, and Sony's Toshiyuki Ogura emphasized the Japanese concept of "kando," which roughly means to sensitivity or way (do) of sensitivity/reception, but doesn't have a direct English translation.
The crux of the argument is that no current TVs, even the multiple-thousands-of-dollars sets from Samsung and LG, are sensitive enough to reveal the full scope and subtlety of the carefully graded movies we watch at the cinema and at home. And this is especially true when you throw streaming services like Netflix into the mix: the platform is notorious amongst AV enthusiasts for its compressed, imperfect renderings of important picture details.
Until this effort—which is a first in the TV industry—snubbing Netflix for its picture quality was easy. But the problems stem from more than just how compressed Netflix content needs to be in order to be delivered over a huge range of WiFi networks—from the skimpiest to the most robust—in homes around the world. Netflix also traditionally suffers from color dithering, where subtler gradations and "softer" colors are bowled over by, well, the app's lack of sensitivity.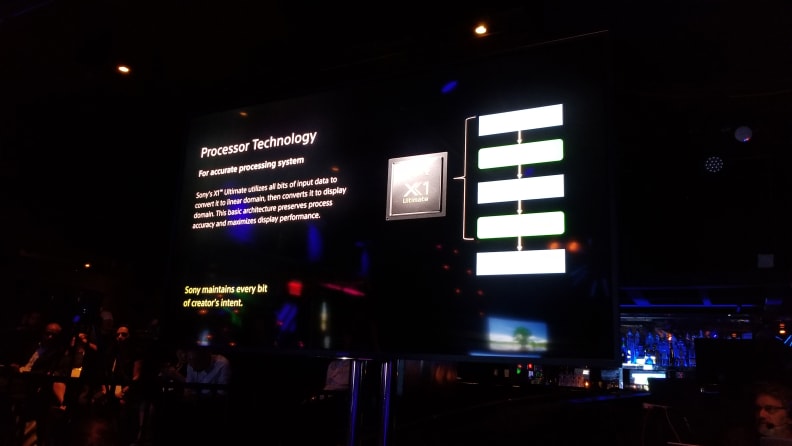 The built-in Netflix app on the Master Series TVs will apparently allow users to access "Netflix Calibrated Mode," which is wired into the TVs on a hardware/factory level. This means that despite it being a baseline for all Netflix content (not tailored to specific shows or movies), you won't have access to it while running the app from a different source, like a Roku. But having that cooperation between Netflix and the Master Series TVs on a hardware level is likely the only way this kind of thing is possible.
Gizmodo's Adam Estes has said that the statement struck him as "bullshit," but I wouldn't be so quick to discount its earnestness, even if you doubt the utility or execution. Since the days of the Trinitron CRTs and "Triluminos" quantum dot LED TVs, Sony has always kept an iron grip on the Bravia namesake. In my years reviewing and testing TVs, Sony displays have evinced the most consistent out-of-the-box accuracy of almost any brand, except perhaps Panasonic's late, masterful plasma TVs. And with the company losing ground over the last decade in the world TV marketplace, I am left wondering if taking an earnest shot at ultra-premium, broadcast video monitor grade TVs that don't just make 4K/HDR Blu-rays look better, but Netflix too—the world's most-watched set of programming—isn't one of Sony's only remaining avenues for success.
What's the rub? These TVs are going to be very expensive this fall, and currently, you can't get Netflix Calibrated Mode on anything but the Master Series displays. But the crux of Sony's demonstration was clear enough: Sony hopes to best both LG and Samsung at their own games, offering professional-quality displays in the OLED and LED/LCD styles and bringing highly sensitive picture quality not just to the home theater/Blu-ray sphere, but to Netflix, too. I guess we'll see whether they succeed in a few months.