Where Samsung and Sony used one screen for both laptop and tablet functionality, Asus uses two screens. When closed, the Taichi 21 is an 11.6-inch, 1080p tablet, complete with a 1.9GHz Intel Core i7 processor, 4GB of RAM, and a 256GB solid-state drive. Once opened, you're treated to another 1080p screen, full keyboard, and touchpad. Neat, right?
It sure is—when it works.
Mo' screens, mo' problems
Are two screens really better than one? That seems to be Asus' thinking, and we can see why. With other hybrids, you're free to get your tablet on, but when you switch to laptop mode, you're left with a smudge-ridden screen. The Taichi 21 solves that problem.
Asus knows how to make a comfortable keyboard.
The top of the Taichi is its tablet screen, which would normally be a laptop's cover. As far as touchscreen's go, this one is a joy to use; I had no problem navigating Windows 8 with my finger or the included stylus. Yes, Asus includes a stylus much like the Sony VAIO Duo, although Asus' pen isn't as responsive.
Open the Taichi 21 up and you're treated to a traditional laptop. This screen is the same size as the touchscreen, plus it's also 1080p. Below, you'll find another one of Asus' excellent backlit keyboards. Seriously, Asus knows how to make a comfortable keyboard—take a look at the Zenbook and Vivobook for proof. Another thing we've noticed about the company? They make excellent touchpads, too. The Taichi includes a smooth pad that makes clicking, dragging, and scrolling a breeze.
Except when it doesn't.
I wanted to love this touchpad, but it has a crippling flaw. Things would be going swimmingly, and then the pad would go berserk and stop responding. And then it would start responding. And then the cursor would jump all over the screen.
The Taichi's touchpad has a crippling flaw.
I installed new drivers and the problem seemed to be fixed, only to rear its troublesome head again. And just to be thorough, I tested more than one Taichi—the same issue showed up. I'm not the only one to find flaws with the touchpad—customers on Amazon seem frustrated, too.
In case you're wondering, all software—not just the touchpad drivers—was updated prior to testing this laptop.
Where'd this laptop's battery life go?
Even though this hybrid's touchpad and screen issues are a bummer, its performance is not.
Navigating Windows 8 feels snappy, as does loading programs.
The Taichi, which is equipped with a dual-core Intel i7 processor and a speedy solid-state hard drive, blazed through benchmarking tests like PCMark and Geekbench. These two tests take a laptop's processor and especially its hard drive performance into account—the faster the read and write speeds, the smoother the performance.
How does this translate into real-world results? Programs load quickly and everyday tasks take less time to do. We feed our test laptops complex equations in Microsoft Excel, as well as intensive scripts in Photoshop. Asus' Taichi performed phenomenally. It took less time to complete these tasks than most laptops we've tested, save for the Sony VAIO Duo and MacBook Air.
Navigating Windows 8 feels snappy, as does loading programs. Even booting the Taichi is blisteringly fast—it's nearly instantaneous!
The Taichi's great processor-based performance doesn't translate to outstanding graphical feats, though. We use 3DMark Vantage to test a laptop's graphical prowess, and the Taichi 21 underwhelmed. Even running Portal 2 on high settings produced ho-hum frame rates.
Basic web-browsing yields about 3 hours and 20 minutes of battery life—that's insanely disappointing.
While I wouldn't expect a thin and light hybrid like this to have incredible graphics processing, I would expect decent battery life. That ain't happening here. Basic web-browsing with the brightness dimmed to 50% yields about 3 hours and 20 minutes—that's insanely disappointing. This laptop doesn't come with Intel's newest fourth-generation chip, which drastically improves battery life. Still, 3 hours and 20 minutes is just bad.
Nothing invasive, but nothing very useful
Bloatware is a interesting concept. The term refers to prepackaged apps on a device that probably aren't very useful. On smartphones, getting rid of these programs is usually not allowed by conventional methods. On Windows? Just uninstall them.
Asus bundles a lot of its apps on the Taichi 21, and most are not programs that most people need.
The WebStorage Sync Agent is Asus' version of Dropbox, but who is really going to use this program over Dropbox? The same goes for Asus' Power4Gear Hybrid tool, which is a fancy interface for basic battery options. Just click on the battery icon in your Windows taskbar for the same features.
One weird app is Screen Share, which allows use of both screens. That's right: When in laptop mode, you can use the touchscreen located on the opposite side as an extended desktop. I'm still struggling to think of a useful situation for this.
Good idea, bad implementation
Asus touts the Taichi 21 as the world's first dual-screen laptop/tablet hybrid. While that is very true, no one was asking for it.
It would be one thing if the Taichi 21 revolutionized the tech world, but that just isn't the case. Having two screens is great when you don't want to use a laptop with a smudged touchscreen—that's really it.
For an 11.6-inch device, the Taichi is way too expensive with its MSRP of $1,599.99. Sure, you can find it for much cheaper, but with the touchpad issues—not to mention horrible battery life—that still seems like too much. Asus' hybrid has the specs to be a solid device, but I can't recommend anything with so many flaws.
Meet the tester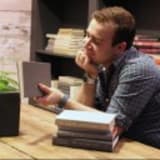 Josh Fields
Staff Writer
@reviewedtech
An enthusiast of all things tech, Josh is one of Reviewed.com's resident television experts. When he's not looking at bright TV screens in a dark room, he's probably reviewing a laptop or finding a new snack at 7-11.
Checking our work.
We use standardized and scientific testing methods to scrutinize every product and provide you with objectively accurate results. If you've found different results in your own research, email us and we'll compare notes. If it looks substantial, we'll gladly re-test a product to try and reproduce these results. After all, peer reviews are a critical part of any scientific process.
Shoot us an email