On the other hand, we have the Asus ZenBook 3 ($1099.99 MSRP, $1599.99 as tested). On paper, this stupidly thin, 11.9mm-thick notebook seems like might have the same problems as the MacBook. Look a little closer, and you'll find that inside its gorgeous aluminum body beats the monstrous heart of a 7th generation Intel Core i chip. It even manages to squeeze in a keyboard you won't hate typing on for longer than a sentence.
But after using it for a week or so, there are flaws that have to be addressed, including disappointing battery life, a whirring fan, and a mushy trackpad. And even though Asus includes a USB-C dock, you're still going to be living la vida adapter. Those issues aside, if you value performance over runtime and mobility over everything, the ZenBook 3 gives you stunning portability and power in a single package.
The ZenBook 3 bears the fruits of Intel's latest and greatest chips. Since Asus skipped the less-powerful Core m options, that means you're getting either 7th generation Core i5 or i7 power packed inside an unbelievably tiny package. Our tester was the $1600 option in an alluring metallic blue and gold color scheme that caught just about everyone's eye. The other specs are as follows:
•Intel Core i7-7500U dual-core processor
•16 GB LPDDR3 2133MHz RAM
•512 GB PCIe SSD
•12.5-inch HD (1920 x 1080) IPS non-touch display
•Intel HD Graphics 620
•WiFi AC/Bluetooth 4.0
•40 Wh battery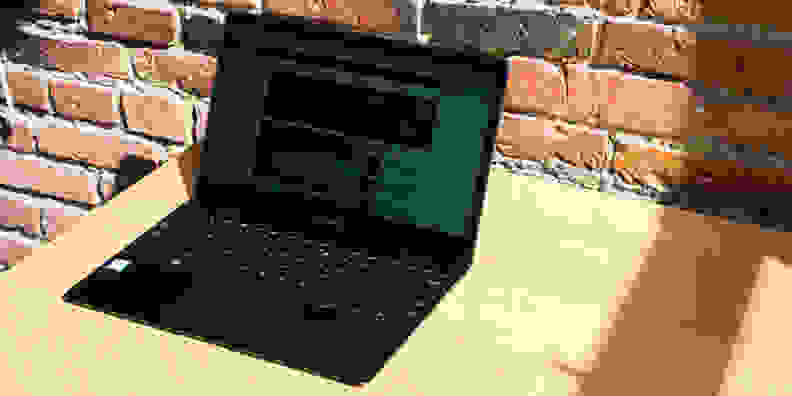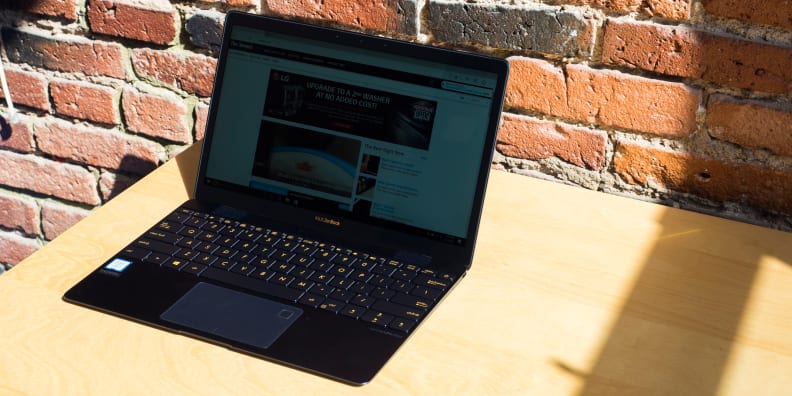 Colorful and high-quality design
I'm a big fan of colorful electronics. From the older iPod Nanos to the rainbow of Nokia Lumia phones, and even the rose gold iPads, I greatly prefer the option of making a statement with a gadget. Granted, Apple's recent color options have all been more subdued than splashy, but it's better than nothing. Asus has always offered intriguing hues, but they were typically limited to subtle purples or champagne tones. That's why this new ZenBook is such a stunner: its regal deep blue/gold combination is so unique that it garnered tons of attention around our office.
What's even better than the color is the build quality, which is massively impressive. It's easy to compare this model to Apple's 12-inch MacBook, and in this case Asus has basically matched Apple tit-for-tat. Whereas past Asus laptops might have looked about as pretty as the Apple alternative, they often fell short in one area or another. If you're only going by photos, you don't have to worry about this ZenBook feeling chintzy or cheap—it's just as nice as the Mac.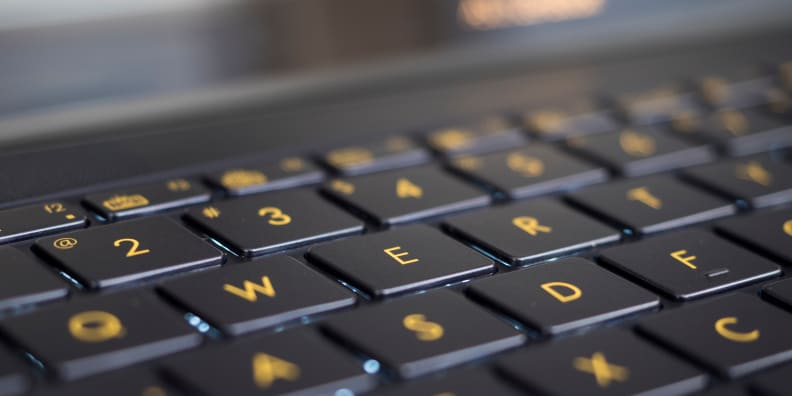 You get a shallow keyboard that isn't torture to use
Speaking of the MacBook... perhaps my least favorite aspect of that otherwise impressive product was its keyboard. It seemed that in the pursuit of making something as thin as physically possible, Apple's design and engineering teams forgot that real, living humans would use the super-shallow keyboard to type for long periods of time. Try tapping on a table for an hour and see if your fingers feel great afterwards.
This Asus, which is millimeters thinner than the MacBook, has a substantially better, nicer-to-use keyboard. The keys actually feel like they move under my fingers; they feel crisp without feeling like clicky buttons. It's not the best keyboard I've ever used, but given how small and light this notebook is, it's not a dealbreaker either. You only sacrifice a couple millimeters off of a standard ultrabook keyboard when it's all said and done.
Intel Core i power in a super thin package
Now, I can't get to talking about engineering without touching upon the most impressive feature of this ZenBook. Other thin-and-light systems from Samsung's Galaxy TabPro S to the Huawei MateBook went with an Intel Core m chip. These processors are low-power and can go without a fan inside a slender case.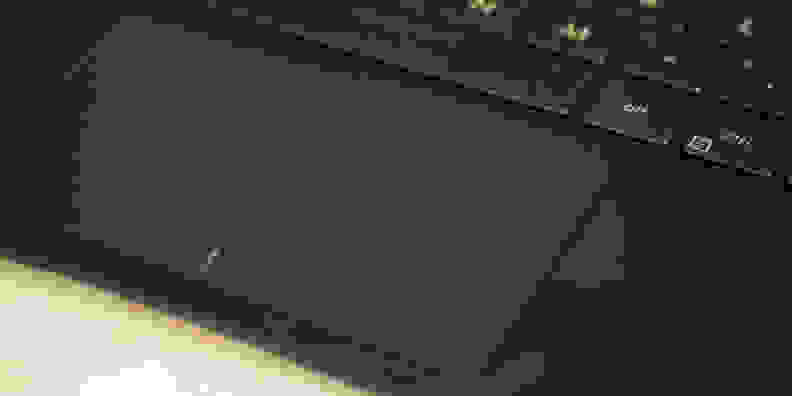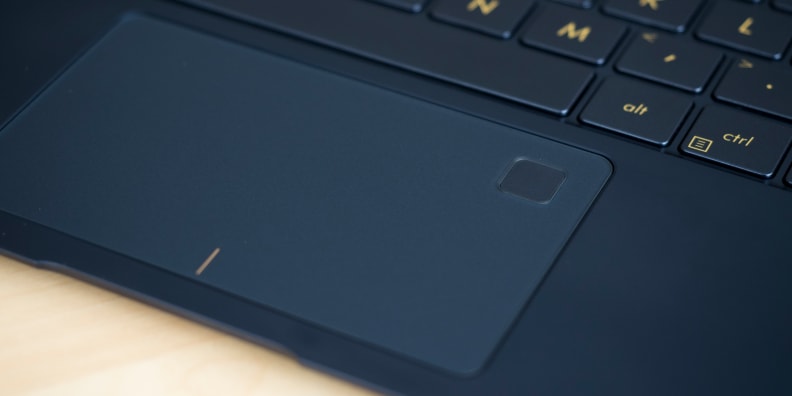 The ZenBook 3, on the other hand, packs in full Core i power inside its impossibly thin case. In CPU-intensive tasks, we found that the ZenBook 3 was around 23% faster than a similar Core m-based system. Graphics are also a lot faster, so if you do work in Photoshop or even for some light gaming, this is a way better choice. The only other super thin computer we've seen with Core I power is the HP Spectre, which has a 13-inch display and a larger footprint.
It's not all roses, like we'll get into later, but we're generally impressed with what Asus did here. The drawbacks are real, but having a full-powered Intel chip inside something this portable makes it a compelling choice over the competition. Throw in double the RAM of the MacBook, and you're looking at a capable laptop that could just as well double as your desktop if you use a USB-C dock in your office setup.
This trackpad aims for the stars but falls short
The silky-smooth glass trackpad Asus used in this laptop is among the best you can get in a Windows laptop thanks to Microsoft's precision drivers. But it's not all roses—my biggest beef is that it has a very mushy physical click that's not satisfying in the slightest. If you use tap-to-click, you'll be much better off. Gestures like scrolling and tracking around are handled very well, too.
High-end versions of the ZenBook 3, like the one I got from Asus to review, also include a fingerprint scanner inset into the trackpad's upper right corner. It works with the built-in Windows 10 Windows Hello feature to make logins as easy and snappy as on a smartphone.  
Only one data port… but an included adapter makes it workable
For a lot of people used to using a tablet or phone as their main computer, having a single USB port is totally normal. But given that the ZenBook 3 sports some impressive specs and a gorgeous screen, I'd want to bust out this baby for everything from video editing to developing RAW photos in Lightroom. That's when having one port for charging and data can be a bit of a logjam.
Thankfully, Asus includes a mini USB-C hub in the box, giving you a full-sized HDMI port, a pass-through charging port, and a real USB 3.0 port. Contrast that with Apple, who charges MacBook buyers a $79 fee to connect to their current accessories.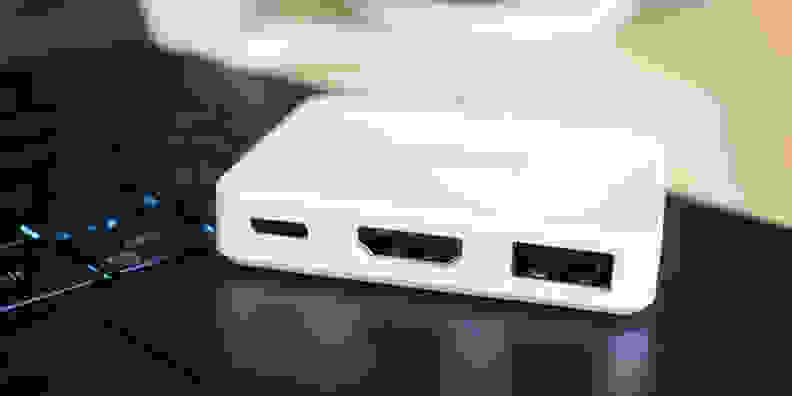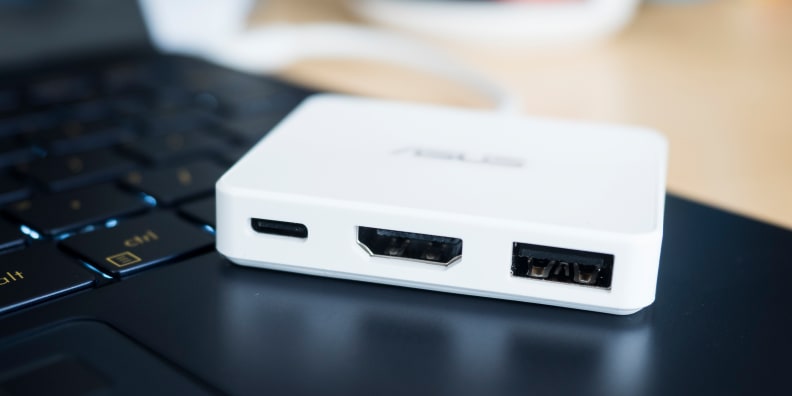 Too much bloatware
The first time you set up a PC can really make or break your initial impressions. Asus is a little stuck in the past with its bloatware, as you'll see a cornucopia of icons on the desktop from the get-go, including links to Evernote, Dropbox storage, WPS Office, and more. McAfee also comes pre-installed, which can be annoying sometimes. If you opt for this otherwise impressive Asus, be ready to dig in and uninstall a bunch of apps that you don't want.
With great power means less battery life
I knew there had to be a catch somewhere, and I expected it to be in the battery department. After all, you can't just shoehorn a full-powered Core i7 chip into a slim laptop and call it a day. Core m chips can also get great battery life, as we saw on the super-slim 12-inch MacBook.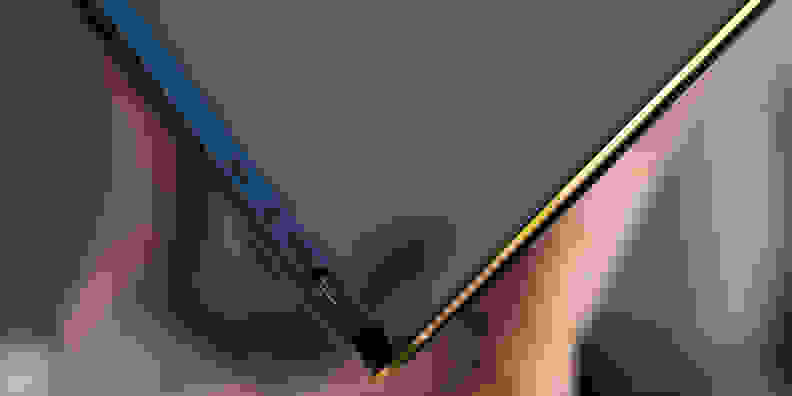 This dynamo Asus barely made it to 3 hours in our intensive PCMark 8 Home battery life test. I'm hesitant to say it'll make it a whole work day without needing to get plugged in, but if you're caught between this and the MacBook, based on battery life alone the MacBook (which clocked in at over five hours), the Apple option is the one to get.
No, unless you're prepared to deal with the downsides.
All things considered, I'm pretty blown away by the ZenBook 3, but this isn't a laptop for everyone. Though it's the spitting image of the Apple MacBook on the inside, this computer is like the Hulk compared to Apple's mild-mannered Bruce Banner. Unfortunately for Asus, in the parlance of the Green Goliath himself, Hulk smash battery. By going with a normal Core i chip, you're going to hear a humming fan occasionally, and you're going to be reaching for your charger a whole lot more often. So you can have power or runtime, but not both in an ~11 mm thick case.
If these marks against the ZenBook 3 are outweighed by the huge performance boost compared to what Apple has for sale, then it might be worth it. But then again, you could just grab a great Dell XPS 13 for the same price, which is quieter, and has a bigger battery inside its slightly fatter case. A nicer keyboard and trackpad seal the deal for the Dell.
For me, at least, this ZenBook is a more impressive product than the MacBook or the Dell. Its power-to-weight ratio is astonishing for everyday computing, and is especially useful for things like photo editing. If you're on the prowl for a slim machine with a nice screen that can go anywhere, has a powerful processor, and a ton of RAM, then Asus has delivered what Apple couldn't.
Meet the tester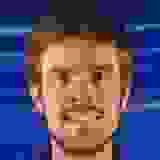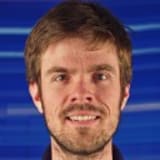 Brendan Nystedt
Contributor
@bnystedt
Brendan is originally from California. Prior to writing for Reviewed.com, he graduated from UC Santa Cruz and did IT support and wrote for a technology blog in the mythical Silicon Valley. Brendan enjoys history, Marx Brothers films, Vietnamese food, cars, and laughing loudly.
Checking our work.
Our team is here for one purpose: to help you buy the best stuff and love what you own. Our writers, editors, and lab technicians obsess over the products we cover to make sure you're confident and satisfied. Have a different opinion about something we recommend? Email us and we'll compare notes.
Shoot us an email