In order to make a device this slim, Apple turned to the popular Intel Core m chip. This means that the MacBook runs relatively cool without a fan, but it also means you'll see reduced performance when contrasted with a normal Core I-powered Mac like the MacBook Air. 
 
•Intel Core m3 6Y30 dual-core processor 
•8 GB LPDDR3 RAM 
•256 GB PCIe Solid State Drive 
•12-inch (2304 x 1440) IPS LCD 
•WiFi AC/Bluetooth 4.1 
•Force Touch trackpad 
It's a pricey laptop, but at least it comes well-equipped at its entry-level configuration. The only limitation is that even more expensive versions still only come with 8 GB RAM, and there's no built-to-order way to add more.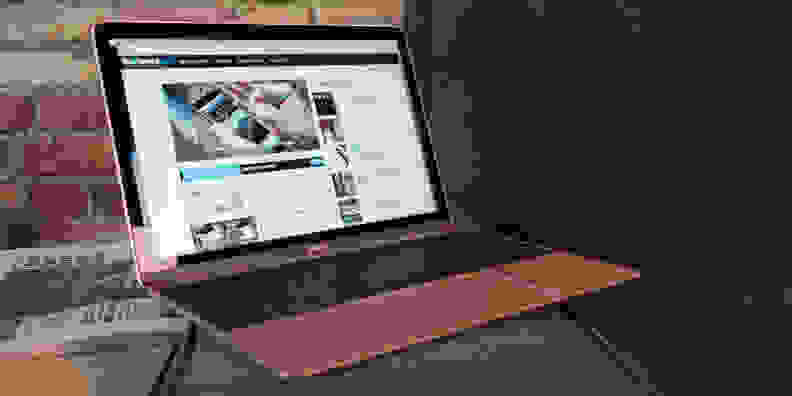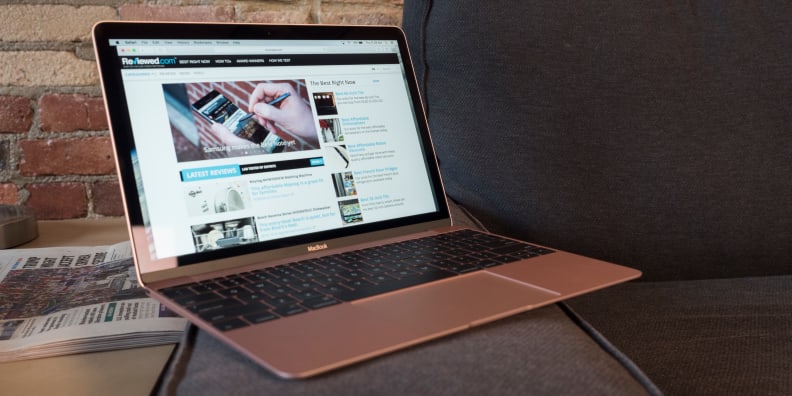 Sharp design, solid software 
There's little doubt that Apple gives users some of the best hardware and software around. The MacBook benefits from Apple's well-perfected unibody design and construction. This year's version of the MacBook is available in four colors, which is unique among Apple's laptops.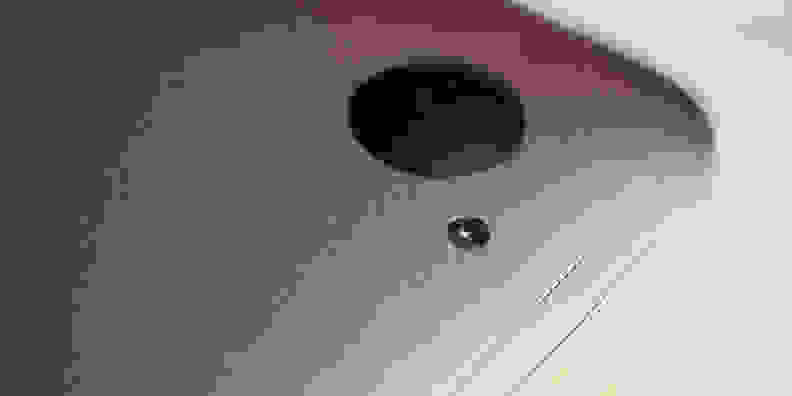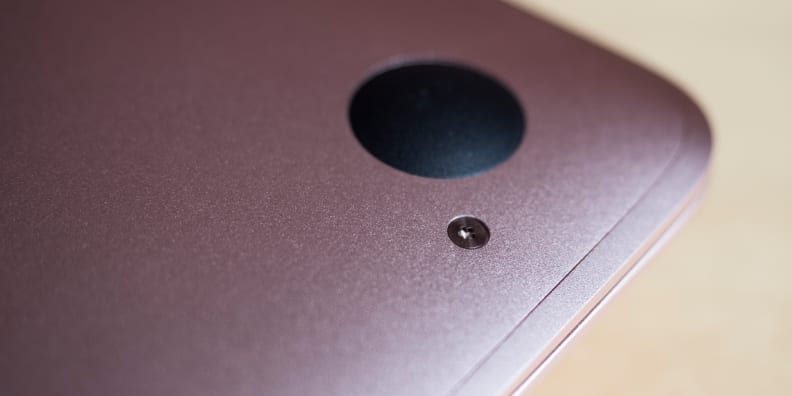 Depending on your tastes, the space gray, silver, gold, or rose gold options will either add to its adorableness or repulse you with gaudiness. Small details like the color-matched anodized screws on the MacBook's bottom panel go a long way to reinforce Apple's legendary reputation for quality engineering.
Even though it hasn't received a thorough makeover in a while, macOS remains a great platform. For you iOS fans, there's a lot of added benefit in features like Handoff, FaceTime, iMessage, and Continuity. The upcoming macOS Sierra update finally brings Siri to the Mac, and it even adds a shared clipboard, so you can copy from your iPhone and paste into your Mac. But, don't be fooled by the similarities between the two ecosystems—for the time being, Apple is keeping the Mac distinctly separate from iOS.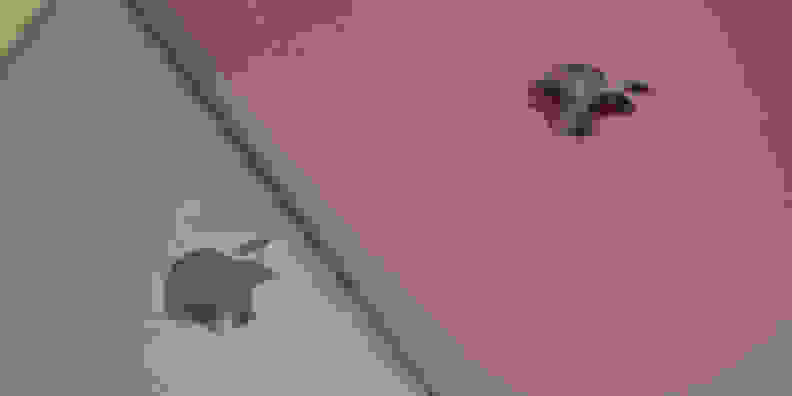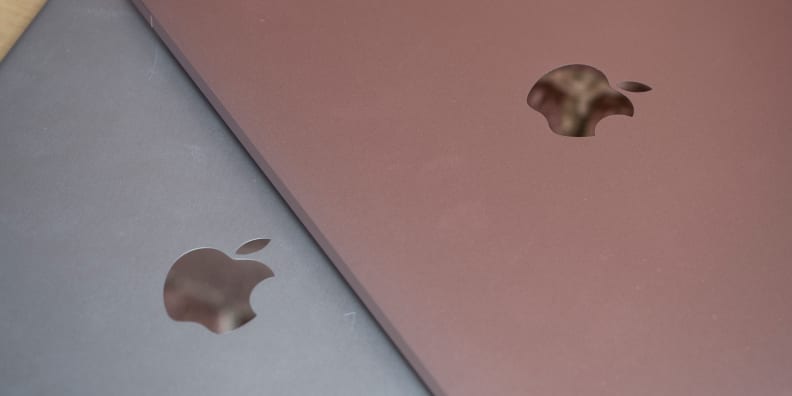 A screen that is bright and sharp 
If there's been one major area where Apple's challenged advanced the tech industry the most, it might be displays. Apple's Retina screens are usually quite good, and even though the MacBook strives to keep it thin, Apple's given it a very nice display. When you get an expensive device like this, it's important that you see your dollars on screen, and boy oh boy, are your eyes in for a treat.  
 
Thumping loud speakers can fill a room
If you're a fan of booming base and just are never satisfied with a laptop's sound, then wait until you hear the speakers in the MacBook. Even though we think that Apple's quad-speaker iPad Pro delivers a fuller, truer sound, the MacBook is able to hold its own.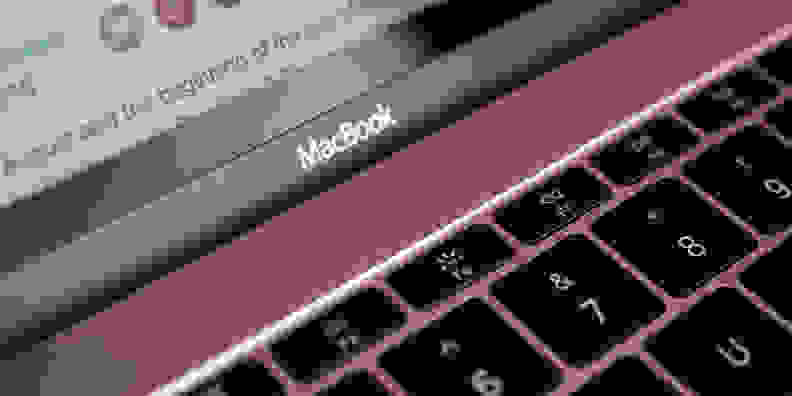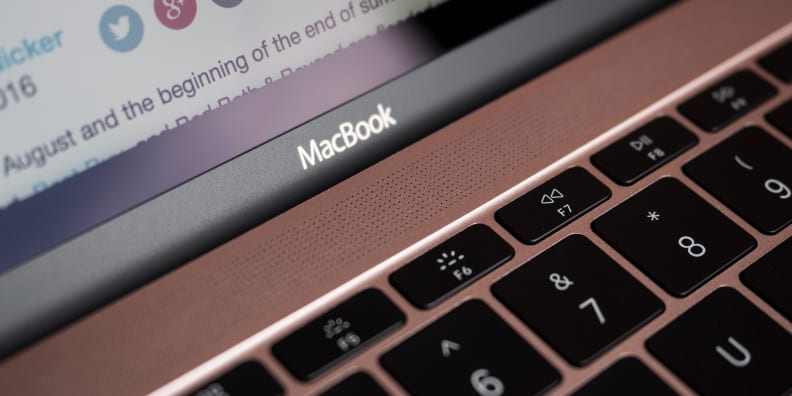 Unbelievably good battery life
If you think that Apple couldn't cram impressive battery life into the katana-thin MacBook, then you should get ready to eat crow. In our very intensive battery life test, the MacBook soared past the 3ish hour average of many thin-and-light Core m devices, scoring 5 hours and 1 minute. Keep in mind that our PC Mark 8-based test runs in Windows and that if we could do this test in macOS, it'd probably do even better.
In context: this MacBook should make it through a day of work, as long as you don't try to do anything really processor-intensive, and still have some charge left over to tackle Netflix when you get home.
Having one port isn't bad, but the situation could be better. 
When its design was introduced last year, the MacBook made headlines by sporting only one single, solitary USB port. Thanks to the advent of USB-C, Apple got away with using the same reversible port for charging and ordinary I/O tasks. It's a neat thought experiment, and there's no doubt that this is the way things will go in the future. But, even now, it's gonna take an investment in inconvenience and adapters if you want to do what most other notebooks can manage.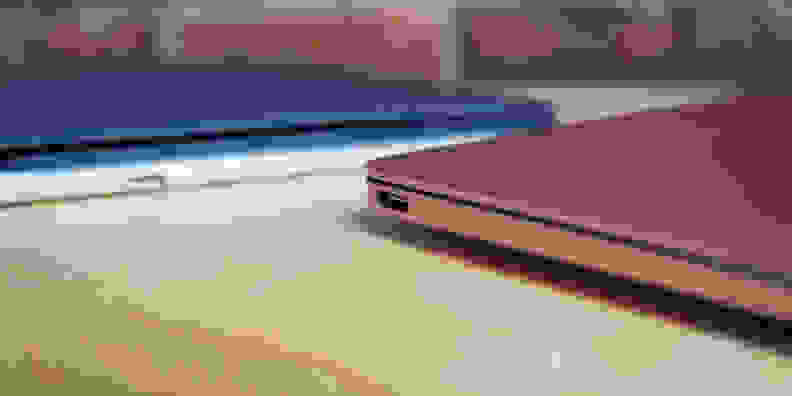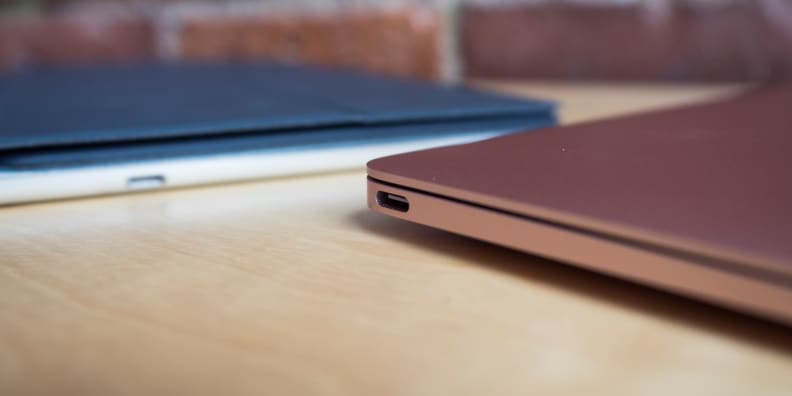 The reliance on USB-C instead of Apple's MagSafe for charging also is a functional downgrade. The magnetically-attached MagSafe was a godsend for anyone with pets or kids (or, if like me, you're just kind of a klutz), since if the charger was snagged, the connector would easily detach from the laptop. I can easily envision tripping over the MacBook's cord and sending its lithe, pink frame flying through the air like a frisbee.
I'm hoping Apple will boost the little MacBook's potential with Thunderbolt in the future, but we're not there quite yet.
 
What could have boosted the functionality of this one port would have been Thunderbolt 3, like we've seen on Windows ultrabooks like the Razer Blade Stealth. Using the same type of USB-C, Intel has worked out a way to get super-fast transfer rates to everything from storage to displays to external graphics cards, along with charging. I'm hoping Apple will boost the little MacBook's potential with Thunderbolt in the future, but we're not there quite yet. 
This keyboard is just not up to snuff
Your mileage may vary, but the keyboard in the MacBook is a huge turnoff for me. Featuring reengineered keyswitches that let it sit deep inside the laptop's razor-thin bottom half, Apple's sacrificed a critical part of the laptop experience. In fact, having very recently used both the Microsoft Surface Pro 4 and Apple's own iPad Pro, the MacBook's keyboard looks that much worse.  The HP Spectre from earlier this year is almost as thin, but it has an astonishingly great keyboard.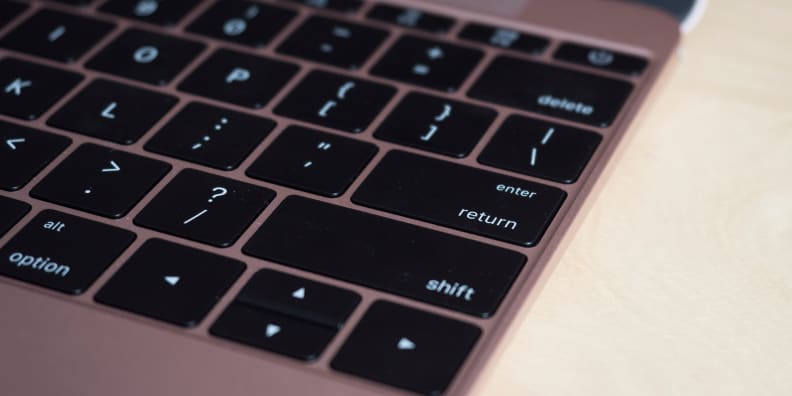 Even though the aforementioned systems are also fairly compact and light, all three feature better keyboards, with longer key throws and better responsiveness. I don't know about you, but I'm willing to sacrifice a few millimeters here and there in order to get a better typing experience. After all, if you're not buying a laptop for the convenience of a high-quality built-in keyboard, why don't you just buy a tablet instead? 
 
A disappointing laptop if you expect extras 
In the past year, we've seen Windows notebooks really try to give users a premium experience. But even among improvements in trackpads and keyboards, along with touch and pen input, there are compelling technologies on the PC side of things that makes this MacBook look a bit old-fashioned. If there's anything Windows 10, and especially computers like the Surface Book have proven to me in the past year, it's that you can indeed blend touch, pen, mouse, and keyboard in a way that lets the user choose how they want to get things done.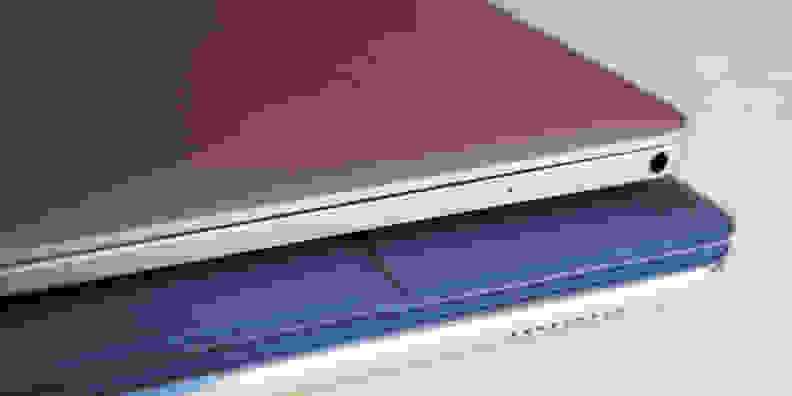 I'd also love to have seen Apple put in its great TouchID fingerprint scanner, which graces most of its line of iOS devices. A touchscreen would could have been a nice bonus, too. Even less expensive PC laptops like Dell's Inspiron 7000 laptops even include stuff like a facial recognition camera, which makes logins a cinch.
Speaking of webcams—the iSight camera you get in the MacBook is actually a low-resolution 480p (yes, standard definition!) camera. That might sting more than a little if you value looking sharp and in-focus during Skype meetings and FaceTime calls.  
 
Apple used to pioneer features like this, but this year it's behind the curve. For $1,300, I don't think it's unjustified to expect more innovative features.     
 
I think that it's foolish to dismiss this notebook due to its lack of ports, and that much of the negative reaction to its uber-minimalism was kneejerk in nature. I think for some shoppers with basic computing needs, this is an interesting model to consider. 
The MacBook will win fans for being so thin and light, but it's a tough sell compared to competing ultrabooks.
 
To this point, I think it's fair to compare the MacBook to its iOS-based cousin, the iPad Pro. Armed with its Smart Keyboard cover, I think that the iPad actually gives you a better typing experience. The small 9.7-inch Pro can cost hundreds less than the MacBook and net you its best perks (portability, loud speakers, a pretty screen, and long battery life). I recently spent some time with the big 12.9-inch version of the Pro, and I'd go so far as to say that I'd rather deal with the occasional drawbacks of using iOS than get saddled with the MacBook's disappointing keyboard.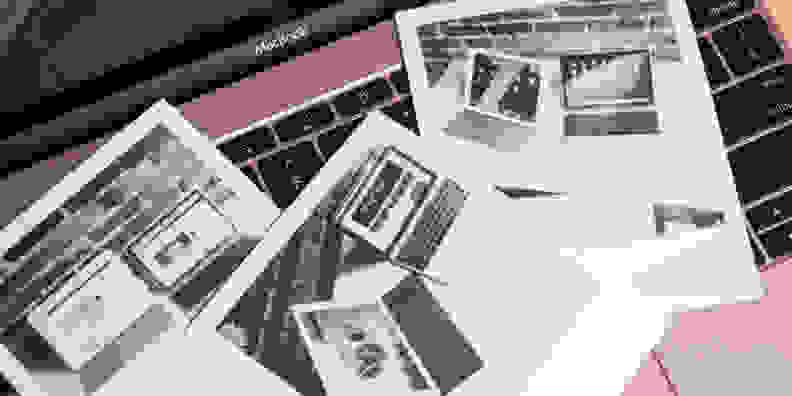 Every computer is made or unmade in its design choices and compromises. As it stands, Apple's own MacBook Air continues to be a better balance, even with its thicker design and lackluster screen. Dowdy display aside, the Air is cheaper, faster, but importantly it also has a keyboard that's much better for writing essays and reviews like this on.  
 
The raison d'être of a laptop isn't simply to become as thin as possible; a great laptop is supposed to be a balance between portability and usability. As it stands, for a lot of people, the MacBook cedes the latter in pursuit of the former, for no obvious functional benefit. It'll undoubtedly win fans for being so insanely thin and light, but for others, the MacBook's flaws will run too deep to justify its high price tag.
Meet the tester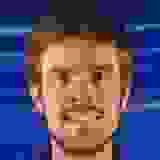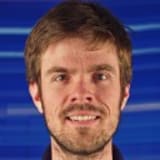 Brendan Nystedt
Contributor
@bnystedt
Brendan is originally from California. Prior to writing for Reviewed.com, he graduated from UC Santa Cruz and did IT support and wrote for a technology blog in the mythical Silicon Valley. Brendan enjoys history, Marx Brothers films, Vietnamese food, cars, and laughing loudly.
Checking our work.
Our team is here for one purpose: to help you buy the best stuff and love what you own. Our writers, editors, and lab technicians obsess over the products we cover to make sure you're confident and satisfied. Have a different opinion about something we recommend? Email us and we'll compare notes.
Shoot us an email