Aimed at entry-level gamers on a budget, the Y700 nonetheless pairs a quad-core Intel i7 processor with a discrete Nvidia graphics chip. There's also quite a bit of customizability, all for a price that a college student could justify. Not only is it cheaper than much of the competition, it's also a bit more tastefully designed, with red accents and a red keyboard backlight. It's chunkier than an ultrabook, but it wears its extra bulk relatively well.
While cumbersome pre-installed software and a poor trackpad hold it back, we think those are worthwhile trade-offs. Anyone looking for a good gaming laptop on a budget should certainly keep the Y700 in their sights.
Available Configurations
Since the Y700 is meant as a gaming laptop, even the base configuration is still a potent machine. The line offers displays ranging from 14 up to 17 inches, and the model we reviewed was the Goldilocks 15-incher. Our review unit had the following specs:
•Intel 6th Generation i7-6700HQ quad-core processor
•16 GB DDR4 RAM
•128 GB SSD (for the OS and programs)
•1 TB 5400 RPM HDD (for storing other files)
•NVIDIA GeForce GTX 960M with 4 GB VRAM
•1080p IPS Antiglare LCD Touchscreen
•802.11ac WiFi/Bluetooth 4.0
In general this configuration is pretty much the ideal mix of price and performance, but we found that the hard drive was the weak link of the bunch. Thankfully, the Y700 uses standard parts like M.2 and SATA drives, so you can easily swap in an affordable SSD if you don't want to upgrade to the one that Lenovo offers. If you wanted to save even more money, go for the AMD-based variant. Sporting 8 GB RAM, a non-touch HD screen, and AMD's A-10 8700P quad-core combo CPU/CPU, this Y700 can be had for a little over $700 at the time of publication.
Otherwise this is a setup that should be able to handle just about anything the current crop of games will throw at it. It's not going to be quite able to play everything on Ultra settings, but games will still look good and you'll be able to maintain a steady framerate without much trouble.
What We Liked
High-performance for a reasonable price
The Y700 we reviewed comes really well equipped for the money. As a bargain option, we think that it's one of the best you can buy. Not only is it configurable (as we've noted above), but it's easy enough to upgrade later on. RAM and storage both are user-accessible, giving your Y700 the option of better performance when you want to get your DIY on.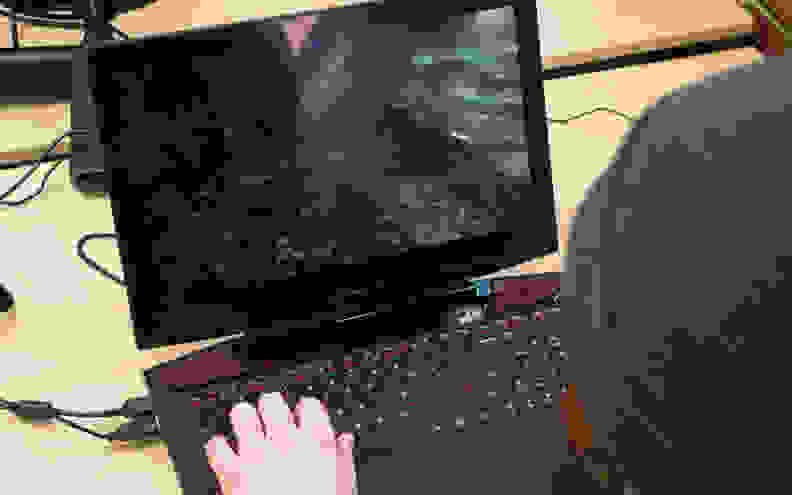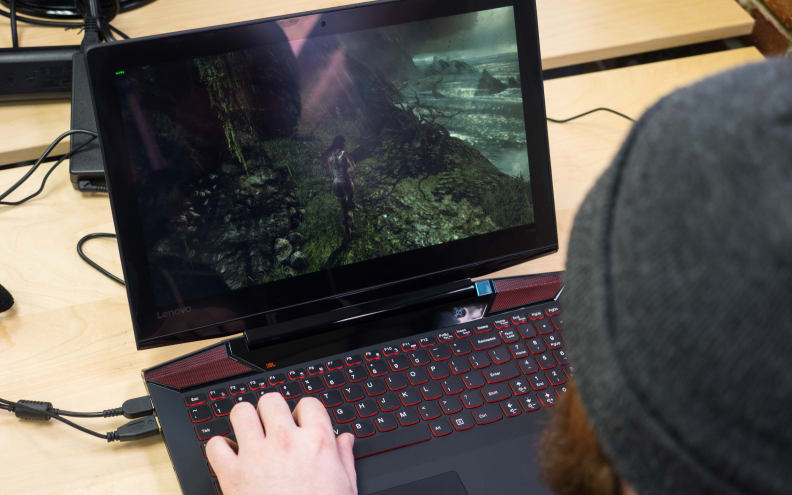 Graphics from a more expensive laptop
This notebook has a pretty nice internal graphics processor, the Nvidia GTX 960M. Our middle-of-the-road model even comes equipped with 4 GB of video RAM, which is pretty impressive. Even the much pricier Dell XPS 15, which packs a similar chip, offers 2 GB of VRAM, which can impact performance when you're really pushing the system hard. The Y700 scores another nice win for bargain-hungry gamers with its GPU.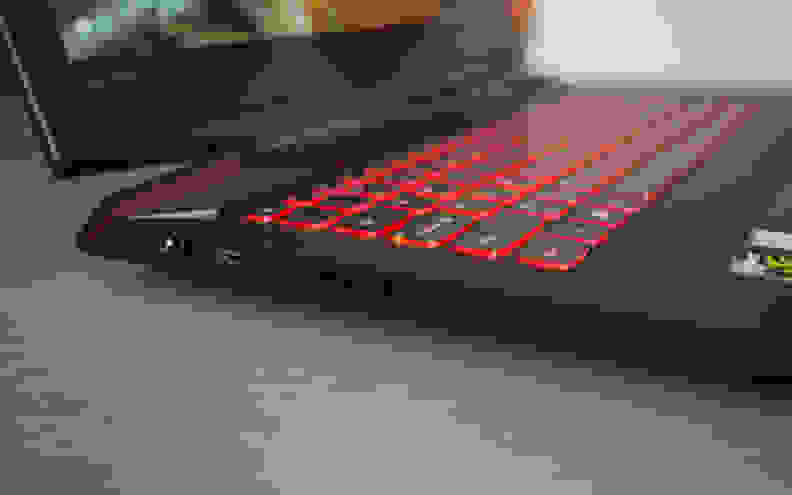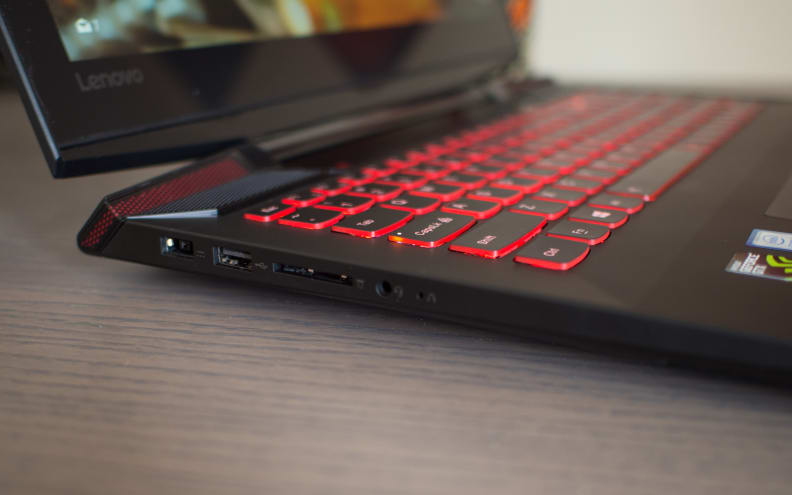 We did a bit of gaming to test this notebook's prowess, and came away fairly impressed. Firing up 2013's Tomb Raider with all the settings cranked up to just about as high as they'd go proved to be no hassle, managing to get around 45 FPS on average. In our standard Metro2033 benchmark, the Y700 scored a respectable average of 40 FPS. Even though it won't push graphics like you'd see with a top-of-the-line desktop PC, the Y700 can tackle newer games at diminished settings, and older ones without batting an eye.
A front-row at the big screen
This laptop isn't shy about flaunting its enormous 15-inch HD semi-gloss display. While it's not the prettiest screen we've ever seen, it's decent enough in most environments, save for a bright sunny day outdoors. It's a touchscreen, which can be nice, but if we know gamers, they probably won't give a hoot. Lenovo offers a 4K display that we haven't checked out, but that extra resolution will come at hit to gaming performance so in general we wouldn't recommend it.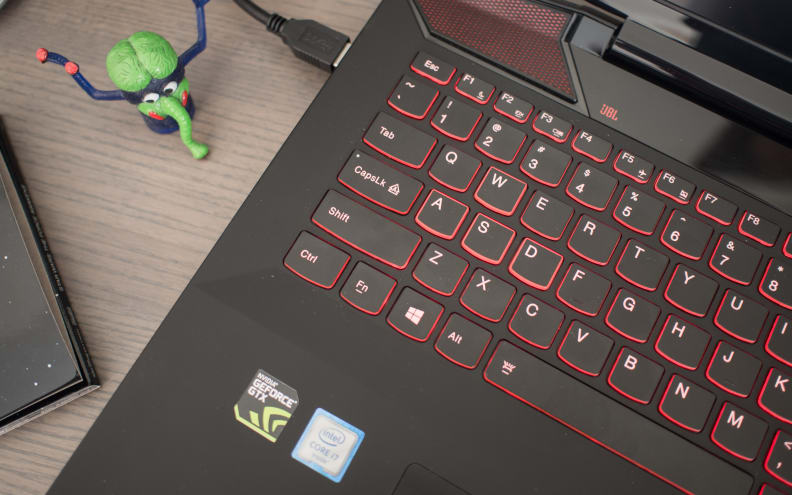 Good keyboard
If you're a fan of nice typing experiences, then the Y700 fits the bill. Even though we think that the company's Thinkpad keyboards are better, this big, spacious keyboard is not bad. It even makes good use of the larger bottom deck to add in a roomy numpad. So, even if you don't constantly crush it at Star Wars Battlefront, you can at least rock some Excel spreadsheets or knock out term papers.
Even if you don't constantly crush it at Star Wars Battlefront, you can at least rock some Excel spreadsheets using this keyboard.
A relatively tastefully-designed gaming notebook
Gaming laptops are rarely subdued when it comes to design. Thankfully, Lenovo made the Y700 with a modicum of restraint. There aren't superfluous lights, insanely big vents, or even a big, obnoxious logo on the back. This laptop has some red highlights, some small vents along the back row, and the backlight on the keyboard's red (with a little extra accent around the WASD keys). Other than that, we loved the materials at work on the Y700.
What We Didn't Like
Terrible trackpad
While we've come a long way in the world of computers, something seems to remain stubbornly persistent: the flakiness of Windows trackpads. The Lenovo IdeaPad Y700, unfortunately, doesn't even meet our diminished standards. Not only are gestures downright ignored occasionally, even physical clicks have a dicey chance of actually being registered. We recognize that many people will automatically hook a mouse up to play games, but it isn't a valid excuse to burden this otherwise good laptop with a bad trackpad experience. Both the 15-inch Samsung Notebook 9 Pro and the Dell XPS 15 gave us trackpads that felt up to snuff, making this one all the more disappointing.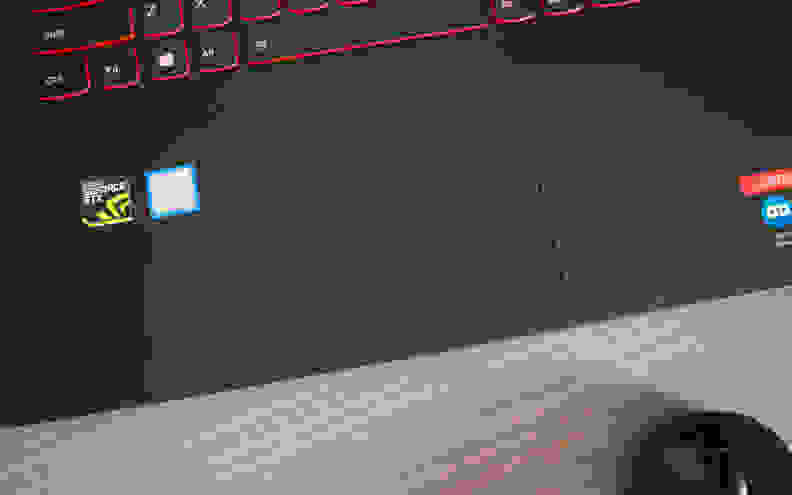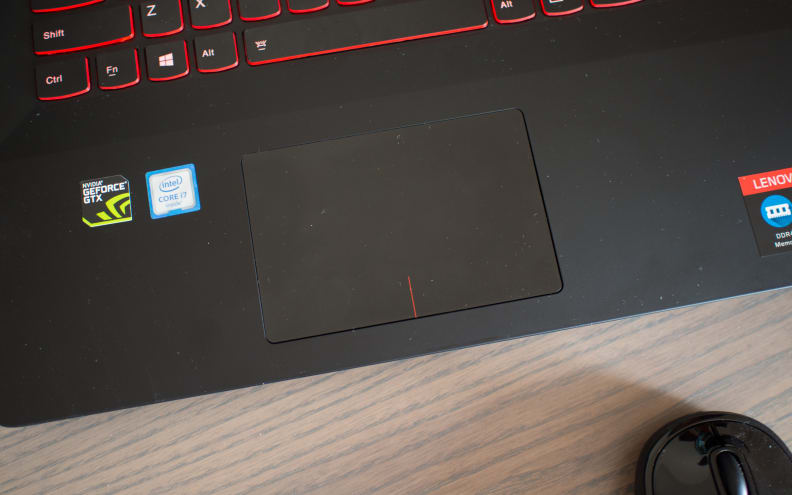 Invasive McAfee and Lenovo apps
Yet again, we're forced to call attention to the sorry state of Lenovo's included software. McAfee should be uninstalled first thing (don't worry—Windows Defender is a very capable backup protection plan that's always free and turns on automatically once McAfee's gone) and some of Lenovo's own apps are just not great. Poking around the Lenovo Assistant app was tedious and slow-going. What's more is that our review unit kept insisting on doing hardware scans in the middle of very important benchmarks. Luckily, you can pick up any of the Y700 models from the Microsoft Store and get one without all the junk pre-installed.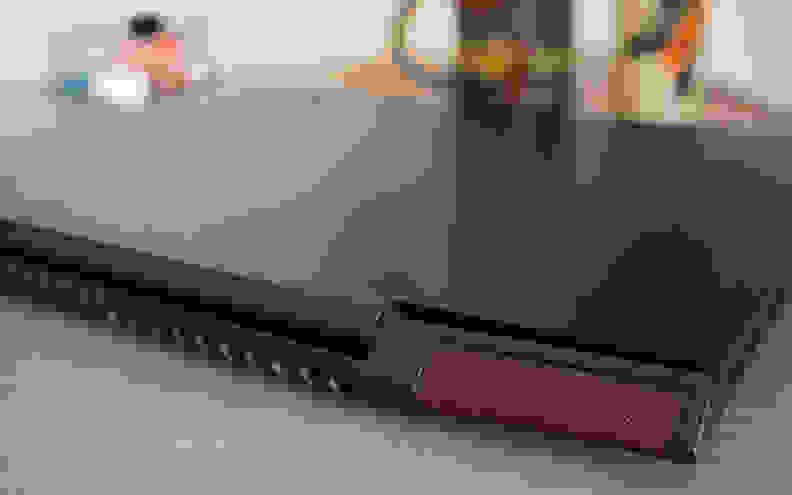 Big and heavy

We almost feel like this is a low blow, but we can't help but think that the Y700 could have managed to be a little smaller. Its pointy corners taper out from the base, which helps mask some bulk, but carrying it around was more of a chore than we expected. It's heavy and it's big and if you are turned off by either of those factors, this isn't a notebook for you.
Only okay battery life
Pretty much every gaming laptop under the sun suffers from poor battery life. That said, we really hoped that the bulk of the Y700 would have contained just a little more battery. In our standard battery test, this big Lenovo barely eked out 2 hours of constant work. When used for our regular tasks, the Y700 always seemed to need to be plugged after about four hours of web browsing and writing.
Conclusion
Lenovo's put together a compelling laptop in the IdeaPad Y700 that comes in at a very reasonable price. We'd recommend the model that we tested, which happens to hover around $1000 depending on promotions. Given how much RAM and storage you get out of the deal (not to mention the beefy processor and graphics), it's more than competitive and good enough for gaming and video editing.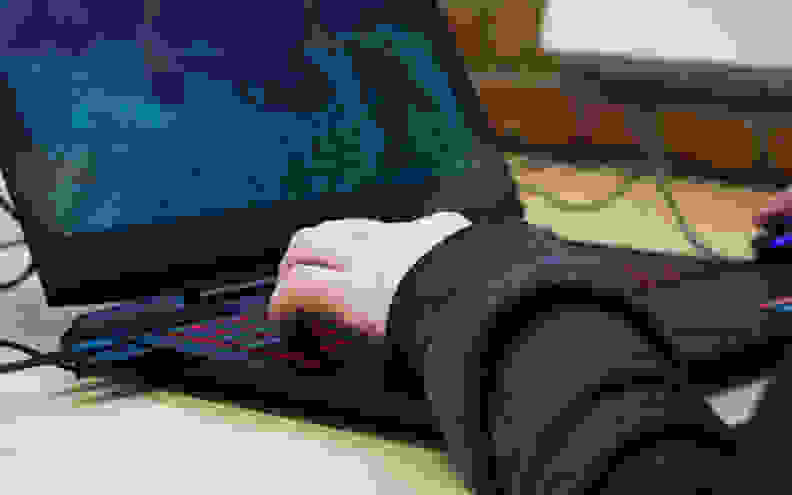 We just wish that Lenovo had spent a little more time making sure that McAfee wasn't so intrusive, and that the touchpad weren't so cringeworthy. If this were our notebook, we'd make sure to definitely carry a wireless mouse everywhere just to avoid using the trackpad. It's been a while since I've used a trackpad this flaky and disappointing, but I guess for some it's a small price to pay given everything else that you get for your money.
Related Video
Meet the tester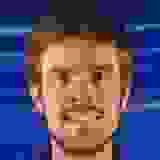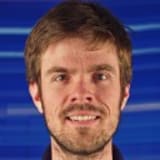 Brendan Nystedt
Contributor
@bnystedt
Brendan is originally from California. Prior to writing for Reviewed.com, he graduated from UC Santa Cruz and did IT support and wrote for a technology blog in the mythical Silicon Valley. Brendan enjoys history, Marx Brothers films, Vietnamese food, cars, and laughing loudly.
Checking our work.
Our team is here for one purpose: to help you buy the best stuff and love what you own. Our writers, editors, and lab technicians obsess over the products we cover to make sure you're confident and satisfied. Have a different opinion about something we recommend? Email us and we'll compare notes.
Shoot us an email