But while previous models haven't quite gotten the balance right, Surface Pro 4 (MSRP $899, $1,599 + $130 for Type Cover 4, as tested) is easily best Surface yet. Pro 4 has a slightly bigger display in another slim, trim frame, a new Windows Hello-enabled camera that lets you log in with just your grinning face, and an improved pen that comes in the box. We love its variable-angle kickstand and how it changes the tablet experience when watching movies, sketching, or in the kitchen.
If we have one lingering peeve, it's the underwhelming battery life. Our i7 version packed a wallop, but the Core m3 or i5 versions will likely net you longer runtime if that's what you need from a laptop. And as in prior years, budget an extra $130 for the requisite Type Cover keyboard. Even as someone who has tried every single Surface device over the years, I was blown away by how mature and competent Surface Pro 4 is. There are still plenty of caveats, but I think that after four major versions, Microsoft has knocked it out of the park with the newest Pro.
Microsoft has made strides when it comes to what you can get in a Surface Pro 4. From Core m3 to Core i7, from 128 GB to 1 TB, from 4 GB to 16 GB of RAM, you can get the Surface you want without compromises. We sampled a high-end $1,600 configuration of Surface Pro 4, but with all the boxes checked, you can spend a max of $2,700.
•6th Generation Intel Core i7-6650U dual-core processor
•256 GB PCIe SSD
•8 GB RAM
•Intel Iris Graphics 540
•12.3-inch 2736 x 1824 IPS Touchscreen With Pen Support
•WiFi AC/Bluetooth 4.1
No matter which configuration you buy, all options currently come with a Surface Pen in the box and no Type Cover included. Every Surface Pro 4 also includes facial recognition via a special depth-sensing camera. We think the $1,300 i5/8 GB RAM/256 GB SSD version is the sweet spot for people who want to use a Surface Pro as their only computer.
Using Surface Pro 4 feels like a taste of the future
When Microsoft pitched the Surface Pro as the "tablet that can replace your laptop," a lot of people were rightfully dubious. But, here were are surrounded by devices that functionally accomplish the same thing: from the new iPad Pros to Lenovo's Yoga line, a whole slew of computers are aiming to combine a laptop and tablet into one, easy-to-carry device. Given the extra time Microsoft has had to perfect the Surface, it's no surprise that Pro 4 is still ahead of the curve in this regard.
From the variable-angle kickstand that keeps it propped up, to the full-sized USB 3.0 port, to the awesome (included) Surface Pen, the Surface Pro 4 gives you a ton of different options. A perfect example is the built-in Windows Hello login. Facial recognition is a huge improvement over logging in with a password, and—like it was with smartphones before fingerprint login—it's gonna be hard for me to go back. In all but the most extreme, backlit situations, Windows Hello is fast and accurate and...dare we say, magical.
This screen is up to the task of true professional media work.
The Surface Pro 4's display is vivid and bright
As far as tablets go, we expect that part of the package is usually a colorful display with wide viewing angles and a high resolution. Everything should look sharp, beautiful, and bright from just about any angle. Surface Pro 4 delivers in this regard, giving you a screen that's beautiful to behold and calibrated to be accurate and contrasty from the time you open the box. It's also darn bright, reaching around 400 nits of brightness. Whether you're editing video or processing photos in Lightroom, the Surface Pro 4's display is totally up to the task of true professional media work.
This new Type Cover kicks keister
Type Cover 4 is easily the best iteration yet. This essential accessory was once derided by many as not as good as a normal laptop's keyboard, but now it's easily as good as the ultrabook competition. I've used keyboards built into comparably-priced ultrabooks that were much worse—never mind that this is a super-thin, backlit, felt-backed cover. Add in Microsoft's generally wonderful Precision Touchpad trackpad, and you get one excellent keyboard. We feel confident enough that we could use this as our normal work machine and get stuff done (including most of this review!) at the same rate as a standard ultrabook. For all intents and purposes, Surface Pro 4 and this Type Cover are finally up to snuff for demanding productivity gurus.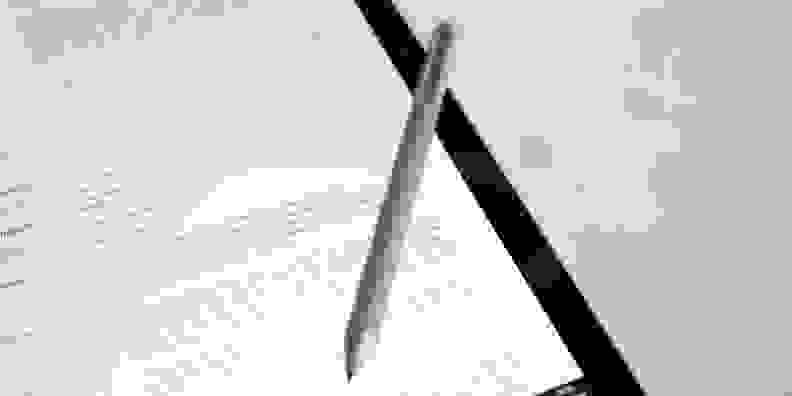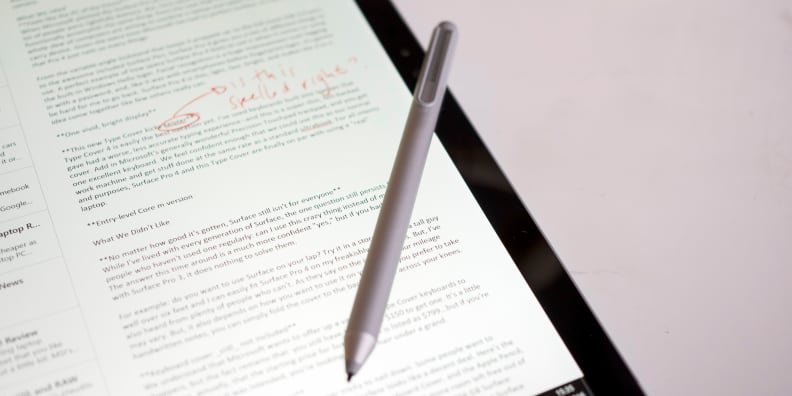 Surface Pen is included in the box
Unlike Apple's iPad Pro or competing Windows detachables like HP's Spectre X2, the Surface Pro helps distinguish itself by including a digital pen in the box, no matter which version of the device you pick up. Not content with the perfectly acceptable pen from the last Surface Pro, Microsoft has revamped this pen with a few handy new features. The prior pen ditched a rear-mounted eraser in favor of a shortcut button that turns Surface on with a long press. Now, that same button works as an eraser, too. One side of the new Surface Pen is flat and loaded with magnets. Hold it alongside the Pro 4's lefthand side and click! the two dock together.
Expandable storage? Yes, please!
Surface has always had a microSD card slot, and the proud tradition continues with Pro 4. Unlike Surface Book and many other competing Windows computers, this gives you the option to add up to 200 GB to your computer. If you're a photographer or love having a big music collection with you, this can be a big boon. Since Surface Pro 4 isn't designed to be upgraded by the user, this means you can get by with a smaller capacity Surface and an inexpensive, big SDXC card should the need arise.
No matter how good it's gotten, Surface still isn't for everyone
While I've had the chance to try every generation of Surface, the one question still persists for most people who haven't: can I use this crazy thing instead of my laptop? The answer this time around is a much more confident "yes," but if you hated the Surface Pro 3, Pro 4 won't win you back.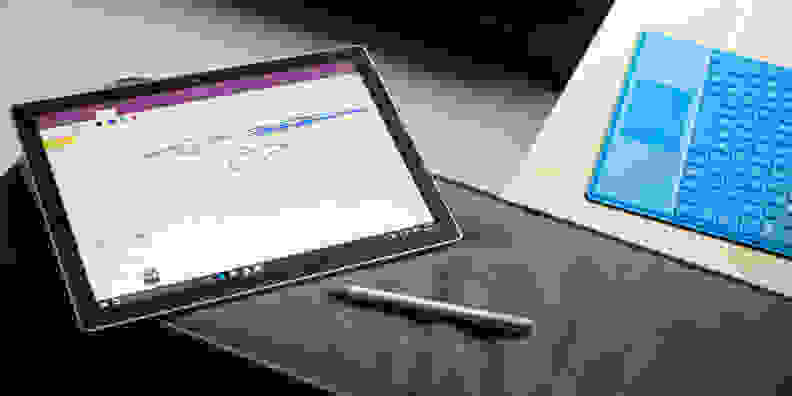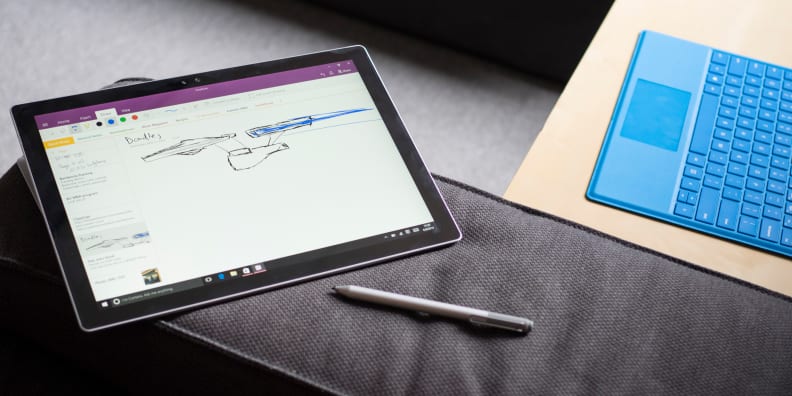 For example: Do you want to use Surface Pro on your lap? Try it in a store first to see if it fits your build. I'm a tall human and I can easily fit Surface Pro 4 on my freakishly long thighs. But, I've also heard from plenty of people who can't. As they say on the internet, your mileage may vary. It comes down to how you want to use it on your lap. If you prefer to take handwritten notes and work with the pen, you can simply fold the cover around to the back and lay it across your knees.

Also, compared to a slightly thicker ultrabook, Surface Pro 4 can really make a bit of fan noise when pushed to its limits. Heat builds up faster in a super thin device like Pro 4, so of course the system has to cool itself off. If you're expecting a silent, iPad-like tablet experience, you only really get it when doing low-impact tasks like web browsing and reading. If a hissing fan is a turnoff, the entry-level Core m3 version of Surface Pro 4 is the only version without a fan—though it's also much less powerful.
You still don't get a Type Cover included in the box
We understand that Microsoft wants to offer up a variety of Type Cover keyboards to shoppers, but the fact remains that you still have to pony up $150 to get one. It's a little deceptive, actually, that the starting price for Surface Pro 4 is listed as $799. But if you're gonna use it like it was intended—you're looking at just spending a hair under a grand.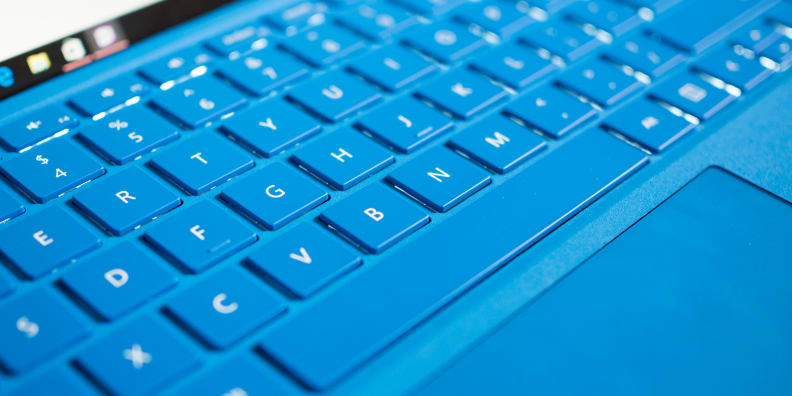 Comparisons to the iPad Pro depend on which environment you can use most effectively for your work.
Surface is an expensive device...or is it?
The value proposition of a Surface is tricky to nail down. Some people want to compare it to the iPad Pro, and if we do that, Surface looks like a decent deal. Here's the math: Take a 128 GB 12-inch iPad Pro, add a Smart Keyboard Cover, and the Apple Pencil, and the total is around $1,300. Since iOS leaves you with a bit more room free out of the storage you get, for the sake of comparison, let's price out a 256 GB i5 Surface and Type Cover: you're looking at around $1,400.
I'd argue that it's a little of an apples-to-oranges comparison, but they're pretty close in price and clearly aimed at one another. Surface has a full-sized USB 3.0, a fairly common Mini DisplayPort, a super handy variable kickstand, a combined power/docking port and the flexibility that Windows 10 gives you. iPad Pro needs adapters to accomplish a lot of tasks that Surface can tackle right out of the box. But, on the whole, I think that the iPad is a better device for tablet stuff, like watching movies, reading books, and running a whole host of mobile-style apps. It all depends on your point of view, and which environment you can use most effectively.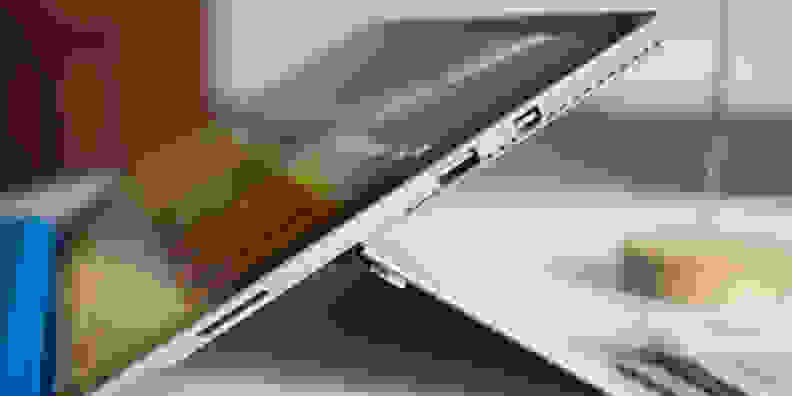 Surface Pro 4 gives you the battery life of neither a tablet nor a laptop
One one hand, we love that Microsoft has given shoppers the option to pick up a Surface Pro 4 with an i7 processor and Intel's very decent Iris graphics, but if long battery life is a must, either the m3 or i5 chips will likely give you a little bit more juice when you're on the road. In our intensive PCMark 8 home battery life test, we got less than two and a half hours from this version of Surface Pro 4. If you're looking to work docked at a desk most of the time, then the extra i7 power might be worth it, but for mobile professionals, look to one of the less powerful Pro 4 models to get more done while on the road.

While Surface has come a long way in the four years since it was introduced, it's still not a product that we think everyone needs. That said, Surface Pro 4 has been polished to a bright shine, and all of Microsoft's hard work makes it feel sophisticated and mature compared to both premium tablets and other 2-in-1 computers. Its rivals have gotten better, but all of Surface's unique assets combine to make something that stands apart.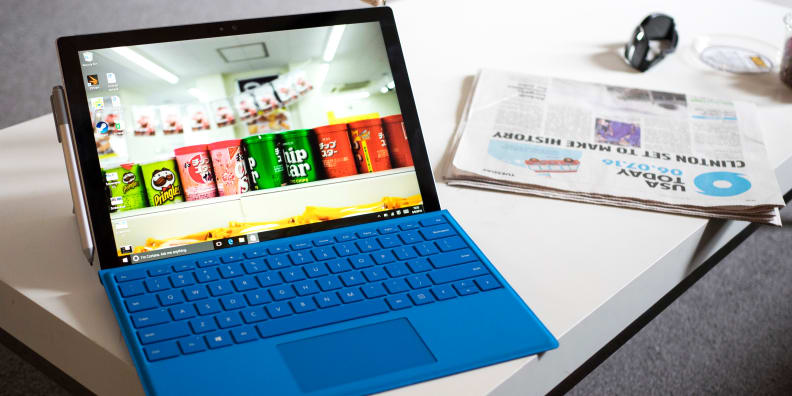 Unless you're all-in on the iOS ecosystem, Surface Pro 4 offers up a compelling argument for toting a Windows 10-based hybrid device with you. The biggest problem with Surface continues to be battery life. That said, for a lot of average users, the versions with a Core m3 or i5 chip inside will give you a fighting chance at getting ultrabook-like battery life without sacrificing too much power.
Its rivals have gotten better, but all of the Surface Pro 4's unique assets combine to make something that stands apart.
If Surface Pro 4 is the wrong blend of tablet/laptop, and you prefer an ultrabook that doubles as a tablet, I can sympathize. I enjoyed both HP's Spectre X360 devices, and the most recent Lenovo Yoga 900 is also a mature design that works great. Microsoft now offers Surface Book for those who want more of a notebook experience, but it has its own unique compromises, and its high price makes it a worse value than the HP or Lenovo options. But, like we said, there's only one Surface Pro, and if that's what you want, Microsoft's one-of-a-kind tablet is worth seeking out.

Meet the tester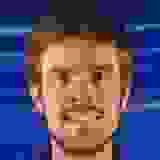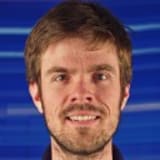 Brendan Nystedt
Contributor
@bnystedt
Brendan is originally from California. Prior to writing for Reviewed.com, he graduated from UC Santa Cruz and did IT support and wrote for a technology blog in the mythical Silicon Valley. Brendan enjoys history, Marx Brothers films, Vietnamese food, cars, and laughing loudly.
Checking our work.
Our team is here for one purpose: to help you buy the best stuff and love what you own. Our writers, editors, and lab technicians obsess over the products we cover to make sure you're confident and satisfied. Have a different opinion about something we recommend? Email us and we'll compare notes.
Shoot us an email