In the past two years, the gaming laptop has finally grown up. From the Razer Blade to the Lenovo Y900, it's easier than ever to find a gaming laptop that appeals to your outer adult as much as your inner 12-year-old. Following in these footsteps is the new MSI GS40 Phantom (MSRP $1,599.99).
The GS40 Phantom isn't too flashy, it's just powerful enough, and about as portable as an ordinary notebook. It doesn't feel like carrying a boat anchor in your bag. It even has tolerable battery life (all things considered), and MSI's Shift power profiles let you eke out as much performance as you need at any given time. It sits in a middle ground that few other gaming-class notebooks bother staking out.
All in all, we liked this compact gaming laptop for its quad-core Intel i7, Nvidia GTX 970M graphics chip, and hybrid SSD/HDD drive setup. Our bugbears included poor build quality, a really frustrating trackpad, and a mountain of preloaded software that comes uninvited. For the money, the GS40 has what it takes on the inside to play intensive titles, tackling 2013's Tomb Raider on ultra settings without much fuss. If it's power you're after, you'll get it with the GS40 Phantom.
MSI has put together a great combination of elements in the single version of the GS40 Phantom-001. You get cutting-edge DDR4 RAM, a competitive discrete GPU, and a powerful quad-core processor.
• Intel Core i7-6700HQ quad-core processor

• 16 GB DDR4-2133 RAM
• 128 GB PCI-E NVMe SSD Drive (for operating system and software)
• 1 TB Hard Drive (for additional storage)
• Nvidia GeForce GTX 970M Graphics with 3 GB GDDR5 VRAM
• 14-inch 1920 x 1080 IPS Antiglare HD display
• Killer WiFi AC/Bluetooth 4.1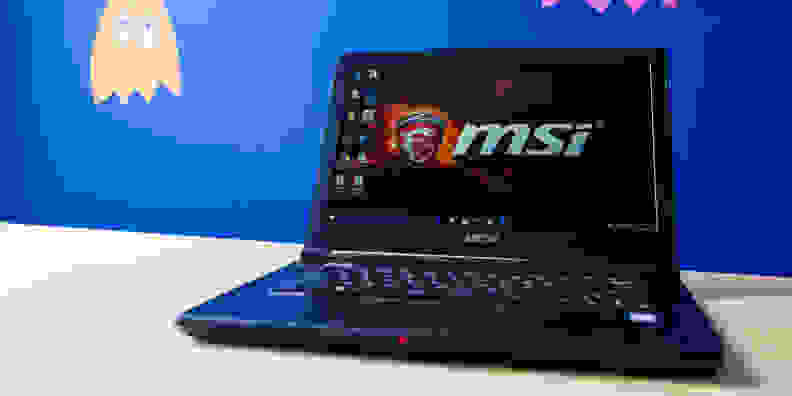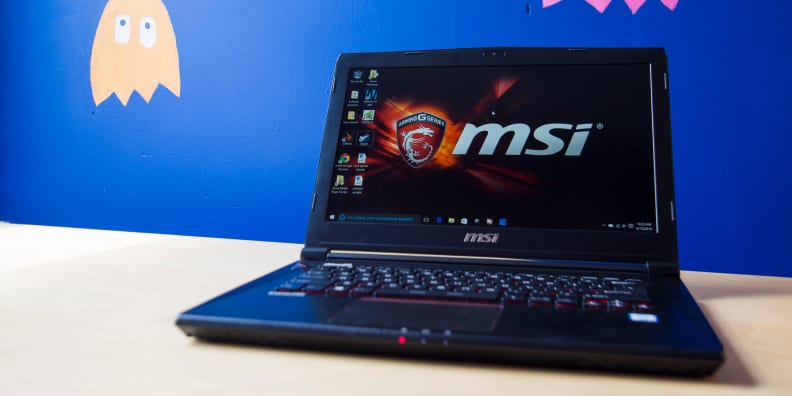 For a true gaming laptop, it's slim and trim
We've come to expect gaming notebooks to be humongous in just about every dimension. It's a compromise between power and heat, and heat tends to win, necessitating big fans and a big battery. The MSI GS40 is still on the chunky side, but it treads the line between regular-sized notebook and gaming laptop pretty nicely.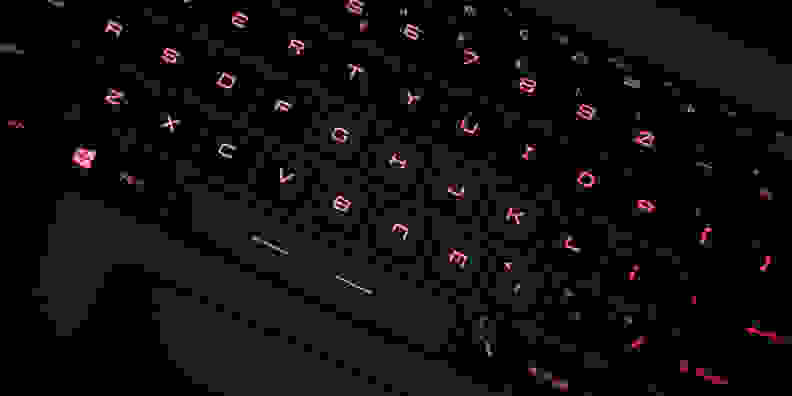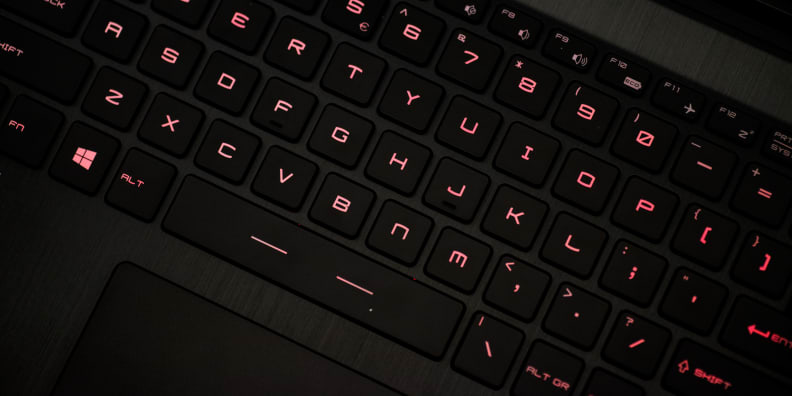 At a relatively compact 14-inches, it's not the runt of the litter but rather an attractive option for people who don't want to lug around a 15- or 17-inch class gaming laptop. If you're comparison shopping with models like Lenovo's budget-oriented Y700 series, rest assured that this MSI doesn't feel like a hardcover coffee table book in your backpack.
Even though it's thin, MSI put a pretty good Steelseries-sourced keyboard into the GS40. It's comfortable to type or game on, and better than a lot of keyboards you'd find in competing thin gaming laptops. As you'd hope the keyboard is backlit, and it's red, which helps the letters really pop off the black, chiclet-style keys.
This MSI's got it where it counts, for a good price
If you were worried that MSI went with lower-power parts when building the compact GS40, then let us assuage your fears.
If you were worried that MSI went with lower-power parts when building the compact GS40, then let us assuage your fears. Featuring a full-blown quad-core Intel i7-6700HQ processor, this laptop is a true mighty mite. Even for its reasonable price of $1,600, you get a full 16 GB of DDR4 RAM along for the ride, too.
The graphics chip that comes standard is an Nvidia GTX 970M partnered with 3 GB GDDR5 VRAM. This gave us pretty good performance, but you shouldn't expect it to compare favorably to even the most basic desktop graphics processors. We got between 50 and 60 frames in 2013's Tomb Raider with the settings cranked to Ultra, which is very respectable.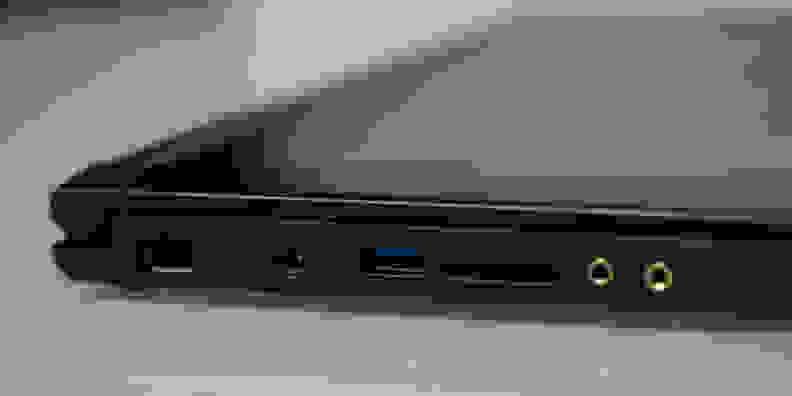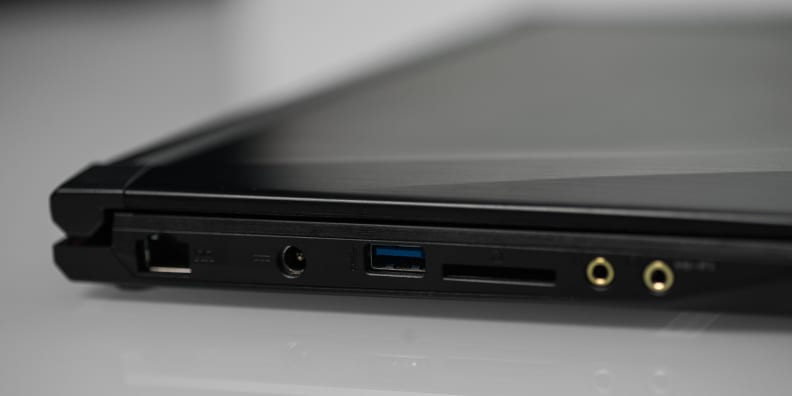 MSI crammed in a plethora of ports
Whether you want to use it docked at a desk or on the road, MSI has taken just about every use case into consideration. This Phantom includes two USB 3.0 ports, a USB-C port that supports display-out, charging, and Thunderbolt 3, so your bases are covered as far as accessories are concerned.
Then add separate headphone and microphone jacks, which is something of a rarity these days. There's a full-sized SD card slot for all you videographers and photo buffs. An honest-to-goodness gigabit ethernet means you'll be ready to plug in at the LAN party or hotel room. As far as video is concerned, you have your choice of a rear-mounted Mini DisplayPort and even HDMI.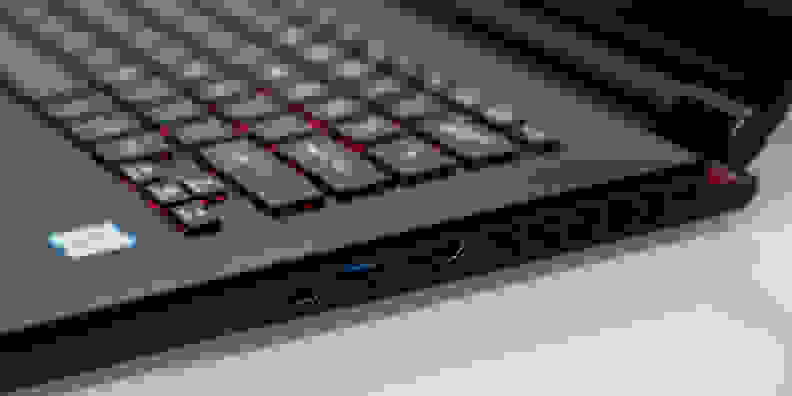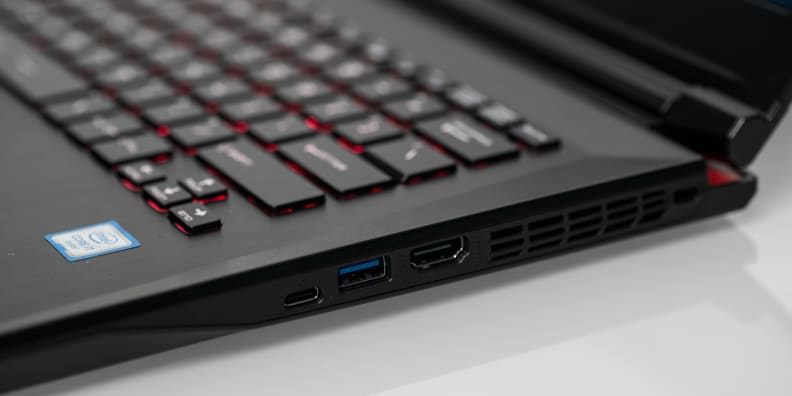 Dual storage is fast when you want it, capacious when you need it
Combined flash/hard drive storage solutions pair a speedy SSD with a big spinning hard disk drive in order to give you the best of both worlds. The MSI Phantom GS40 has such a setup, packing a 128 GB SSD where Windows and your software can live, with a 1 TB HDD for things like your Lightroom collection and iTunes media library. Both storage solutions are accessible by removing the notebook's bottom panel.
Metal case feels flimsy instead of solid
Laptops like Dell's XPS series and Apple's MacBook Pro really set the bar for laptop design and quality. Unfortunately, MSI didn't crib from either playbook with the GS40. We found it felt too much like a wet noodle. It's been a while since we've used a metal and plastic notebook that creaks when you pick it up from one corner, but here we are with the MSI GS40 Phantom. The keyboard deck also feels super flimsy, visibly flexing as you type. It's a major turnoff when Razer has shown that gamers don't need to settle for mediocre design and build quality.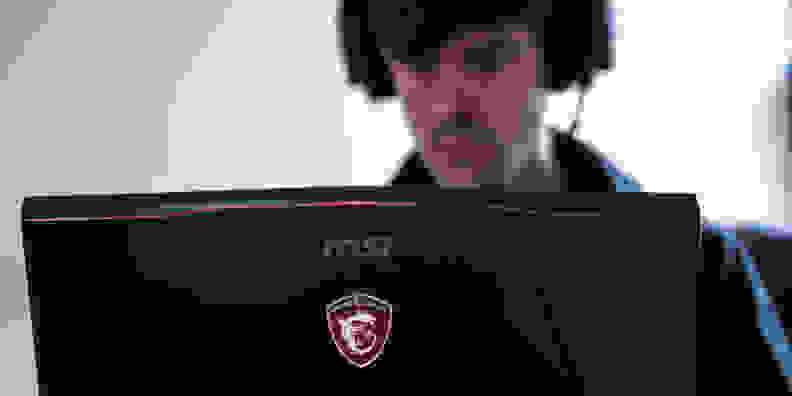 Trackpad could be way better
In this age of good-if-not-great Microsoft Precision trackpads, it's almost unforgivable to find a pricey notebook saddled with a subpar unit. The MSI GS40 comes with a trackpad that's just not awesome to use, and it jumps around just about any time you brush up against it. The excuse that some might make is that with a gaming laptop, the trackpad just isn't that important. After all, who's going to want to frag their enemies without their trusty mouse? That might be true sometimes, but what about when you're working on a Word doc or doing research? There are simply no excuses; this trackpad stinks.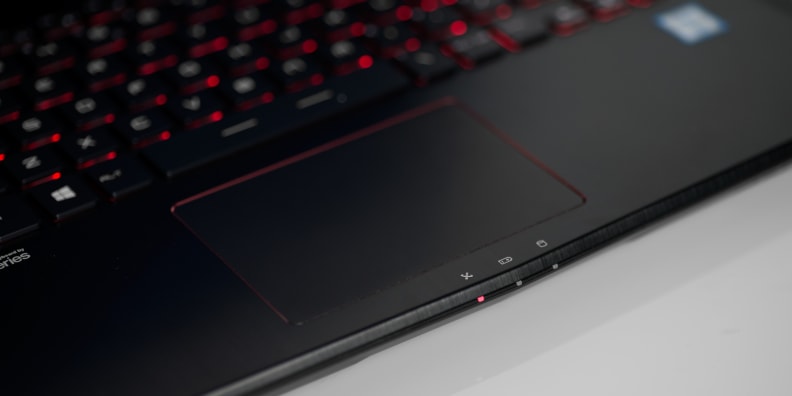 Battery life is acceptable for gaming laptops, bad compared to ordinary ones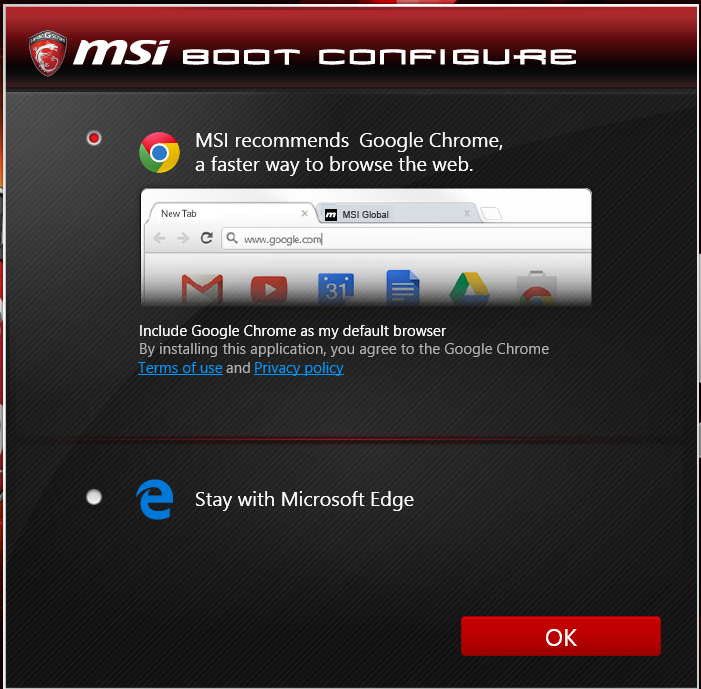 With a quad-core i7 and that Nvidia graphics chip, you shouldn't expect extra-long battery life. The GS40 acquitted itself well for a compact gaming laptop, but it's barely in the "okay" column. In its default performance power profile, we saw just under three hours of runtime with our standard PCMark 8 Home test. Not unusable, but you're gonna want to find a plane with power outlets if you hope to game or work for extended periods while flying.
The preloaded software is obtrusive, but also gives you extra features
We were miffed to find that this $1,600 MSI comes loaded with some bloatware. Norton comes on strong as soon as you boot up the GS40 for the first time, and it's as obnoxious as ever. Throw in a couple of suspicious links to download "Korea Media Player Center" and "Korea Messenger" on the desktop, and it's not a pretty situation on the whole.
That said, MSI has put some good custom software on the GS40 that lets you have some extra control of your laptop. Their "Shift" preset software lets you choose from three different performance profiles, mainly to curb fan noise and heat. The default "sport" mode will give you the best performance but it's definitely gonna annoy your classmates in an average lecture hall.
Though it wasn't the best laptop to pass through our labs recently, the MSI GS40 Phantom-001 did a pretty decent job on the whole. It isn't a clear-cut budget machine like the Lenovo IdeaPad Y700 represents, but it's also a better portable computer thanks to its light weight and relatively thin profile.
If your main concern is gaming performance first and foremost, the MSI GS40 Phantom does a great job.
If you're a power user, this MSI offers up a ton of things to like. It's fast, has just enough high-speed SSD storage but also a big traditional hard drive. The tradeoff for all this great stuff is that this notebook just doesn't feel like a premium product. The GS40 has a body that's just not as good as a lot of similarly-priced Dell XPS notebooks and certainly not Razer's Blade series.
It's a little bit like if you could buy a Toyota Yaris with a Ferrari V8 inside. You'd undoubtedly have explosive Italian power when you press down the gas pedal, at the end of the day, the creature comforts just don't line up with the horsepower you have on tap.
But, if your main concern is gaming performance first and foremost, the MSI GS40 Phantom does a great job. For the money, MSI has loaded this model up with nice tech that keeps the overall computing experience really zippy, handling older games without nary a hitch.
Meet the tester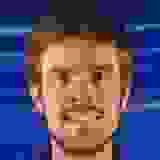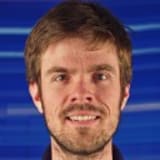 Brendan Nystedt
Contributor
@bnystedt
Brendan is originally from California. Prior to writing for Reviewed.com, he graduated from UC Santa Cruz and did IT support and wrote for a technology blog in the mythical Silicon Valley. Brendan enjoys history, Marx Brothers films, Vietnamese food, cars, and laughing loudly.
Checking our work.
Our team is here for one purpose: to help you buy the best stuff and love what you own. Our writers, editors, and lab technicians obsess over the products we cover to make sure you're confident and satisfied. Have a different opinion about something we recommend? Email us and we'll compare notes.
Shoot us an email