Don't dismiss this as a one-trick pony, though. Our review model packs a 1.8 Ghz dual core processor, a 1TB hard drive, 8GB of RAM, NFC capabilities, and a DVD drive, all wrapped up in a rather large package. Intrigued? You should be. Despite its flaws, the Fit is a unique laptop that offers surprisingly good performance.
Great keyboard, not-so-great touchpad
The VAIO Fit is not your everyday ultrabook—in fact, we'd be remiss to label this as an ultrabook. Unlike a Mac Air or an Acer Aspire, Sony's Fit is thick and heavy, weighing in at 5.78 pounds (with the charger). Of course, this is a 15.5-inch laptop we're talking about, so we aren't expecting it to be super light, but its "Fit" moniker seems a bit humorous.
The Fit's Chiclet keys feel great and are comfortable for typing over an extended period of time.
Being a larger laptop with some added heft affords the Fit a dedicated number pad in addition to its full-size keyboard. Speaking of the keyboard, the Fit's Chiclet keys feel great and are comfortable for typing over an extended period of time. My fingers thank you, Sony.
Unfortunately, we don't have the same praise for the Fit's touchpad. It feels cramped, which is kind of inexcusable for such a large device. Seriously, how can a 13-inch Mac Air have a much larger touchpad? On top of the size issue is a lack of customization. I'm not a big fan of inverted scrolling on touchpads, nor was I able to turn it off. Even more annoying is the fact that pressing the bottom-right portion of the touchpad triggers a right-click. Again, we could not turn this off.
We can't complain about the Fit's port selection, though. There are a total of 4 USB inputs, an Ethernet jack, an HDMI input, and a slot for an SD card. You also get headphone and microphone inputs, but that's to be expected. What isn't so expected is the Fit's DVD drive—a clear indication that this isn't an ultrabook, due to the additional thickness it adds.
All of the benefits (and drawbacks) of Windows 8, plus movie and music software
Sony's Fit line of laptops all run Windows 8, which is a hate-it-or-love-it operating system. For those unfamiliar with the OS, there are two ways to interact with it: the new modern UI (formerly known as Metro), and the "normal" desktop UI. The latter is what most Windows users are comfortable with: Installed programs can be accessed on the desktop screen with the click of a mouse. The only cosmetic difference between this and previous versions of Windows is the lack of a start menu.
The modern UI makes perfect sense when using a touchscreen.
The modern UI is what divides many users. This interface looks like it would be at home on a touchscreen device, complete with large square icons that take up the majority of the screen. And wouldn't you know it—this is a touchscreen laptop! The modern UI is a chore to use with a mouse, but it makes perfect sense when using a touchscreen. Unfortunately, we don't really see the point of having a touchscreen that can't be undocked and used as a tablet, à la the Microsoft Surface. Reaching past the touchpad and keyboard to press the screen seems a bit counterproductive.
Sony does include some programs with the Fit. Movie Studio Platinum, ACID Music Studio, Sound Forge Audio Studio, and DVD Architect Studio come standard. It's interesting that Sony seems to be going after consumers who want to create movies and music—those types of consumers usually opt for more powerful machines. Still, the inclusion of these programs is a welcome addition.
Quick, responsive, and satisfying
We were a bit surprised by the performance of the Fit. A laptop with a dual-core processor and onboard video should not run this well, but it did. While those two specs don't tell the whole story—remember, this Sony also has 8 GB of RAM and runs Windows 8—it is nice to see decent performance on a relatively inexpensive laptop.
This laptop takes slightly longer than 11 seconds to boot up.
The first example of this performance is when you turn the Fit on. This laptop takes slightly longer than 11 seconds to boot up—a modern miracle, considering it doesn't have a solid state hard drive.
Running a basic program, like Microsoft Excel, was speedy and fluid. We didn't notice any hiccups while using a formula-heavy script to push the Fit. Using Photoshop, which can tax any computer when enough filters are applied, was also a smooth experience. Comparatively speaking, the Sony Fit performed about as well as similar laptops and ultrabooks, but can't compete with the likes of the MacBook Pro.
Battery life, unfortunately, could be more desirable.
Gaming is another area where the Fit excels. Running Portal 2—we know, not the most recent game, but a prime example of something many people play—was a breeze for this laptop. It was able to churn out an impressive 66.56 FPS with settings cranked up. Not bad, especially for a laptop that retails for less than $1,000.
Battery life, unfortunately, could be more desirable. Expect about three-and-a-half hours out of the Fit for casual web browsing, and about two hours if you're gaming or really taxing the processor.
A good performer with an identity crisis
It's hard to tell what kind of role the Sony Fit 15E is supposed to fill. It's not an ultrabook, nor is it a desktop replacement, or even a convertible; it's simply a big laptop with a touchscreen. There isn't anything wrong with that, and we're pleased by the Fit's performance, but the question remains: Why buy the Fit when you can get something thinner, more powerful, or more utilitarian instead?
The answer may be its price: For $899, you get decent performance and 1TB of storage—most ultrabooks won't give you that. We can't see the Fit's touchscreen factoring into anyone's decision to purchase it, but its full-size keyboard and large, 1080p screen will certainly be appealing to many consumers, as will its performance.
Meet the tester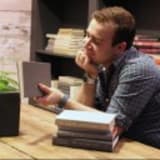 Josh Fields
Staff Writer
@reviewedtech
An enthusiast of all things tech, Josh is one of Reviewed.com's resident television experts. When he's not looking at bright TV screens in a dark room, he's probably reviewing a laptop or finding a new snack at 7-11.
Checking our work.
Our team is here for one purpose: to help you buy the best stuff and love what you own. Our writers, editors, and lab technicians obsess over the products we cover to make sure you're confident and satisfied. Have a different opinion about something we recommend? Email us and we'll compare notes.
Shoot us an email