Laptops
Meet BatteryBox, the External Battery That Doesn't Degrade Over Time
This tiny battery pack features tech that can drastically prolong the lifespan of lithium-ion batteries.

Credit:
Despite the tremendous progress of mobile technology in recent years, we're all still slaves to the lithium-ion battery—a decades-old technology that just can't keep up with the pace of the 21st century. Until we develop and commercialize a better battery, Li-ion is all we've got. So in the mean time, why not double down?
That's precisely what the BatteryBox is: a lithium-ion battery pack that serves as a kind of energy appendage for any USB-powered device, as well as most MacBooks. (Well, any Mac with a MagSafe2 connector, which is kind of frustrating for folks with a pre-2012 MacBook.)
Smaller than the palm of your hand, the BatteryBox (MSRP $139) is a 50 Whr / 12,000 mAh external Li-ion battery that, in the company's own words, features "enough juice for 12 hours of a MacBook Air, 6 hours of MacBook Pro, or 8 iPhones." For a quick capacity comparison, a standard iPhone 5 includes a 5.45 Whr / 1,440 mAh battery.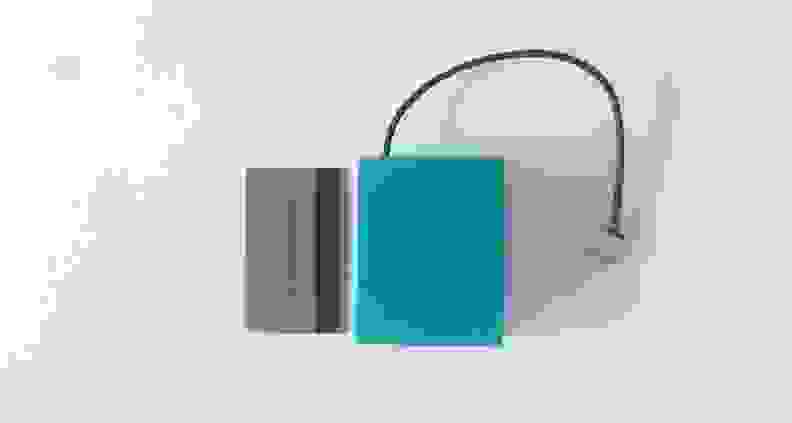 Unlike many other external batteries on the market, the BatteryBox doesn't actually charge your devices. It bypasses the battery in your phone or laptop to directly power the device. This reduces strain on your device's internal battery, which can in theory prolong its life cycle. It also serves as a backup power source when needed.
BatteryOS dynamically manages and optimizes energy processes inside of the li-ion battery pack.
BatteryBox is further distinguished by its energy management system, called BatteryOS. This patent-pending technology dynamically manages and optimizes energy processes inside of the li-ion battery pack. Specifically, it prevents the degradation of materials over time, allowing it to last 3,000 full charge and discharge cycles and still retain 96 percent capacity after 5 years.
The company hopes to eventually broaden the applications of BatteryOS and help prolong the lifespan of all devices using Li-ion technology—including electric vehicles. That would certainly go a long way toward making Li-ion devices bearable until a superior replacement can be developed.
Currently in the beta testing phase, BatteryBox is expected to ship this fall.