Laptops
European Telecoms Achieve Record-Breaking Broadband Speed of 1.4 Tb/s
Alcatel-Lucent and BT prove that mind-bogglingly fast speeds are possible on existing networks.

Credit:
Two European telecommunications companies claimed this week that they achieved the fastest ever real-world fiber network transfer speed using commercial grade hardware.
According to a report released Tuesday, France's Alcatel-Lucent and Britain's BT achieved fiber speeds of 1.4 Terabits per second. That's roughly the equivalent of transmitting 44 HD films in a single second.
Researchers accomplished this quite spectacular feat by developing an "Alien Super Channel," which consists of seven 200 Gb/s channels bundled together for a combined capacity of 1.4 Tb/s. The trial test was conducted over an existing fiber link between the cities of London and Suffolk, England.
Perhaps the most intriguing part of the test was that it was merely an improvement in the efficiency of existing fiber networks—not a radical redesign of the network infrastructure. By increasing the density of fiber channels, researchers achieved up to 42.5 percent greater transmission efficiency compared to standard networks.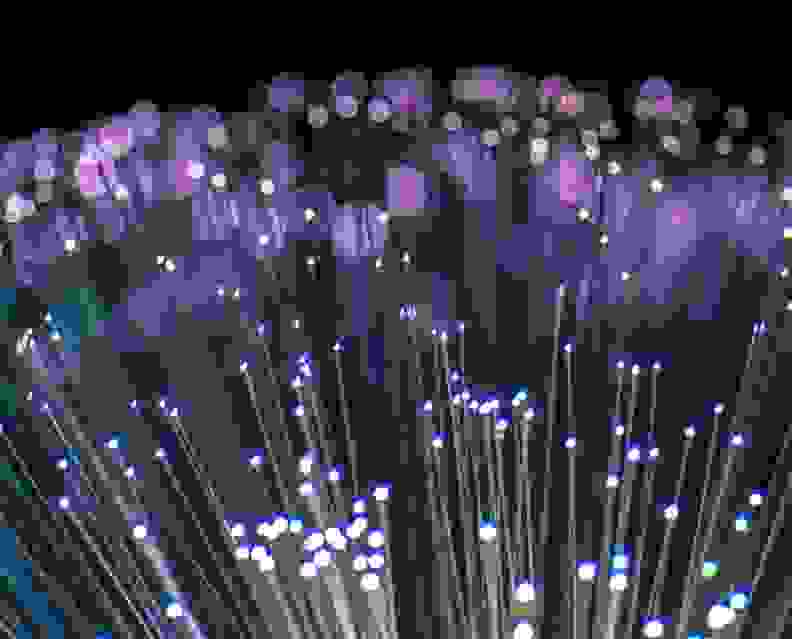 This means future applications of the technology could reduce the cost of laying additional fiber cable—a major obstacle to widespread adoption of consumer-grade gigabit broadband.
Fiber-optic networks are widely seen as the vessel that will get us to the super-fast broadband speeds needed to supply the ever-growing internet population's ever-growing data demands. In the U.S., progress has been slow, with only a few scattered locations—including a few spearheaded by Google—currently enjoying access to fiber-optic speeds.
The problem is that major ISPs and cable providers, which often enjoy near total monopolies in the U.S., have little incentive to invest in the infrastructure fiber requires. As such, innovation in the sector is likely to remain in more competitive overseas markets, as demonstrated by this week's record-breaking transmission.
Images: Hero image, Flickr user "qwrrty" (CC BY-2.0); Body image, Flickr user "x_tine" (CC BY-NC-ND 2.0)