Laptops
Asus Zenbook UX51VZ-XB71 Review
Ultra performance, ultra looks, ultra price—Asus' latest does it all.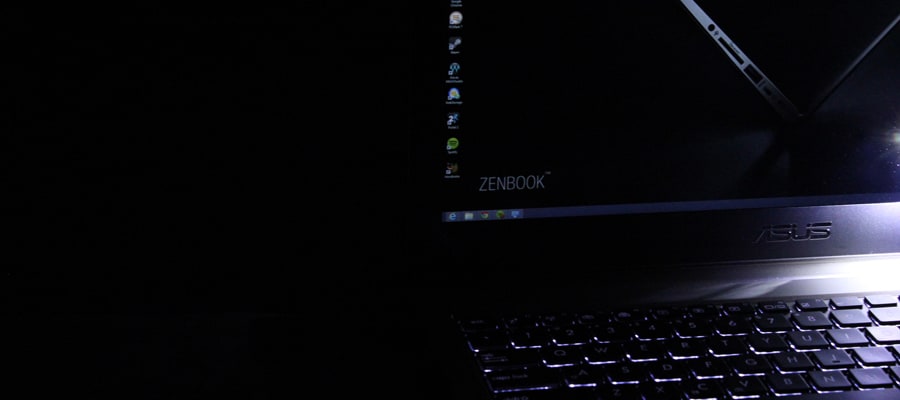 Credit:
Overview
Remember when Asus just made computer parts? The Taiwanese electronics company has come a long way, and is now known for its tablets and laptops. When we received its latest Zenbook—the 15.6-inch UX51VZ-XB71 (MSRP $2699.00)—our collective jaws dropped: This isn't some strictly utilitarian computing device, but a thing of beauty.
We'll talk about its incredible design in a bit. What you need to know about this Zenbook is that it takes the word "ultrabook" literally. Its performance—aided by a blisteringly-fast Intel i7 processor, GeForce GT 650M video card, 8GB of RAM, and a 512GB solid-state drive—is ultra. Its audio quality, with speakers codesigned by Bang & Olufsen, is ultra. Its 2880 x 1620 screen resolution is ultra. Even typing on this Zenbook's spacious chiclit keyboard is ultra.
There isn't much this ultrabook can't do, but with a price tag of $2,699, that should be expected.
Design & Audio
Looks that out-Apple the Macbook Pro
Before I address this Zenbook's design, I need to mention how impressive its in-the-box packaging is—taking this laptop out was a moment of childlike joy. Everything is packaged neatly in its own compartment, with the Zenbook itself taking center stage. Opening each separate compartment is like opening another present, since its contents are a mystery. A VGA adapter? An external subwoofer? How nice!
Slim, metallic, and utterly desirable
The actual laptop—sorry, ultrabook—is reminiscent of Apple's terrific design on its Macbook Pro line: It's slim, metallic, and utterly desirable. Opening it reveals a backlit keyboard, complete with separate number pad, and a spacious touchpad. I absolutely love typing on this keyboard, and I'm hard-pressed to find any faults with it. The touchpad, while also quite good, does have a big drawback. Where are the sensitivity controls, Asus? Its stock sensitivity is decent, but I would prefer something a bit more sensitive.
Connectivity is near-flawless. Three USB 3.0 ports are a plus, and an HDMI and mini DisplayPort take care of your output woes. Some ultrabooks don't come with an ethernet port due to their slim profiles, but thankfully this Zenbook includes one and stays relatively svelte.
One port that was a mystery at first is the orange line input on the right side. No, it's not another headphone jack—it's an input for the mini Bang & Olufsen subwoofer. It may seem gimmicky, but audio quality on this ultrabook is phenomenal. Any laptop is limited by its design in the audio department; without using the sub, music sounds clear, but basslines are buried in the mix. That problem is alleviated using the subwoofer, which produces satisfying bass despite its size. Sure, you can always use a decent pair of headphones, but I absolutely detest wearing them when I don't have to.
Software
Pay more, get less junk software
Yes, the Zenbook UX51VZ-XB71 uses Windows 8, but I barely noticed it during testing. As of right now, Windows 8 computers boot directly to the Start screen, which replaced the beloved Start Menu. Since this Zenbook boots up in about three seconds, we clicked the icon for desktop mode—the familiar Windows interface—and promptly forgot that the Start screen exists.
Asus doesn't clutter up its classy ultrabook with junk software.
Asus includes its Power4Gear Hybrid software, which is simply a tool for toggling power-saving settings. To be honest, it's not really that hard to access these settings—just click the battery icon on the taskbar and you're there. Why Asus needed to create a fancy-looking interface for this is beyond me.
On the plus side, though, Asus doesn't clutter up its classy ultrabook with junk software. That is much appreciated.
Performance
Incredible performance to match incredible aesthetics
If you want a powerful laptop, it'll cost you. If you want a pretty laptop, it'll cost you. Suffice to say, the Asus Zenbook UX51VZ-XB71 costs as much as some pretty good TVs, but you're really getting the best of both worlds.
We gave this ultrabook complex tasks in Microsoft Excel and Adbobe Photoshop, and watched as it demolished previous records. Software like PCMark, which tests a computer's overall performance, was a mere snack for the Zenbook—it scored higher than any other laptop we've tested.
Everything looks crystal clear on the Zenbook's 2880 x 1620 screen.
Even gaming is a possibility on this machine. We gave it our Portal 2 test and watched as it achieved frame rates that are almost as good as what the MSI GX70 can produce. As a point of reference, that MSI has a better video card—the Radeon 8970M—but lacks a top-tier processor. Because of this, it was trounced by Asus' Zenbook in every test except gaming.
Did we mention everything looks crystal clear on the Zenbook's 2880 x 1620 screen? Taking another page out of Apple's book, Asus crammed as many pixels as it could into the Zenbook's screen, creating a razor-sharp image with a DPI (dots per inch) of 212—that's astoundingly high. The current generation Macbook Pro has a similar screen, but uses even more pixels (2880 x 1800) because of its 16:10 aspect ratio versus the Zenbook's typical 16:9 ratio. Consumers will not be able to spot a pixel on either screen.
As for battery life—it's great on the Zenbook. We test a laptop's battery life by dropping the screen brightness down to 50%, and then continuously refreshing a website. This Asus was able to get 5 hours and 15 minutes, which gets our approval.
The Finale
You get what you pay for—just make sure you have the money
There's no other way to put it: The Asus Zenbook UX51VZ-XB71 is an incredible ultrabook. It packs style, performance, pixels, and even audio quality into one very fancy package. And just think—you get all of that for the low, low price of $2,699...wait, what?
Yes, Asus' top-of-the-line Zenbook has an exorbitant price tag, even if it's warranted. This is not something that parents should be buying for their kids in college. Asus' latest and greatest is a serious device that a graphic designer or game enthusiast would benefit from. If Facebook and YouTube are your priorities, do yourself a favor and find something cheaper like the Samsung ATIV Tab 7. If you have the money, and you crave performance and style, you can't go wrong with this Zenbook.