AEG, the German arm of parent company Electrolux, debuted a brand new washer-dryer combo unit at IFA Berlin this year. Normally, this wouldn't be huge news—at least not for us. Combo units are a virtual nonentity in America, and their presence in Europe is common enough that another basic unit doesn't cause much of a splash.
That said, the ÖkoKombi—its official name—isn't just another basic appliance; it's the first laundry combo to incorporate a heat pump to dry clothes.
The Tech Behind the Heightened Efficiency
Standalone unvented dryers with heat pumps are actually common in Europe, where venting is harder to come by. Combination washer-dryers, which are just as common, typically use condenser technology. The water hookup that's already there for washing cycles pulls double duty for the drying process. Heat pumps have traditionally been less common than condensers because their design is inherently more complex—a likely explanation for the €1,919 price.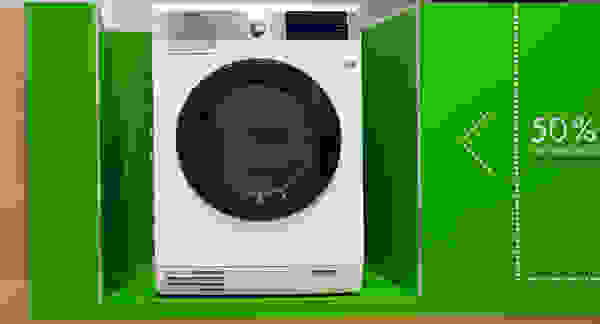 So how do heat pumps work? Think of it like a reverse air conditioner. A small amount of hot air is sucked into the drum, cools down, and collects some of the moisture from your clothes. Then it gets sucked through the heat pump, where air and moisture separate. The water is filtered out and the air is sent back into the drum. Rinse and repeat, ad infinitum.
It's an incredibly energy-efficient means of drying clothes, since excess heat (and therefore energy) isn't tossed out willy-nilly through a vent. But it also tends to take noticeably longer. AEG claims that this new product is 40% more energy-efficient than comparable models as a result of the company's innovative technology.
Satisfactory Visuals and Tactile Sensations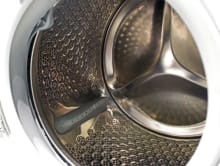 This particular combo unit would look perfectly at home in an American laundry room. It's got a white finish, stainless-steel highlights on the controls, and a see-through door with black trim. All in all, it looks like a typical mid-range, front-loading washer or dryer.
The stainless-steel drum is a nice touch, too. It can hold up to 9 kilograms of laundry, but while you can wash that much, you're only supposed to dry 6kg at a time. It's a common frustration with combo units: If you pack your washer to capacity the way we usually do here in the States, that can lead to some awkward laundry moments.
During our time on the show floor, the rest of the machine seemed to function perfectly. The rotating cycle knob felt sturdy, indicator lights were bright and easy to follow, and the control screen was clear despite the glare from showroom lights. The lint traps were easy to remove, too, though we didn't have a chance to try cleaning them—the floor model wasn't functional.
And yes, that was plural—a large lint trap catches wet schmutz that comes out of the wash cycle, while a long, thin lint screen catches the particulate matter that emerges from the drying cycle.
Traditional Functions
The ÖkoKombi is really pretty mundane in terms of its capabilities. The cycle list includes all the usual suspects, and the control panel doesn't have any unusual extra options that stand out. Of course, everything on the machine is printed in German, so we're judging by appearance and our knowledge of traditional machines.
Plus, the AEG rep didn't bother to draw our attention to anything special in terms of features, so it's probably safe to say that the big deal with this machine is the tech, not the toys.
A New Spin on Combo Laundry
According to its product placard, the new heat pump laundry combo is set to release in April of next year, though the AEG rep we spoke to said it may come out even sooner. No one could tell us whether there's any plan to bring it to the US, but given the limited market for combination units on our shores, we won't hold our breath.
That said, AEG's new baby is a spatially economical, energy efficient use of technology that could make some waves in the laundry world down the line. It's something we'll definitely be keeping an eye on.
Our editors review and recommend products to help you buy the stuff you need. If you make a purchase by clicking one of our links, we may earn a small share of the revenue. Our picks and opinions are independent from any business incentives.