The is an unassuming little dryer. Small, stackable, and with a clean white finish, nothing about it is overly eye-catching. The control panel isn't as sleek as those found on more upscale models, but the layout's strength, as well as that of the overall appliance, seems to be visual and spatial efficiency. Keep an eye on the interior, though - a white enamel interior, as opposed to a stainless steel one, can begin to flake and discolor.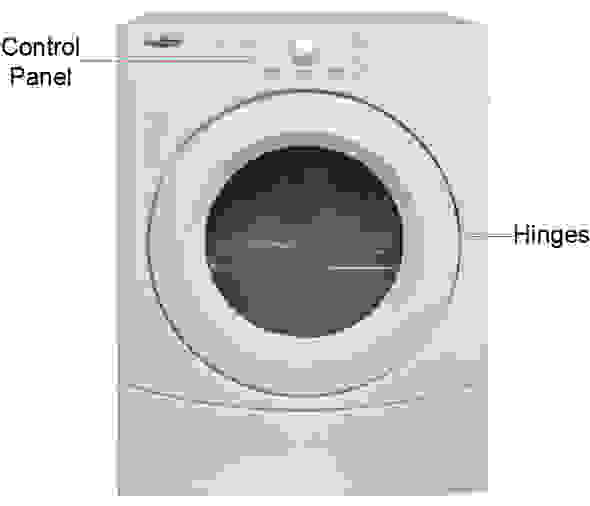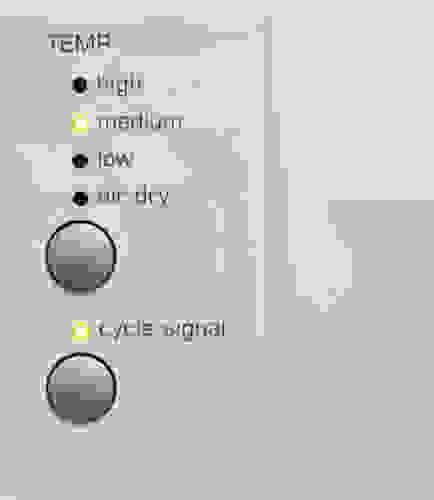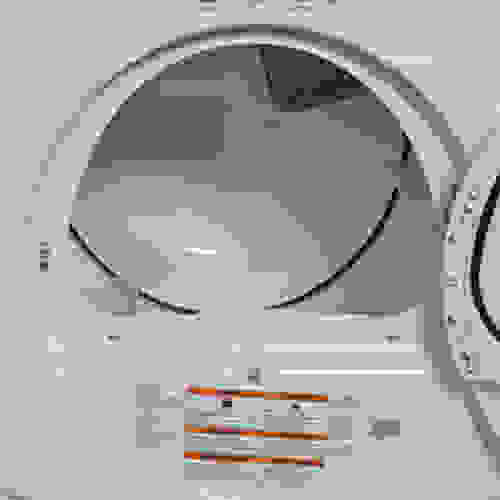 The lint trap is of standard design, located at the bottom middle of the door interior. It's easy to clean, and feels pretty sturdy.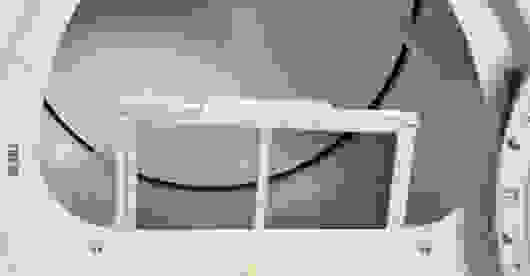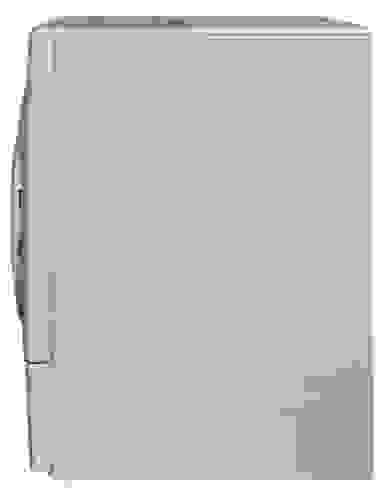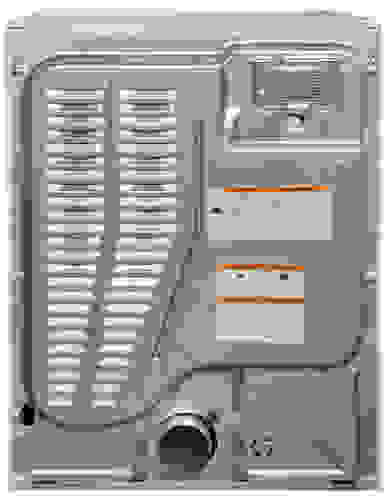 The uses a sensor to determine when clothes are actually dry. This usually meant that cycles ran longer than the estimated duration, with Normal and Delicate taking almost twice as much time as expected. We came across a problem with the bulky cycle - the sensor was able to determine when the exterior of our comforter was dry, which only took about 20 minutes, much less time than we expected the dryer to take. The interior was still very damp, though, and the sensor wasn't able to detect that.
The Normal cycle ran perfectly, despite taking a bit longer than expected. Clothes came out at their bone dry weight, devoid of any excess moisture. Temperatures peaked at about 146 degrees Fahrenheit, keeping things around the average level of heat for this type of cycle.
The Delicate cycle did pretty well, averaging 98 percent of bone dry weight between our two test runs. Like the Quick Dry cycle, it's not perfect performance, and it took nearly twice as long as the estimated 30 minute run time. The most important thing here is that temperatures peaked at 126 degrees Fahrenheit. This is a bit warmer than is ideal, meaning lengthy stays in the dryer may cause clothes to wear out a little faster than you might expect.
The Heavy Duty cycle on the is where we found the greatest failing. This appliance is fairly small, and the large comforter we used wasn't able to adequately shift around. The outside of the item was dry after just 20 minutes when the dryer stopped, but overall it was only 52% of its bone dry weight. Our temperature sensors got rolled up into the interior of the comforter where temperatures maxed out at a mere 103 degrees Fahrenheit, meaning the heat wasn't penetrating the fabric. If you're going to dry large items in this machine, you'll have to take them out and flip them around to make sure every section gets exposed to the heat.
The has a Timed Dry options that you can set for either 20, 40, or 60 minutes. We used the 20 minute option for our Quick Dry test, and the machine managed to deliver adequate performance. We never expect a short cycle like this to get things completely dry, and the our materials came out at 78 percent of their bone dry weight. It's not fantastic, but it's better performance than other models available. Temperatures only got up to about 108 degrees Fahrenheit even though we had it set to the highest temperature, which leads one to believe that it takes longer than 20 minutes for the dryer to reach maximum heat.
It doesn't get any more basic than this. Three standard cycles - Heavy Duty, Normal, and Delicate - are supplemented by a Timed Dry that comes in increments of 20, 40, and 60 minutes.
If you're easily overwhelmed by technology, this machine may be perfect for you. There's only one adjustable feature on this dryer - temperature. Keep in mind, the three preset cycles all have designated levels of heat. You can only adjust it when running a Timed Dry cycle.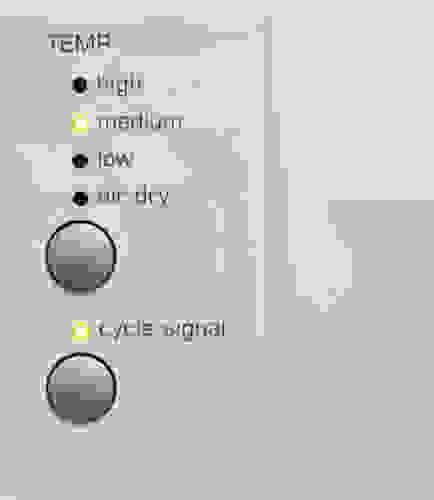 This appliance is going to get your clothes dry, and that's it. No bells and whistles...or extra drying features, for that matter.
The controls are very easy to manage if for no other reason than there aren't many of them, but they aren't the best in terms of usability. Starting the machine requires a lot of button pressing. First, you hit large center button however many times necessary to choose your desired cycle, then hold down the Start button for a few moments. Hitting one button to move through cycles seems an odd choice considering that the two most-used features in many dryers - Normal and Timed Dry - are the second and last options, respectively. This means that, for Normal loads, you'll always have to hit the button twice. Fortunately, the buttons are large and depress easily, but overall it seems inefficient. Temperature selection for Timed Dry loads are also cycled through using a single button. The Power button is really only there to turn the machine off when done.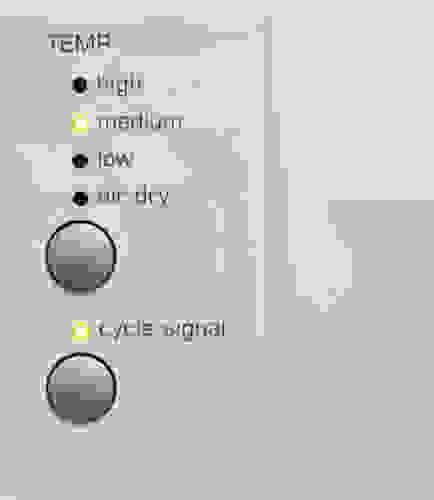 The door is a bit small, but remains proportional to the overall size of the machine. It's easy to open, managing to feel sturdy without being heavy. The door clasp was a bit of a hassle, though - it never really felt shut without slamming the door back into place.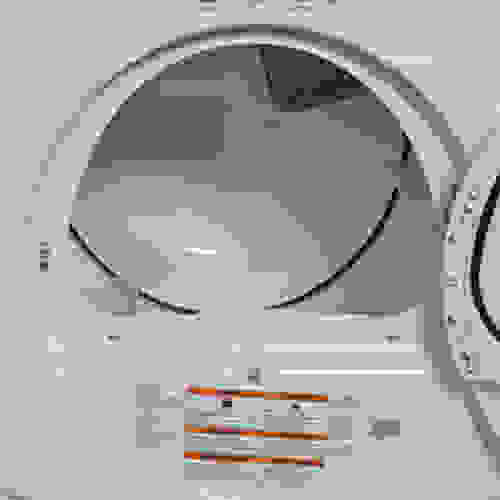 The lint trap is of standard design, located at the bottom middle of the door interior. It's easy to clean, and feels pretty sturdy.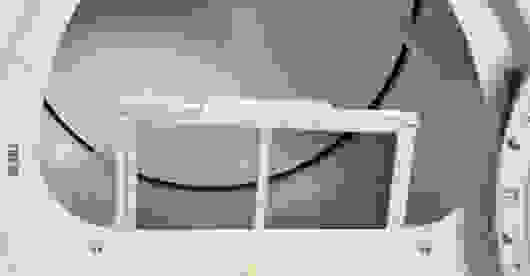 The Bosch Vision WTVC5330US is a similarly priced dryer that delivers overall superior performance as compared to the . With a $649 MSRP that's $50 cheaper than the , the Bosch delivers solid performance on every cycle, and many more options to allow consumers to customize exactly how they want their clothes to be dried.
The Bosch manages to provide a relatively uniform level of performance across the board. Most cycles took about an hour, and temperatures were comparable to those felt in the - though the Delicate cycle did manage to remain even cooler. The Bosch's equivalent to the 's Heavy Duty cycle managed to almost completely dry out our test material. Also, the Quick Dry function, while not perfect, did a better job than the 20 minute Timed Dry on the .
The just can't hold a candle to the Bosch, which has numerous cycle options, albeit ones that are broken down in a rather nontraditional way. A water line access point is found in the rear for steam cycles, and multiple dampness options are available for when you only want to partially machine dry your clothes. An "Eco Action" setting is available for every cycle, as is the option to label your load as "Delicate."
Both models are stackable, white dryers, though the Bosch manages to look and feel more durable. The control knob is much more substantial than the 's push button, and the stainless steel drum on the Bosch should last longer than the 's white one.
The Maytag MEDE200WX is a perfect example of a dryer that performs just as well, if not better, than the for a substantially lower cost. The Maytag has an MSRP of only $552.99, almost $100 cheaper than the . The performance on either machine isn't perfect, but they're very much on par with each other. For a less money, the Maytag manages to offer more drying options, greater room for cycle customization, and an arguably more interesting appearance than its more expensive counterpart.
Neither machine has a lot going for it by way of customization. Both machines allow you to adjust the temperature for the timed cycles, but the Maytag also allows you to select the dryness level. It also has a few more cycles to choose from, mostly in terms of removing wrinkles or freshening up dry or slightly damp clothes.
The Maytag gives you a lot more bang for your buck than the with respect to overall design. Both are white, stackable dryers with white interior drums, but the similarities mostly stop there. The cycle knob on the Maytag is sturdier than the buttons on the , the display screen gives you estimated drying times (a nice touch even if they turn out to be inaccurate), and the steel highlights make for a dryer that isn't quite as boring to look at. Also, the door handle is more clearly defined compared to in recessed one on the , making it easier and more comfortable to grip.
In comparing the to the Frigidaire FRQE7000LW, we are confronted with a case of lower cost equaling lower performance. The Frigidaire has an MSRP of just $519.99, over $100 less than the , but the corners that were cut to create a cheaper dryer are clearly visible. With a cheap-feeling design, outdated controls, and questionable performance, the Frigidaire is very much an inferior dryer.
The Frigidaire has a button to adjust drying levels, as well as an optional wrinkle control, but those are flourishes that attempt to make up for the fact that the dryer's preset options only determine the length of the cycle. You're required to manually adjust the heat setting regardless of the chosen cycle. The at least has preset cycles with predetermined heat and duration.
The is almost in every way a visually superior machine to the Frigidaire. Both are stackable, both are white, and both have white internal drums. The Frigidaire, however, has a flimsy door and cheap-feeling lint trap. Its controls feel archaic in its use of a cranking dial that is reminiscent of the old rotating timers, and the controls are so small as to be difficult to read. Neither machine has any sort of digital display or visual flair, but at the least the feels sturdy and looks somewhat more modern.
The is, like so many appliances on the market today, an average machine. It has its strengths and weaknesses, and overall is pretty good at what it was designed to do. For an MSRP of $699, though, consumers can do much better than average, especially for a machine that you have to jump through hurdles to find. Sale prices were more or less nonexistent, since most retailers seem to think that this machine is discontinued, despite being assured by a representative at Amana that the model is still very much available.
Sensor-based drying is a tricky piece of technology to get right, and the actually does a pretty good job with it. Normal and Delicate cycles ran smoothly, albeit longer than expected, and produced extremely dry clothes. Timed Dry performed only at an adequate level, but this tiny machine really dropped the ball on the Heavy Duty load.
This machine is perfect for those afraid of technology, since the cycle options are as bare-bones as you can possibly get and still have more than one option available. A complete absence of other drying features and only the ability to adjust the temperature on the Timed Dry options means you have almost no control over what's going on with your clothes, and drying your clothes on any sort of special setting will mean a trip to the laundromat instead of the laundry room.
Meet the tester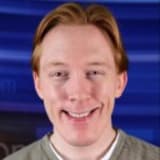 Matthew Zahnzinger
Logistics Manager & Staff Writer
@ReviewedHome
Matthew is a native of Brockton, MA and a graduate of Northeastern, where he earned a degree in English and Theatre. He has also studied at the Gaiety School of Acting in Dublin and spends most of his free time pursuing a performance career in the greater Boston area.
Checking our work.
We use standardized and scientific testing methods to scrutinize every product and provide you with objectively accurate results. If you've found different results in your own research, email us and we'll compare notes. If it looks substantial, we'll gladly re-test a product to try and reproduce these results. After all, peer reviews are a critical part of any scientific process.
Shoot us an email