Pros
Ventless

Large fins to move laundry
Cons
Touch controls not very responsive
It can be tough to find a small clothes dryer for a condo or apartment. But if you need a compact, ventless dryer, you just got another option. The Electrolux EIED200QSW 24-inch compact ventless condenser dryer (MSRP $1,099) debuted earlier this year, and it marks the company's first foray into compact laundry in the U.S. market.
Of course, Electrolux has years worth of experience building condenser dryers like this one in Europe, where floor space is at a premium and energy prices are high.
In the US, the market has been dominated by Bosch, with a few minor players. So when we first saw the new EIED200QSW and its matching washer at KBIS in January, we were excited for a new entrant: It's got easy-to-read controls, straightforward installation, and access to Electrolux's repair network if anything should go wrong.
After a week in our labs, we've had the chance to see just how well it works. Yes, it has the same drawbacks as most condenser dryers—clothes take awhile to get dry, and get very hot in the process—but our laundry came out almost perfectly dry every time.
Design
American conventions, European dimensions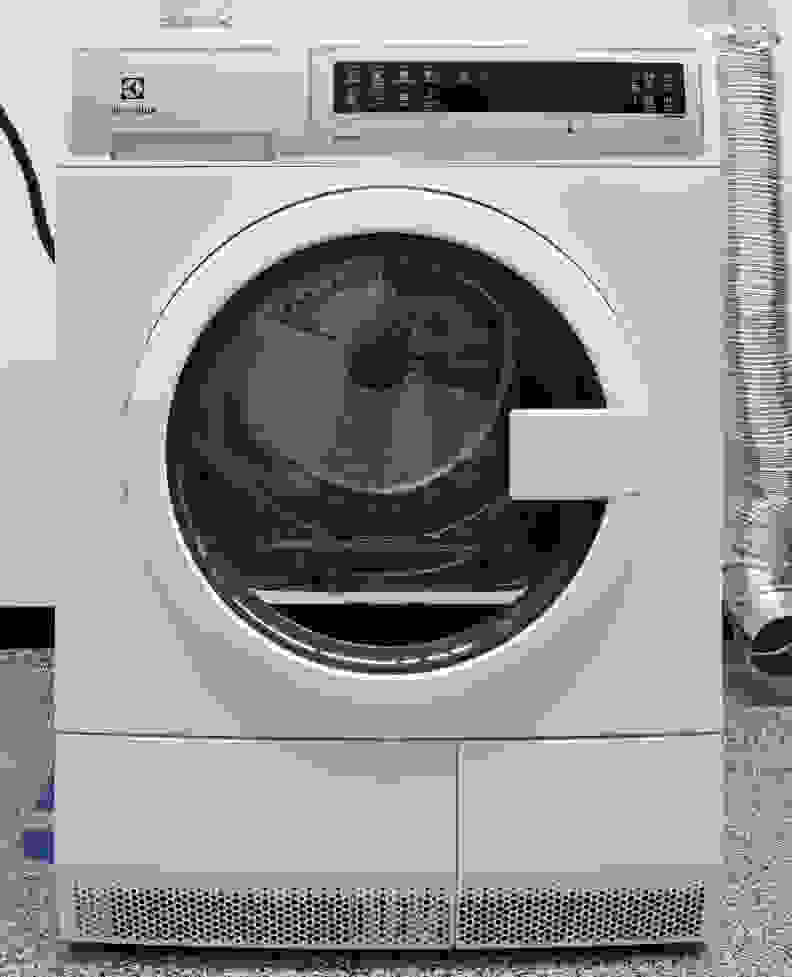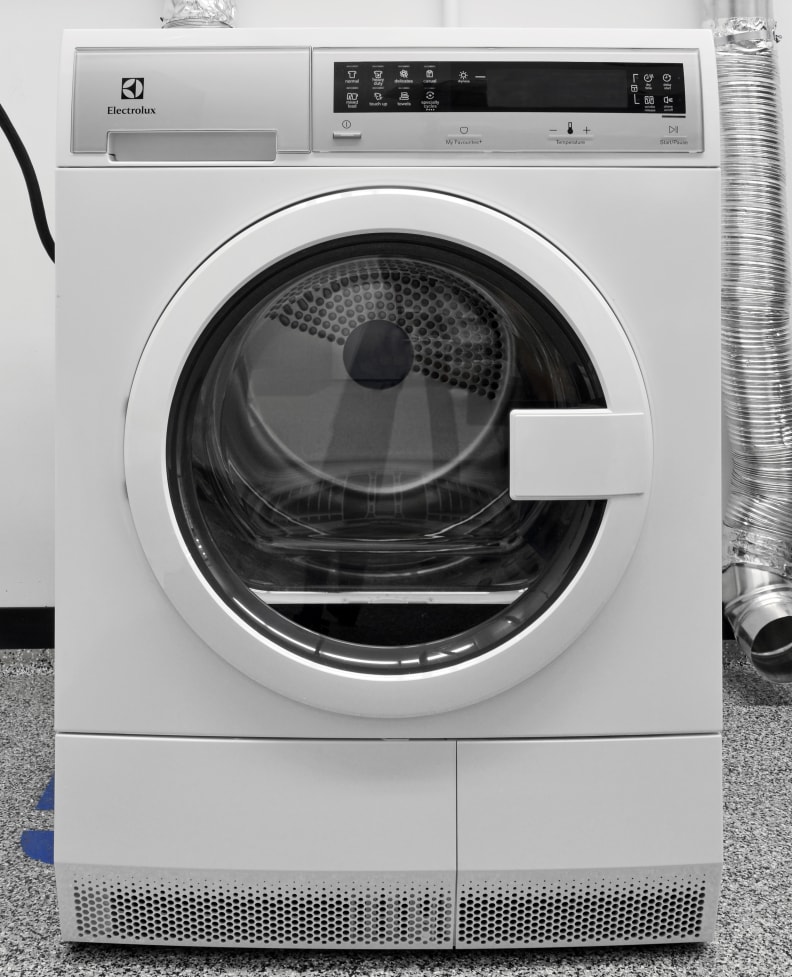 If nothing else, the EIED200QSW is attractive. The dark control panel, framed with a gray border, gives the front of this otherwise white box some visual flair. This is a dryer that you don't necessarily need to hide behind a closet door.
The controls themselves are easy to read, for two reasons: First, the white text and symbols for the cycle list pop against the dark background, while the bright display console is backlit and easy on the eyes. Second, unlike some European imports—which can feature obscurely named options, like "Jogging"—all cycle names should be familiar to American consumers. Well, aside from the "Favourite" option.
On the inside, you get a 4.0-cu.-ft. stainless steel drum—which ties the capacity of the largest compact dryers. Dark blue fins help move laundry around, and give this Electrolux's interior some unexpected personality.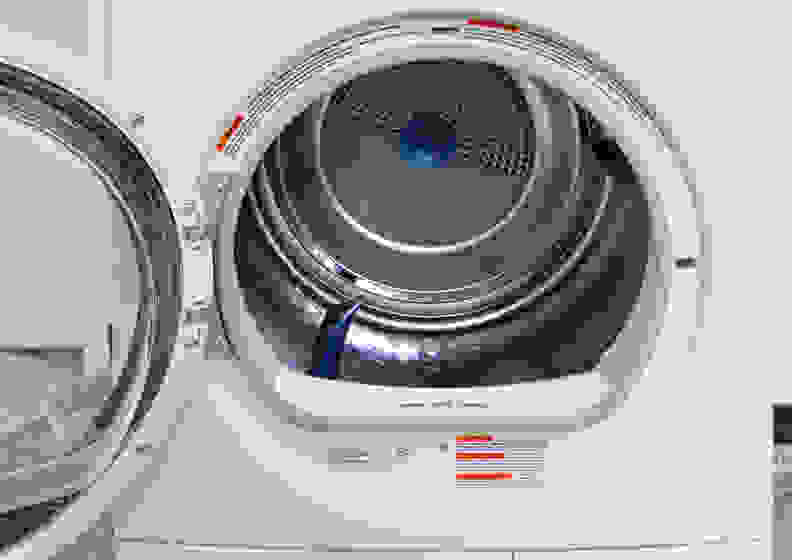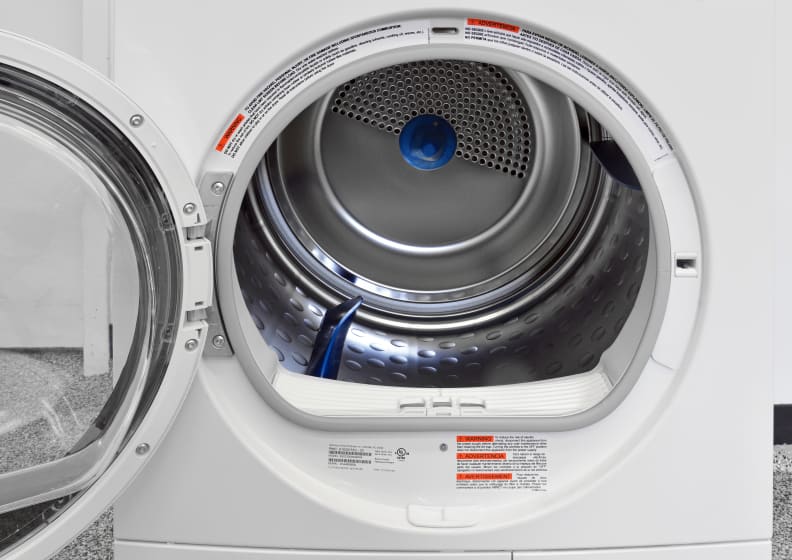 Usability
Looks good, but requires some getting used to
The EIED200QSW's controls look great, but their operation is only so-so. Touch-sensitive buttons take a moment to respond, sometimes requiring two or three pushes for commands to register. Certain settings, such as the Delay Start option, only move in one direction. Having the ability to delay your cycle anywhere from 30 minutes to 20 hours is great... except when you miss your mark and need to circle back around to try again.
Touch-sensitive buttons take a moment to respond, sometimes requiring two or three pushes for commands to register.
If you're not planning to stack this unit with its matching washer, you'll have to bend over pretty far to reach its buttons as it's only 33 2/5" inches tall. If you want, you can purchase an optional pedestal—which sells for $279.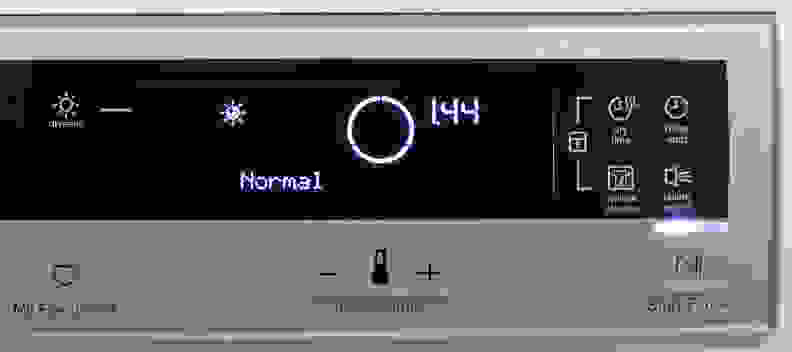 Cycles & Features
Comprehensive, for a compact
Finicky controls aside, this Electrolux is surprisingly versatile for a compact machine. Cycles range from familiar Normal or Delicates modes, to Heavy Duty and Towels. It even has some specialty cycles like Jeans and Wool.
In terms of extra features, the basics are covered. You get a Wrinkle Release option, a Delay Start, the ability to adjust drying times and temperatures, and a control lock. You even have the ability to save three My Favorites cycles—or rather, "My Favourites," a mark of this machine's European heritage—allowing you to preserve customized cycles to fit your wardrobe.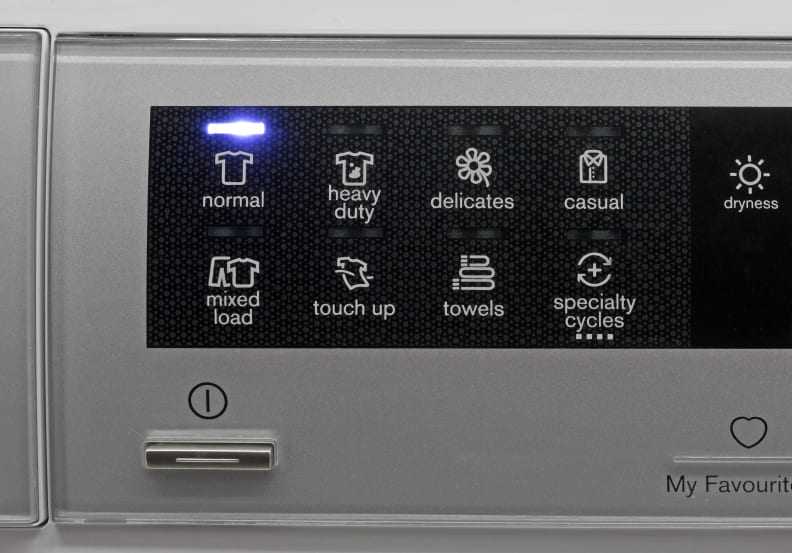 Performance
Small, but fierce
Condenser dryers don't work the same way as their vented counterparts. In fact, it's best to think of them as really powerful dehumidifiers. A condenser dryer will never be as quick as a vented dryer, and most people who buy them do so because they don't have a choice. We adjusted our expectations, and were pleasantly surprised.
Fast Dry runs for about 40 minutes, while Normal clocked in at roughly 2 hours. That's on par with the Bosch condenser dryer we tested, but about twice as long as most full-size, vented machines.
A condenser dryer will never be as quick as a vented dryer
Generally speaking, this Electrolux actually did a great job: Clothes came out almost 100% dry every time, with one exception. Despite the reverse tumbling option, our large comforter was simply too much for this machine to handle without some hands-on adjustment. "Set it and forget it" won't work if you're trying to dry a bulky item.
A major downside we noticed across the board was the amount of heat inside the drum. Cycles routinely peaked between 165-188°F, with Heavy Duty just breaking 200°F. That's really hot, and will wear out your fabrics more quickly than the average machine.
While we're on the topic, condenser dryers do tend to give off plenty of heat while in use. Never too hot to touch, but something to remember when picking a location in your home.
For in-depth performance information, please visit the Science Page.
Installation & Maintenance
Be mindful of extra steps
Compact laundry units are much more flexible in terms of storage. If you buy an optional stacking kit, this Electrolux can stack with its matching washer to fit inside a closet. Alternatively, it's only 24" deep, which means it's considered counter-depth, and could therefore fit under a kitchen counter.
The ventless design of the EIED200QSW gives it even more versatility. Many condenser dryers require a drain hose, like any washing machine. However, if a direct-to-drain set up isn't for you, this machine has you covered:
To the left of the control panel is a pull-out bucket that holds about a gallon of water, and this is the default option for where the water goes during a cycle. A direct-to-drain hookup for this Electrolux requires additional work, but you won't need to empty the bucket every two or three loads.
Additionally, you may notice a switch just inside the dryer door, right in front of the lint trap. Slide that switch over, and a compartment pops open on the front of the machine. Inside here is the condenser filter, which has to be routinely rinsed.
If you're worried about forgetting, don't: A symbol will appear on the console every time these extra steps need to be taken. Much like cleaning the lint trap, other aspects of dryer maintenance should become second nature after a little while.
If all this sounds like a lot, just remember that it's easier than a trip to the laundromat every week.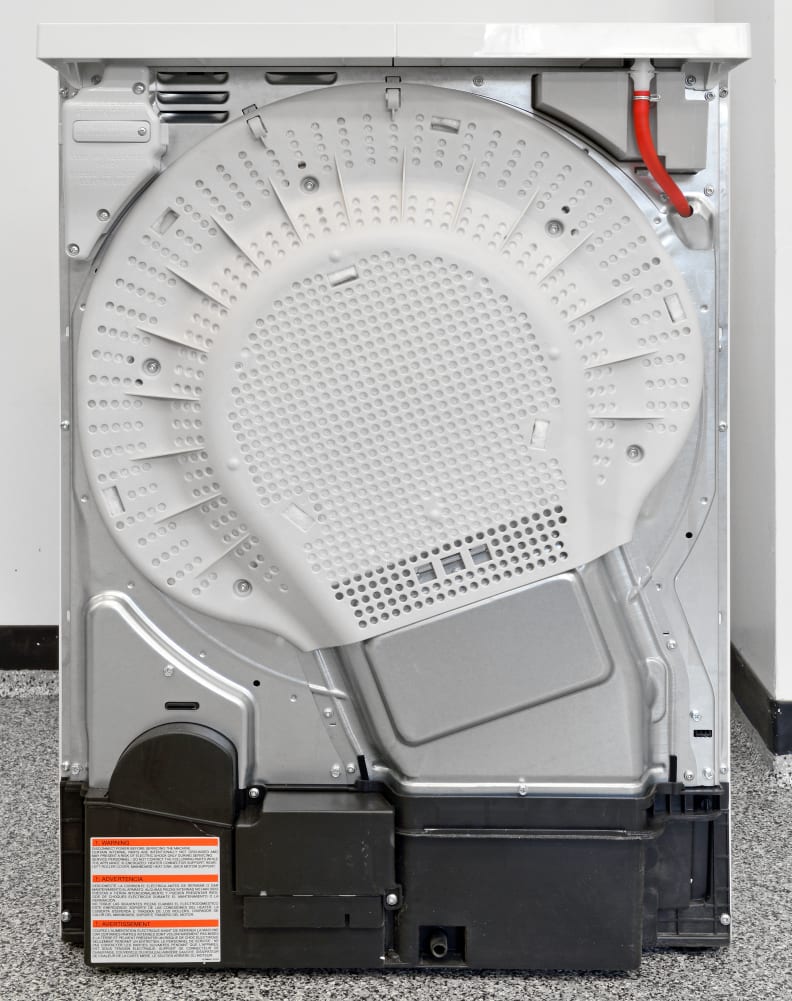 ×
Maintenance
A User-Friendly Compact
Affordable, adaptable, and effective
It's hard not to like the new Electrolux EIED200QSW. It looks prettier than most dryers, has easy-to-read controls, and offers exceptional cycle versatility for a compact machine.
The counter-depth size, ventless design, and ability to stack with a matching washer—one that doesn't have to plug into the dryer, no less—gives consumers exceptional control over where they want to do laundry in their home. Plus, at about $900, it gives you more bang for less buck than most comparably sized machines.
That said, high temperatures may take a toll on fabrics, and we don't love those lengthy cycle times—but those are some of the drawbacks of having in-unit laundry without external ventilation. Overall, this Electrolux is an affordable and user-friendly option. If you can't install a traditional vented dryer in your home, you should be thankful that it's now on the market.
By the Numbers
Compact ventless condenser dryers usually behave differently from full-sized models, and the Electrolux EIED200QSW (MSRP $1,099) is no exception. Cycles take a fair amount longer to finish, and the machine itself tends to get rather warm. Unlike many condenser dryers, though, this unit's 4.3-cu.-ft. drum was able to tackle all but our largest test items.
Normal & Delicate
No cycle managed to remove 100% percent of the excess moisture we add to each test load, but Normal came the closest at 98%. In many cases, that little bit of moisture is actually ideal for preventing wrinkles. Cycles averaged about 2 hours, which was unsurprising. However, peak temperatures reached 186.8°F, which was. That's very warm, enough to cause undue stress on all but the hardiest garments.
In about 1 hour and 44 minutes on average, Delicates managed to remove 96% excess moisture, leaving just enough behind for ironing or line drying. Temperatures peaked at about 20 degrees cooler than Normal... which, at 162.5°F, isn't saying all that much.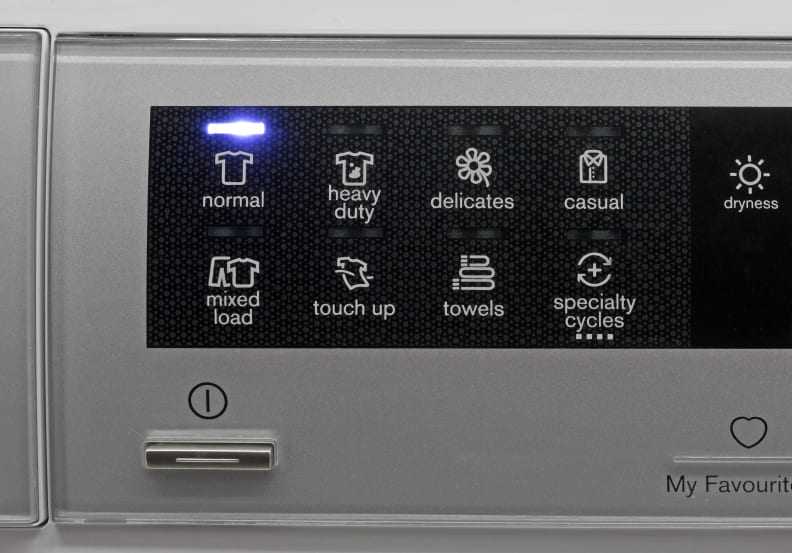 Quick Dry & Bulky
No cycle is truly quick in a compact, but the 40 minute Fast Dry is as close you're going to get. With peak temperatures of 166.7°F and average moisture removal of 96% from a four pound test load, we'd say it's as good as Normal for smaller loads of laundry.
As we expected, the Heavy Duty cycle was not good. Our tests—which involved a heavy, down-alternative comforter—lasted about 1 hour and 20 minutes, peaked at a whopping 200.8°F, and only removed 54% excess moisture.
That's largely due to the Electrolux's compact drum. Big comforters need room to tumble around, so you'll likely have to manually adjust yours halfway through a cycle—or head to a laundromat.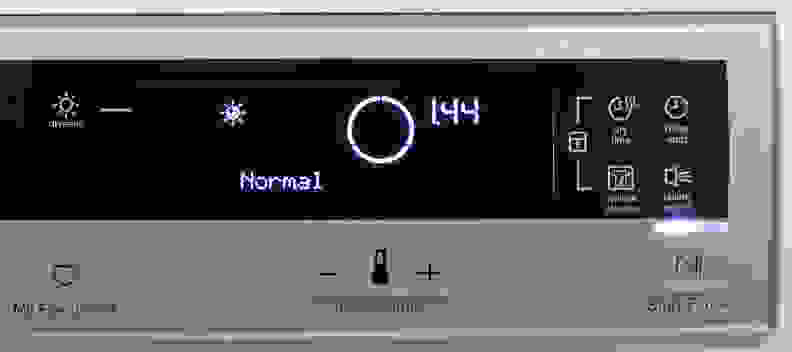 Meet the tester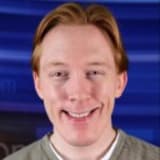 Matthew Zahnzinger
Logistics Manager & Staff Writer
@ReviewedHome
Matthew is a native of Brockton, MA and a graduate of Northeastern, where he earned a degree in English and Theatre. He has also studied at the Gaiety School of Acting in Dublin and spends most of his free time pursuing a performance career in the greater Boston area.
Checking our work.
Our team is here for one purpose: to help you buy the best stuff and love what you own. Our writers, editors, and lab technicians obsess over the products we cover to make sure you're confident and satisfied. Have a different opinion about something we recommend? Email us and we'll compare notes.
Shoot us an email