Pros
Affordable

Option to add more water to select cycles
The all-new GE GTW485ASJWS is a 4.2-cu.-ft. top loader that marries the best of familiar, old-school design with the best of effective, new-school technology. Features range from Deep Fill—which literally saturates the drum to the brim—to Precise Fill, which uses sensors to calculate exactly how much water is necessary.
Best of all, while the GTW485ASJWS retails for just $579 on sale, it also ranks in the top 10% of top loaders we've tested.
Design & Usability
Plain and uncomplicated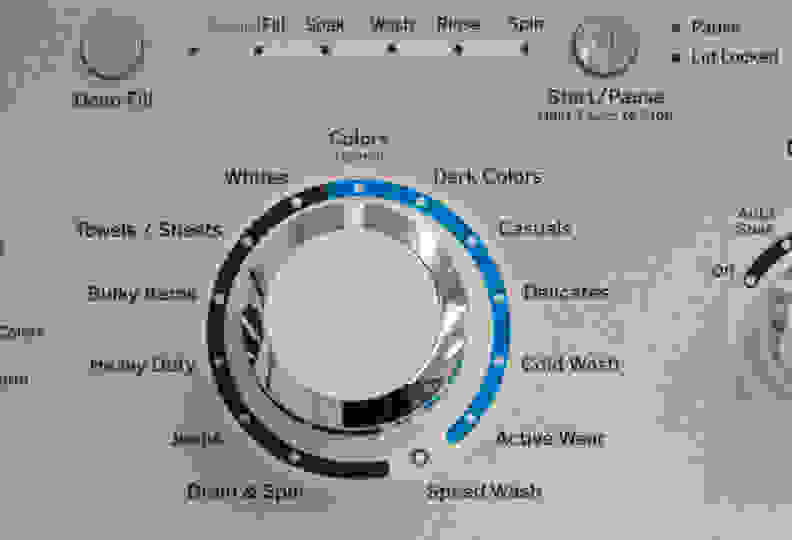 The GTW485ASJWS's design is part of the American manufacturer's new lineup of top-loaders, all designed to appeal to folks who are turned off by high-tech washers. As a result, its controls are rather straightforward. The control panel is made up of five knobs, each dedicated to a single category like rinses or temperature. We found that clear labels made it a breeze to operate.
Simplicity permeates the rest of the machine, too. The lid is just a sheet of metal–no slow close hinges here—and underneath you'll find a traditional pole agitator. GE spent a lot of resources designing the washer that American consumers have demanded, and the pole agitator is an important element.
The little button on the top of the GTW485ASJWS lets you instantly add water to a cycle you feel isn't using enough.
However, all this generational charm does not mean the GTW485ASJWS lacks current technology. Although the agitator takes up a lot of space, the '485 still has an industry-standard 4.2-cu.-ft. drum. In fact, it's the only modern washer with a pole agitator to meet updated Energy Star guidelines.
It also has a dozen cycles, covering everything from Whites to Jeans. Having a wide variety of cycles is important on a machine that lets you adjust everything from the spin speed to the temperature, giving laundry micromanagers controls over the little details. Those who want to load and go also have leave to do so, especially with the stain guide. Set the guide and the washer will sync up the needed temperatures and spin so you don't have to.
Overall, we think consumers of all generations and laundry styles will find the GE GTW485ASJWS a breeze to use.
Performance & Features
Blunt force
Left to its own devices, the GTW485 cleans relatively well. After 52 minutes and 16 gallons of hot water, the Whites cycle removed the most stains and represented the best time-to-performance ratio. The Colors cycle set to heavy duty soil came in a very close second, but required over an hour to complete, and used less hot water to prevent fading. The Colors cycle set to all medium settings clocked in at 40 minutes and ranked third in our tests.
At recommended settings, the GTW485ASJWS removes marginally fewer stains than the Maytag MVWC415EW (MSRP $649), another pole agitator model—but the GE uses far less water. Based on typical American laundry habits, we think this GE will cost you about $50 a year in water and electricity costs, compared to about $70 for the Maytag. For any top-loader, that's not bad.
But if efficiency isn't what you're after, there's the Deep Fill option. Each press of this button will flood the drum with six gallons of extra water, and you can keep on pressing that button until the drum is filled completely.
We didn't run additional tests on cycles using Deep Fill, but we would expect stain removal to be inferior to the default settings. That's because clothes floating in water aren't exposed to the same mechanical rigor as clothes that aren't submersed, so the "washboard effect" of the washing machine is reduced. Additionally, more water dilutes detergent, which limits its effectiveness.
However, a Deep Fill does have some benefits: If you have clothes with lots of debris—like jeans you used on a farm or working out in the yard, only water can wash that dirt away. Clothes subjected to more mechanical action also tend to fray more. We detected wide variations in how much wear and tear each cycle caused, so if you want to protect delicate items in a rigorous wash cycle, we recommend placing them in a pillowcase.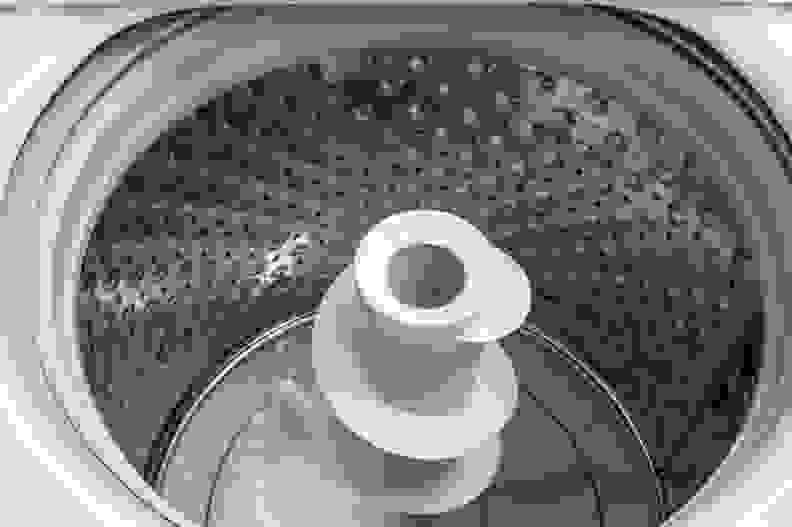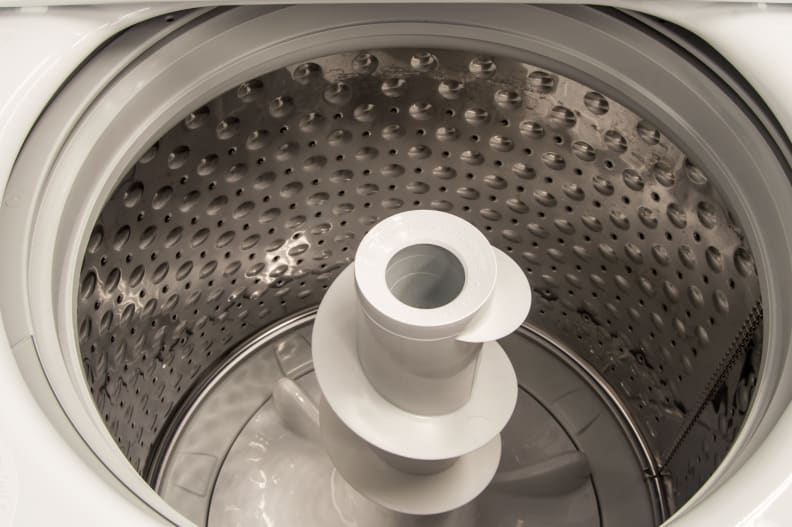 For in-depth performance information, please visit the Test Results Page.
Warranty
GE backs this washer with a one-year warranty covering all parts and labor with defects arising through no fault of the consumer. It's made on an all-new line at GE's Appliance Park facility in Louisville, KY.
Why We Like It
Tried and true meets fresh and new
The GE GTW485ASJWS's familiar aesthetics bring together innovations for both conservationists and traditionalists alike. The learning curve is shallow, but water levels can be as deep as you remember on the washer you had years ago.
We were excited to find that the '485's pole-agitated drum can be efficient without missing stains. For under $600 on sale, there's not much for anyone to complain about here. Have your cake, eat it too—and then clean the frosting off your shirt.
Cleaning Performance
Our stain removal tests use standardized "stain strips"—long pieces of cloth that have been mechanically coated in representative household substances like red wine, carbon, oil, blood, and cocoa. We place these strips in test loads with towels, pillowcases, and bedsheets and wash them with a standardized detergent. After a cycle is finished, we take the strips out and scan them with a photospectrometer to determine how close to white they are.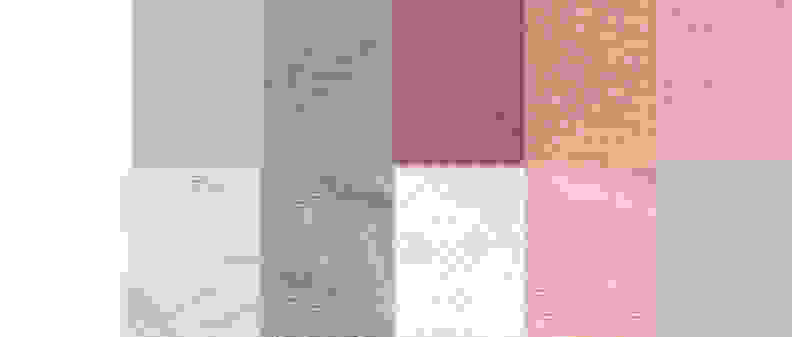 The GTW485ASJWS had an average showing among all washers, but it outcleaned most other machines with a similar design or price. The Whites cycle used a ridiculous 16 gallons of hot water, but removed the most stains in just under an hour. Results from the Heavy Duty cycle were similar to Whites, but needed 18 extra minutes to get there. The Normal cycle came in third, removing 4.14% fewer stains than the Whites cycle.
Narrowing our focus to individual stains, we found that the GTW485ASJWS did well against protein-based stains like blood and cocoa powder. In order to fight these stains, a washer must have a good temperature profile. Washers that dispense hot water too early can "cook" proteins into clothes, but this GE didn't make that mistake.
Efficiency
Our efficiency tests account for both resource usage and water retention. The upfront costs of running a washer are water and electricity. In this case, the GTW485ASJWS kept costs down, more so than other top loaders. Based on typical use patterns and utility prices, this washer will cost you around $50 a year to run—about ten or twenty dollars below average for a top loader, and astounding for a machine with this kind of a traditional setup.
Water retention is also important. Washers that fail to spin out excess water just end up taxing the dryer, which is the energy hog of most homes. The GTW485ASJWS spun out 55% of excess water, which is significantly better than average.
Clothing Wear
Washing machines with pole agitators are notorious for tearing clothes up, the GE GTW485ASJWW included. To quantify wear and tear, we used mechanical action strips–pieces of cloth with a standardized thread count and composition. After a wash cycle is complete, we count the number of loose threads to determine how much damage has been done.
The GTW485 had some pretty uneven results. For example, on the Heavy Duty cycle we counted 70 loose threads on one strip, while another only had 44. This is probably due to the proximity to the pole agitator: closer strips get a more rigorous clean, while others "stall" on the outskirts of the drum. The Normal cycle showed the largest discrepancy with a high of 56 loose threads and a low of 3. The Delicates cycle was the most even, with a high of 25 loose threads and a pristine mechanical action strip as its low.
Meet the tester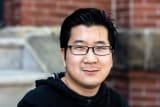 Jonathan Chan
Senior Manager of Lab Operations
@Jonfromthelab1
Jonathan Chan currently serves as the Lab Manager at Reviewed. If you clean with it, it's likely that Jon oversees its testing. Since joining the Reviewed in 2012, Jon has helped launch the company's efforts in reviewing laptops, vacuums, and outdoor gear. He thinks he's a pretty big deal. In the pursuit of data, he's plunged his hands into freezing cold water, consented to be literally dragged through the mud, and watched paint dry. Jon demands you have a nice day.
Checking our work.
Our team is here for one purpose: to help you buy the best stuff and love what you own. Our writers, editors, and lab technicians obsess over the products we cover to make sure you're confident and satisfied. Have a different opinion about something we recommend? Email us and we'll compare notes.
Shoot us an email