For those interested in buying this item as a pair, the Kenmore Elite 41472 performed very well. Like its wetter counterpart, this particular dryer is an updated model, designed based on the LG WM3470HVA.
Since it's a , you're dependent on Sears to find a sale price, which may be down to $1150 without shipping. That low price may make this machine smell that much sweeter.
The is a front-loading stackable dryer with a white finish. The square door is made completely of black reflective plastic, with a steel edging that gives it a modern, sleek look. The blue tinted backing for the controls and the gray and steel highlights make this appliance more elegant and visually interesting than the average white dryer. This machine commits one important design faux pas, however - for such a high-priced dryer to have a white enamel interior instead of a stainless steel one is very disappointing, given the enamel's proclivity for flaking and rusting over time.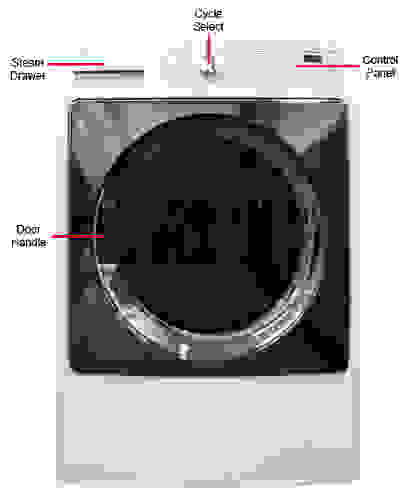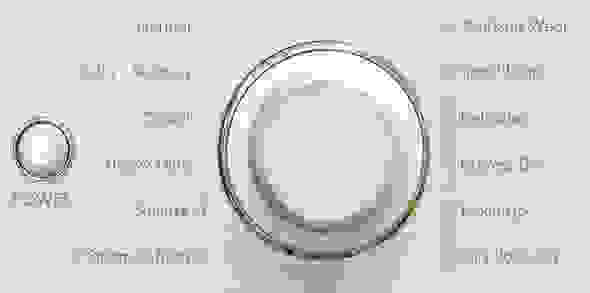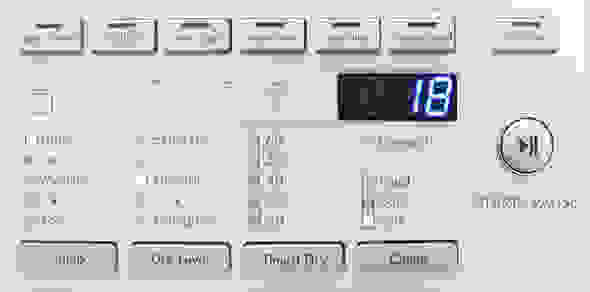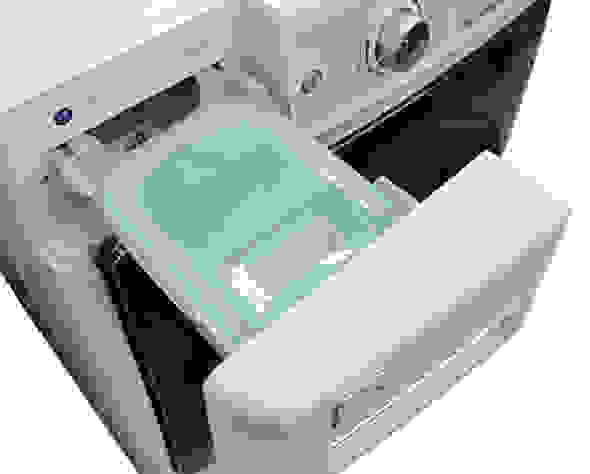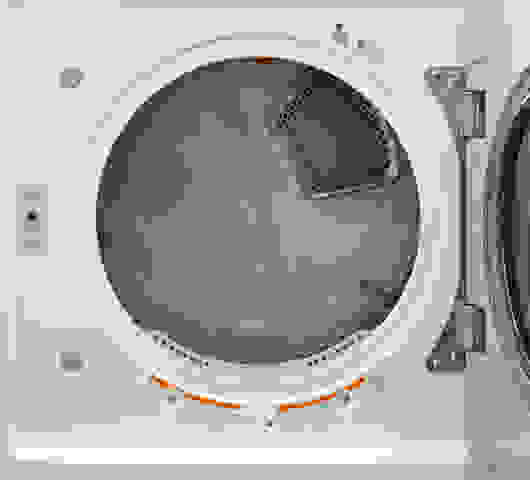 For all its fancy, high-end aesthetic touches, the 's lint trap is actually quite simple. It's located on the bottom of the internal edge of the door frame, and is made of plastic and the usual mesh. Nothing fancy here, and it gets the job done.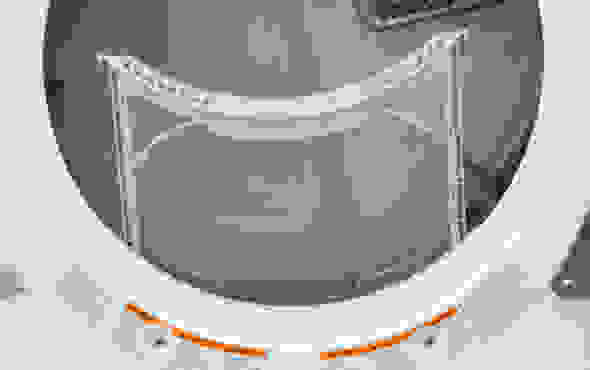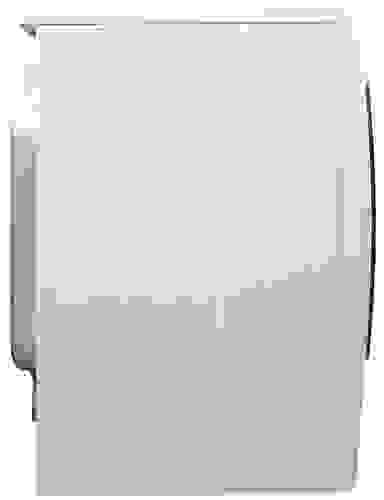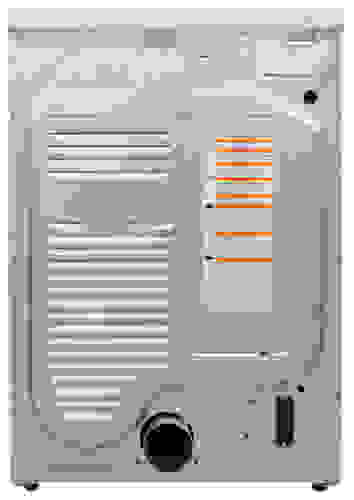 All three of the preset cycles that we tested consistently finished in about an hour, and every cycle including the Express Dry got almost all the moisture out of our test materials. Usually there's at least one cycle that doesn't quite get the job done, but this actually managed to deliver nearly perfect performance across the board. It also managed to do this in a reasonable amount of time, which means that even though this machine isn't breaking any records, you won't be spending your entire day doing laundry.
As is usually the case, the Normal cycle proved to be a solid starting point for this dryer's testing. It got clothes completely dry, did so in just under an hour, and reached a high temperature of 148 degrees Fahrenheit. All this makes for a reliable and very effective Normal drying cycle that will take good care of your clothes.

Running just a bit over an hour, the 's Delicate cycle proved to be more effective than a large percentage of the dryers we've tested. It got warmer than we'd like - 125 degrees is just a bit too hot for a perfect Delicate setting - but clothes came out at 98 percent of the way to being bone dry, which is very impressive. Many dryers take longer and remove less water, and it's not always due to a differing temperature peak.

Many of the dryers we've tested use preset cycles with lengths that are determined using internal humidity sensors, bulky loads frequently wind up dry on the outside bit still damp on the inside. This did much better, though, bringing our test comforter down to 85 percent of its bone dry weight. Not only that, it managed to reach that point in just under an hour and with temperatures maxing out at 135 degrees. This isn't perfect, but still better than many other models on the market.

The 's Express Dry cycle was used for our Quick Dry test, and lasted just 25 minutes. In that short amount of time, the dryer's interior reached 137 degrees and got clothes 91 percent of the way to their bone dry weight. This is excellent performance - many dryers don't have the ability to reach that high of a heat over such a short duration, and can hardly break the half-way point in moisture removal, let alone almost getting rid of excess water entirely.

With 13 different cycles available, your clothes may not know what to do with themselves. It covers all the usual bases, like Heavy Duty and Delicate, but it also includes a Workout Wear cycle for the fitness nut, or a Sanitize cycle for those with really curious children. This machine also comes with a steam drawer, and the Steam Refresh cycle theoretically works to remove odors and wrinkles from clothes that don't necessarily need a full washing.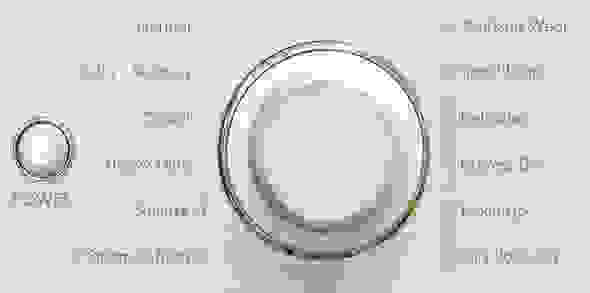 Variety is the spice of life, and this dryer keeps your chore time well seasoned. If you want to use one of the preset cycles, you have the option to set the dryness level to one of five different points ranging from Damp Dry to Extra Dry. Alternatively, for those who prefer the manually timed options, the temperature can also be set to one of five heat levels. Each of the timed cycles automatically sets itself to a predetermined length, but can cycle through 10-minute durations from 20 to 60 minutes, and then use the More and Less Time buttons if you want to a specific duration between that. Lastly, the dryer's chime volume can be altered. Live in a big house? Set it to loud. Have a smaller apartment? Turn it to soft. If you really just don't want to be bothered and prefer to deal with your laundry when you feel like it, you can just turn the thing off entirely.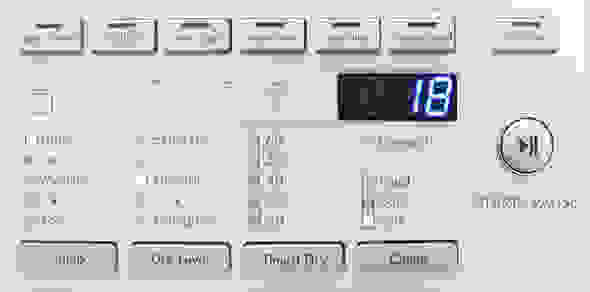 This doesn't have the most comprehensive list of drying features available, but it certainly comes close. With options that reduce static or wrinkles, as well as a damp dry signal for removing items that you want to finish drying on a clothes line, these features are essentially designed to make post-laundry work that much easier. There's also a feature called My Cycle, which allows you to customize your own cycle and save it for future use.
The two-column layout for the preset cycles, highlighted by a small blue light when they're selected, is very easy to read. The cycle knob is also quite sturdy, striking a nice balance so that it doesn't feel either clunky or flimsy. The main control panel is a bit odd - it's pleasant to look at, with the blue backing and the steel highlights, but the size of the buttons and the small font on those controlling the extra features can be a little difficult to read. The buttons themselves don't depress all that much, but they still feel solid and responsive, and the indicator lights make finding the settings of your choice quite easy.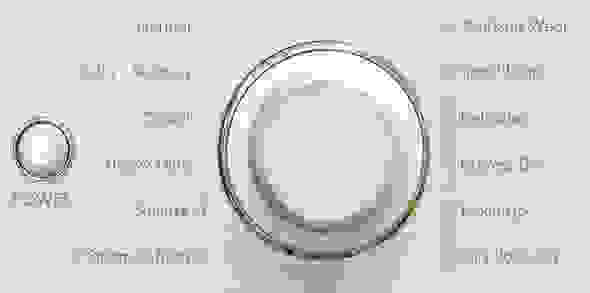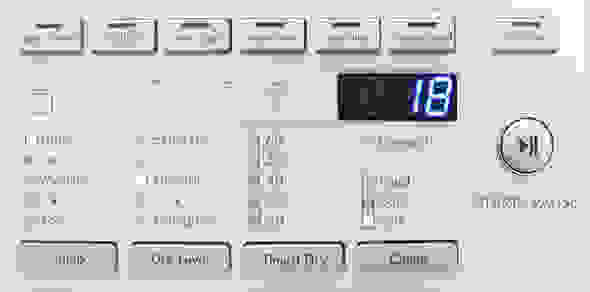 The door on this may be sleek and shiny, but that doesn't necessarily mean it's going to work as well as it looks. It opens easily enough - the handle is comfortable to grip, and the door opens without a fuss. However, when we went to close it, more often than not the door would bounce back open. Inevitably we just started having to slam the door shut, a frustrating design flaw in an otherwise attractive machine.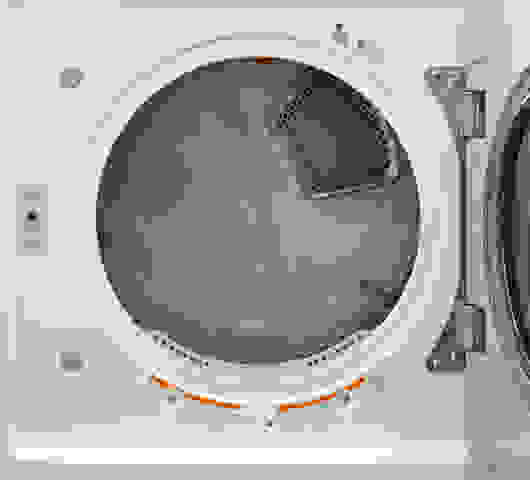 For all its fancy, high-end aesthetic touches, the 's lint trap is actually quite simple. It's located on the bottom of the internal edge of the door frame, and is made of plastic and the usual mesh. Nothing fancy here, and it gets the job done.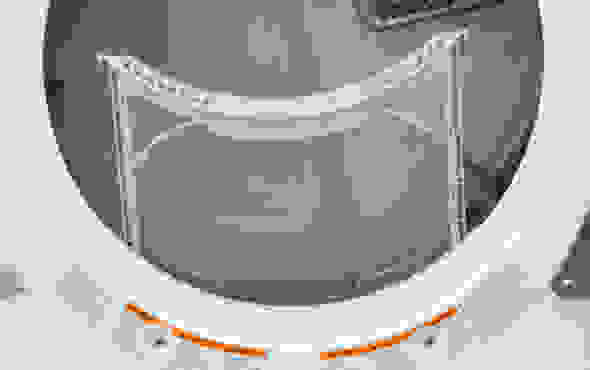 The costs quite a bit of money. Its MSRP is $1299.99, and being a means you won't find it anywhere but Sears, where it occasionally goes on sale for around $1150. At the very least, consumers buying a pair will get a solid companion in this machine's matching washer, the Kenmore Elite 41472.
Despite its flaws and high price tag, it is still an excellent dryer - in fact, it's a slightly more refined version of another quality appliance, the LG WM3470HVA. It has lots of features, steam capabilities, and a very attractive finish.
Though they don't carry the label, there are quite a few other machines out there that dry clothes just as effectively - if not more so - on certain cycles. What's more important is that some of those dryers will cost you less money. If you're tired of comparison shopping and just want to swallow the cost, you won't go wrong with the 81472. If, however, you're looking for a bargain and Sears isn't having a sale, it's best to look elsewhere.
Meet the tester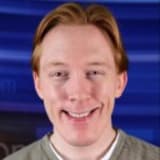 Matthew Zahnzinger
Logistics Manager & Staff Writer
@ReviewedHome
Matthew is a native of Brockton, MA and a graduate of Northeastern, where he earned a degree in English and Theatre. He has also studied at the Gaiety School of Acting in Dublin and spends most of his free time pursuing a performance career in the greater Boston area.
Checking our work.
We use standardized and scientific testing methods to scrutinize every product and provide you with objectively accurate results. If you've found different results in your own research, email us and we'll compare notes. If it looks substantial, we'll gladly re-test a product to try and reproduce these results. After all, peer reviews are a critical part of any scientific process.
Shoot us an email