The uses a striking, graphite-colored finish that distinguishes it from run-of-the-mill white dryers. It's stackable, which means the controls are located above the door on the front, and it has a pull-out drawer on the top left corner that allows you to add water for steam cycles. Inside is a rather standard lint tray, as well as the ever-desirable stainless steel interior drum. It's nearly identical to the LG DLEX3470W, which is the same dryer but with a white finish that costs about $100 less.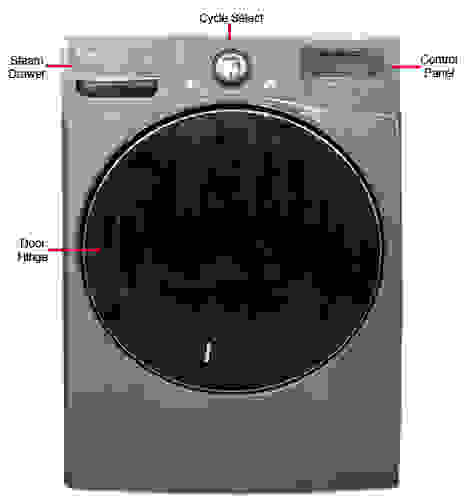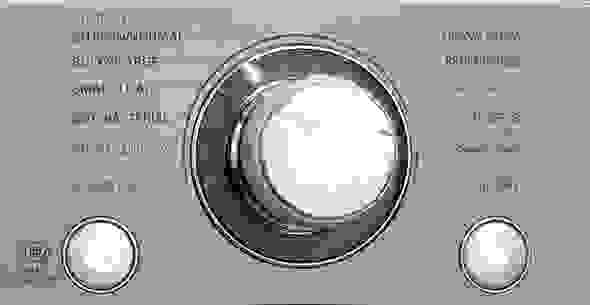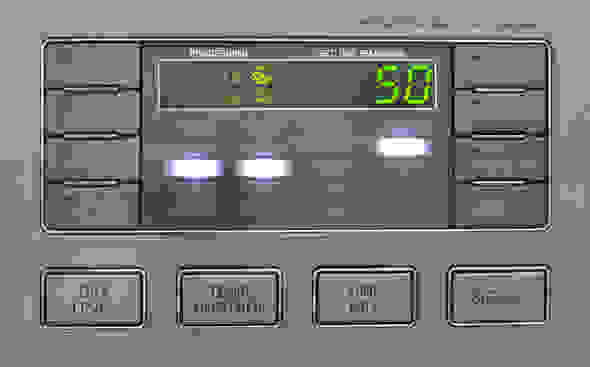 Despite all the other bells and whistles on this appliance, the 's lint trap was quite standard. It was easy to clean, and did an adequate job of collecting lint from our test materials.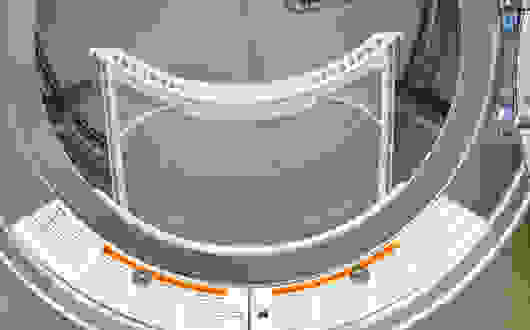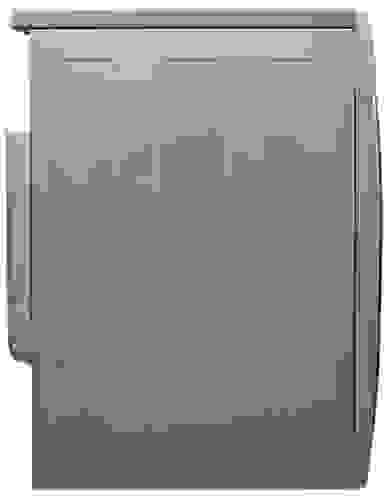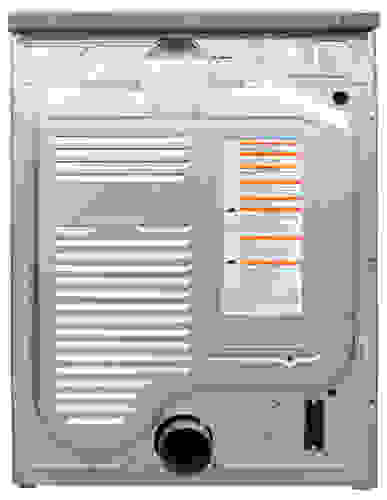 All three of the full-length preset cycles that we tested clocked in at about an hour each. While just under an hour is to be expected for Normal loads, its very impressive for Delicate, which usually runs longer and doesn't have such dry results as most other models that we've tested. The also managed to be very reliable for our repeat tests - you can't exactly set your watch by it, but it remained consistent enough that we had a pretty good idea as to when we could expect it to finish, an impressive feat for sensor-based drying.
The Normal cycle on the did everything we expected it to. In just under an hour, clothes were completely bone dry. The dryer got rather warm, though, with temperatures peaking at 156 degrees Fahrenheit. You'll want to keep an eye on your clothes to make sure they don't over dry.
Delicate cycles typically take a long time, get too hot, and leave clothes either damp or scorched. The , however, delivered a cycle as close to perfect as any other dryer that we've tested. It lasted for just an hour, less than most other dryers, and got our test materials 90 percent of the way back to their bone dry weight. It's not perfect, but keep this in mind - temperatures only got up to 105 degrees Fahrenheit. This means the won't overheat and won't damage delicate fabrics. You can put clothes in for another 10 or 15 minutes to squeeze out that last 10 percent without any fear of causing your clothes to fade or over dry.

The Bulky cycle was the most surprising, and most disappointing, of our drying tests. Despite the efficiency seen in the Quick Dry test and the clothing-friendly results from the Delicate cycle, the Bulky only got materials to 68 percent of their bone dry weight. It took the full estimated hour to finish but temperatures only reached 138 degrees Fahrenheit. If you're going to be drying large items like comforters and heavy blankets, you may just want to set a customized cycle that uses a higher temperature. Otherwise, you'll likely end up having to put items through a second time and use twice as much time.

The 's Speed Dry cycle was one of the highlights of our tests. In just 25 minutes, our test materials got to 93 percent of their bone dry weight. Temperatures got up to about 131 degrees Fahrenheit, impressive heights for such a short amount of time. Tests prove that the 's Speed Dry cycle offers superior performance to many of the full Normal cycles on other machines. Of course, it's not perfect - a top score requires clothes to become completely bone dry. Compared with other models, 93 percent is excellent, but it still leaves room for manufacturers to make some improvements.

The offers essentially every cycle you'll ever need. First, you've got all the basics covered - Normal, Delicate, etc. Next, you have cycles that are nice to have and could be used on a regular basis, such as Permanent Press and Towels. Finally, the offers an Anti Bacterial cycle, as well a Steam Fresh and Steam Sanitary, utilizing the water drawer on the front left of the machine. These options make this dryer suited for individuals with standard drying needs, for families with small children that may take more advantage of some of the specialized cycles, and every other variation in between. There's also a Timed Dry cycle, but it's not located on the control knob - it's turned on by a separate button located on the right control panel.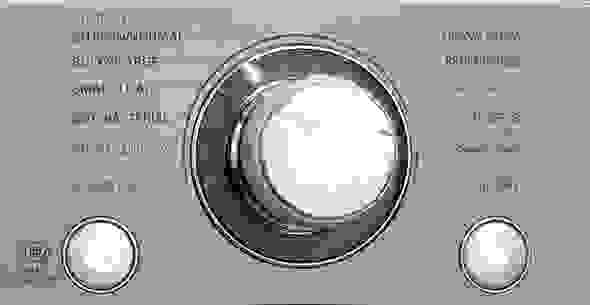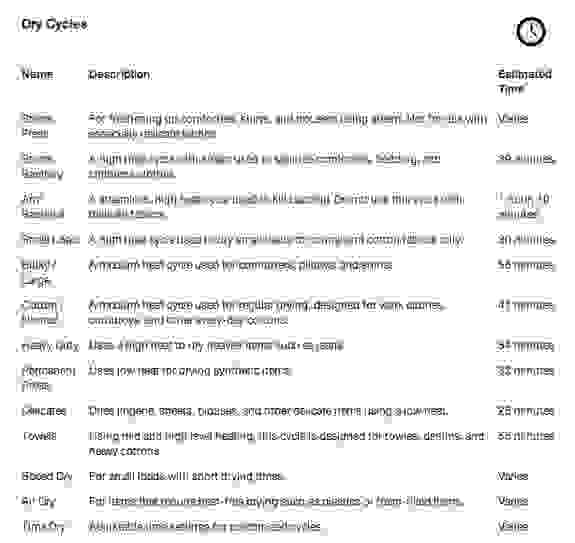 Not only are there ample drying cycles to choose from, this machine has all the customization options that many consumers expect to see. When using a preset cycle, you can adjust the dryness level. For manual cycles, you can change both the temperature and the duration. The Time Dry button filters through increments of ten minutes, but a pair of More and Less Time buttons will let you adjust the individual minutes in between.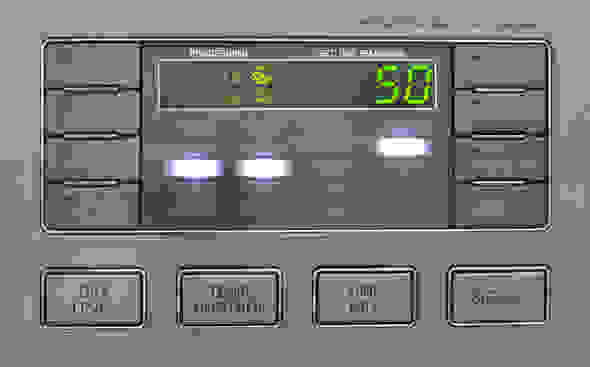 As if all that weren't enough, the has more extra features than you can shake a box of dryer sheets at. The big thing here is the steam drawer. Put in water and not only can you use the two steam-based cycles, you also have access to a Reduce Static feature, which lightly mists clothes as the cycle comes to an end. There's also an Easy Iron feature which claims to keep clothes at a uniform level of light dampness that makes them easier to iron once they're taken out of the dryer. Both of these features will display the number of recommended items for a given amount of time, which you can adjust using the More and Less Time buttons. Additionally, there is also a Wrinkle Care setting, which keeps clothes tumbling after the cycle is finished to prevent wrinkling, and a Damp Dry signal, which notifies you that clothes are mostly dry and ready for a transition to an outdoor clothes line if you so desire. It also comes with a drying rack for delicate fabrics that would be damaged or shrunk as a result of the tumbling. Too many options to keep track of? Never fear - the has the ability to save a one customized cycle at a time for future use. And if you have children with curious fingers in the house, there's also a Child Lock feature which will prevent the controls from being altered once the dryer is working.
The controls have large, easy to read text, and the buttons are all very simple to use. There are only two small issues here. First, the cycles all have a line connecting them to a corresponding dot that lights up when selected. Due to the layout of the lines, it's not always 100 percent clear which cycle you've selected unless you're giving it all of your attention - a small quibble, admittedly, but one worth mentioning as that isn't usually a problem with other machines. Second, you may notice in the picture of the control panel that the center is a little blurry. These selections are lit from behind when in use, and it's not the easiest layout in the world for reading. Again, it's only a minor hassle - at this point, we're just picking nits.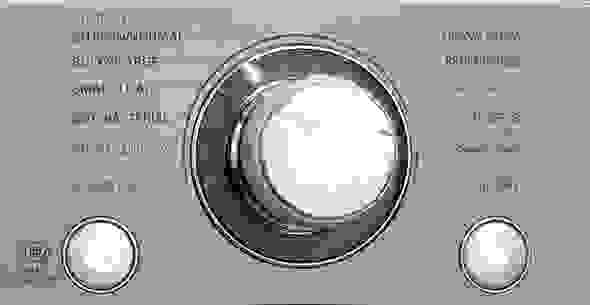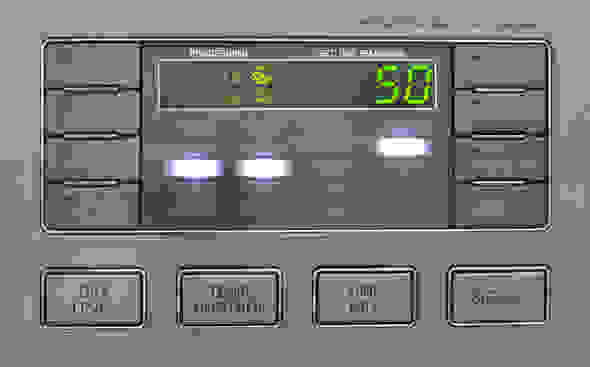 The LG has a circular door that's feels incredibly sturdy, is easy to open, and will shut without having to be slammed. In a nice touch, the inside of the handle has a small section of rubberized padding, allowing for easier gripping and opening. The handle itself may be just a tad small if you've got really big hands, but otherwise it's a very commendable door.
Despite all the other bells and whistles on this appliance, the 's lint trap was quite standard. It was easy to clean, and did an adequate job of collecting lint from our test materials.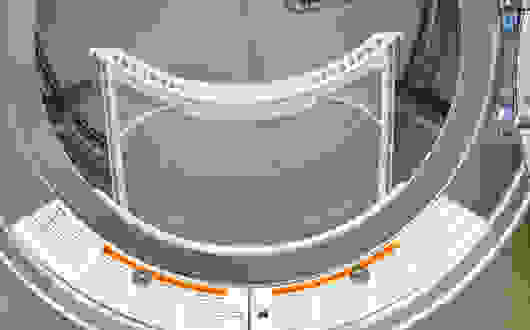 It's almost impossible to find a perfect dryer - either temperatures go too high, clothes don't get adequately dry, cycles take too long, or the machine feels and looks cheap. We haven't found a dryer yet that nails all of these traits as well as we'd like, but the comes pretty darn close. Few other dryers can compete with the level of performance and the range of options provided by this machine. A mind-blowing selection of preset cycles, customization options that go above and beyond the standard settings, extra features like steam-based functions and a drying rack - all of these make the a high-end, high-quality appliance that performs as well as it looks.
The price may be a bit steep for some consumers - it's MSRP is listed as $1199.99. As of this writing, it's a fairly new machine, so sale prices may be hard to find. They do exist, though, as we found one available online for about $950. If you can't afford the full price, than by all means, go bargain hunting. Another option is to let a few months pass to see if some retailers will drop the price, a viable option as this is very much a machine worth waiting for. The preset cycles are more than sufficiently calibrated to ensure a long life for even the most fragile of delicate fabrics, a factor that could save you money in that you won't have to replace worn out clothes quite so often. If only the Bulky cycle worked better, this machine would have a perfect report card.
Meet the tester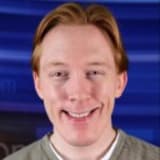 Matthew Zahnzinger
Logistics Manager & Staff Writer
@ReviewedHome
Matthew is a native of Brockton, MA and a graduate of Northeastern, where he earned a degree in English and Theatre. He has also studied at the Gaiety School of Acting in Dublin and spends most of his free time pursuing a performance career in the greater Boston area.
Checking our work.
We use standardized and scientific testing methods to scrutinize every product and provide you with objectively accurate results. If you've found different results in your own research, email us and we'll compare notes. If it looks substantial, we'll gladly re-test a product to try and reproduce these results. After all, peer reviews are a critical part of any scientific process.
Shoot us an email