The is a stackable dryer with a shiny finish. The red exterior is very eye catching, and adds a stylish varnish to an otherwise standard design. That high sheen, though, does mean it's easily damaged; scratches and other dings will appear quickly if you're not too careful.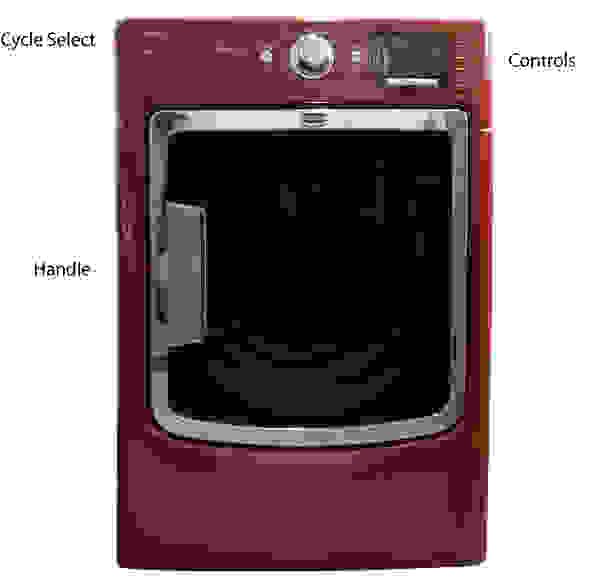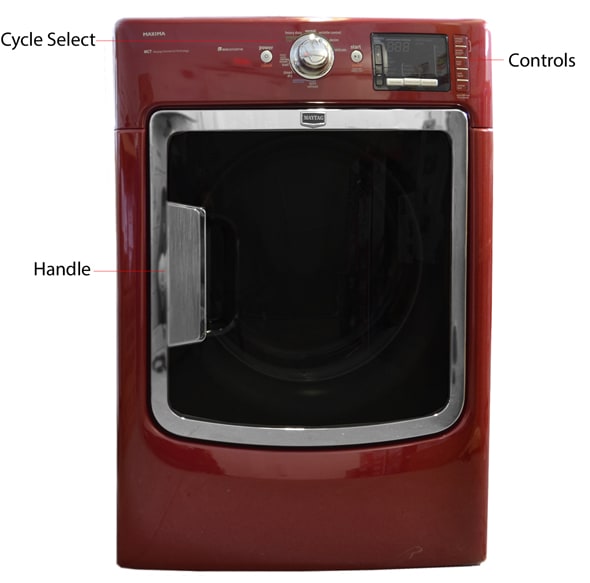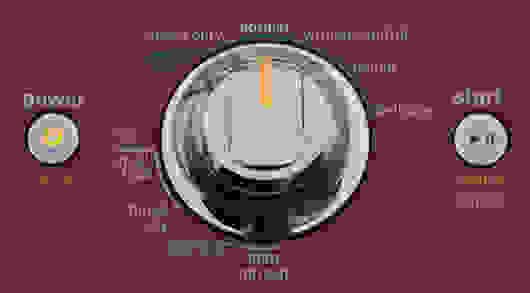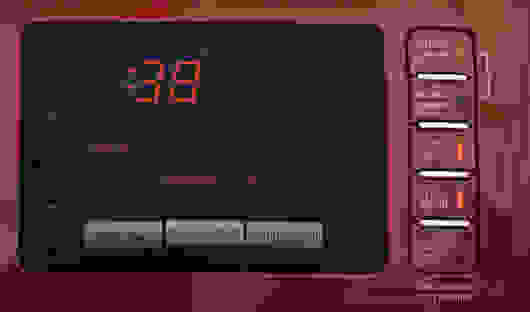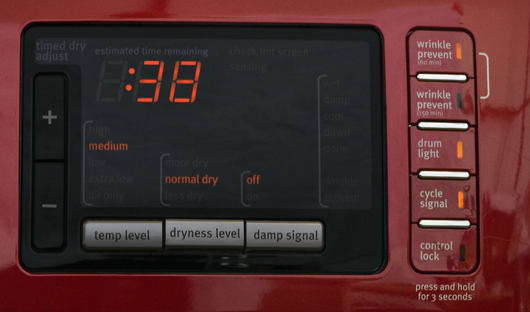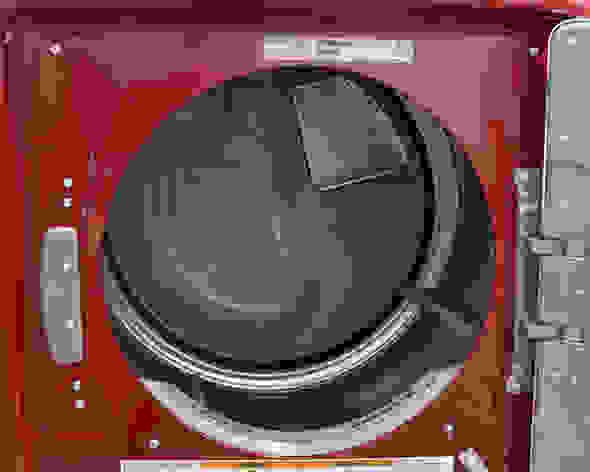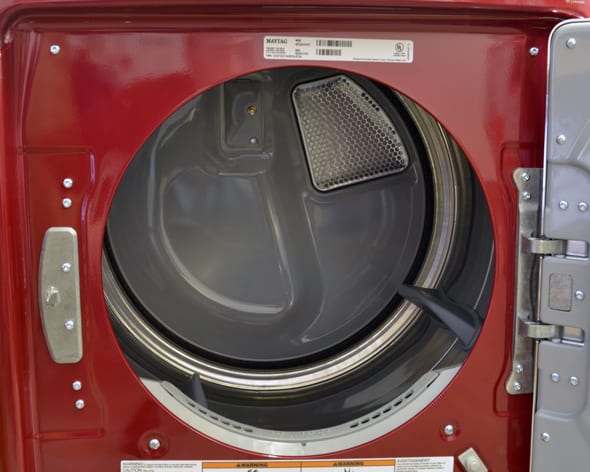 The lint trap is sturdier than most, and is very easy to clean. It slides in and out with relative ease, and holds the lint effectively enough that we never really had to worry about getting any of the refuse on the clean clothes.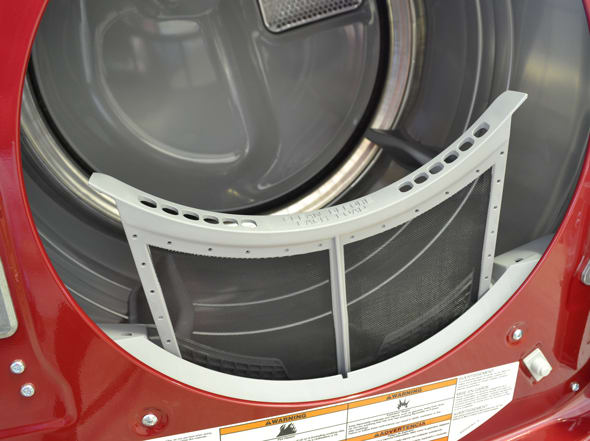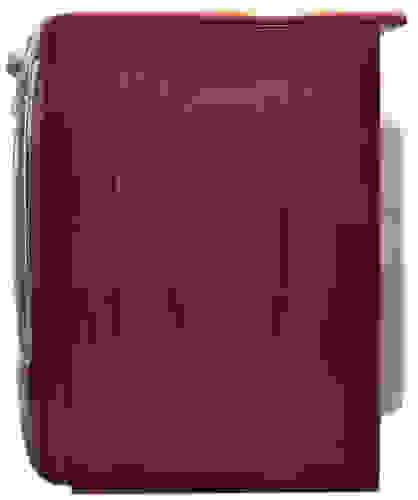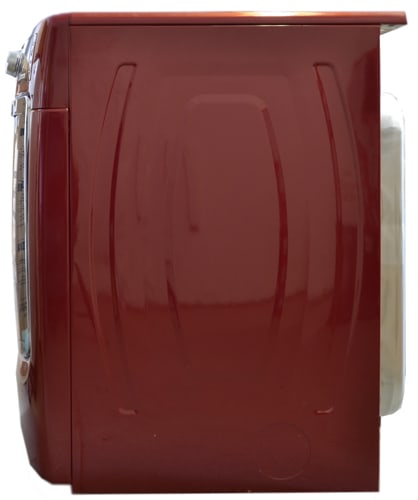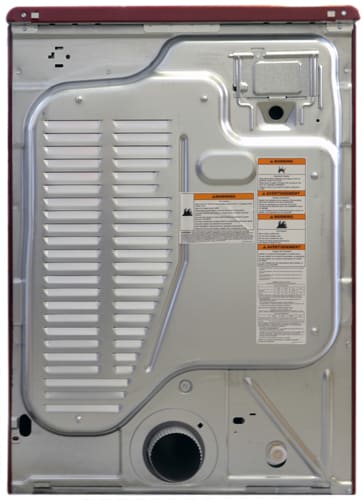 Like most mid-range and high-end dryers, the majority of the 's drying cycles operate using a sensor that tells the dryer how much moisture is left in your clothes. While the digital display indicates the estimated duration of these cycles, the actual time can vary. Some cycles ran for less than indicated, some for longer, but all of them managed to yield poor drying results. If you go with this model, you may have to avoid the sensor-based cycles and just manually set some Timed Dry cycles in order to finish drying your fabrics.
We followed the manufacturer's recommendations with respect to cycle settings, but the failed to produce adequate results. The Normal cycle produced clothes that were only 88 percent closer to their bone dry weight. Despite the dryer taking longer than the estimated 38 minutes, clothes were still noticeably damp when they were removed from the machine. Normal cycles are the go-to cycle on almost any washer, and even if none of the other cycles work well, the Normal setting should be able to deliver.


The had one of the shortest Delicate cycles we've seen, with 42 minutes being the longer trial run of our two test cycles. The presence of a moisture sensor means the dryer will take a guess at when your clothes are actually finished, but it failed again to adequately do its job. Clothes only got 69 percent of the way to being bone dry. The highest point reached by the dryer's internal temperature during the cycle was 112 degrees, which means your clothes won't be subject to more wear and tear than you should expect from normal dryer use. This is a very good thing, because in order to get your clothes dry, you'll probably have to throw them in twice for double the total drying time, a length which would be considered normal on most other models.

The estimated time displayed for the Heavy Duty cycle was 45 minutes, but our longest test only ran for 26. With such a short running time, we didn't expect our comforter to be dry, and we were right. It was only 62 percent of its bone dry weight, the worst result of the three sensor cycles tested. That being said, this was one of the shortest bulky cycles we've tested. So, if you don't mind having your dryer do something twice that it should have only taken one time to do, just throw your items back in for a second round and they may come out dry in a potentially shorter amount of time.

The has an option for a Small Load cycle, which ran 18 minutes both times we tested it. It's not a sensor-based cycle, so it only ran for as long as the timer was set. Turns out that 18 minutes isn't enough time to dry our clothes. Our items were barely more than half dry, only reaching 58 percent of their bone dry weight. The 's version of quick dry would have to be used at least two, if not three times to get the job done, somewhat defeating the purpose.


This machine is touted as having eco-sensor cycles preset for all the basic types of laundry loads.has it all. This label would seem to indicate that the sensor will optimize cycle durations while getting your clothes dry for maximum energy efficiency. What our tests showed is that the 's idea of energy efficiency is shutting off before your clothes are ready. At least the cycle names are all clearly designated for their particular purpose - you shouldn't have any confusion about what setting should be used for a particular laundry type.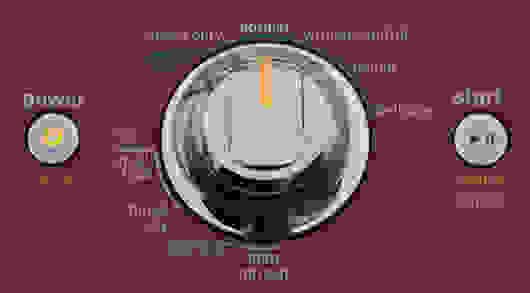 For those who don't like the results of the preset options, you can use the Timed Dry cycles, which allow you to adjust the length of the cycle, the temperature, and the dryness level. Beyond that, actual cycle variation is limited. Oddly enough, there is no option to adjust the volume level for the tune that indicates the cycle has finished, and it's not all that loud to begin with.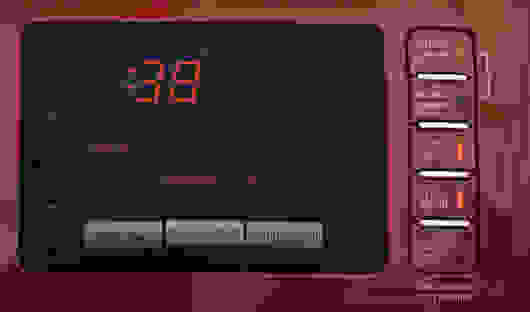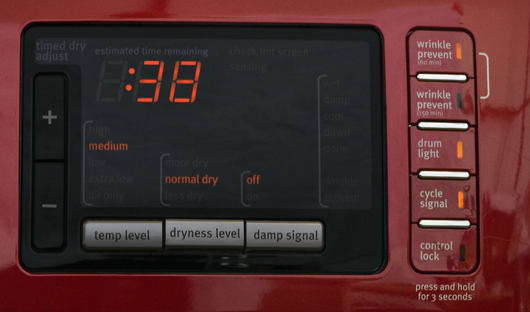 The does have some nice features that round out the cycle options. A wrinkle prevent device can be turned on or off, which spins clothes periodically after the end of a cycle to keep clothes from wrinkling. You can set this to continue for either 60 minutes or 150 minutes, depending on how long you think it'll take for you to get back and unload your clothes. The appliance can be plumbed into a water supply in order to use the Auto Refresh cycle. Finally, if you tend to do laundry in the evening, or store the machine in a poorly lit area, the drum has an interior light that can be turned on or off that actually provides ample interior illumination, making it harder to lose socks to those pesky laundry gremlins.
The controls are very intuitive and have a very simple learning curve. Rotating the knob to a particular cycle is easy due to the large type face and dial which clicks audibly each time you move from one cycle to the next. The digital display has a wide screen and is easy to see due to the back lighting. The buttons used to adjust the various features such as temperature feel durable, are easy to see, and are large enough to use without fear of hitting a neighboring button.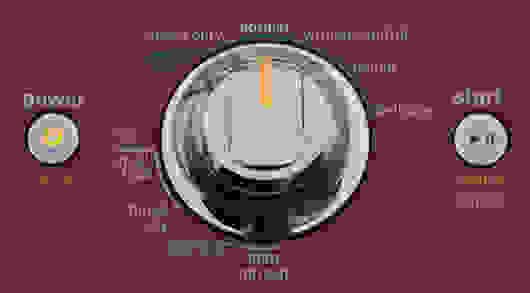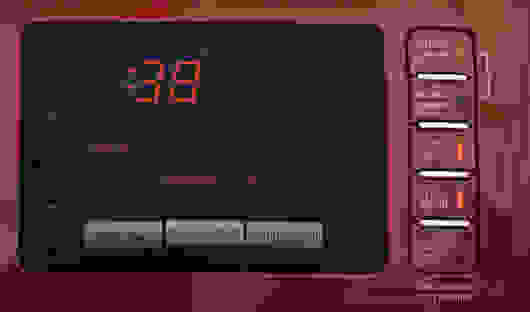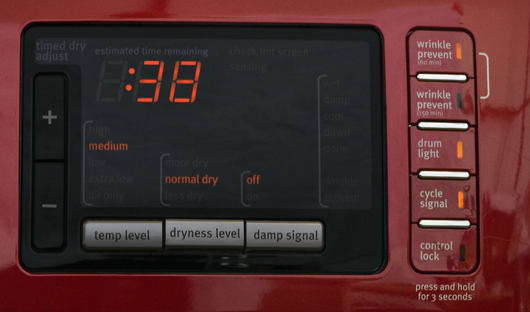 The door feels very solid, and is wide enough to accommodate large items. Clothes are easy to get to even when they've landed near the back of the drum.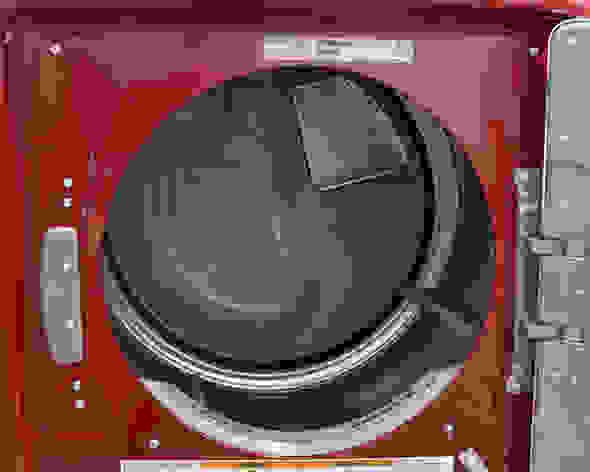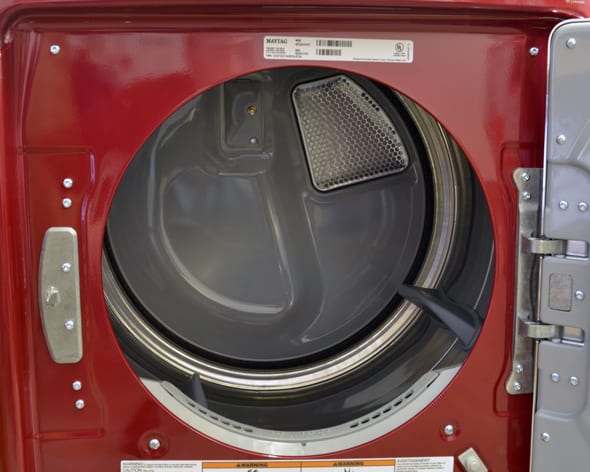 The lint trap is sturdier than most, and is very easy to clean. It slides in and out with relative ease, and holds the lint effectively enough that we never really had to worry about getting any of the refuse on the clean clothes.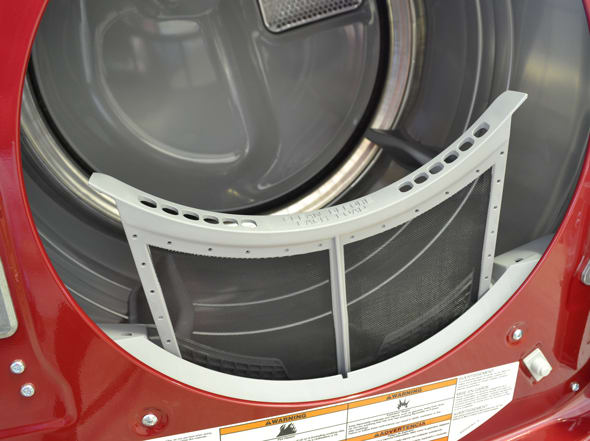 To be frank, the was a resounding disappointment. Despite its high-end appearance and its equally high-end MSRP of $1349, this machine completely failed to deliver the goods. We found it online for as low as $1000, but even that seems like too much based on its performance. Every cycle tested yielded clothes that, at best, were just damp. The cycles supposedly adjust each time the machine is run based off a sensor that measures the amount of moisture still in your clothes. The fact every time the machine failed to get clothes completely dry regardless of running more or less than the estimated average time leads one to believe that sensor may only be energy efficient because it stops the machine before it's actually finished.
There certainly are positive aspects of this machine worth mentioning. The digital display is easy to read, the door and cycle knob are substantial and very accessible to use, and the machine does look great. However, with only basic customization options, an adequate set of programmed cycles, and a lack of volume control or the ability to save a personalized cycle, the positive attributes just don't measure up to the glaring level of insufficiency exhibited by this appliance.
Meet the tester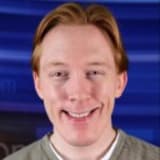 Matthew Zahnzinger
Logistics Manager & Staff Writer
@ReviewedHome
Matthew is a native of Brockton, MA and a graduate of Northeastern, where he earned a degree in English and Theatre. He has also studied at the Gaiety School of Acting in Dublin and spends most of his free time pursuing a performance career in the greater Boston area.
Checking our work.
We use standardized and scientific testing methods to scrutinize every product and provide you with objectively accurate results. If you've found different results in your own research, email us and we'll compare notes. If it looks substantial, we'll gladly re-test a product to try and reproduce these results. After all, peer reviews are a critical part of any scientific process.
Shoot us an email