When Whirlpool, who owns Maytag, totally revamped its laundry lineup for 2014, it released some fantastic dryers. You could buy any one of them and be satisfied. That's great for consumers, but it poses a problem for the 8100, which adds a sound-insulated stainless drum, a glass door, some color options—and a price jump of about $400 over other similar Whirlpool and Maytag dryers.
If the MED8100DC's luxurious touches are worth it to you, you'll definitely be satisfied with how this dryer performs. But we're willing to bet most consumers won't spend extra for a flagship if they can get a mid-range model that's just as good.
After running tests on the Maytag Maxima MED8100DC (MSRP $1,549), we have learned that this machine is a solid performer. Temperatures run a hair warm, while cycle lengths are decidedly average. It will get your clothes dry, and it will do a good job on your comforter, too.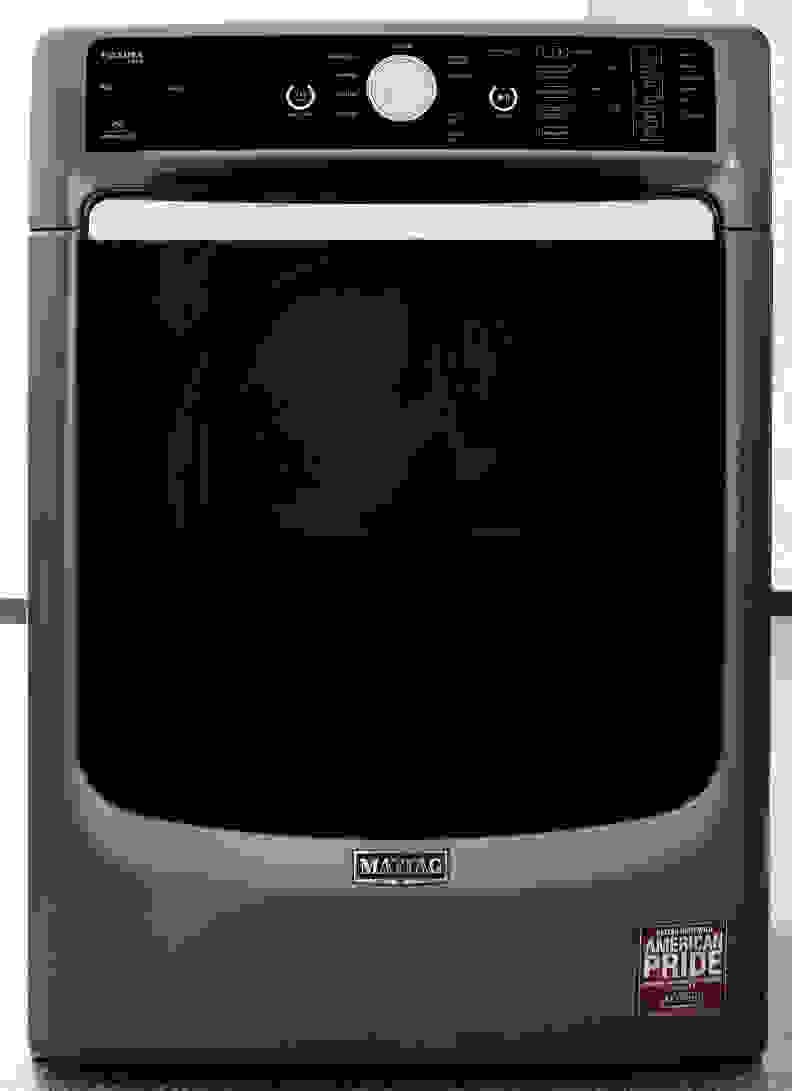 Not quite as sleek as it looks
Maytag's website describes the 8100DC's finish as metallic slate. You can also get it in white—as the MED8100DW—for about $100 less.
The reversible door is sturdy and requires a bit of force to open, with a horizontal recessed handle at the top. The grip proved too small for some of our testers' hands. Make sure to test it out in the showroom to avoid hurting your knuckles at home.
Open the door, and you'll notice that the machine automatically turns on—a nice touch that helps streamline the user experience.
Inside is Maytag's Soundguard stainless steel drum, which is designed to dampen the rattle of buttons and zippers. It won't silence the drying process, but it might be worth it for customers whose laundry room isn't hidden away in a basement.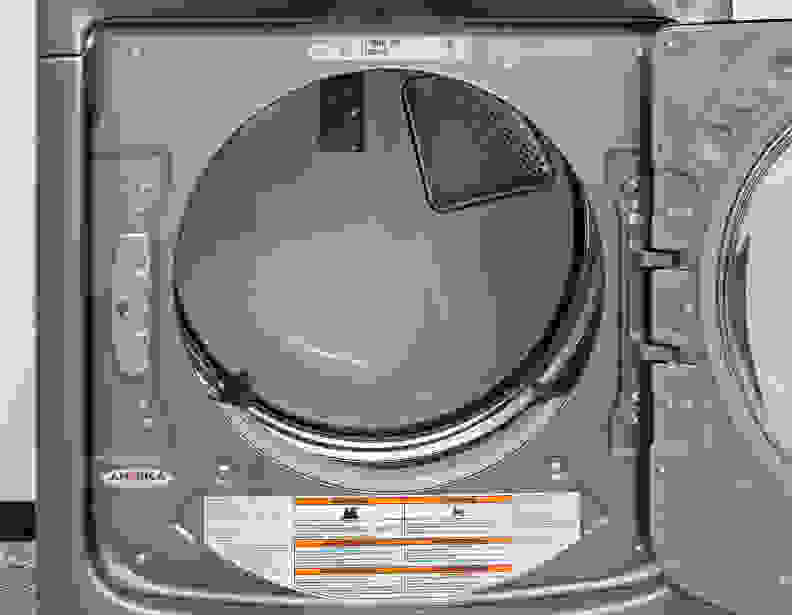 Controls are spread across a highly responsive touch screen. The only time you have to press a button for more than a moment is when you're actually initiating a cycle—you need to hold the start button for about three seconds—or activating the control lock. Bright indicator lights and a sizable font make the console a cinch to read, though English teachers and copy editors may not be fans of the all-lowercase labeling.
The workhorse Normal cycle did exactly what you'd expect: It dried clothes completely, and in about 55 minutes on average. Peak temperatures reached 154.4°F, which is just a hair warm. If you've got the time, you can always turn on the Energy Saver mode, which will reduce temperatures but more than double estimated drying times. Excess tumbling can also cause fabric damage, so it's a bit of a catch-22.
Delicates was easily the best-performing cycle we tested. After about one hour and 15 minutes, our test materials came out 96% dry. That's ideal for delicate garments that should either be ironed right away or finish drying on a clothesline. With temps peaking at 111.3°F, it's gentle enough that fragile fabrics shouldn't be worn out before their time.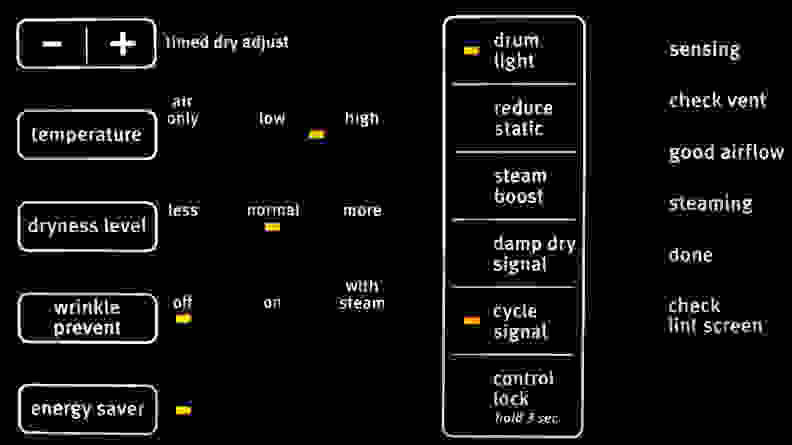 The Quick Dry test was conducted using the Maytag's Rapid Dry cycle, which defaults to 26 minutes long and exhibited peak temperatures of 145.1°F—cool enough to be gentle, but impressively warm for such a short drying period. After that amount of time, test clothes came out 84% dry. We've seen some programmed quick cycles default to about 15 minutes and do a better job—proportionately—drying clothes. Rapid Dry is fine, but not the best.
We used the Bedding cycle for our Bulky test, and results were surprisingly good. Drying times varied a great deal, which indicated that this Maytag's sensor truly adapted the cycle to the load, but you can expect an average of 1 hour 40 minutes for the cycle to complete. Peak temperatures clocked in at 151.7°F, which—like the Normal cycle—is a bit warm, but not too damaging. Our bulky comforter came out roughly 85% dry, and we didn't fluff or rotate the comforter during the test.
Great for normal and bulky loads
There are really two ways you can use the 8100: with or without Energy Saver turned on. For consistency's sake, our formal score comes from running the machine with that feature off.
As such, the Maytag did an all-around good job. The Normal cycle dried everything, while Delicates got almost all the moisture out, setting up gentle fabrics for immediate ironing.
The Rapid Dry wasn't as fast as some equivalent modes on other models—it defaults to 26 minutes—but got our standard 4-pound load almost dry enough to wear. The manual recommends using this for loads of only 3-4 items, which this machine should have no problem drying.
The Bedding cycle did a great job tackling our feather comforter—no small feat for a clothes dryer. To fully dry a large item, expect a cycle to last roughly two hours. And as is customary, you may have to flip the comforter and run the cycle again to avoid wet spots.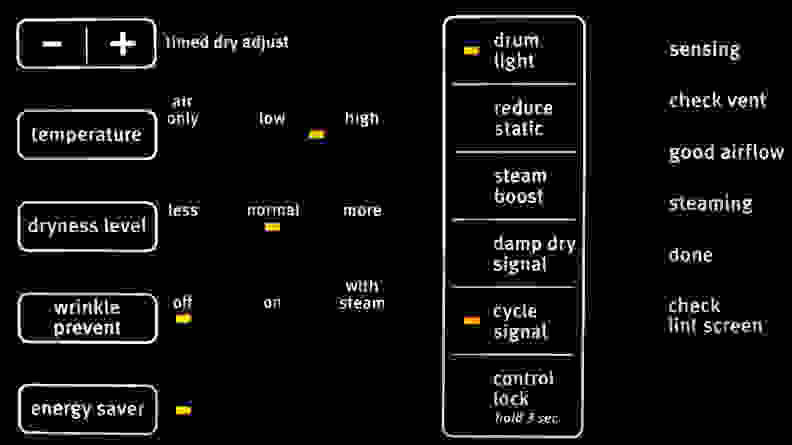 Our only complaint: Other than Delicates, every tested cycle ran hot. Over time, repeated exposure to heat is one of the factors that can damage less hardy fabrics. The solution to this issue, in terms of both garment longevity and energy costs, is to activate Energy Saver. That reduces drying heat, but more than doubles estimated drying times. The feature is not available on time-dry cycles, Sanitize, or Refresh.
Extra features are disappointingly basic for a new machine this expensive. You've got your Static Reduce, Steam Boost, and Wrinkle Prevent, both with and without steam. All these features can be found on dryers that cost a few hundred less.
For in-depth performance information, please visit the Science Page.
The luxurious 8100 isn't worth $500 extra.
When it comes to price and performance, companies usually like to put some distance between their mid-range and flagship products. Not so with Maytag: Even dryers that cost hundreds less than the MED8100DC are made in Ohio, come with a 10 year warranty, and dry just as well.
Sure, the 8100 adds some niceties, like a sound-insulated stainless drum. For most consumers, those features are luxuries, not necessities. If you want to buy a flagship, the Maytag Maxima MED8100DC is a great choice. If you're just looking for a good dryer, don't rule out its less-expensive stablemates.
Meet the tester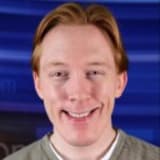 Matthew Zahnzinger
Logistics Manager & Staff Writer
@ReviewedHome
Matthew is a native of Brockton, MA and a graduate of Northeastern, where he earned a degree in English and Theatre. He has also studied at the Gaiety School of Acting in Dublin and spends most of his free time pursuing a performance career in the greater Boston area.
Checking our work.
Our team is here for one purpose: to help you buy the best stuff and love what you own. Our writers, editors, and lab technicians obsess over the products we cover to make sure you're confident and satisfied. Have a different opinion about something we recommend? Email us and we'll compare notes.
Shoot us an email