This dryer is unlike anything else on the American market: it doesn't have a slew of extra functions, you can't manually adjust duration or dryness level, and the cycle names don't necessarily mean what you're used to. Despite all that, this elegantly simple dryer has one of the more effective sensors that we've seen, using low temperatures to dry clothes gently and efficiently in the same amount of time as any average model. The fact that it's so gentle on clothing means you'll likely save money in the long run, since your clothes won't wear out as quickly.
If you're looking for a pair, we also found that this machine's mate—the Miele W4802—performed quite respectably, as well. It got an unusually large amount of moisture out on its own, so if you combine that with the low temperatures and effectiveness of the , you'll have yourself a laundry powerhouse. With product availability dwindling fast in this country, the $1429 MSRP for the dryer could either spike or plummet: keep an eye out for a bargain, because this is a machine we're sorry to see go.
On the whole, the looks like a fairly typical white dryer...if your idea of a typical dryer is something along the lines of HAL from Kubrick's iconic sci-fi opus. Most of the dryers we test are fairly sturdy, but this thing is as solid as they come. controls almost every step of the manufacturing process, from the complex sensor down to the basic door hinge screws, so all of the different parts feel right together. They've also had a long time to perfect this design, since it hasn't really changed much since about 2004. The controls are located at the top of the front, which is standard for stackable dryers...except this one isn't stackable. The angle of the control panel means the dryer actually has to sit next to a washer as opposed to on top of one. It has a simple round door with grey trim, as well. After that, things start to get interesting.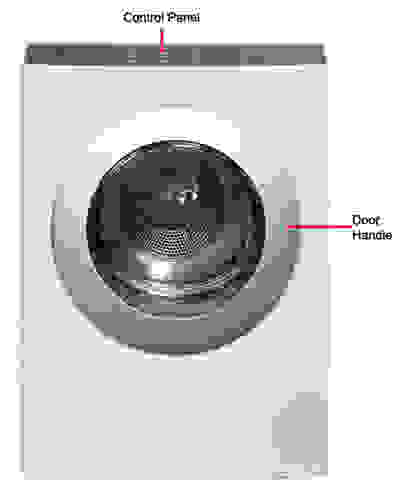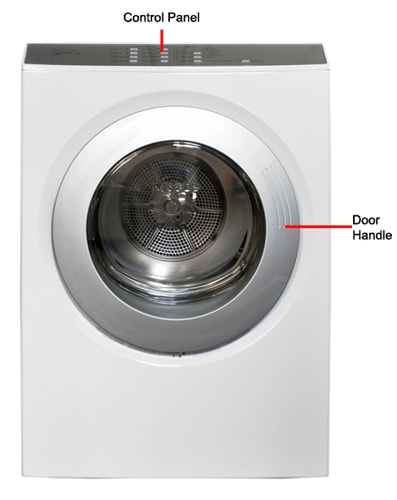 Lacking the traditional layout of most modern dryers found in the U.S., the has two columns of four cycles each. They cycle names may look somewhat recognizable, but they don't necessarily mean what you'd think. We go into more detail about the specific cycles in our Performance and Usability sections, so take a look there for more in-depth analysis.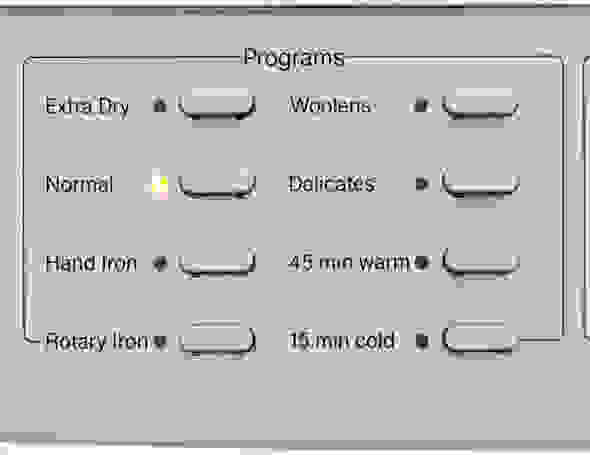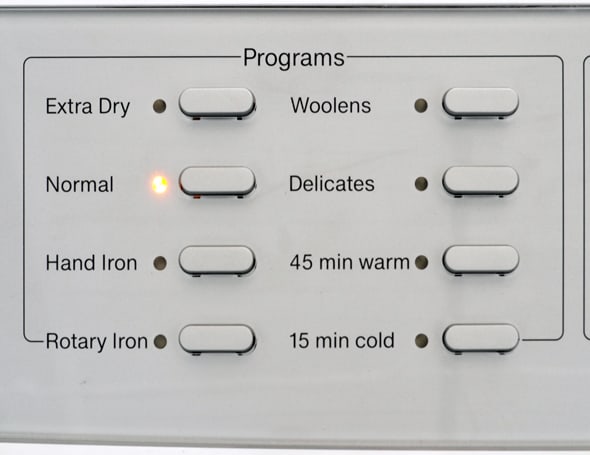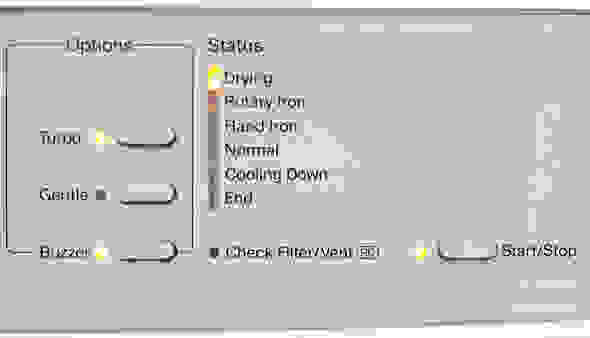 The inside of the is, in fact, stainless steel. Generally speaking, stainless drums are more resistant to rust and discoloration over time as opposed to white enamel, and they're generally better at conducting heat. The one inside this product, however, doesn't look like your typical shiny interior; it's got a unique honeycomb design. Among other benefits, the website claims that the special appearance is designed to create small pockets of air inside each individual honeycomb. This cushions your clothing as it hits the bottom of the drum, reducing friction and wear on your clothing.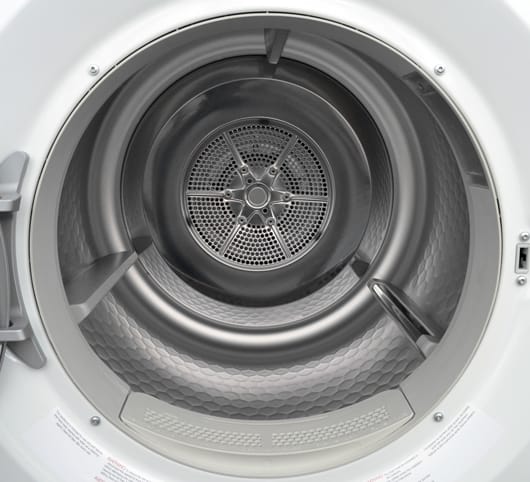 This may sound a bit strange, but the lint trap actually feels really nice. Larger and sturdier than your average plastic and mesh lint trap, the has one that feels like it's made from silk. It's incredibly easy to remove the lint, and so soft that you may find yourself actually looking forward to cleaning it.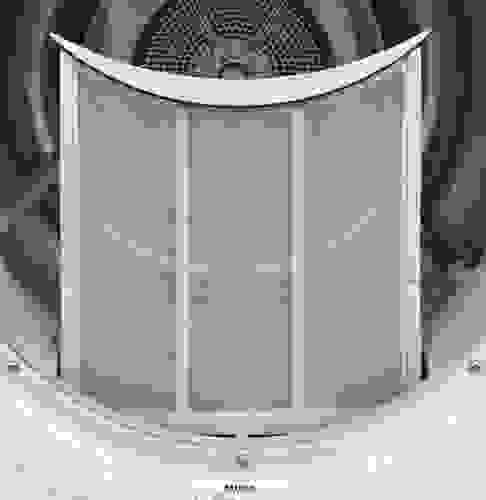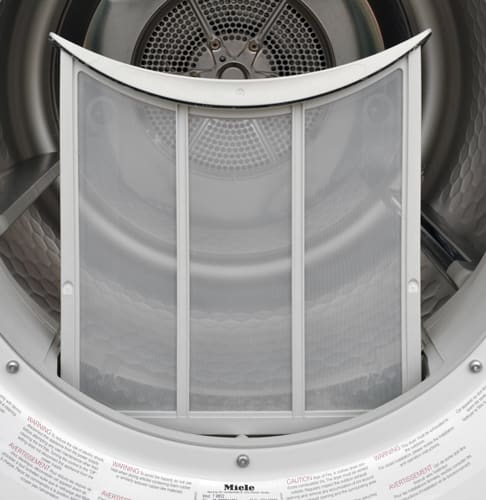 The interesting design feature on the 's sides isn't the finish, which is just plain white enamel. You'll notice that on the lower corner is a small circular cap. There's another one just like it on the other side. These can be removed to plug the vent in the back; the remaining opening functions as the new ventilation port. This means you can attach your exhaust hose on either side if its easier to get at than the back.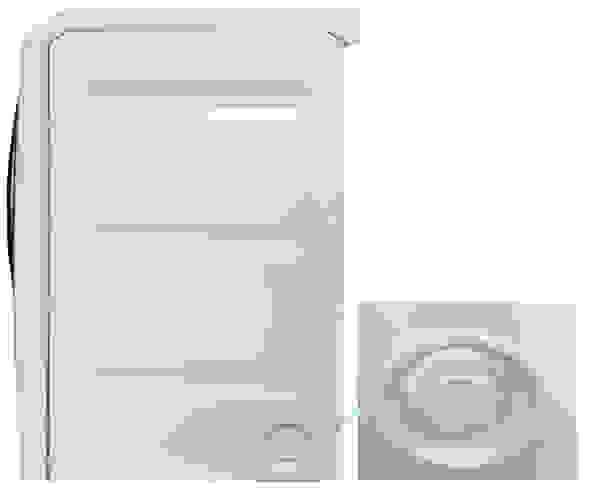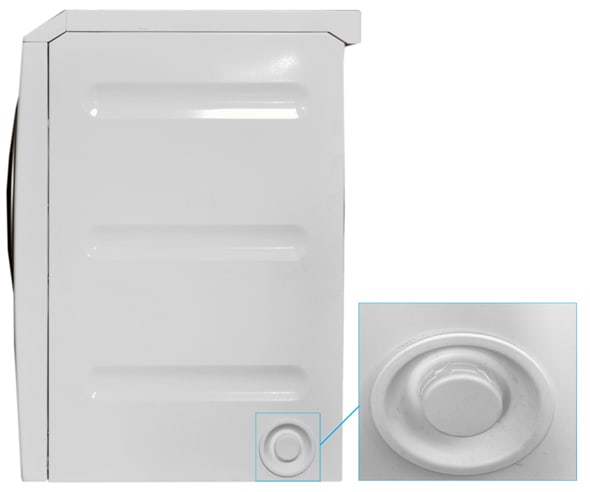 That said, the back still has its standard exhaust port on the bottom. A little bonus that comes with the is a four-prong power cable. These usually aren't included in your purchase, and the fact that it not only comes with the dryer but is already attached is an added convenience.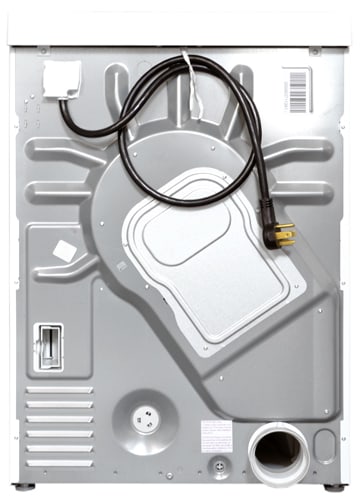 When we tested the Miele W4802 (the 's washer counterpart), we found that it did an excellent job at removing more moisture than is typical for a washing machine. This would mean that the dryer doesn't have to work quite as hard or use high temperatures to do a good job. However, we don't review machines in pairs, and as such, the proved to be a fairly average dryer on its own. Cycle durations were on par with any other average appliance tested, and the final levels of moisture removal weren't anything spectacular compared to other machines with much lower price tags.
The one cycle that went above and beyond what we expected was the Normal cycle. True, it only averaged a 99 percent moisture removal success rate, but when you consider the cycle length and peak temperature, it becomes that much more impressive. Most modern dryers will reach heats that top out at anywhere from 140 to 150 degrees, with the better machines erring on the cooler side. The peaked at just 128 degrees, and did as good a job as appliances which get hotter in the same amount of time. This is indicative of effective performance that may result in exponentially gentler drying.
True, the does have a "Delicate" cycle. Upon further inspection of the manual, however, we learned that this cycle was actually designed as a permanent press feature for half-sized loads. Since this isn't what a typical Delicate cycle is meant to do, we had to improvise again. Returning to the Normal cycle, this time we utilized the Gentle feature. The antithesis of the Turbo function, it's meant to protect clothes that are sensitive to heat by using cooler drying temperatures.
After just under an hour, this ad lib cycle was the only one that completely removed all excess moisture from our test fabrics. We picked up on something that was a bit puzzling, though: the peak temperature of 134 degrees was the hottest point reached by any of our tests that involved the Normal cycle, despite the fact that the Gentle feature is supposed to keep things cool. It's only a bit warmer than the average Delicate cycle, but we expected temperatures to go down with the Gentle feature, not up.
Ending on a more straight forward, our Bulky test was run using the Extra Dry cycle. With a maximum heat of 149 degrees and lasting an average of 45 minutes between our two runs, the test comforter came out just 78 percent of the way to being bone dry. This isn't terrible–in fact, it's dryer than many other models that we've brought in with cycles that lasted for this amount of time–but it still means that the sensor wasn't able to detect all the moisture. What is most surprising is that, at certain points during a cycle, the drum will actually stop and spin briefly in the other direction. This is meant to keep items from bunching or twisting, and typically results in every damp spot getting exposed to some heat. Our large single item, though, must have been just a bit too big to do much flipping around.
After the Normal cycle test, things got a bit tricky. designed this appliance with a very unusual set of cycle options. There is no actual quick dry, and the only cycles that don't use the sensor are the 45 minute warm cycle and the 15 minute cool cycle (which is essentially a 15 minute air dry tumble). Neither suited out purposes, so we turned to the Turbo feature. The product manual explains that this function is meant to be utilized when drying clothes that are heat resistant. It makes the dryer hotter and results in faster drying time.
Running a Normal cycle using the Turbo function resulted in clothes that came out 95 percent dryer in just over half an hour, with temperatures peaking at 130 degrees Fahrenheit. Compared to other models, which either get much hotter or don't have enough time to reach an adequate temperature during their Quick Dry cycle equivalent, this is fantastic. Still cooler than the Normal cycle on many other dryers, it got nearly perfect results in a very short period of time.
This machine has a total of eight cycles. Some are easy to understand: Normal is exactly what you'd expect, as is the Extra Dry cycle and the two timed features (the 45 Min. Warm and the 15 Min. Cool). However, things like Hand Iron and Rotary Iron aren't typically seen on modern American dryers. Perhaps most confusing is the Delicate cycle: after reading the manual, we found that this was actually a permanent press cycle for smaller loads. You'll definitely want to give the handbook a thorough read to double-check just exactly what each cycle does.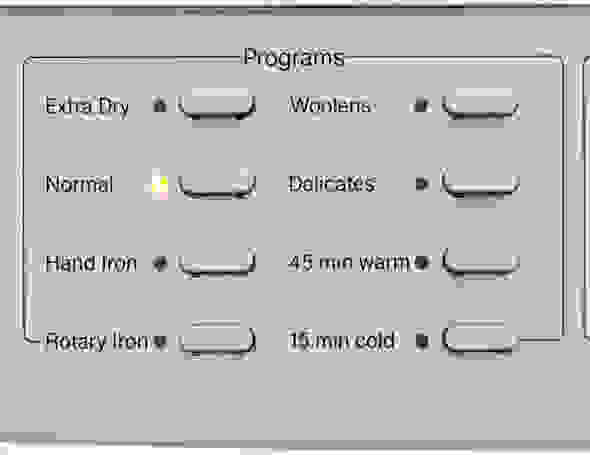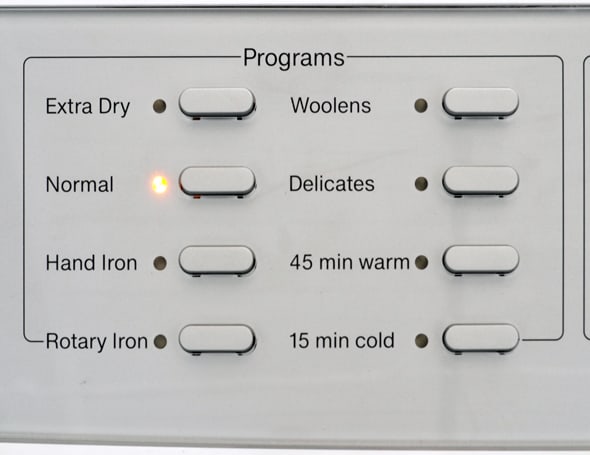 If you want a say in what's going on with your clothes, than this machine is definitely not for you. We've tested appliances that have very limited temperature settings or dryness levels, but this may be the first that has none. You've got the eight cycles to choose from, and that's it. If you don't like it, you're out of luck. The manufacturer displays a certain logic behind this, however, especially when you pair it with the washer. The washer gets an unusually large amount of water out of laundry already. As long as the sensor in the dryer turns out to be as sensitive as they claim, than it can handle getting clothes dry in a gentle and effective manner without the fuss of a cluttered control panel.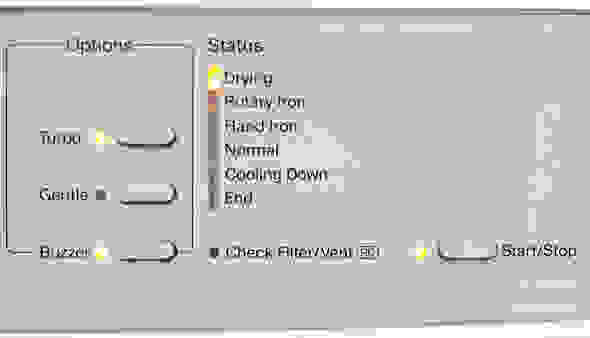 There are just two extra features that have an impact on your drying: the Turbo and Gentle options. The Turbo is for heat-resistant materials, and is meant to get the machine hotter and dry your clothes in less time. The Gentle option does just the opposite—it's meant to use cooler temperatures and a longer duration to safely dry heat-sensitive fabrics. Not all of the cycles will let you use these features, however, and you can't use both at the same time. There's also a button that toggles the buzzer on and off, as well as a drying rack that can be used for items that run a higher risk of shrinking.
The controls are easy to use in the physical sense, but if you haven't memorized the user manual then you may find yourself a bit perplexed. All you have are buttons with the cycle names and the two extra features; the status meter tells you what stage of drying a cycle has reached, but nothing tells you how much time is left.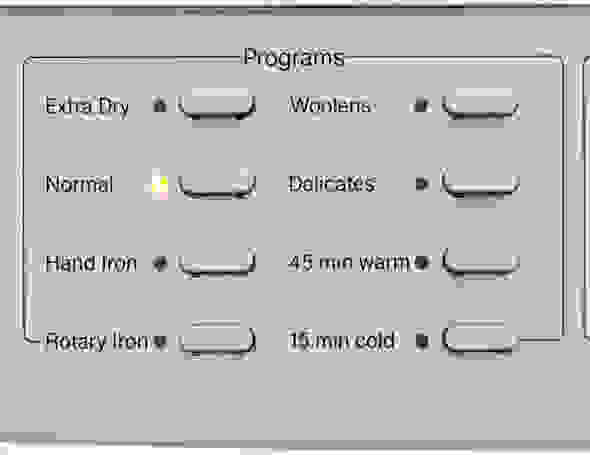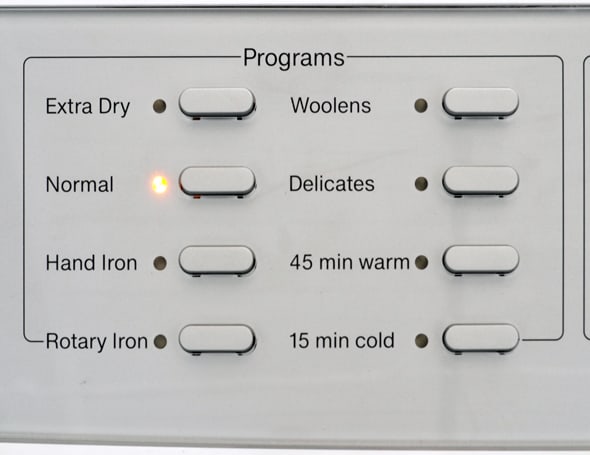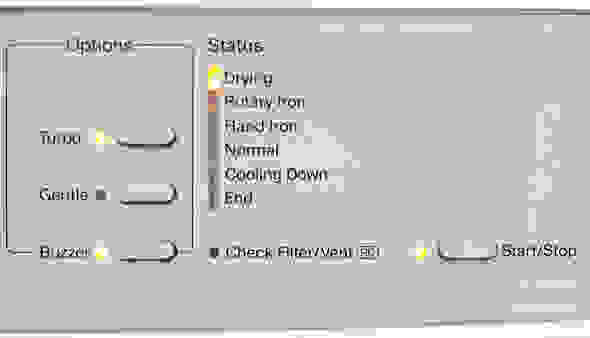 The door is probably the least remarkable feature about this machine. It's just a simple, sturdy round door. Not only does it take an acceptable amount of force to open, you don't have to slam it to get it to shut. The high quality of something as simple as the door is indicative of the manufacturer's approach to building their products: nearly every piece of this machine, from the stainless steel drum to the screws in the door hinge, is made by . Every part is made to the same standard and designed to work as a whole cohesive unit for superior customer interaction; our time with the appliance lead us to believe that this method at least makes for a sturdy build quality.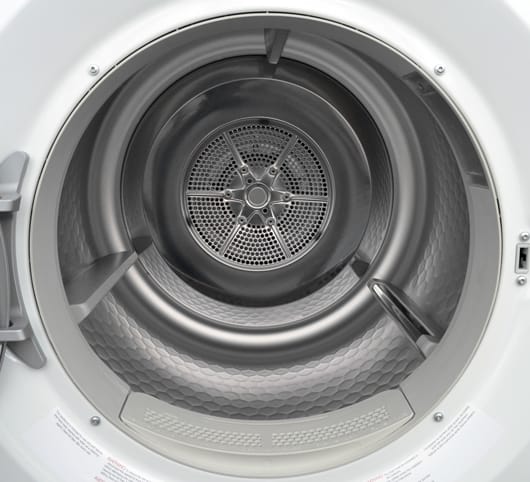 This may sound a bit strange, but the lint trap actually feels really nice. Larger and sturdier than your average plastic and mesh lint trap, the has one that feels like it's made from silk. It's incredibly easy to remove the lint, and so soft that you may find yourself actually looking forward to cleaning it.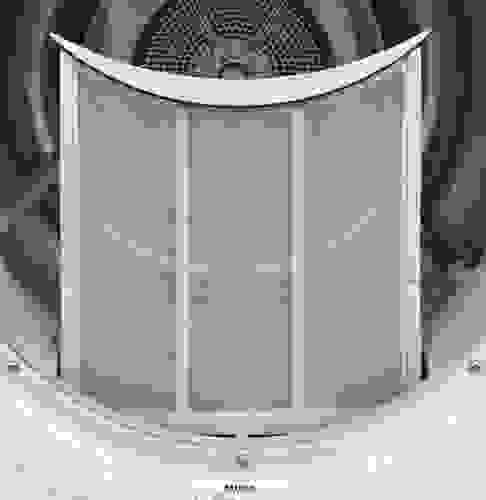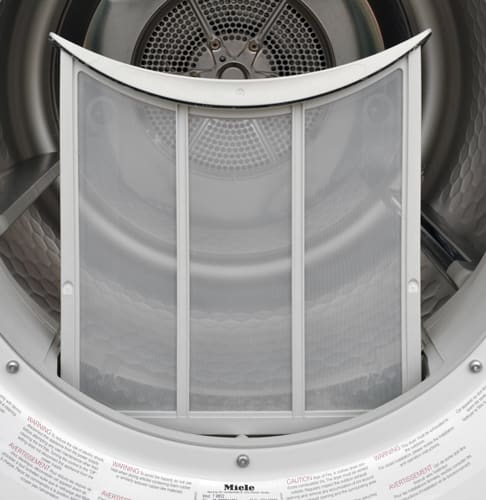 The and the LG DLEX3885W are two perfect cultural ambassadors for their respective design markets. The is an expensive yet simple German dryer, and at $1429 it's one of the more expensive models out there. The LG, despite being a Korean-made machine, embodies the stereotypical American approach: it's big and shiny, with fancy screens that don't do a whole lot, more options than you'll ever need...and an even bigger price tag of $1599. It all comes down to one thing, though: which machine has superior drying consistency? The answer to that question is undoubtedly the .
The had very consistent performance, almost nailing perfect levels of dryness on three out of four tests; it achieved this in about the average amount of drying time, and with temperatures that were lower than what we typically see. The LG, on the other hand, is a bit more of a mixed bag. True, the Normal and Bulky cycles got clothes completely dry, but they took longer than usual and used very high heats. Conversely, the Delicate and Quick Dry tests stayed quite cool, which means they were very gentle on our materials, but left our fabrics damp despite the lengthy cycle durations.
The LG has an almost absurd number of features: 14 drying cycles, a steam tray, four extra drying features, a drying rack, the ability to save a customized cycle, and an LCD screen on the control panel. The ...has a Turbo and Gentle feature, which can't even be used on all of the eight available cycles. If you like toys, the winner here is quite apparent.
While the may look like a stackable dryer without being one, the LG actually is. Both are white appliances with stainless drums, but otherwise they have a very different aesthetic. The is quite understated, with grey trim and a grey background for the controls; it exudes a sort of quiet elegance appropriate to a European machine. The controls have a very simple layout that is easy to read, but also rather confusing if you're not familiar with the different cycles. The LG, on the other hand, has a big, shiny door and a fancy LCD screen that immediately catches the viewer's attention. The big difference is that, while the LG may look fancier and more modern, it doesn't work as well: the LCD screen can be hard to read at an angle—a potential problem if you don't want to stack your machines—and the heavy door can be a pain to shut.
Sometimes a higher price tag may seem difficult to justify when comparing two products. Other times, however, it's pretty obvious what you'd be paying extra for. The Maytag Maxima MED6000XR is eye-catching, sturdy, and offers a reasonable array of extra features...but it pretty much stinks as a dryer. For $1349, performance as bad as what the Maytag offers is more than unacceptable. For an extra $90, though, you can get the , a stylishly understated German dryer that promises gentle, effective drying in a simple package—and it more or less delivers on that promise.
The is a perfect dryer for a minimalist: with just eight cycles and Turbo or Gentle options, there's very little going here by way of extra features. The Maytag isn't quite so self-confident, though: it, too, has eight cycles—one of which uses steam—and a small handful of extra functions like wrinkle prevention and a control lock.
While some might find the Maytag a bit ostentatious, no one could say that it doesn't pop with its shiny red coat and steel trimming. The is much more subdued, with whites and greys making up its color palette. Both machines have very accessible control layouts (though the timer display and clearly-labeled buttons on the Maytag make for a more intuitive machine). Both models have stainless interiors, meaning they're both prepared to put in many years of drying.
The German may be a quality appliance, but we'd be giving it too much credit if we said it's the best option available. At $1429, though, we can say that it's one of the more expensive options, a trait which always merits some comparison shopping. With an MSRP that's $130 less than the , the Samsung DV5471AEP is definitely a strong competitor. With far more cycle options, additional drying features, and a look that's just as high-end (if not higher) than that of the , the Samsung is an attractive, sturdy machine that drys clothes about as effectively as its European counterpart. Given that is discontinuing this particular product line in America, it's also likely that the Samsung will be easier to find.
The is a very simple dryer: you can't adjust time or dryness level and there are only eight cycles to choose from. The two extra features simply increase or decrease heat for different clothing types, and they can't be used on all cycles. It does come with a drying rack, though, for laundry that's prone to shrinking. The Samsung, however, boasts 13 different cycle options, five dryness and temperature settings each, and a timer that can be altered down to the minute, in addition to a few other features. If you want a more direct hand in your drying endeavors, the Samsung has all the bells and whistles you'd want.
For all its understated elegance, the is still a noticeably older design. It simply doesn't have the modern, high-end flare that the Samsung possesses. The soft whites and greys of the are gentle on the eye, and despite some vagueness and confusion with the nature of its cycles, the controls are easy to read and simple to use. The Samsung, on the other hand, has a high-end stainless steel finish, smoked glass door, and a control panel that's just as user-friendly as the 's despite the wider array of features and options present. Neither model can be stacked, and they also both have stainless steel interior drums.
American appliance retailers should be mourning the loss of the from their lineup. While it's not the best dryer we've tested, and certainly not the most intuitive—at least, until you can get the hang of what each cycle means—it's one of the temperature-sensitive dryers we've brought into our labs. It has to be said, though, that this machine takes a very different approach to laundry care than what American consumers are used to seeing. You can't adjust the temperatures beyond turning the Turbo or Gentle features on or off, drying time is out of your control completely, and there are only eight cycles available; any other model with those attributes would likely be considered a bottom-of-the-barrel appliance. This is anything but a low-end appliance, though. Personifying German efficiency, the uses sensor technology to get clothes as dry as any over-heated machine, offering a high level of performance that also preserves and lengthens the life of your clothing. With an MSRP of $1429, it's definitely a big investment, but if you can find one it'd likely be worth it. Retailers are likely trying to clear their stock, though, so you may be able to find some pretty substantial clearance savings. Take a look at the washer, too, the W4802; together, they make quite a pair.
Meet the tester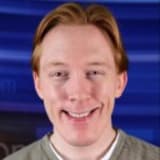 Matthew Zahnzinger
Logistics Manager & Staff Writer
@ReviewedHome
Matthew is a native of Brockton, MA and a graduate of Northeastern, where he earned a degree in English and Theatre. He has also studied at the Gaiety School of Acting in Dublin and spends most of his free time pursuing a performance career in the greater Boston area.
Checking our work.
We use standardized and scientific testing methods to scrutinize every product and provide you with objectively accurate results. If you've found different results in your own research, email us and we'll compare notes. If it looks substantial, we'll gladly re-test a product to try and reproduce these results. After all, peer reviews are a critical part of any scientific process.
Shoot us an email