This traditional-looking stackable dryer has a white enamel finish with a glossy black plastic control panel. Cycles can be moved through using a control knob, and are highlighted using a small red dot. The interior drum is made with white enamel, which runs the risk of flaking, rusting, or discoloring over time. Also, the lint trap has a flap covering the lower half, preventing lint from falling out when you remove it for cleaning.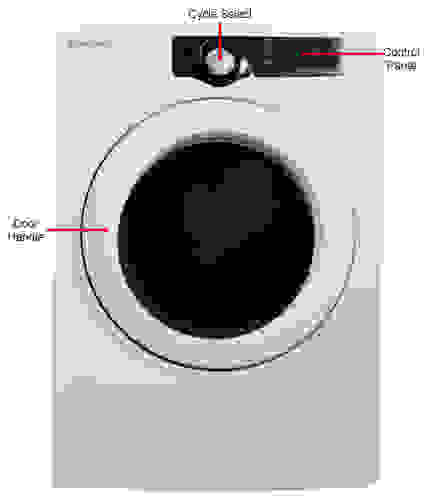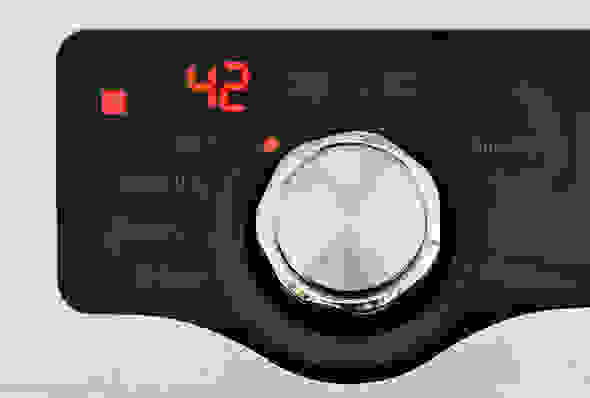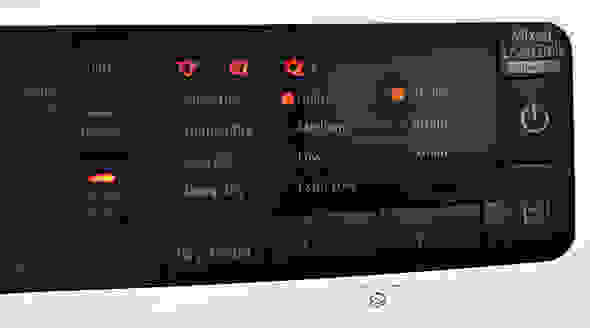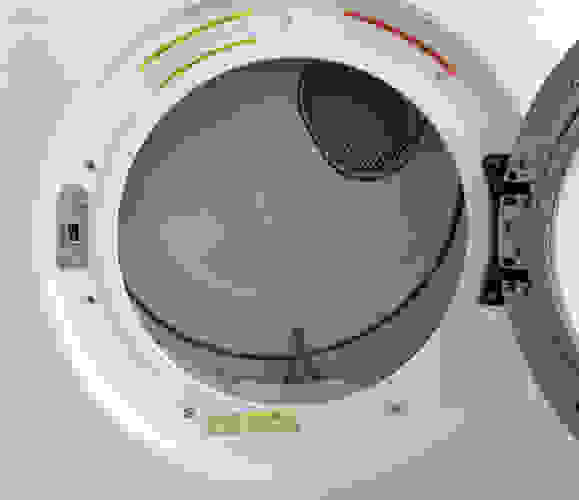 The lint trap has a plastic flap covering the lower portion, designed to prevent lint from floating around when removing it to clean. The trap worked fine, and lint was easy to remove. If, however, any of that lint happens to collect on the part blocked by the flaps hinge, it can be a bit of a pain to get at. It's not impossible or uncomfortable to do so, just a bit of a nuisance.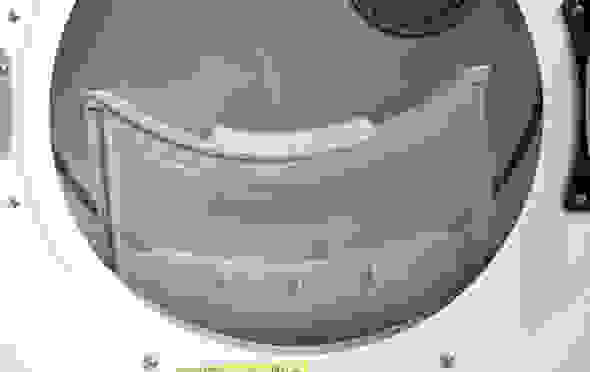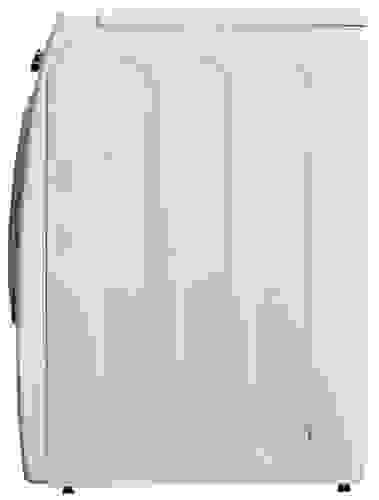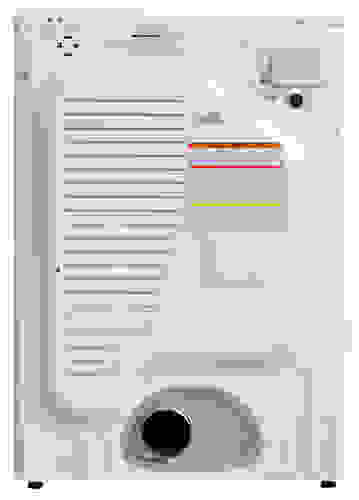 With respect to overall drying speed, the clocked in at relatively expected durations. Normal and Delicate cycles took about an hour, but the Heavy Duty cycle had some issues. The only cycle that didn't hit at or above 95 percent of moisture removed, it finished in just half an hour. This means the sensor is likely picking up on the dryness of our test material's outer layer, which isn't shifting around inside the machine and exposing all sides to the highest heat. This is a problem typical of many dryers, but the fact that this one got out as much water as it did in so little time is actually rather promising.
The Normal cycle was actually a bit disappointing. Usually, the machines we test can get clothes 100 percent dry on the Normal cycle even if it falls short of the mark every other time. The , however, only managed to get clothes 99 percent of the way there. With clothes drying for just under an hour at peak temperatures of 159 degrees Fahrenheit, that's somewhat of a let down. One percent isn't all that much left-over moisture, but the fact that this cycle is essentially indistinguishable from that of most other tested appliances means it's slightly below average, even if only by a little.
The Delicate cycle is rather bittersweet with respect to the results. True, clothes did get completely bone dry - in fact, it was the only cycle to achieve that 100 percent mark. However, temperatures were about as high as they were for our Quick Dry test, peaking at 144 degrees Fahrenheit. This is much warmer that we like to see in our Delicate cycles. Ideally, temperatures will reach a high that's about 30 degrees lower than that, since fragile fabrics tend to wear and fade much faster if they're exposed to high heats. The certainly got clothes dry, but consumers may find themselves having to replace their garments sooner than they would if they were being dried in another machine.

Like the results of the Delicate cycle test, the 's Heavy Duty has certain caveats. Our test comforter was only 61 percent of the way to its bone dry weight, but this was after just 29 minutes. Lots of the dryers we test achieve lower results in twice the time, which means this model has some promise. Many modern appliances actually have a mid-cycle beep that indicates when you should come down and shift your larger items around so all of it can get dry. This particular model doesn't have that feature, but if you don't mind keeping an eye on the time and coming down to move things around after half an hour, you may be able to get everything quite dry. It's frustrating to think that you may have to do extra work on something that shouldn't require any, but nearly all of our tested appliances need something a little extra when it comes to large or bulky items.

This machine has no cycle whose explicit purpose is quick drying, so the regular Timed Dry feature was set to run for a short time. Surprisingly, it did remarkably well. After just 30 minutes with a peak temperature of 145 degrees, our test materials were back down to 95 percent of their bone dry weight. There are some machines that don't achieve that level of dryness on the preset cycles, and for the to achieve this so quickly on a manual cycle means it's a dryer that can get warm quickly and effectively transfer that heat into clothes.

With just seven cycles, this only manages to hit the basics. The preset cycles only had one more listing beyond those that we tested, offering a Permanent Press feature, but that's all. If you want special features for sanitizing clothes or ones that are designed for workout wear, this dryer isn't for you. The manual cycles aren't terribly fancy, but they get the job done - Timed Dry handles all your customizable needs, Air Dry offers heatless tumbling, and Wrinkle Release is good for smoothing out that batch of clothes you forgot was in there.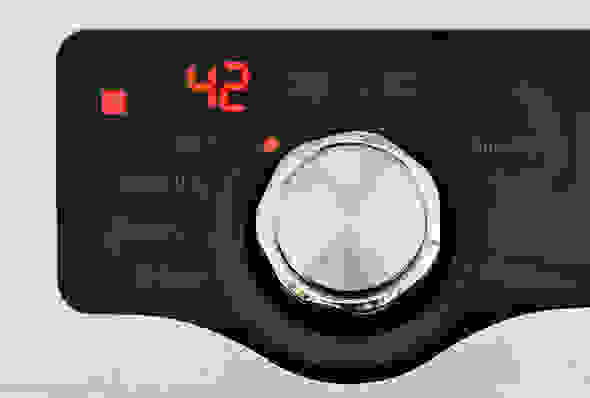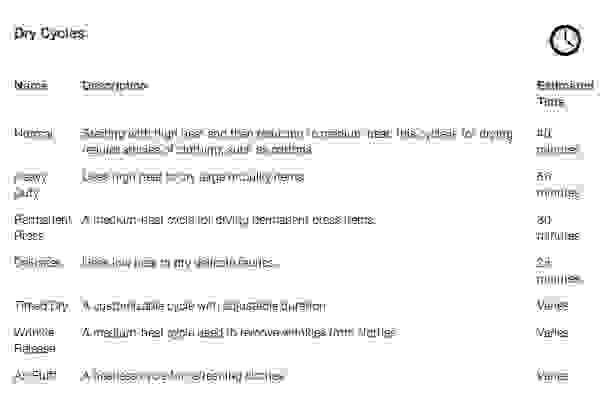 The actually does a decent job of letting you customize cycles, despite its otherwise minimal layout. With four levels of dryness and temperature variation, it's not the most comprehensive offering we've seen, but far more in-depth than other models in its price range. The Timed Dry can also be adjusted down to the minute, a nice touch that allows for very specific drying without making you hover over the machine.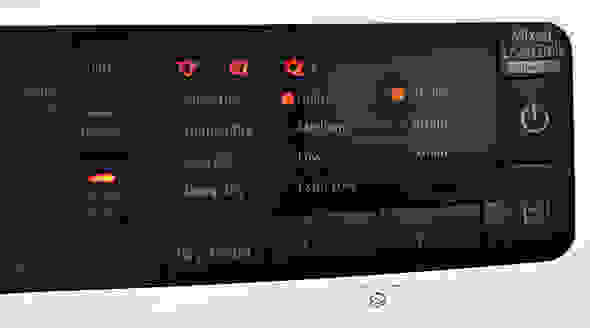 If you want a dryer that offers you a little something extra, then this one is definitely not for you. This only has two extra features, and one of them is seen on nearly every dryer available that isn't scraping the bottom of the barrel. The Wrinkle Prevent feature keeps clothes tumbling after the cycle has concluded in order to keep wrinkles and bunching to a minimum. Additionally, the Mixed Load Bell can be used to indicate when certain fabrics are dry before others. If you've got a varied load tumbling away, and your T-shirts have finished but your jeans are still damp, this feature will theoretically let you know so you can take the dry things out and let the rest continue on.
The controls here are a bit odd to look at - they have a bit of an angle to them, and the plastic around the cycle knob is somewhat bowed. Despite its unusual design, it's actually quite easy to read. The control panel uses small red lights to mark the setting levels, as does the cycle indicator. We did occasionally lose the red light when selecting our cycle - that plastic bowing means it may get blocked by the dryer's cycle-select knob - but that's something that you can get accustomed to after using the dryer for a while. On a somewhat unrelated note, long-time video game fans will get a big kick out of this dryer—if you've ever wanted to act out a Mario fantasy, look no further. Every time you push a button, it sounds just like the iconic plumber does when he collects a gold coin. Could make for some interesting laundry room experiences...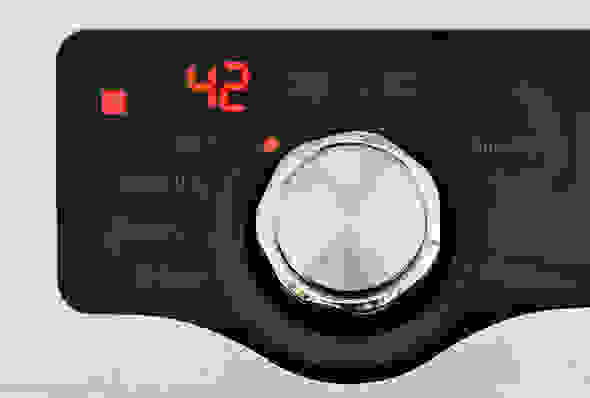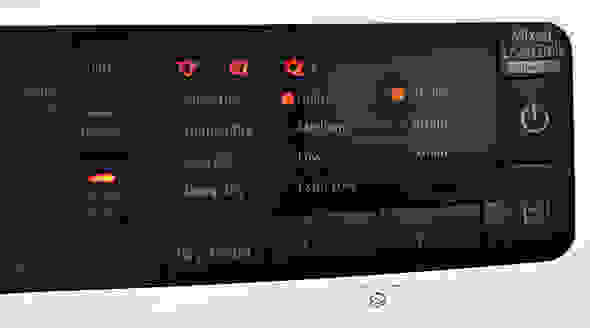 The door is adequate - basic plastic, with an easy-to-grip handle that's neither uncomfortable to grab, nor exceptionally pleasing to hold. We found the door shut without having to use too much force, and it never bounced back open.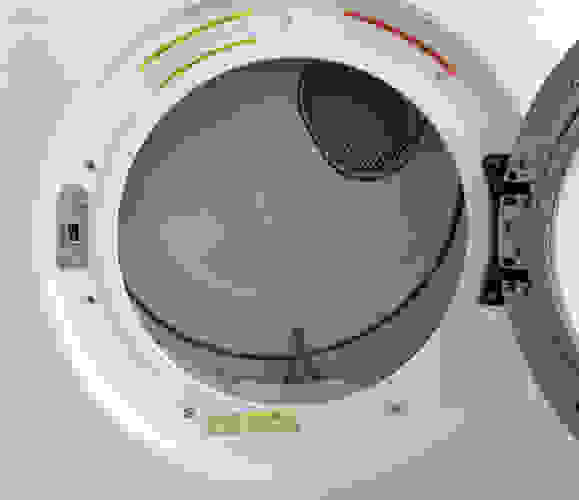 The lint trap has a plastic flap covering the lower portion, designed to prevent lint from floating around when removing it to clean. The trap worked fine, and lint was easy to remove. If, however, any of that lint happens to collect on the part blocked by the flaps hinge, it can be a bit of a pain to get at. It's not impossible or uncomfortable to do so, just a bit of a nuisance.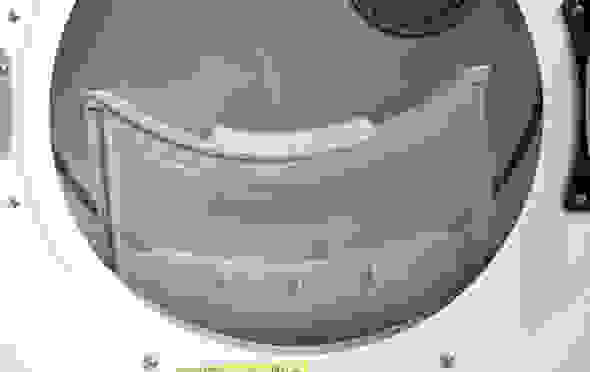 The and the Kenmore 80272 are made by the same manufacturer, and as such are almost the same dryer. These two appliances have comparable cycle diversity, similarly bare-boned extra features, and MSRP's that are a mere $120 apart - the Kenmore is slightly more expensive at $940.99. With differences that border on the superficial, the only thing keeping the Kenmore from being a better buy is, essentially, the larger price tag.
These two appliances essentially get to split their drying supremacy, at least with respect to our tests. The Kenmore managed to get clothes completely dry on the Normal cycle, and got clothes about as dry as the but using a lower temperature. On the other hand, the offered superior results in our Quick Dry test, and its Heavy Duty cycle resulted in somewhat dryer fabrics. That said, every preset cycle took longer on the Kenmore, meaning you may have somewhat dryer clothes overall, but it's going to take more time to get them.
The Kenmore has a few more preset cycles, including a Sanitize feature useful for families with small children or consumers with messy jobs. It also has slightly more varied customization, using five options for dryness level and temperature instead of the 's four. Otherwise, there's really not much of a difference. The only extra feature found on the Kenmore that the lacks is a control lock which prevents any settings from being changed while the dryer is working.
Both dryers have a very traditional look to them. They're not quite low-end in appearance, but they're not going to win in any appliance beauty contest. They're white, stackable dryers, with white enamel drums and easy-to use control panels.
The Whirlpool Duet WED9151YW, with a $799 MSRP that's just $50 cheaper than the , can dry clothes about as effectively as its more expensive competition. The catch here is that the strengths and weaknesses between these two dryers lie in different cycles. If you frequently wash large items or need clothes quickly, then the is the better fit. Lots of delicate fabrics? Go with the Whirlpool. They have nearly identical cycle settings, and neither have very many extra features. With nearly identical price tags, whichever dryer you pick really depends on what sort of laundry you do more often.
Neither machine could be accused of overachieving with respect to their versatility. These two appliances offer the basic drying options, plus one or two extra cycles on top of that to keep from being minimalist. Neither have many extra features - they share the standard wrinkle prevent option that keeps clothes tumbling after the cycle is finished - but the , at least has one thing that the Whirlpool doesn't. Its Mixed Load function allows you to know when certain fabrics are done if you typically dry clothing of various types all at once. Otherwise, neither machine is going to offer much more than basic drying.
Both appliances have a standard white enamel finish. They can be stacked with their matching washers, and have white enamel interiors that can rust, flake, or discolor over time. The controls on the Whirlpool are a bit easier to read due to their enlarged size and big labels, but the buttons feel a bit looser and, therefore, cheaper than the more elegant-looking panel on the .
For a very similar investment, consumers can choose between the and the GE GFDN240ELWW. Despite their near-identical price tags (the GE has an MSRP of $899, just $50 more expensive), these two appliances couldn't be more different. The GE has slightly more cycles to choose from, an far more extensive list of extra drying features, and a performance that relies on high temperatures—perfect for households with lots of bulky or heavy items. If you prefer a more simplistic dryer (or user-friendly, depending on your perspective), the has somewhat gentler temperatures making it a better fit for households with lots of delicate garments.
The GE does have two more cycles than the , but they both cover all the usual basics. The real difference here lies in the extra features. Both appliances have a function that reduces wrinkling after a cycle is complete, and the does lay claim to the Mixed Load bell. The GE, however, really goes the extra mile by comparison. It's not the most extensive list of features out there, but it has a damp dry signal, an option to delay start time, an option to maximize energy efficiency, and the ability to save a customized cycle into the dryer's memory. If you want more control over your drying options, definitely go with the GE. For only a slightly larger price, you get a huge increase in appliance functionality.
Both appliances have a standard white enamel exterior finish, but very few similarities besides that. The black plastic controls on the may be a bit easier to read as opposed to the faded gray lettering on the GE. However, controls are something that you can get used to over time - the most important difference here is found inside the dryer. The GE has a stainless steel drum, while the 's is coated with white enamel. Unlike the enamel, stainless steel doesn't rust, flake, or discolor over time, meaning the GE makes for a better long-term investment.
With so many dryers on the market today, machines that are only adequate sometimes seem worse than they are. The is actually a decent dryer - it gets clothes completely dry, or very nearly, while covering all the basic cycle needs. There isn't much by way of going the extra mile, however, and consumers who want a more comprehensive machine will be disappointed. Thankfully, the price is rather reasonable - with an $849 MSRP, you can easily find sale prices that take off a few hundred dollars. Is it worth paying the full retail value? Not really. There are other machines out there that offer you more effective, gentle drying and more options to take care of your clothes for the same price. If you can get it on sale, though, it's a good machine for consumers that don't need lots of bells and whistles and are looking to save some money.
Meet the tester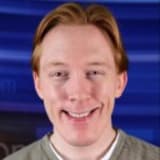 Matthew Zahnzinger
Logistics Manager & Staff Writer
@ReviewedHome
Matthew is a native of Brockton, MA and a graduate of Northeastern, where he earned a degree in English and Theatre. He has also studied at the Gaiety School of Acting in Dublin and spends most of his free time pursuing a performance career in the greater Boston area.
Checking our work.
We use standardized and scientific testing methods to scrutinize every product and provide you with objectively accurate results. If you've found different results in your own research, email us and we'll compare notes. If it looks substantial, we'll gladly re-test a product to try and reproduce these results. After all, peer reviews are a critical part of any scientific process.
Shoot us an email