Don't be concerned if you're frightened by this dryer; the first thing we thought of upon taking it out of the box was some piece of heavy artillery. This imposing, stainless steel dryer is massive compared to other standard machines. It looks like something you'd find in a 1950's laundromat, with its red control highlights and big heavy knobs. If you take away the aesthetic trappings, though, it has all the traditional components of a modern dryer exactly where you'd expect them to be.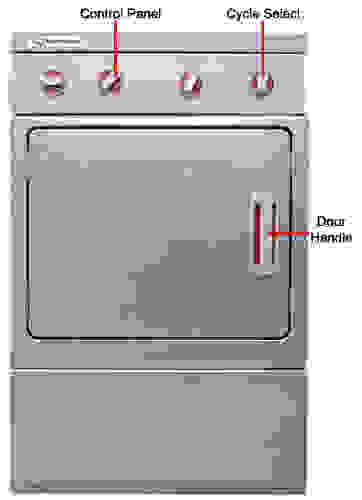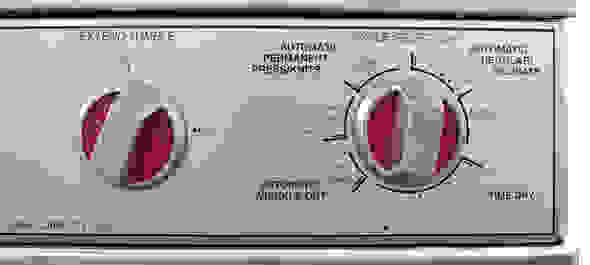 The inside of this is finished with stainless steel, as well. It's a high-end touch for an otherwise clunky machine, as stainless drums tend to be better at conducting heat and are more resistant to rust and discoloration over time.
The lint trap is really more of a lint divot, with no removable section at all. There's an indentation from which you scoop out the lint; it was easy to clean, but a bit of an unconventional approach that doesn't really add to the machine's overall ease of use.

There's nothing terribly special about the back of this dryer, but we did want to mention one thing: this dryer proved to be exceptionally difficult to set up. The wires are set further back into the appliance than is normal, and we dropped more than our fair share of screws while hooking it up. There's a panel on the bottom of the front that can be removed in order to get inside the appliance, though, so recovering them wasn't too hazardous.
The took quite a while to finish drying our clothes. At the least, you can expect cycles to run about 10 or 15 minutes longer than average, and a full hour longer at the most. The really disappointing thing is that they took as long as they did and used temperatures significantly higher than what we typically see. That said, clothes came out completely dry after every test but the Bulky one. This means the will definitely do what it's supposed to, it just won't be very subtle about it.
We used the Automatic Regular setting at the Max Dry level for our Normal test. This cycle was the one that took the most amount of time, lasting about an hour and 45 minutes. This is about twice as long as the typical Normal cycle that we see on modern machines. Temperatures got up to 163 degrees Fahrenheit, about 20 degrees warmer than we usually like. The large amount of time spent tumbling combined with the unusually high heat could result in clothes fading or wearing out at a higher rate, though we can't argue with the fact that it got our materials completely dry. In fact our test loads ended up getting over dried, something else that can damage fabrics over time.
Keeping with the trend of unusually long and hot cycles, the 's Delicate equivalent (the same settings as the Normal test except with the Low / Delicate temperature selected) managed to get clothes completely dry yet again. However, it still reached abnormally high heat levels, peaking at about 148 degrees. This is typically more in line with a Normal cycle, while Delicate temperatures usually hover somewhere that's 25 to 30 degrees cooler. Heat that high could severely damage your clothes if you're not careful. The cycle ran a bit longer than usual, but not by very much—just an extra 10 or 15 minutes.
There really weren't any automated settings that seemed appropriate to a Bulky test, so rather than just duplicating what we used for the Normal load, we decided to follow the manual's recommendation and ran the for as long as possible using the hottest temperature. The Timed Dry can go for up to 75 minutes, so that's how long we had our test comforter tumble around. After that lengthy and circuitous journey inside the appliance, our comforter came out 71 percent more dry. It's not perfect, but this is much better than many other conventional models on the market today. Even though we had it set to Regular heat, it only peaked at 154—just one degree warmer than what we got in the Delicate test.

This machine is one of the few that got our materials completely dry in a quick cycle. It doesn't have a proper Quick Dry equivalent, so we just ran a Timed Dry cycle for 30 minutes. This machine heats up very quickly, reaching temperatures as high as 153 degrees; this would be exceptionally warm for a full-length Normal cycle, let alone a 30 minute Timed Dry. This kind of result indicates that you may just be able to do most of your drying in a short 20 minute manual cycle and leave the automated settings alone.

The 's cycles are divided into four sections, three of which are sensor-based despite the crank timer: Automatic Permanent Press and Knits, Automatic Regular and Delicate, and Automatic Wrinkle Out. There is also a Timed Dry that can run for up to 75 minutes, though no other specialty cycles to speak of.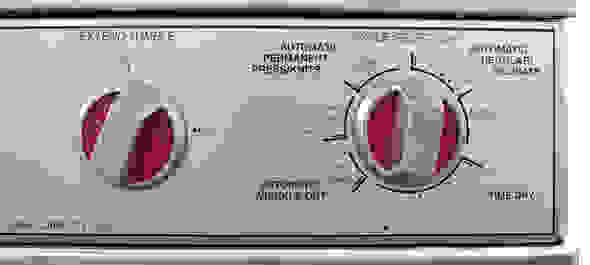 The Permanent Press and Regular cycles offer two marked dryness levels to choose from, though the crank knob can be set to anywhere in between them, as well. There are also four temperature settings, including a "no heat" option, that can be selected for any available cycle.
The has one extra drying feature...sort of. The Permanent Press and Regular cycle settings have a built-in extended tumble for when the cycle has concluded, in lieu of a more traditional wrinkle prevent function. This can be turned on or off using the designated knob found just to the left of the cycle selection. Other than that, there's nothing else special about what this machine has to offer.
The control layout is a bit old-fashioned, with a crank knob used to select any given cycle. There's no time display, no lights to indicate what settings are being used, and no start button—you have to push the cycle select to make the machine go. The knobs themselves are big and sturdy, but some felt rather loose, and one even came off rather easily. (Luckily, the design prevents them from being put back on incorrectly, so you don't have to worry about sticking them back on.) The red highlights are a nice visual touch, but don't really add anything substantial to the layout.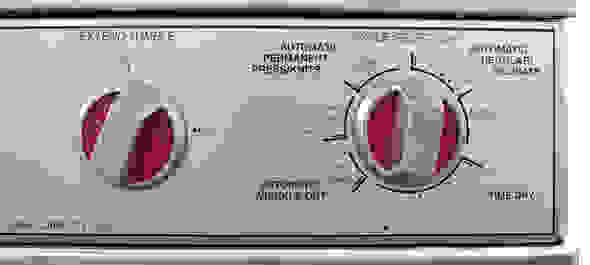 The door is surprisingly light for such a heavy-looking machine, and the actual handle is made of plastic. It opens and closes without any excess force required. The fact that it's stainless, as well, means you're going to be dealing with a lot of unsightly fingerprints, so be prepared to scrub if you want your laundry room to stay nice.
The lint trap is really more of a lint divot, with no removable section at all. There's an indentation from which you scoop out the lint; it was easy to clean, but a bit of an unconventional approach that doesn't really add to the machine's overall ease of use.

The is a very bizarre appliance. This stainless steel dryer looks a bit like a small bomb, and treats clothes in much the same way it would if it actually were. It did get our clothes dry, but the disturbingly high heats and lengthy drying times definitely overdid it. If it didn't cost so much, we might even recommend it as a good purchase. An average price tag of $1499, though, should get you a more efficient machine, one that doesn't have a Normal cycle that last more than 90 minutes, or internal temperatures so hot they'd make a cactus sweat. Subtlety and efficiency are definitely not this machine's strongest attributes. No specialized cycles, an old-fashioned crank timer, and flimsy controls just add insult to injury. If you're shopping for novelty, this relic of the Cold War-era laundromats may be for you; if what you're looking for is an effective dryer, however, keep on searching.
Meet the tester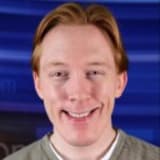 Matthew Zahnzinger
Logistics Manager & Staff Writer
@ReviewedHome
Matthew is a native of Brockton, MA and a graduate of Northeastern, where he earned a degree in English and Theatre. He has also studied at the Gaiety School of Acting in Dublin and spends most of his free time pursuing a performance career in the greater Boston area.
Checking our work.
We use standardized and scientific testing methods to scrutinize every product and provide you with objectively accurate results. If you've found different results in your own research, email us and we'll compare notes. If it looks substantial, we'll gladly re-test a product to try and reproduce these results. After all, peer reviews are a critical part of any scientific process.
Shoot us an email