The is a white, non-stackable dryer. It's pretty sizable, with a large interior storage capacity. The door has a black front that is almost opaque and is very easy scratched. Also, the steel handle at the top of the door is very easily smudged, especially considering your hands will probably be a little damp from handling wet clothes when you shut it. Another little draw back is the coating of the internal drum - white enamel is prone to flaking and discoloring over time, as opposed to stainless steel drums found in other dryers. That sort of shoddy design element should never be found on a dryer this expensive.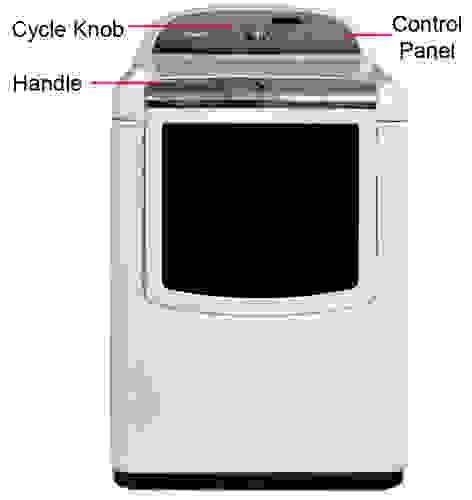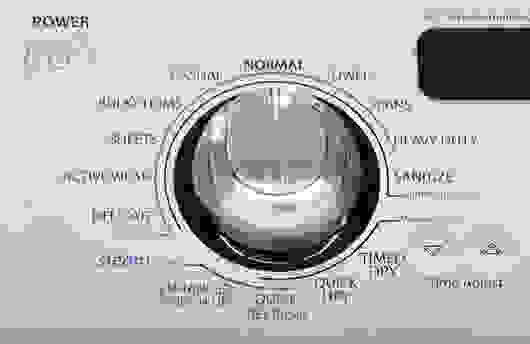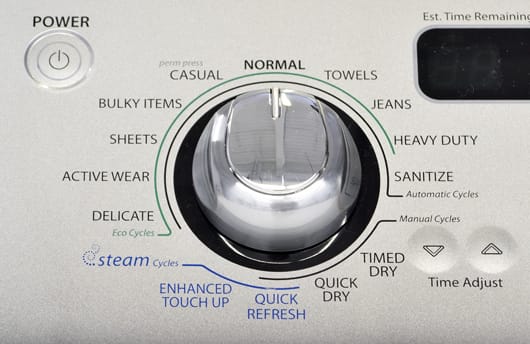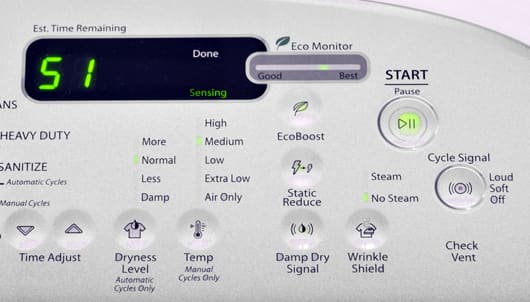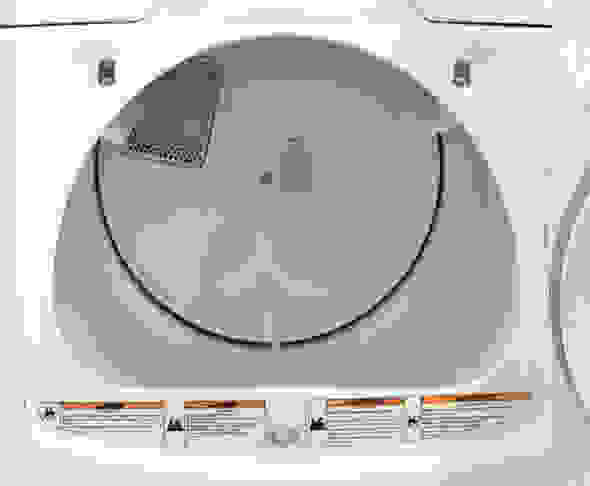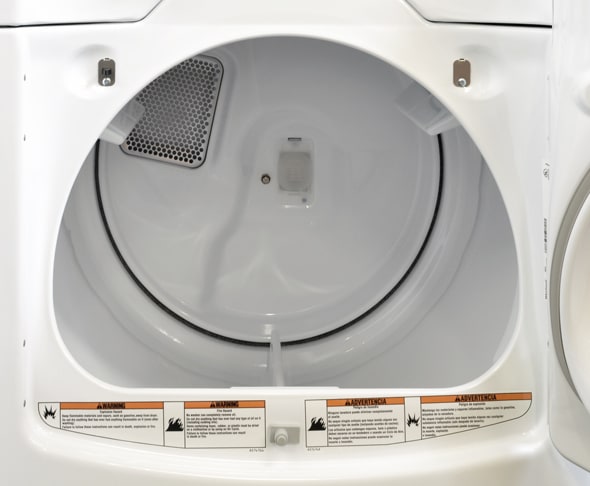 The lint trap is of standard design, located at the bottom of the opening to the dryer. It's large and easy to clean, with no outstanding features or detriments.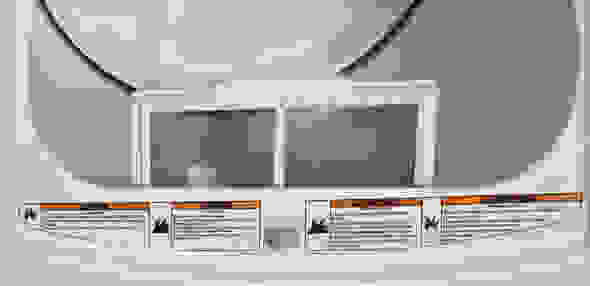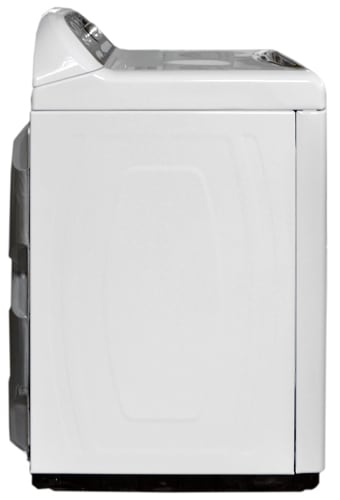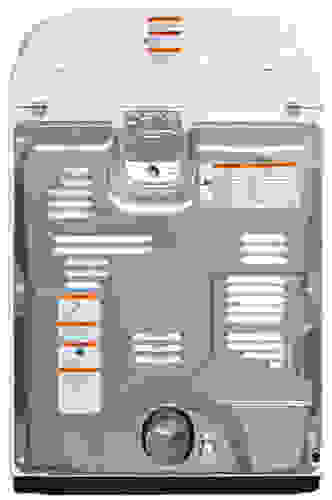 While the control panel indicated an estimated drying time for each cycle available, that number was never hit except on Timed Dry - which stops whether clothes are dry or not. The moisture sensor will keep clothes tumbling until it feels they are sufficiently dry. This means that the two cycles that got clothes dry ran on for an average of three times longer than originally indicated. If you've got lots of laundry that you're saving up for a Sunday afternoon, plan on having to stretch it out over most of the day.
The Normal cycle on the was the only one we tested that consistently got clothes back down to 100 percent of their bone dry weight. That being said, the machine stated it would take 38 minutes to complete a Normal cycle. Turns out it should have said 1 hour and 30 minutes. There are plenty of machines available that will get clothes completely dry on a Normal cycle, and do it in a fraction of the time.

The Delicate cycle was another feature of this appliance that seemed incapable of telling time. The control clock indicated that this cycle was estimated to run for 28 minutes. Admittedly, Delicate cycles are almost never that short, but the ran for 70 minutes, more than twice the estimated time. While that length isn't unheard of for a Delicate cycle, the control panel was misleading. This is a frequent problem for Delicate cycles on all dryers, but it's still discouraging for an appliance this expensive. The clothes tested managed to get 99 percent of their bone dry weight, as well, which is very close to ideal but slightly misses the mark. Again, there are machines out there that will give you that extra 1 percent, and will manage to do it in less time.

The Bulky Cycle came the closest to finishing at the estimated time, stopping after about 60 minutes as opposed to the estimated 55. That being said, it also performed the worst out of the three preset cycles that were tested. The users manual states that this cycle emits a beep indicating that the item being dried should be rearranged so all portions of the material get equal exposure. As always, we tested this cycle twice, but only readjusted the wet comforter during the second test. Ironically, the test without any readjustments actually got our material slightly dryer. On average, this cycle only managed to get the test material down to 75 percent of its bone dry weight, disappointing for a dryer with a larger capacity like the .

The has an actual Quick Dry cycle that runs for 13 minutes. After the cycle concluded, our test materials weren't even halfway dry, reaching only 46 percent of their bone dry weight. The short answer is that this performance is quite poor. There is a caveat worth mentioning, though. We used a standardized 4 pound load for quick cycle testing. The users manual says this cycle is best for small sets of 3 to 4 items, a much smaller amount than what we used. It's possible that with smaller batches, this function would be more than adequate for getting the job done, but for larger loads you'll need more time.
In addition to manually timed cycles and two steam cycles, the offers ten preset settings. They include the more traditional Bulky, Delicate, and Casual (also known as Permanent Press), as well cycles that are even more specialized, such as Towels, Sanitize, and even Active Wear. Any consumer with a wide variety of drying needs should be satisfied with the options provided on this machine. If you're a college student that just wants to throw all your stuff in at once, there's still a standard Normal function, too.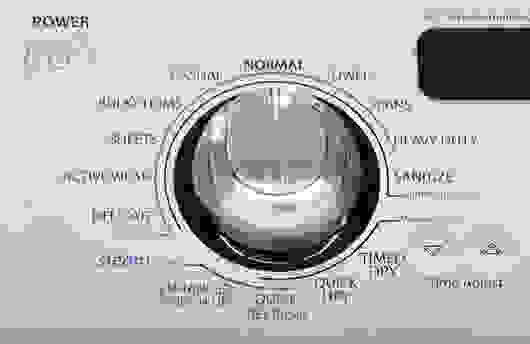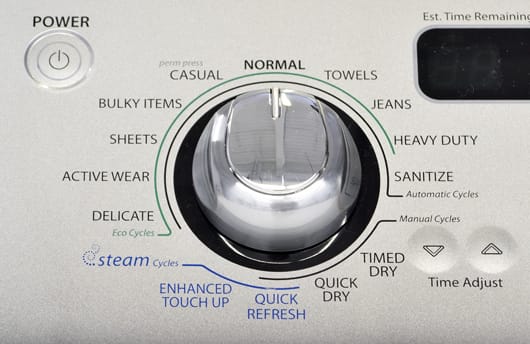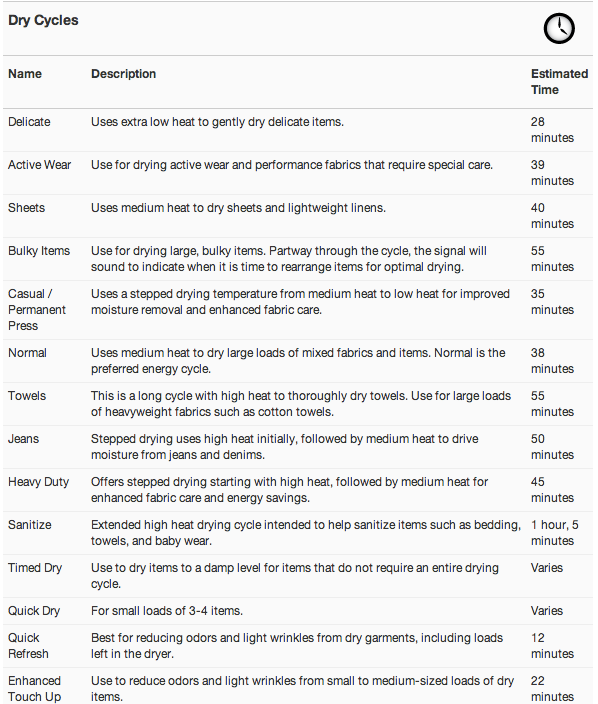 The offers three traditionally customizable settings. The cycle length and temperature can be adjusted, but only for Quick Dry and Timed Dry. Automatic, or preset, cycles can't have temperature or duration altered, but there is a button to change the dryness level, depending on your desired result and material type.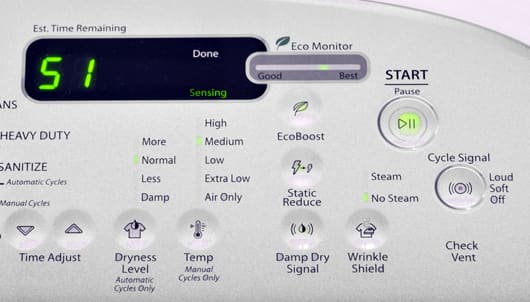 If you have a laundry room with an extra faucet, the has a port on the back for water input, allowing you to use steam cycles meant to refresh your clothes. While you have to do the plumbing yourself, the dryer comes with all the pipes and nozzles that you're likely to need. Also, a Static Reduce option, which adds some extra drying time, sprays a light film of moisture into the dryer in order to reduce static cling once the clothes are finished. Additionally, there's an EcoBoost feature meant to improve the energy efficiency of the dryer. The Damp Dry Signal goes off for clothes that you want to finish drying outside or on a hanger, and the Wrinkle Shield setting adds up to 140 minutes of tumbling time after the cycle is concluded to prevent wrinkle build up if your clothes finish when you're not available to take them out. Keep in mind that we didn't test these extra features, so we can't say exactly how well they work.
Cycles are selected using a central knob that thumps into place for each setting. Other options are changed using a series of clearly labeled buttons that bubble outward, giving the controls a nice uniform appearance. When extra options are in effect, they're lit from behind with a small green light that's surprisingly easy to see.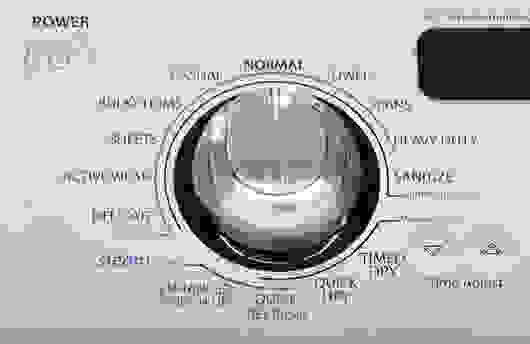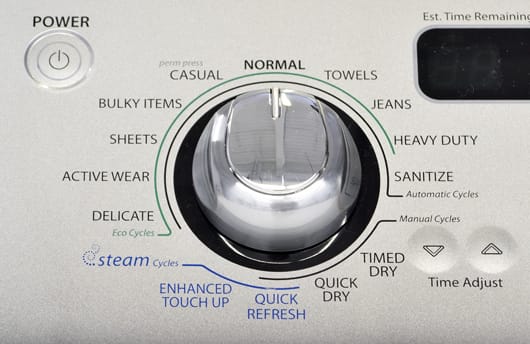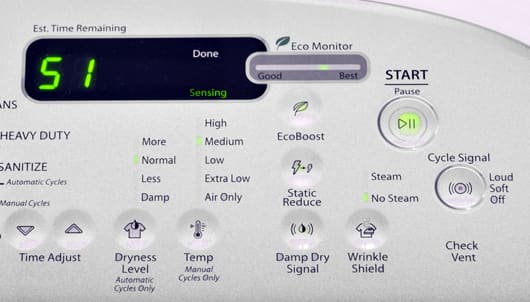 The 's door feels quite sturdy, and the recessed handle located at the top makes for easy opening. It doesn't always want to shut, though, and you may find yourself having to slam it back in to make sure the dryer stays closed.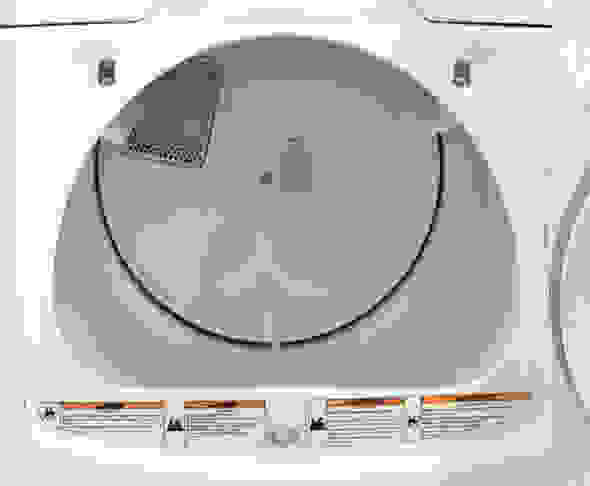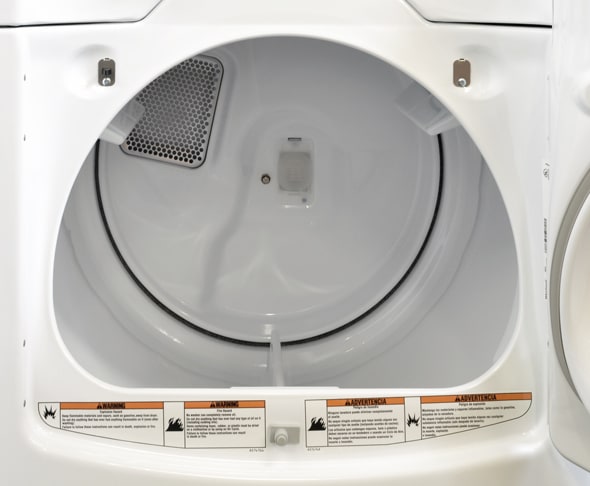 The lint trap is of standard design, located at the bottom of the opening to the dryer. It's large and easy to clean, with no outstanding features or detriments.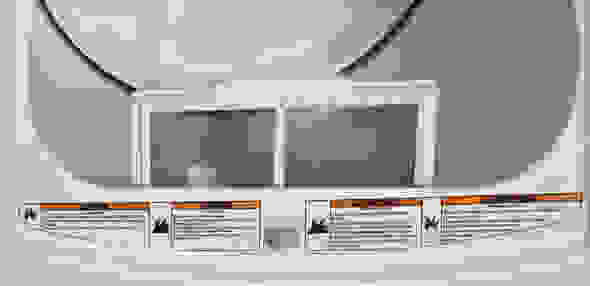 The may have a high-end price tag, but it lacks the performance to back it up. It certainly has its strong points - more preset drying cycles than you can shake a hamper at, a sturdy exterior, and lots of extra features that are easy to use - but when you get right down to it, it doesn't do as well as other models with respect to getting clothes dry. What good are all the preset cycles and steam features if your clothes are still damp when the dryer stops? What good is displaying an estimated dryer cycle duration if it can actually take up to three times as long? With a door's that easily scratched and a stainless handle that's easily smudged, how long can you really maintain that attractive exterior? This dryer isn't the worst on the market today by a long shot, but for such a high price tag, consumers can certainly do much better. If you can find it on sale, it may be a better buy - we were able to find prices as low as about $830.
Meet the tester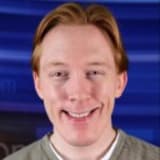 Matthew Zahnzinger
Logistics Manager & Staff Writer
@ReviewedHome
Matthew is a native of Brockton, MA and a graduate of Northeastern, where he earned a degree in English and Theatre. He has also studied at the Gaiety School of Acting in Dublin and spends most of his free time pursuing a performance career in the greater Boston area.
Checking our work.
We use standardized and scientific testing methods to scrutinize every product and provide you with objectively accurate results. If you've found different results in your own research, email us and we'll compare notes. If it looks substantial, we'll gladly re-test a product to try and reproduce these results. After all, peer reviews are a critical part of any scientific process.
Shoot us an email