The has a special exterior finish that the makers have dubbed Lunar Silver. It's a bit lighter in color than the more traditional stainless steel finish, but arguably looks even sleeker. The interior drum is still finished in plain white enamel, though, which runs the risk of rusting and discoloring over time. It makes for an interesting juxtaposition of high and low end design elements, respectively.
Since this isn't a stackable dryer, the controls are set on top near the back, and are standard in design. The cycle knob is sturdy and doesn't feel like it could break off, and the buttons are well lit with bright green lights. The door is almost the entire height of the appliance and has a shiny black front, though the actual access port isn't quite so tall. The lint catcher is of a standard lightweight design.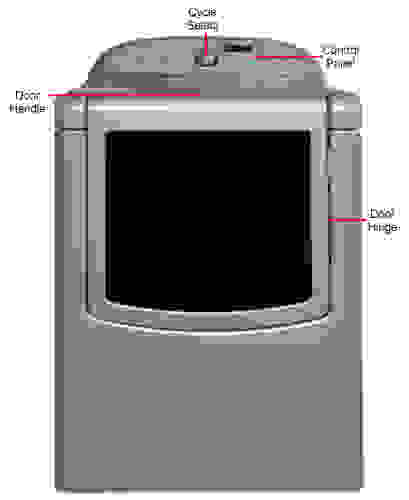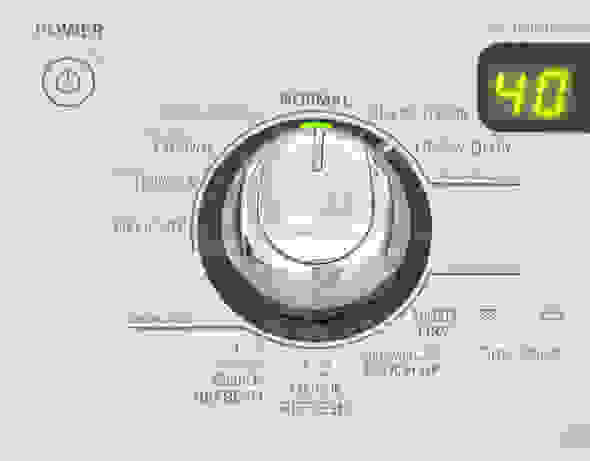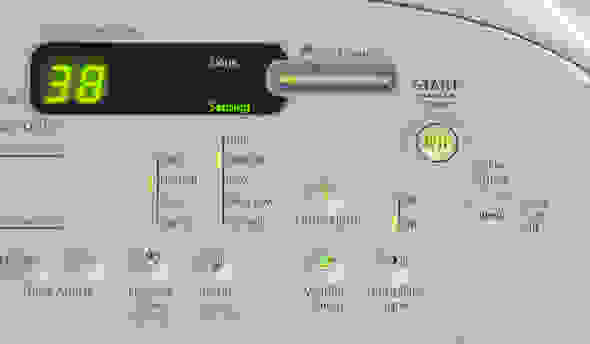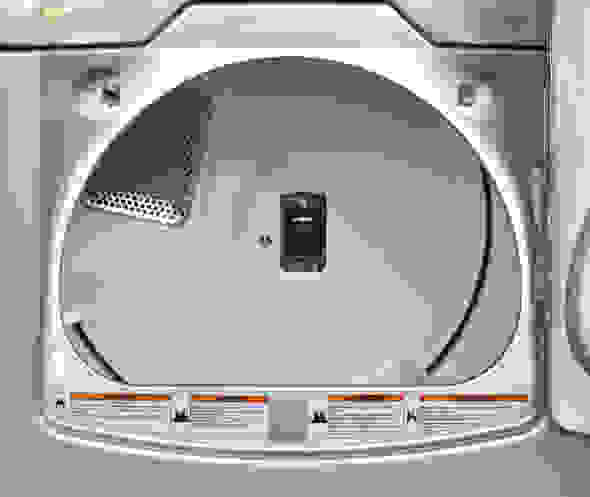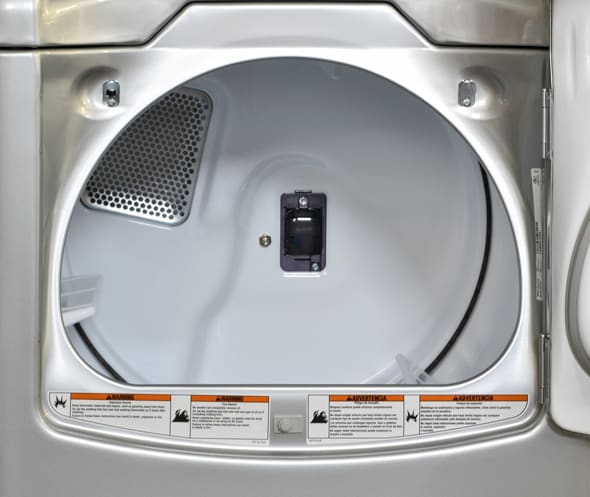 The lint trap is of standard design. It's lightweight but still durable, made of plastic, and easy to clean.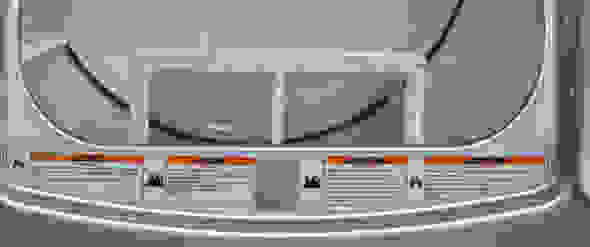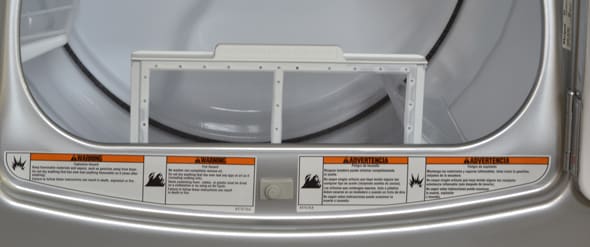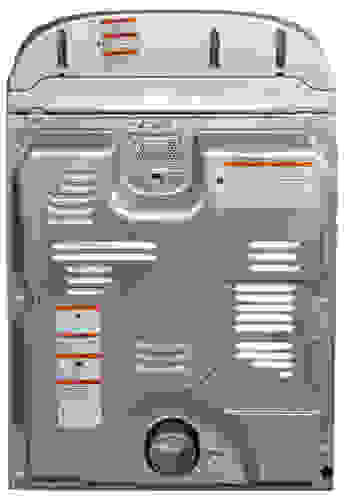 This dryer isn't going to blow anyone away with radically fast drying times; the standard cycles took about an hour, give or take five to ten minutes, as is par for the course for most models available today. What is impressive about this dryer is that it knows when to get hot and when to take a cooler approach, and almost every test resulted in dry or nearly dry clothing. The Bulky test didn't yield perfect results, unfortunately, but it still did better than many other models we've tested. This makes for an all-purpose dryer that can handle almost any type of load, an impressive claim for one that's priced lower than a lot of other models with steam-based functions.
The Normal cycle offered just what a consumer would hope to get with a quality dryer—just under an hour long, clothes completely devoid of excess moisture at the end, and temperatures peaking at a fairly safe 141 degrees Fahrenheit. It's nothing ground breaking, but it's solid and reliable, which is ideal for the workhorse cycle that handles the majority of standard laundry loads.
After just over a full hour, the got clothes set to dry on the Delicate cycle 100 percent of the way back down to the original bone dry weight. This by itself would just be commendable; many other dryers do the same thing. What's really impressive is that the got clothes completely dry in a standard amount of time, but did so without break 117 degrees Fahrenheit. This is the perfect sort of temperature for a Delicate cycle. It's warm enough to get the job done without becoming so hot that clothes run the risk of getting damaged or faded, and the sensor was still able to pick up on when the clothes were done.
This final test is where the somewhat lost its stride. After three excellent cycle tests, the Bulky Items setting only got our test comforter down to 78 percent of its bone dry weight. Admittedly, it did this in just under an hour, which is impressive. But the fact that the sensor stopped before the job was done means it fell victim to a frequent dryer flaw—only the moisture farthest from the center was detected. When the exterior of our material was dry, the machine stopped even though moisture remained, hidden away at the center.
There's no special quick or express drying cycle on the , so we just put our load in and set the Timed Dry for 30 minutes. After only half an hour, the dryer had reached the same peak temperature that it had on the Normal cycle (141 degrees Fahrenheit) and got our four pound load 97 percent of the way back down to its bone dry weight. It makes sense logically—compared to the Normal test, a load half the size got almost completely dry in half the time at the same heat level. This means the performs consistently whether or not it's using a sensor cycle or a manual cycle, and 97 percent moisture removal in 30 minutes is one of the top test results we've seen.
With eleven cycles to choose from, the offers a reasonably varied selection. In addition to the basic ones that we've tested, this machine has four more preset cycles, though nothing so fancy as an anti-bacterial option or so specific as an option designed for workout wear. The manually timed cycles are limited to just the one—no express drys or wrinkle reductions here, but the basic Timed Dry can be customized to your heart's content. There are, also, three cycles designed to take advantage of the dryer's steam feature. Two are the same cycle, but for different load sizes, while the third is a quick touch up feature designed to remove slight wrinkles and small odors.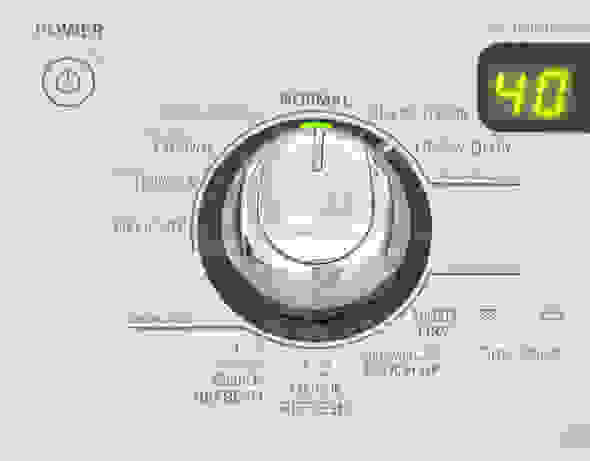 Even though it has a high-end appearance, the fails to impress in the customization department. True, it does have five different temperature settings for the Timed Dry cycle, but only four dryness levels for all the rest. At the very least, it does give you the option to adjust the duration of the Timed Dry cycle down to the minute.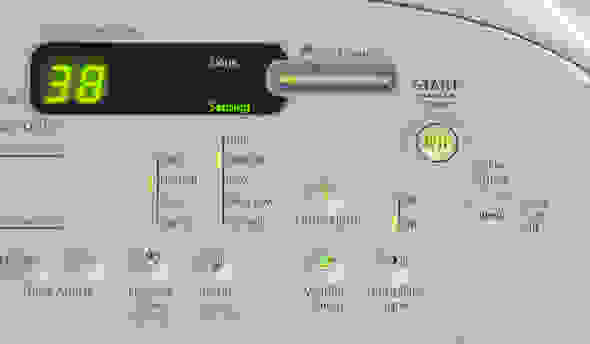 Despite the presence of a steam hookup, there's a surprisingly small number of extra features present on the . While many dryers with this feature usually have functions, such as a static cling reducer, that utilizes its presence, this one just has the basic wrinkle reduce function and damp dry signal that are found on even the cheap, lower-end machines. It's small consolation, but you can turn the chime to three varying levels of volume (something that's actually important here, given that the Loud option is very, very loud). You can also turn the drum light on even when the machine is in motion, on the off chance that there's nothing on the TV worth watching.
The cycle knob isn't the crispest we've seen. It sort of wobbles into place, resulting in a knob that feels firmly attached but lacks the clean, crisp click of one found on a high-end machine. The control panel itself is easy to read, using a combination of pictures and large text to create very clear labels. The combination of the gray background with the green lighting contrasts enough to make the chosen settings and functions pop, so you'll always be able to tell what sort of cycle you're about to use.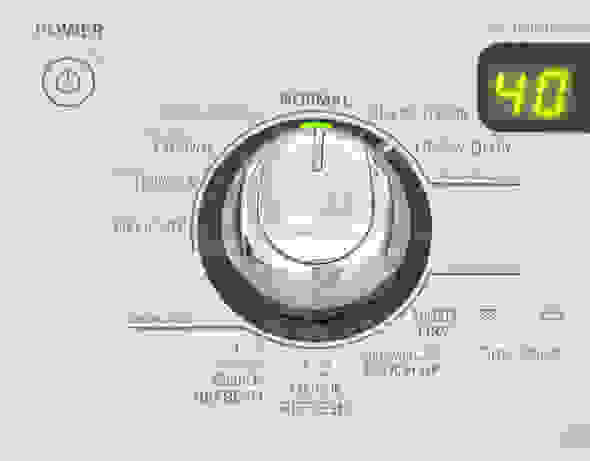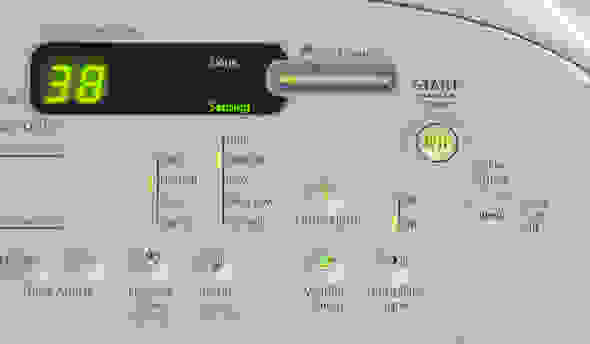 Probably the sturdiest moving part on the , the door feels quite durable. It's solid without being too light, doesn't require a great deal of force to open, and shuts without having to slam it.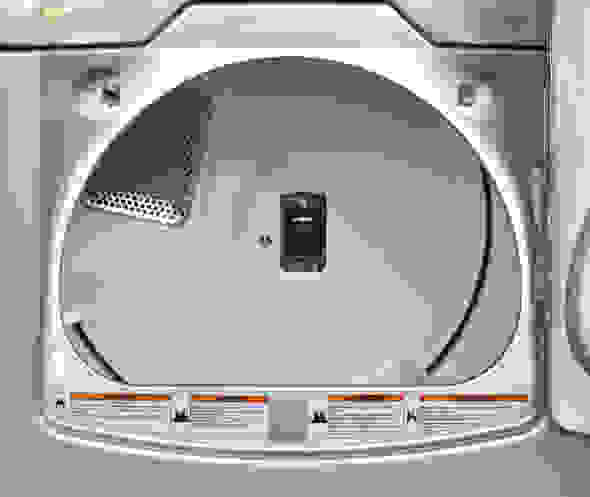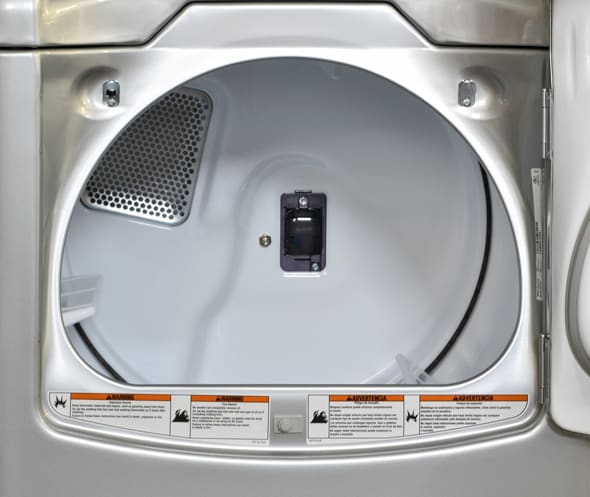 The lint trap is of standard design. It's lightweight but still durable, made of plastic, and easy to clean.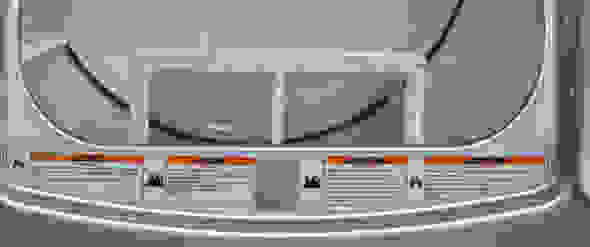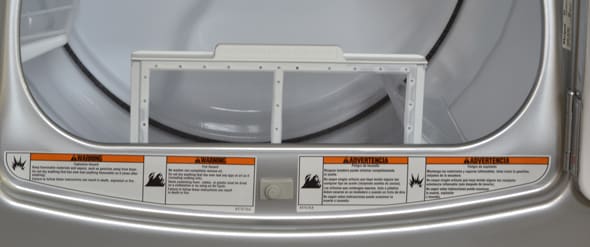 The Maytag Bravos XL MEDB750WY is another alternative if the proves too difficult to locate. With similarly sparse cycle options and minimal extra features, consumers get a very similar interactive experience with either machine. Admittedly, the drying performance on the Maytag is rather inferior to the , and yet the Maytag originally cost more—a $999 MSRP makes it about $82 more expensive.
Without exception, the produced superior results in all of our tests. It generally took less time, had lower and more effective temperatures, and expunged a greater quantity of moisture from our test materials. As far as actual performance is concerned, the is the superior machine.
The may have 11 cycles as compared to the Maytag's nine, but some of those cycles are simply variations on other options (the Normal versus Eco Normal, or the two Quick Refresh settings for different load sizes). As far as extra features, both models are surprisingly lacking. They each have a wrinkle prevent option, as well as a damp dry signal, but otherwise they just offer straightforward drying.
Neither of these machines can be stacked, and both have white enamel interior drums. The Maytag has a white exterior finish, while the lays claim to its unusual Lunar Silver coloring. Each machine possesses readable controls, though the layouts are somewhat different. The bright orange lighting on the Maytag may be a bit easier to read than the paler green on the , but that's really something that comes down to user preference and eyesight.
The Samsung DV210AEW/XAA is more of a budget appliance than the , possessing an MSRP of just $849 (about $70 cheaper). Like many budget appliances, it isn't as subtle or effective at drying clothes as the pricier model, but it certainly gets the job done and is very much a viable option for consumers with a budget.
Unlike the , the Samsung has just seven drying cycles and no steam function. It also has just four different temperature and dryness level settings, while the has five and four, respectively. These two machines tie for first place in the extra feature category, though—both have wrinkle prevent options and a damp dry cycle (though the Samsung calls it the Mixed Load Bell), and that's it.
The Samsung has a very traditional design: unlike the , you can stack it with a matching washer and it has a plain white enamel finish. The controls are a little unusual, in that they sort of bow out around the cycle select knob; they're also set in a completely black panel, which may make it a bit more difficult to read for consumers who have poorly lit laundry rooms.
For $940, consumers could purchase the Kenmore 80272 and experience a very similar quality of drying as they would with the slightly cheaper . Both models have similar cycle options and extra features, though the Kenmore lacks steam capabilities. This isn't as huge of an issue as one might think, though, given that the arguably didn't take full advantage of steam-related drying features. With similar levels of performance, both dryers will take excellent care of your clothes; unfortunately, the slightly superior model is the , which is somewhat harder to locate.
The does eke out one more preset cycle than the Kenmore, but given the fact that two of the steam cycles are essentially the same thing for different load sizes, it's safe to say that these two machines are quite comparable. They offer equally limited extra functions, but the Kenmore does manage to add one more dryness level than the . As to how important that small added level of customization really is can only be determined by consumer preference.
This Kenmore adds some modern flourishes to an old-school look, taking advantage of a vertical layout in the controls to add some personality to an otherwise unremarkable white enamel dryer. Also, unlike the with its Lunar Silver exterior, it can be stacked with a matching washer.
All good things must come to an end. Such is the fate of the , a dryer with excellent performance quality and a reasonable price tag. It may have had limited drying cycles and almost no extra features, but to find a dryer that delivered where it counts, possessed a water port for steam-related functions, and only had an MSRP of $917 is pretty rare. This particular model is being removed from the product lineup, though, so it'll likely prove difficult to track down. If, however, you want to emulate the new Sherlock series and bring some old-school sleuthing to the modern day world, then make like Benedict Cumberbatch, grab the nearest phone book and your laptop, don a snappy looking jacket, and go on the hunt. It's almost impossible to locate a new one online, but you may be able to find it on clearance at some appliance stores. For those with a smaller private detective streak, consider looking at the next model in the Whirlpool Cabrio line, the WED8800YW. True, it's more expensive and didn't do quite as well as the 7800, but it's better than a lot of other models on the market today.
Meet the tester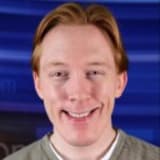 Matthew Zahnzinger
Logistics Manager & Staff Writer
@ReviewedHome
Matthew is a native of Brockton, MA and a graduate of Northeastern, where he earned a degree in English and Theatre. He has also studied at the Gaiety School of Acting in Dublin and spends most of his free time pursuing a performance career in the greater Boston area.
Checking our work.
We use standardized and scientific testing methods to scrutinize every product and provide you with objectively accurate results. If you've found different results in your own research, email us and we'll compare notes. If it looks substantial, we'll gladly re-test a product to try and reproduce these results. After all, peer reviews are a critical part of any scientific process.
Shoot us an email