Pros
Easy to use control panel

8.8 cu. ft. drum
Cons
Average drying performance
If you've always been wary of adjusting your dryer's default settings, this Whirlpool allows relatively detailed control without any guessing or experimentation. But if you're comfortable with the knobs and settings on other machines available today, there's not a lot this dryer has to offer you. Performance in our tests didn't match the asking price, which isn't low enough call this dryer a bargain.
For our review of this dryer's matching washer, the Whirlpool Cabrio WTW8500DC, click here.
Despite its stylish finish and fancy new control scheme, our tests reveal Whirlpool Cabrio WED8500DC (MSRP $1,299) is merely an average dryer.
Streamlined edges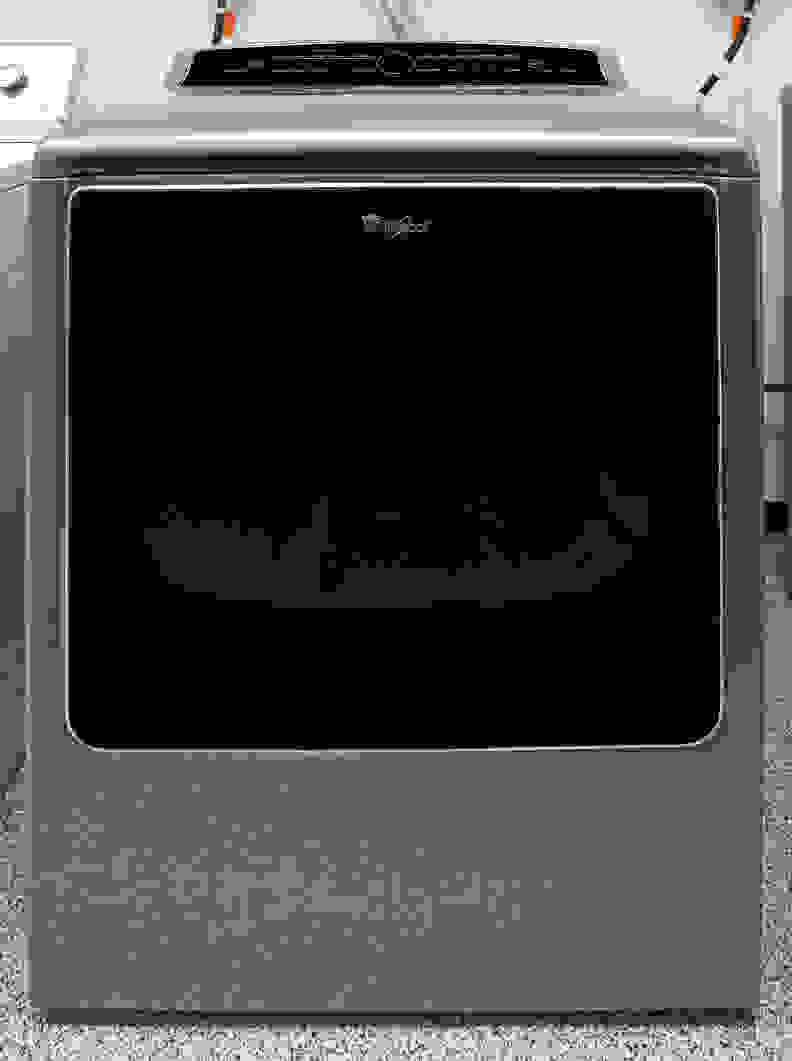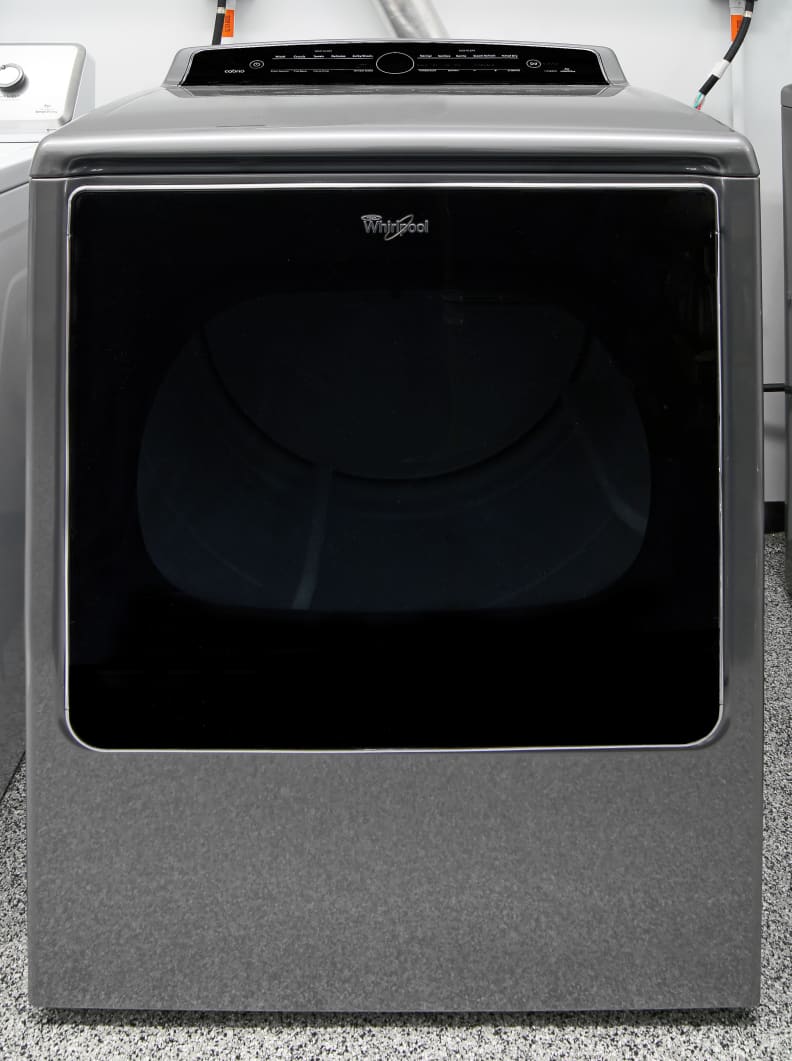 If nothing else, this all-new Whirlpool looks very modern. The touch screen controls and tall, broad door give this dryer a unified appearance, yet it doesn't seem alien or intimidating.
Unfortunately, all that eye candy doesn't necessarily translate into a smooth hands-on experience. That gorgeous, reflective door creaked every time we opened it. Shutting the door required a healthy slam almost every time.
The lint trap on this model takes its cue from compact, European-style dryers. Instead of a lint screen, this one is more like a lint cage that you have to flip open to clean. It's designed to keep lint from falling all over the laundry room when you pull it out of the dryer, but since we clear our lint traps every time, there was never any spilling out in our tests.
Disappointingly, the interior drum is made of white power-coated metal. Many dryers in this price range offer stainless drums that are more resistant to flaking or rusting over time.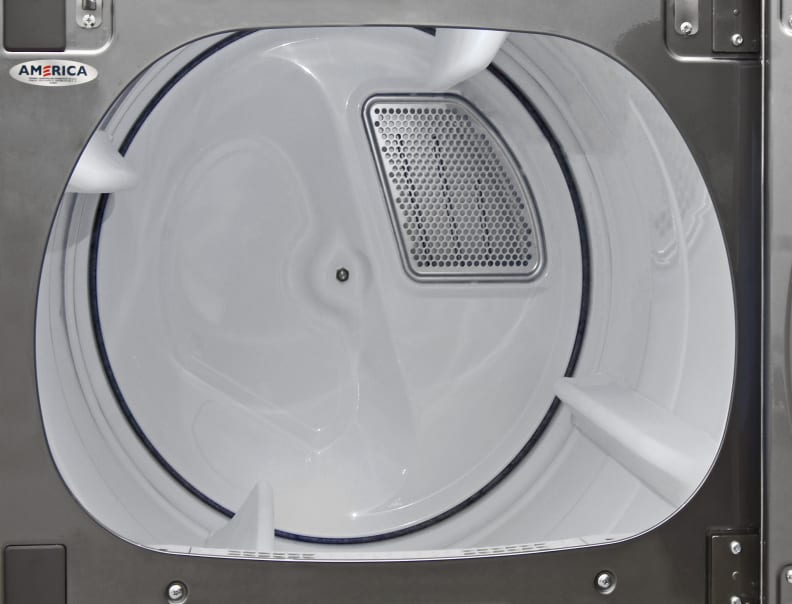 ×
Design
For our Normal cycle test—in which clothing is wet to 1.7 times its weight—we selected Mixed for our fabric setting and Normal for temperature. After an average of 49 minutes, our test loads came out 100% dry. Given peak temperatures of 151.2°F, this was to be expected. If that's too hot for your particular garments, simply turn on the EcoBoost mode to trade cooler temperatures for longer cycle times.


For our Delicate cycle test, we combined the Delicate fabric option (what else?) with Gentle temperatures. After 1 hour 9 minutes on average, our test loads were 98% dry, ideal for garments destined for hand ironing before being put away. Cool temperatures peaking at 115.7°F combined with dry loads make this the best cycle we tested.
Better or worse? You decide.
We think Whirlpool's new control scheme is bound to polarize consumers. To the left of the control panel, you have several fabric types to choose from: Mixed, Casuals, Delicates, etc. To the right, you have drying options: Normal, Sanitize (for high heat drying), Steam Refresh, and more.


Some of our editors found the layout restrictive and clunky, claiming simplicity but adding steps to—say—change a cycle. Also, if you're already familiar with the names and functions of the cycles on your current machine, there's not confusion left for the 8500DC to alleviate.
Admittedly, we are professional clothes launderers. But we still think the benefits of this controls scheme will be restricted to rank novices and those that have never done their own laundry before.

We even found some instances when the new layout takes options away. For instance, there's no easy access to a proper Quick Cycle, other than manually fiddling with the Timed Dry option. When Whirlpool representatives demoed the console in our labs, they explained the sensors should be able to tell when a smaller load is in the dryer and adjust accordingly, thus streamlining the setup process by removing redundant options. But in our experience, 100% reliance on a dryer's sensors isn't always the best way to go.
Since this Whirlpool lacks a named Quick Cycle, we manually set the Timed Dry option to run for 30 minutes. Even with peak temperatures of 160.8°F—our smaller test load was only 92% dry. With heat like that, half an hour of drying should've been more than enough.

We dried our large comforter using the Bulky/Sheets mode with Normal heat. Temperatures peaked at 141.6°F, while cycles averaged 59 minutes in length. It wasn't quite enough, though, and the comforter emerged just 73% dry. We've certainly seen worse, but then again, we've also seen better—especially from machines in this price range.
Good, not great
While the controls may freshen up the hands-on experience this dryer is just above average performance-wise. As one should expect for a dryer that costs over $1,000, both the Normal and Delicates cycles effectively removed excess moisture from our test clothing.
Our tests call for a quick cycle but this machine doesn't have one. We crafted our own by manually selecting a 30-minute Timed Dry, which didn't quite dry our test loads completely. The Bulky/Sheets option set to Normal temperatures also failed to adequately dry our large comforter, despite the 8500's large drum.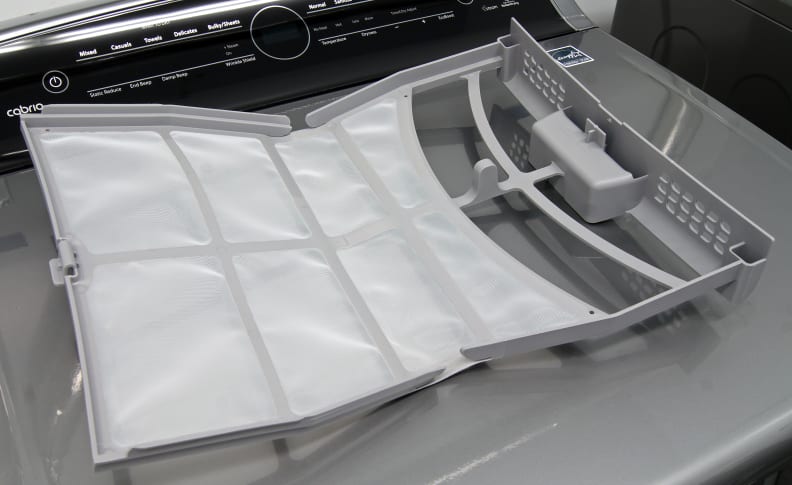 The performance we measured in our environmentally controlled lab is of course typical of a mid-range dryer. But this dryer costs $1,300. In fact, there are traditional models for available for less that—at the end of the day—dry clothing just as well.
Aside from the new interface, the extra feature list matches dryers in the 8500's price range. Static Reduce and Steam Refresh settings make use of the water hookup, while Wrinkle Shield and EcoBoost modes are par for the course these days on all but the cheapest models.
For in-depth performance information, please visit the Science Page.
New look, new interface, same performance
If the Cabrio WED8500DC performed better, we'd be happy to recommend learning a new interface for the sake of superior drying. Unfortunately, that's simply not the case.
Just-average performance combined with a slim feature list actually makes this Whirlpool not as good a value compared to a lot of other machines available. With retailers offering it for $1,100 minimum, you can easily find something superior for a similar price or less. Here's hoping this control panel find its way to a less expensive machine.
Meet the tester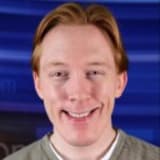 Matthew Zahnzinger
Logistics Manager & Staff Writer
@ReviewedHome
Matthew is a native of Brockton, MA and a graduate of Northeastern, where he earned a degree in English and Theatre. He has also studied at the Gaiety School of Acting in Dublin and spends most of his free time pursuing a performance career in the greater Boston area.
Checking our work.
Our team is here for one purpose: to help you buy the best stuff and love what you own. Our writers, editors, and lab technicians obsess over the products we cover to make sure you're confident and satisfied. Have a different opinion about something we recommend? Email us and we'll compare notes.
Shoot us an email