Nevertheless, the desirable basic cycles that this $1449 MSRP dryer offers are enough to meet the average household need and a little more, with options like Sanitize and Steam Fresh. Although sale prices we found online lowered the cost to around $1,350, shoppers may want to opt for the little brother of this model, the WED94HEAW, which sells for about $150 less and matches almost exactly the WED96HEAW model. The difference? This WED96HEAW boasts a feature that Whirlpool calls a "SilentSteel" drum to lessen noise from metal items. Are your clothes laden with zippers, metal spikes, and hosts of giant buttons? Do your six infants sleep next to the laundry room? Well, perhaps this is for you.
The WED96HEAW is outfitted with a fairly straightforward control panel, a basic knob, and a clean, attractive edifice. It is also stackable.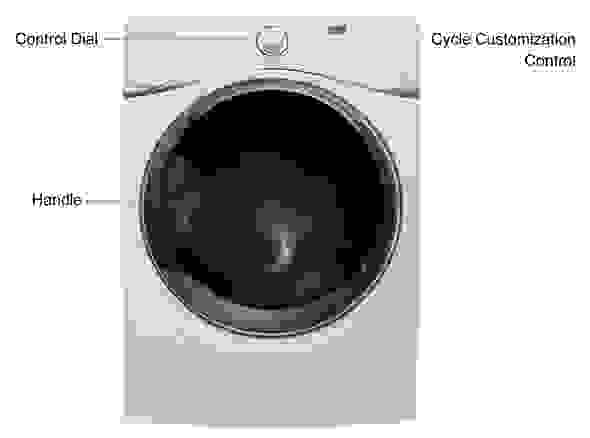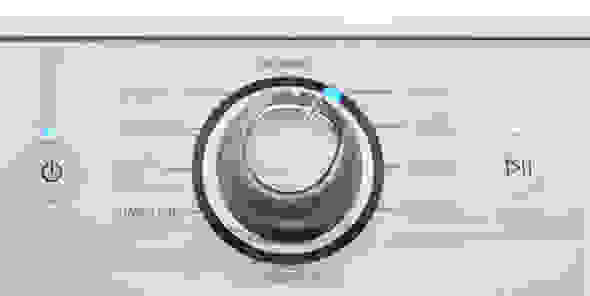 The lint trap did not require a team of experts to handle. It slides up out of the door well, cleans very easily, and slides right back in. A light on the control panel tells you when to check it in case you tend to forget.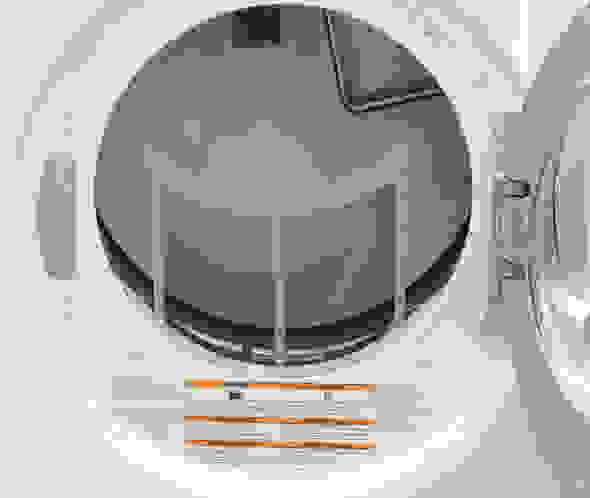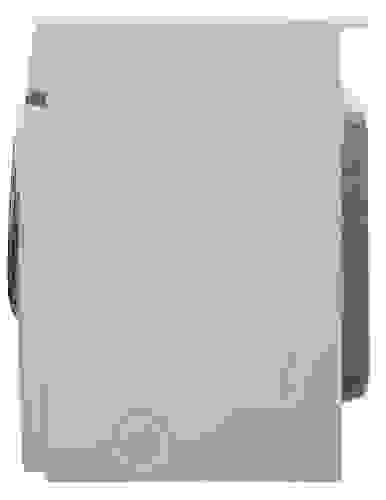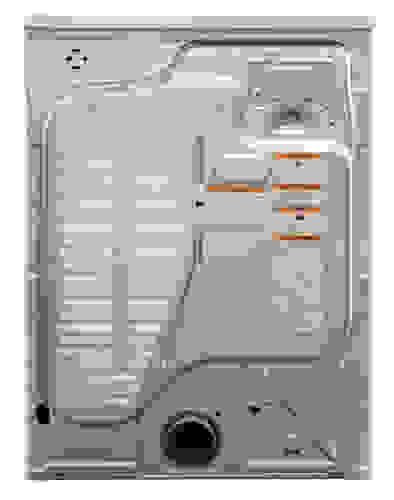 While Bulky and Quick cycles failed to remove the necessary percentage of water from each load, 63 percent and 50 percent respectively, other, more basic cycles did very well. The temperature reports were optimal for both Normal and Delicate cycles and, though tumbling in excess occurred at times, the outcomes were very satisfactory. Both cycles had run-times of 1 hour to 1.5 hours and 100% water removal.
The Normal cycle packed a punch on this machine, finishing the job in 64 minutes with 100 percent water removal. It's a bit of a hot-head at 145 degrees, but over-drying did not occur. Carry on, Normal cycle, carry on.
The Delicate cycle is no delicate flower, karate-chopping 100 percent of the water straight out of those wet clothes and reaching a very ideal temperature of 110.1 degrees in the process, keeping your underpants safe and sound. The only real con? Liar, liar, things in the dryer don't finish up in 28 minutes like the LCD screen indicates. More like 95!

Oh Bulky cycle, why can't you have tiny robot men to fluff our comforters half way through the job for us? Midway into this 62 minute cycle, the manual suggests users remove their bulky items, fluff them, and replace them before continuing. This is the case with many a dryer, and this is the reason for many a disappointment. At least magical music notes let us know when its time to fluff our bulky items. Without any help though, this cycle only removes 63 percent of water, reaching a temperature of 125.10 degrees.

Quick! Run the Quick cycle again, because despite its suspiciously impressive 13 minute duration, nothing is in fact dry! Unless that load of laundry belongs to Polly Pocket, it's going to need another go. Testing shows only 50 percent water removal and a low temperature of 106.6 degrees for this one.

A smooth dial turns easily between cycle presets: Normal, Bulky, Heavy Duty, Towels, Sanitize, Timed Dry, Quick Dry, Delicates, and Casual. One may also hook the WED96HEAW up to a water source and utilize the Steam cycle, which Whirlpool claims will reduce static and "refresh" laundry. A cool blue LED glows next to the chosen cycle while an LCD above the dial fibs about the time left to finish. The power button to the left of the dial is highly sensitive, turning on at the brush of a lab coat, while the start button to the right of the dial luckily requires three seconds of pressure before powering a cycle.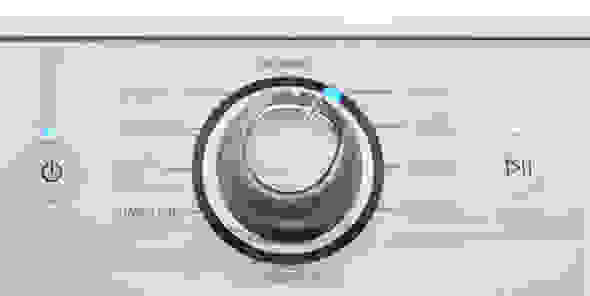 While shoppers with pants of the fanciest variety may be left wanting, the rest of us will likely survive with the varied batch of customizable options on the right-hand side. Alter a dry cycle's temperature, dry level, or dry time at the touch of a button. Sure, there isn't an "Inferno" switch, but the "High" temperature mode will surely do the trick. Additionally, various cycles are eligible for alteration with features like Wrinkle Shield (with or without steam), Damp Dry Signal, Static Reduce, and EcoBoost.
Objects like soggy shoes or no-tumble sweaters can dry atop a rack using an air-only setting. Additionally, there is a 60 second cool down option and an Eco monitor, which claims to report how energy efficient the settings are.
A finished load of laundry need not conjure failed surgeries in a game of Operation. Nay, nor death by electric chair. This dryer's beautiful recorded keyboard sounds made our lab feel like Pleasantville and the dial was both attractive and pleasing to use. The effortless press of a button is usually a happy fact, but perhaps these are a bit oversensitive. The brush of a body moving past the machine will trigger the touchscreen panels, so eliminate the problem with the handy control lock found on the right side.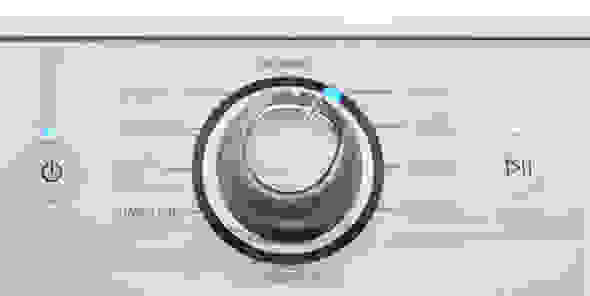 Perhaps the only really pesky note regarding usability is the door, which lacks a distinctive clicking sound to let you know that it is fully closed.
The lint trap did not require a team of experts to handle. It slides up out of the door well, cleans very easily, and slides right back in. A light on the control panel tells you when to check it in case you tend to forget.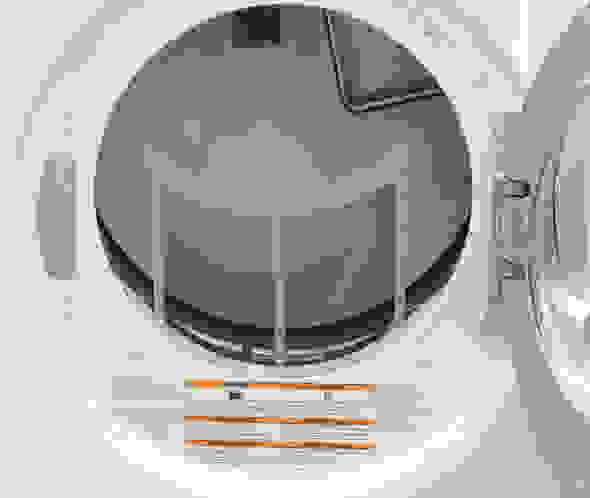 The WED96HEAW is an efficient, $1449 MSRP dryer that offers very fine Normal and Delicate cycles. While the Bulky and Quick Dry cycles will not get the job done in one try, the attractive design, the musical keypad, the easy-to-use controls, and the reliable basic cycles are all solid attributes. We found this machine online for a sale price of about $1350.
Overall, despite its excellent Normal and Delicate cycles, the WED96HEAW stands eclipsed by its younger brother's less expensive shadow. If a somewhat quieter drum razzle-dazzles you, then the WED96HEAW is the ticket. Otherwise, try to save a little and go with the WED94HEAW model.
Meet the testers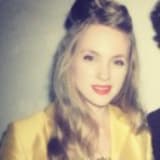 Virginia Barry
Former Managing Editor
@
Virginia is a former Managing Editor at Reviewed.com. She has a background in English and journalism. Away from the office, Virginia passes time with dusty books & house cats.
See all of Virginia Barry's reviews
Checking our work.
We use standardized and scientific testing methods to scrutinize every product and provide you with objectively accurate results. If you've found different results in your own research, email us and we'll compare notes. If it looks substantial, we'll gladly re-test a product to try and reproduce these results. After all, peer reviews are a critical part of any scientific process.
Shoot us an email