The Whirlpool Duet WFW94HEA's design is in the here and now.
Among our favorite features on this Whirlpool is Fan Dry, which uses internal air circulation to dry the drum and any clothes that happen to be inside, as well. It didn't get small loads completely dry, but it managed to suck out enough moisture to stave off mustiness and save the dryer from working too hard.
One complaint: Whirlpool swapped out physical buttons for a big plastic touch pad.
Also, the should be simple to use. Like most other front-loading washers in its class, operating the is a matter of turning the knob to the desired cycle and pushing the start button. One complaint: Whirlpool swapped out physical buttons for a big plastic touch pad, which proved both too responsive and not responsive enough. Brushing against the control panel occasionally brought the washer to life, but starting a cycle usually required holding down a selection for three seconds.
The does well as washer, but would make a terrible race car. Its cycles are slow. And it has no wheels.
Way back when, guys were dolls and washing machines washed. The harkens back to those days. This washer has plenty of fancy features but doesn't stray from its core purpose of getting out stains, from cocoa to sweat. It's nice to know that this appliance has a wide repertoire. Other washers marginally bested the Whirlpool at shifting stains, but we were still impressed.
It costs about $5 more per year to run than the competition.
In 1933, a writer in National Geographic stated that "All the water that will ever be is, right now." Heady stuff. A lot of that water may end up in the , which is slightly more thirsty than most washers. Breaking it down to dollars and cents, it costs about $5 more per year to run than the competition, and total operating costs should be near $39 yearly. A lot of that water usage is due to Whirlpool including an extra rinse on its Whites cycle. It's meant to wash out remaining bleach and keep you from smelling like Ryan Lochte's hair.
There are two features of note on this washer: Fan Dry and EcoBoost. The Fan Dry option is a relaunch of a method to keep the interior from getting musty, but is now advertised as a method to dry up to two pounds of laundry in eight hours. The test load we put in was still damp after an overnight stay. At least it made the dryer's job a little easier. EcoBoost is supposed to make cycles more environmentally friendly by reducing the amount of hot water usage. It compensates for this by lengthening wash cycles that already take their sweet time.
The proved itself to be a competent washing machine.
Though the had strong cleaning performance and was packed full of features, there were a few categories where it fell short, such as efficiency and user-friendliness.
If you can find it on sale for $1079 and you don't mind its limitations, this Whirlpool is a good choice. Otherwise, you might want to sing solo rather than join a Duet.
After testing, the 's results showed a washer with a strong cleaning performance. However, in order to achieve this, the used a bit more water than other front-loaders in its class. With a starting price at around $1,079, this machine is stuffed with features, many of which you will never use.
In order to maintain objectivity, we use standardized stain strips.
To determine a washer's cleaning performance we use strips of cloth stained with the common enemies of cleanliness. Each strip is divided up into sebum (sweat), oil, blood, red wine, and cocoa. After select wash cycles, we remove the strips and scan them with a light spectrometer. These readings are compared to control samples to determine how much of the stain has been lifted.
The did best against the sebum and cocoa stains. This is a good sign, since the two stains are on the opposite sides of the pH scale.
The Price of the Bill
We go through every single cycle that a washer has and keep an eye on the water and electric meters. The Whites cycle was the thirstiest, using over 22 gallons of water. The most power hungry was the Sanitize cycle. It consumed 1.18 kilowatt hours. To put that in perspective, that's about 10 cents worth of electricity. Compared to other front loaders in its class, the was relativity inefficient. Using national averages, we estimate that this washer will have a yearly operating cost of $39.
The Post Wash Op
Things fall apart. Poetic, isn't it? It is inevitable that whenever you place your clothes in a washing machine they are going to come out a little more worn than when they went in—how much varies widely between machines. To test this, we put in mechanical action strips with five stamped, one-inch holes in them. After the cycle is complete, we take them out and count how many threads have come loose. In this regard, the had a fairly positive performance.
Next, we weigh every test load before and after a cycle. We collect this data in order to determine whether or not a washer is a team player. Does the washer spin out excess water so that your dryer doesn't have to work as hard? After wading through all the data, we determined that the passed the ball, but not the buck. Everything but the Delicates cycle spun out around 46% of the load's weight in water . Anything below 50% gets a gold star in our book.
Meet the tester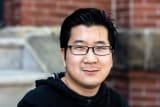 Jonathan Chan
Lab Manager
@ReviewedHome
Jonathan Chan currently serves as the Lab Manager at Reviewed. If you clean with it, it's likely that Jon oversees its testing. Since joining the Reviewed in 2012, Jon has helped launch the company's efforts in reviewing laptops, vacuums, and outdoor gear. He thinks he's a pretty big deal. In the pursuit of data, he's plunged his hands into freezing cold water, consented to be literally dragged through the mud, and watched paint dry. Jon demands you have a nice day.
Checking our work.
We use standardized and scientific testing methods to scrutinize every product and provide you with objectively accurate results. If you've found different results in your own research, email us and we'll compare notes. If it looks substantial, we'll gladly re-test a product to try and reproduce these results. After all, peer reviews are a critical part of any scientific process.
Shoot us an email