Laundry
2012 WasherDryerInfo Best of Year Awards
See which washers and dryers scored spots on our Best of Year list.

Credit:
We've seen dozens of washers and dryers in our labs this year, from the lowliest budget models to sets that cost as much as a decent used car. While many of them tried to impress us with flashy features and marketing buzz, only a select few managed to ace our battery of scientific tests.
Some of them stood out with innovative new features, while others toiled away without much fanfare. Any washer can go through the motion of cleaning, and any dryer can get moisture out of clothes if you give it enough time, but the finest washers and dryers are effective, efficient and offer great value. We'd put these machines in our own laundry rooms, and suggest that you do the same.
Best Washer
(MSRP $1,299)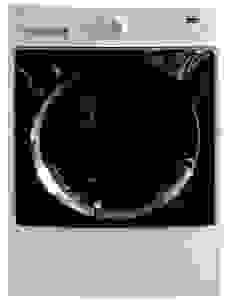 Like all Kenmore appliances, the 41472 washer is a rebadged and slightly redesigned version of an existing product. Luckily for Kenmore, In this case they hitched their wagon to the exceptional LG WM3470 series, which features TurboWash and won our Innovation Award for its ability to get a normal load of clothes fully clean in under 40 minutes. Kenmore rechristened the feature AccelaWash, but a fast wash by any other name performed just as well. Our tests showed that the Kenmore offered slightly improved stain removal performance, and its our opinion that the Sears-only model had a more user friendly control panel. However, both the Kenmore and the LG do an outstanding job getting clothes extremely clean in very little time. If you can find one of them on sale, snap it up.
Runner-up
(MSRP $1,199)
It's hardly a surprise that the LG WM3470HVA is the runner-up here, as it's the machine the Kenmore 41472 is based on. Once again, we appreciated the speed of TurboWash, though we preferred the way Kenmore slightly tweaked the wash cycles and control panel to be a bit more effective.
Read the full review of the Kenmore Elite 41472S

Read the full review of the LG WM3470HVA
---
Best Dryer
(MSRP $1,549)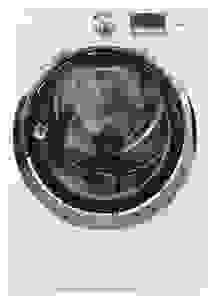 Sometimes, an appliance is no more than the sum of its parts. That's the case with the Electrolux EWMED70JIW, which proved exceptional by following the rules. While many other dryers had a few outstanding cycles, they couldn't match the even-handed treatment this Electrolux gave to all kinds of fabrics, from pillowcases to comforters, or anything else your family can throw at it. Its massive interior measures eight cubic feet, which gives even large loads plenty of room to tumble dry. Yes, it's pricey, and its cycles weren't perfect, but it proved adept at getting laundry dry regardless of what was in the load.
Runner-up
(MSRP $1,299)
Earning a close second place, Sears has once again made the right choice by slapping the Kenmore name on an LG product. In this case, it's a dryer, and it's been branded a Kenmore Elite. On its Normal cycle, the 81472 got a standard eight pound load entirely dry in under an hour, and took just 25 minutes to squeeze 91 percent of the moisture out of a four pound load. Its large interior meant that bulky comforters got a chance to tumble around, and the Delicates cycle didn't take very long at all. If you can't find the Kenmore on sale at Sears, LG's DLEX3470HVA is nearly identical, though it didn't perform quite as well in our tests.
Read the full review of the Electrolux Wave-Touch EWMED70JIW

Read the full review of the Kenmore Elite 81472
---
Best Washer/Dryer Pair
(MSRP $1,299 each)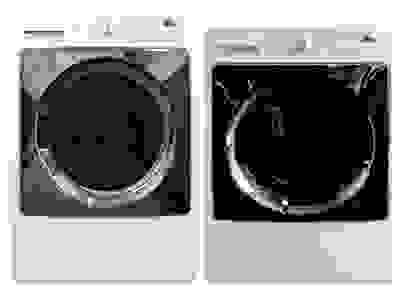 The Kenmore Elite 41472 washer and 81472 dryer are impressive enough on their own to win a few awards each, so it comes as no surprise that they make a great pair. If you prefer the LG models they're based on, the WM3470HVA and DLEX3470V are both excellent choices, but the Kenmore Elites just barely upstaged them on performance and usability.
Runner-up
(MSRP $1,549 each)
Also a good choice: the Electrolux Wave-Touch EWFLS70JIW washer and EWMED70JIW dryer. We weren't that fond of their odd push-to-close doors, but they are strong overall performers. The washer does manage a Normal cycle that's as fast as LG's TurboWash—and nearly as effective. Keep an eye out for sales, though, because they're quite pricey.
Read the full review of the Kenmore Elite 41472 Washer and 81472 Dryer
Read the full review of the Electrolux Wave-Touch EWFLS70JIW Washer and EWMED70JIW Dryer
---
Best Value Washer/Dryer Pair
(MSRP $749 washer, $849 dryer)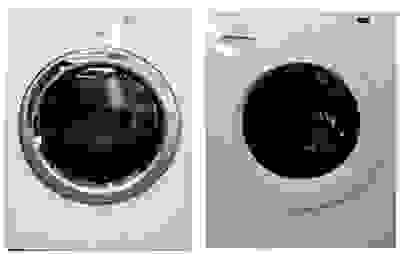 While the Frigidaire Affinity FAFW3801LW and FASE7073LW weren't the best performing washer and dryer pair we've tested, they're not very expensive and they did a good job getting laundry clean and dry. That's what makes the pair such a good value. For the price of one high-end washer or dryer, you can get a stackable set with automatic cycles and a simple user interface. They're not flashy, but they get the job done.
Runner-up
(MSRP $749 each)
Another good choice is the GE GFWN1100LWW washer and GFDN110ELWW dryer, which did almost as well as the Frigidaire Affinity pair that took the top honors. The washer took a while to complete its tasks, though it did a fine job getting out stains. Additionally, the GE dryer ran a little hot on all cycles, so you might want to watch out for delicate fabrics.
Read the full review of the Frigidaire Affinity FAFW3801LW Washer and FASE7073LW Dryer
Read the full review of the GE GFWN1100LWW Washer and GFDN110ELWW Dryer
---
Best Innovation
(MSRP $1,199 for WM3470HVA)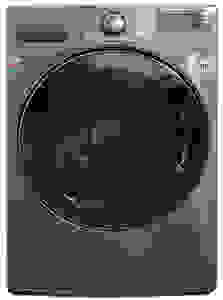 When LG announced that some of their new washers could finish a normal load of laundry in under 40 minutes, we were skeptical. After all, most washers take around an hour. But our tests don't lie, and they showed that the TurboWash-equippedWM3470 series got a standard eight pound load of clothes, towels and sheets extremely clean in just 39 minutes, outperforming washers that took a full half hour longer. The secret is in the TurboWash system, which injects detergent into a powerful spray, then combines a final rinse with a high-speed spin. We found absolutely no detriments to this setup as far as washing performance is concerned, and were grateful that our tests took 20 fewer minutes.
Read our full review of the LG TurboWashWM3470HVA
---
Best Front-Load Washer
(MSRP $1,299)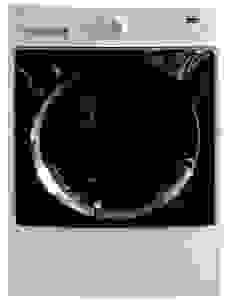 It's no surprise that our pick for Best Washing Machine was a front loader. After all, front-loading machines tend to use less water and energy than their top-loading counterparts. Most of the time, they get clothes cleaner, too. The Kenmore 41472, made for Sears by LG, is no exception. Its sub-40-minute AccelaWash (based on LG's TurboWash) saves time in your schedule while saving your clothes from stains.
Runner-up
(MSRP $1,199)
If you can find a sale price on the LG WM3470HVA—the washer this Kenmore is based on—it'll do the job almost as well.
Read the full review of the Kenmore Elite 41472

Read the full review of the LG WM3470HVA
---
Best Top-Load Washer
(MSRP $999)
Modern, high-efficiency top loading washers don't use as much water as their ancestors. They also trade a tall agitator for a low-profile wash plate, which means more room for laundry and less wear on fragile fabrics. Our top choice for a top loader is the Maytag Bravos XL. It fits a ton of laundry and is relatively efficient when it comes to water and energy. It stood tall in our stain removal tests, and had no trouble spinning excess water out of laundry at the end of a cycle. We also appreciated the simple user interface and well-chosen cycles.
Runner-up
(MSRP $1,199)
Since the Whirlpool Cabrio and Maytag Bravos are made alongside each other by the same parent company, we weren't surprised that the Cabrio we tested came in a close second to the Bravos, which did a better job at stain removal and spinning out excess water. Unless you need the extra features of the Platinum or find it on sale, however, it isn't as good a value as the Bravos XL.
Read the full review of the Maytag Bravos XL MVWB750YW2

Read the full review of the Whirlpool Cabrio Platinum WTW7300XW
---
Best Value Washer
(MSRP $749)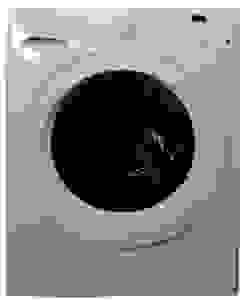 Front-loading washers can be pricey, but they tend to use less water than their top-loading counterparts. The Frigidaire Affinity FAFW3801LW balances an affordable MSRP with a low cost of ownership, and did pretty well in our tests. It lacked most specialty cycles, but it still managed acceptable outcomes on our stain removal and clothes wear evaluations. It's far from fancy, but it's efficient and effective.
Runner-up
(MSRP $999)
The GE GFWN1100LWW also does a good job for a similar price, though the Frigidaire's cycles were a bit quicker and more effective.
Read the full review of the Frigidaire Affinity FAFW3801LW

Read the full review of the GE GFWN1100LWW
---
Best Value Dryer
(MSRP $749)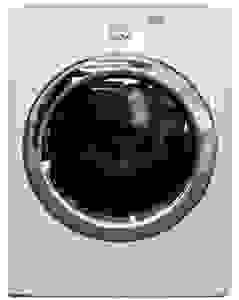 From Frigidaire comes the FASE7073 series of dryers, which are available in a variety of colors. All of them offer a steam refresh option, which is unusual at such a low price point. We tested the FASE7073LW, which turned out to dry clothes as well as dryers costing hundreds of dollars more. It also had automatic cycles that could be easily customized by users. It's not as robust a user interface as more expensive machines, but if you want to have a steam dryer and don't want to spend more than $1000, the Affinity FASE7073 series is your best choice.
Runner-up
(MSRP $749)
If you prefer a stackable dryer with automatic cycles that sells for a low price, the GFDN110ELWW is the machine for you. It costs a little more than the GTDP400EMWS, but has sensor-based cycles and a countdown timer on the front display panel. Its cycles tended to run a little warm, so keep an eye on your most delicate clothes.
Read the full review of the Frigidaire Affinity FASE7073

Read the full review of the GE GFDN110ELWW
---
Best Compact Washer
(MSRP $939)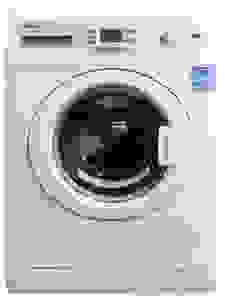 If you don't have enough space for a full-sized washer and dryer, don't worry. The BlombergWM 87120 washer is only 24 inches wide, yet packs a greater punch than most larger machines. Stains disappear after about 45 minutes on the extremely effective Permanent Press cycle, while the Super Wash tackled the toughest laundry messes. Just because you're short on space doesn't mean you should skimp on features, and the WM 87120 has a pre-soak option in addition to several specialty cycles, including an honest-to-goodness sanitizing wash that topped out at just over 155 degrees. Don't worry about buying an unfamiliar brand, either: While this little washer is relatively unknown in the US, Blomberg's parent company is the third largest appliance manufacturer in Europe.
Runner-up
(MSRP $1,399)
The Bosch AxxisWAS24460US is another solid choice for a stackable, 24-inch wide washer. Though it does an adequate job getting clothes clean, it doesn't have as many features as the Blomberg, it's a lot less user-friendly and it tends to retail for a much higher price.
Read the full review of the BlombergWM87120

Read the full review of the Bosch AxxisWAS24460US
---
Best Compact Dryer
(MSRP $1,029)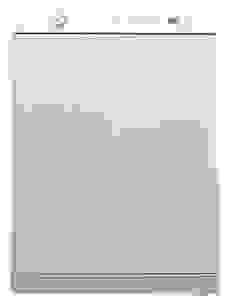 Small dryers tend to be poor performers due to their lack of interior space, but if you can't fit a full-size, the AskoT753 does a good enough job for us to recommend it. It's not only stylish enough that it would look at home in a designer European kitchen, but it outperformed other compact machines when it came to getting clothes dry. The T753 doesn't work as quickly as its larger counterparts and it can't dry bulky items like comforters in a single cycle, but it certainly beats schlepping your clothes to and from the laundromat if you have no other choice due to space constraints.
Runner-up
(MSRP $899)
From Bosch, the WTV76100US has a more traditional appearance than the AskoT753, and it does almost as good a job drying laundry. If you can't drill a hole for a vent, the WTE86300US is a similar dryer that uses a condenser to remove moisture. It doesn't work as effectively, but it's your only choice for some spaces.
Read the full review of the AskoT753W

Read the full review of the Bosch AxxisWTV76100US