Laundry
6 Budget Friendly Washers and Dryers
Here are some of your best bets for budget-friendly laundry machines.

Credit:
Ok, so you aren't made of money, but you're really tired of hoarding quarters just so you can clean your clothes. Or maybe your washer or dryer just broke and you can't spare much money for a new one. What can you do? Well, here's a roundup of the best laundry machines, to make your life easier without emptying your wallet.
Purely Budget
If you just want to look at the least expensive washing machine on the market, take a look at the Hotpoint HTWP1200DWW (MSRP $479.00). It's rough on clothes, but that's the case with just about any top-loading machine, due to the pole agitator in the middle of the drum. It's not efficient, either, costing around $73 per year to run, but for such a low purchase price, it gets the job done just fine.
The Haier HLP140E (MSRP $278.46) is the least-expensive dryer we've reviewed. It takes a really long time to finish a normal cycle, and only makes clothes "less damp" with a quick cycle. On the plus side, it's portable, inexpensive to use, and can be plugged into a conventional outlet. Just don't expect a high-performance machine.
For Small Spaces
If space is an issue, the Haier HLP23E (MSRP $259.00) is small, portable, and sets up anywhere near a faucet and an outlet. It cleans stains in clothing as effectively as some full-size models, but isn't very energy efficient at all.
The Bosch Axxis WTV76100US (MSRP $899.99) is expensive compared to other units in this roundup, but it's about as budget-friendly of an option as small (non-portable) dryers get. It takes a while to get clothes dry on a normal cycle, and the quick cycle isn't useful. But it's solid if you're pressed for space, but need something bigger than the Haier portable above.
Matched Pair
If you need cheap machines but don't want the design nightmare of mismatched finishes, take a look at this budget pair from Frigidaire.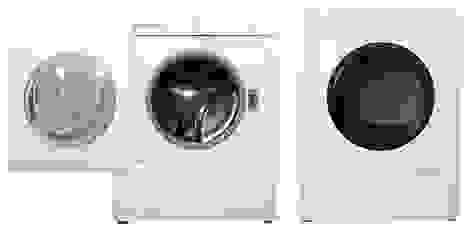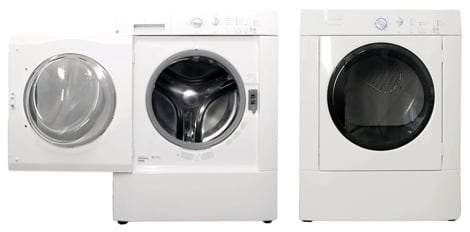 The Frigidaire FRFW3700LW (MSRP $649.00) keeps things simple and offers good performance with decent efficiency. However, as a budget machine it feels a bit flimsy, so you might feel like you get what you paid for. Technically it's discontinued, but you should still be able to find it out in the wild.
The Frigidaire FRQE7000LW (MSRP $599.99) isn't the most inexpensive dryer out there, but it scores higher than most economy models in our tests. The Frigidaire has a pretty high capacity for dryer of this price range (7 cubic feet), but cycles can take a little longer to finish. You might run into some problems getting things dry on the delicate and quick dry settings, but the other settings work well. Like its washer sibling, it doesn't feel very sturdy, but at this price it's a good, economical unit.