Laundry
Leave It to Aussies to Design a Dress Made of Beer
Pretzels not included.
You're familiar with the phrase "You are what you eat," but how about "You wear what you drink"?
It might be time to get used to the idea: A couple years ago, researchers at the University of Western Australia came up with a dress made of wine, and now fellow Aussie Gary Cass and his team at Nanollose have taken the concept a step further. They've created a dress that not only looks gorgeous, but also is made entirely from beer.
I love Australians.
The new dress was created in collaboration with visual artist Donna Franklin, and was inspired by the shape of the hop plant. But how exactly does one make a dress out of beer? Answer: By crafting a material (dubbed Nanollose Microbial Cellulose) from byproducts of the bacterial fermentation process.
If you're worried about walking around smelling like a pub, don't be. In a press release, Cass explained that "unlike the wine dresses, the new Beer Dress has no smell and greatly improved flexibility." He also states that the fibers of the material are chemically similar to cotton.
Speaking of cotton, Cass hopes that the Nanollose will catch on and provide an environmentally friendly alternative to agriculturally intensive fabrics. Allegedly, it can be mass-produced with relative ease, and without many of the environmental costs that come with traditional agriculture.
Fashionistas may be particularly intrigued to learn that the material can be grown as a single unit. Seamless dresses, made-to-fit custom gowns, suits without stitching—the possibilities seem pretty endless.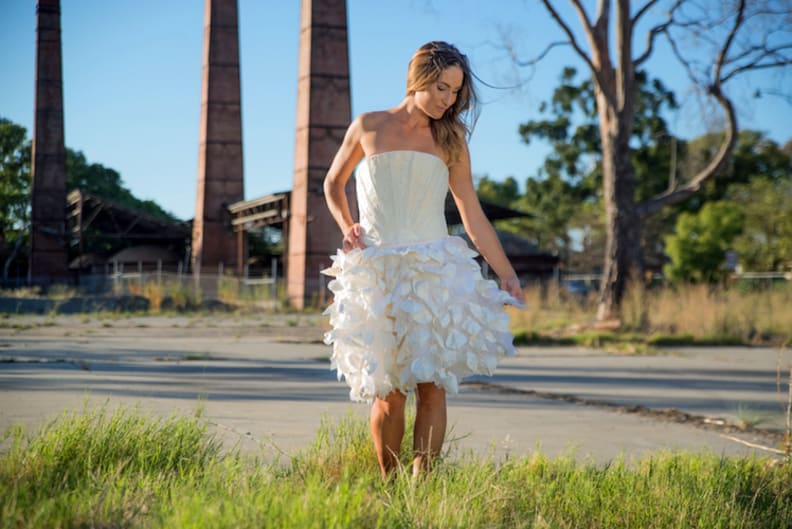 ×
Beer Dress
Of course, many questions remain: How easy is it to clean? How durable is the fabric? If it's seamless, how do you get it on or off? Would it be socially acceptable to wear Belgian White after Labor Day?
The dress will be making an appearance at this summer's World Expo 2015 in Milan. The show kicks off May 1st and runs through the end of October.
Related Video