Doing laundry can be a real pain in the neck, whether you're getting ready to backpack across Europe or just stocking up on quarters and heading back to the college dorm. If you're planning to rough it in a Himalayan yurt, lots of extra outfits will simply bog you down.
On the other hand, coin-op washers aren't the most economical solution if you just need to clean that one perfect dress for the upcoming sorority bash. In either case, the Scrubba might be your salvation.
This clever clothes-cleaning device was designed and patented by Ashley Newland, an Australian patent lawyer turned inventor. As he tells it, inspiration for the Scrubba struck when he was prepping to hike Mt. Kilimanjaro: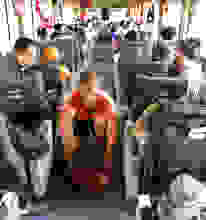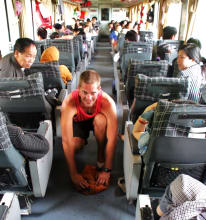 "During the planning stages for the trip, we realized that with all our cold weather and camping gear, we would only be able to pack a few changes of casual clothes. This led to the issue of how we were going to wash our clothes every couple of days."
Trying to find an economically and spatially efficient solution, his thoughts turned to washboards. Heavy, bulky, and still requiring a bucket or basin to wash clothes in, these super old school tools weren't the final answer. They did, however, provide the necessary inspiration.
His idea eventually blossomed into a lightweight, tear-resistant bag sporting a built-in, flexible plastic washboard. But here's the best part: It weighs only five ounces, and can be rolled up to roughly the size of a soda can.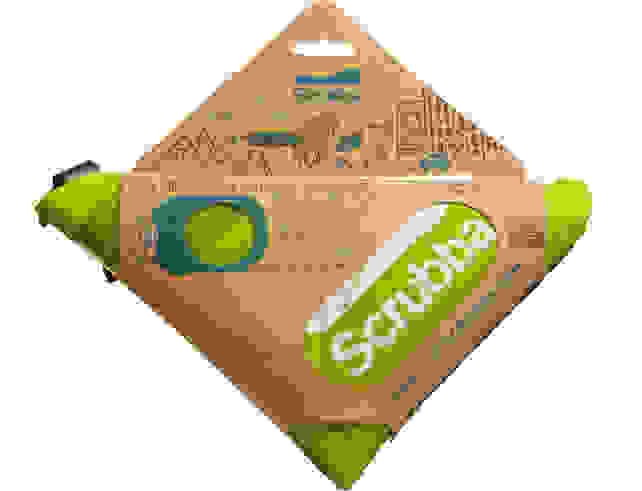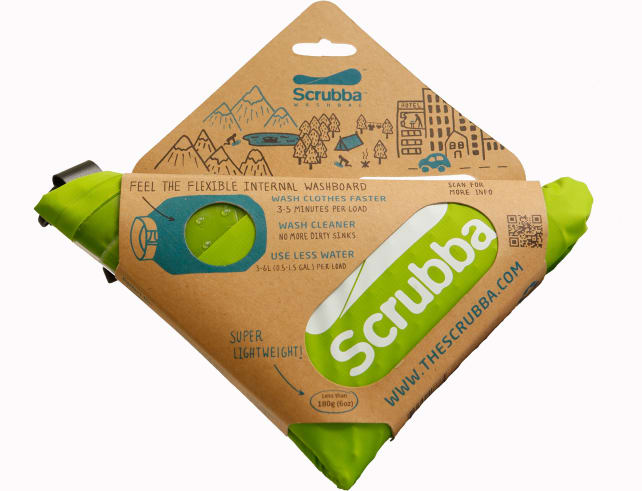 Using the Scrubba is simple. You just pour in a gallon of water and some soap (Newland explains you can use detergent, body wash, shampoo, or any other washing liquid), then toss in an outfit or two. Roll up the open end of the bag, clip it shut, let out the excess air through a small tube, and start rubbing.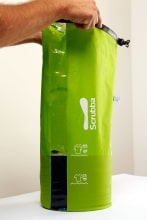 And if you somehow forget those steps, the bag itself has a step-by-step series of pictures to jog your memory.
According to Newland's website, it takes about 30 seconds of scrubbing for clothes to come out smelling fresh. He also claims that the end result of rubbing for three minutes is actually comparable to cleaning clothes in a standard washing machine.
After a remarkably successful crowdfunding campaign, Newland has sold the Scrubba in over 50 countries. It was picked by Forbes as one of the 10 greatest travel accessories of 2012, and is available to purchase direct from the manufacturer.
A single Scrubba Washbag—available in neon or olive green—costs $54.95. The full Scrubba kit, complete with a towel for wringing out wet garments and a clothesline with suction cup ends, is $89.95.
If the prospect of owning a lightweight, economical, and affordable clothes washer wasn't incentive enough, Newland is parlaying his success into the philanthropic sphere: "We realized on a trip to Laos and Cambodia that clean drinking water was scarce in many remote parts of the world have decided to dedicate a portion of our proceeds to tackling the issue."
Most recently, Newland has donated $15,000 to provide clean drinking water to a school in Bangladesh via the non-profit organization charity: water.
A device that's cheap, portable, seemingly effective, and supports clean water for the needy? We've got one thing to say to you, Mr. Newland: Good on ya, mate!
Hero image: Ashley Newland, The Scrubba
Our editors review and recommend products to help you buy the stuff you need. If you make a purchase by clicking one of our links, we may earn a small share of the revenue. Our picks and opinions are independent from any business incentives.