Laundry
Haier Brings High Efficiency Washing to the Masses
Haier brings sensor-based washing and drying to the American public.

Credit:
Haier, one of the largest appliance manufacturers in the world, introduced a new low-cost high efficiency top-loading laundry pair at this year's CES.
The washer is the first top loader designed specifically for the US market that includes load-sensing technology, which is common on higher-end models. However, Haier is known for relatively low prices, and the GWT560BW washer and the matching GDE560BW dryer will be on sale in the spring for $549 each.
Even if they don't take the laundry world by storm, it's clear from looking at this pair that Haier has been conducting solid market research. These machines were almost tailor made to fit the exact preferences dominating the American perspectives on washing machines today, which shows the Chinese company is paying attention to American consumers.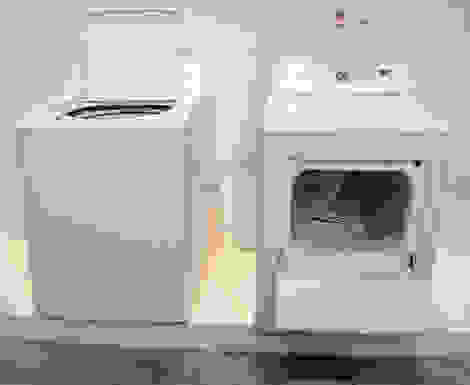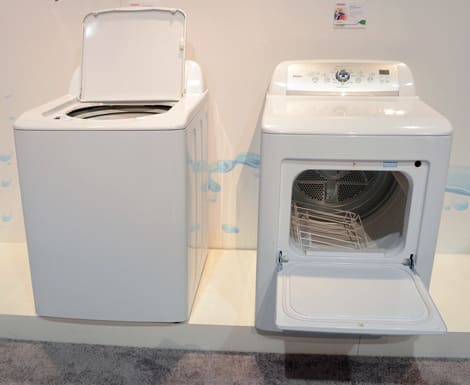 As far as appearance is concerned, this laundry set is nothing special. Neither machine looks or feels terribly cheap, which is nice, but neither looks or feels very fancy, either. The single best word that can be used to describe them is boring, and that's being generous. The controls are easy to read and look extremely similar to some Whirlpools we've tested, but the knob itself feels a bit stiff. The dryer has a hamper door—a nice convenience we don't see often enough these days that lets you unload your laundry using the door itself as a ramp into your laundry basket—but the opening itself was miniscule, with a hobbit-hole style handle almost in the middle of the door.
Haier touts this machine as the first one in its top loader lineup to feature an LED display. It appears that the "estimated time remaining" display is connected to the load sensors, as it refused to give us any time estimates before a wash cycle started. Under the show floor lights, it was also quite difficult to read. It's certainly a step up compared to some of the products we've reviewed from this company, but it's clear it isn't a enough to separate it from the herd.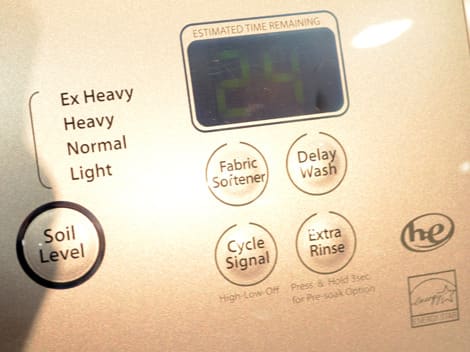 Lack of fancy appearances aside, this is a pair that perfectly suits American sensibilities. First off: they're big. Not as big as some of the larger capacity machines on the market, but at 3.6 cubic feet for the washer and 7.0 cubic feet for the dryer, it's the largest pair that Haier has imported to the US to date. As far as energy efficiency—a major concern for Americans—the washer earned a Tier III energy rating — the highest possible.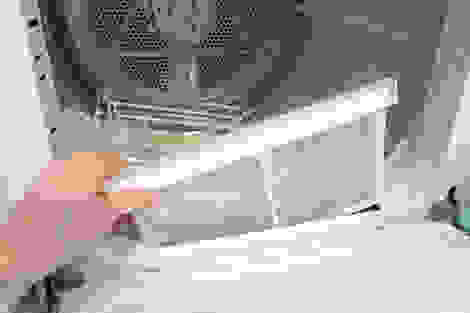 Haier also deployed some PSYOPS: To combat consumers' common complaints that high-efficiency washers don't fill to the top with water, Haier's R&D team made the Cascading Spray System. While maintaining high efficiency, it gives the appearance of a waterfall-like spray that should look and sound satisfying. Effective psychological manipulation? Absolutely.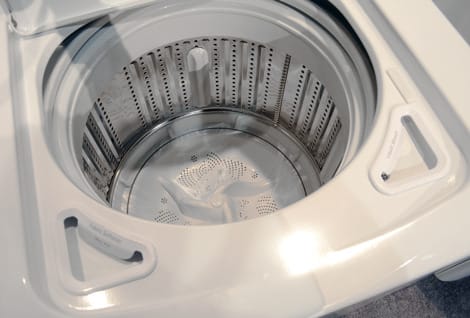 The other big innovation—take "big" with a grain of salt, since we haven't actually had a chance to test it yet—is the new "shark fin" design on the wash plate. This three-fin design is supposedly gives clothes a gentler agitation experience while still moving them around enough that they get clean.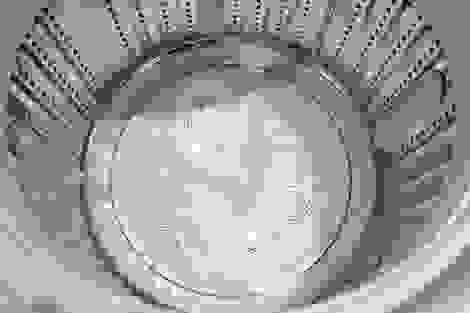 Surrounded by fancy smart appliances, Haier's simple laundry pair looks a bit dowdy. But it's proof that the company is trying to understand the unique wants and needs of American consumers. If the machines work as well as the company claims, and if customers are willing to buy an inexpensive set from a lesser-known manufacturer, this workaday set may end up in more American homes than any wireless fridge or Android-equipped oven.
Up next