With the economy recovering and unemployment receding, Americans are stepping up to the plate to remodel their homes. But not all home improvement projects are created equal. Some homeowners will spend a few hundred dollars to spruce up modestly, others will invest thousands in a major remodel.
Not all of these projects will result in significant return on investment.
You may not be planning to sell your home in the short term, but it's smart planning to at least know where you'll get the best bang for the buck on improvements. The answers may surprise you.
Topping the annual ROI list for Remodeling magazine in 2014 was—drumroll, please—a 20-gauge steel front door. The magazine estimates the total cost of the new door for a midrange home at $1,162, but says the improvement adds $1,122 to the home's value, a whopping 96.6 percent return on investment when the home is sold.
Conversely, way down Remodeling's list of ROI for improvements: home office conversions and sunroom additions, both of which can be expected to return only about half of their investment.
Why steel doors? "In part, it's because the cost for a professional to install is relatively low—all you have to do is hang the door," said Craig Webb, Executive Editor of Remodeling, which compared results for 35 popular remodeling projects. "Compare that with the amount of time, effort and planning to do a kitchen or bath. The perceived value by realtors is very good, relative to the cost."
But generally, unless home valuations in your area are on a tear, expecting anything close to a 100-percent return on outlay is unrealistic, experts say.
"The most you're likely to recoup from any project is 85 percent of what you spent," said Cheryl Reed, a spokesperson for Angie's List. Angie's List polls its service providers—realtors and remodelers—to estimate return on investment for home improvement projects. Reed says the company finds kitchen remodels typically have the best ROI, followed by bathrooms, decks, and siding, all at about 80 percent.
Reed and others caution that neighborhood standards can vary. If you live in a gated community full of pools and three-car garages, a home with a tiny garage or missing pool might be at a disadvantage when it comes time to sell. By contrast, adding a pool or expanding the garage might not be smart if you live in a more modest neighborhood—those upgrades might be out of step with what potential homeowners want.
Our advice: Talk to trusted contractors and real estate agents in your area ahead of any big projects. They can help you better understand what local buyers are looking for. "You need to get to a granular level as much as possible," added Reed.
Selling a home isn't usually a snap decision. For most of us, there are months or perhaps years of planning and painstaking decision-making leading up to the day we plant a For Sale sign on the front lawn. In the meantime, you might as well invest in home improvements you can enjoy, too.
---
The Kitchen
Remodeling says that, nationwide, a "minor" kitchen remodel—costing an average of $18,856—recoups its investment at 82.7 percent. (Remodeling's survey results are broken down by region and major cities; results vary geographically.)
"In home-buying, women are usually the decision-makers, and guess where she goes first?" asked Steve Seus, a San Diego-based agent with Big Block Realty. "The kitchen is the top priority. Even if the buyers aren't cooks, she still wants to see updated appliances."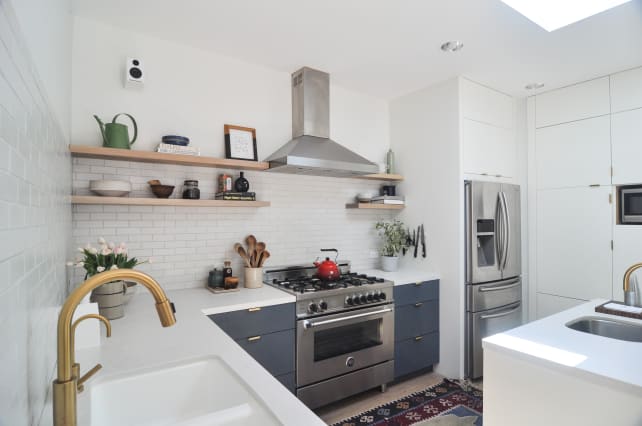 Major appliances—ovens, fridges, dishwashers—usually represent the bulk of the outlay for a kitchen remodel, but it's worth paying attention to finishes and brands.
"Stainless and granite are the buzzwords, and you want mass appeal," said Jay Hart, principal at Sold With Style, a New York-based pre-sale consulting firm. "We also encourage people to do a tile backsplash. It's a little more expensive, but don't cut corners here."
Avoid more unique, taste-specific finishes—simple and classic always wins, and a neutral palette is less confrontational. Remember: Most homebuyers won't have an appetite for major remodels after moving in, so a look virtually anyone can get along with will sell better.
For appliances, it's helpful to match brands, but you should avoid high-end products unless that's what the neighborhood demands. "If your price point doesn't support Wolf or Sub-Zero, you're not going to recoup that investment," said Hart. "GE Profile and LG are good brands people recognize and appreciate, at a fraction of the price."
Bonus: By dodging premium appliances, you'll avoid overshooting your budget.
"Buying mid-tier appliances will allow you to freshen up your kitchen with new backsplash or faucets, and maybe refresh the face of your cabinets," said Elizabeth Dodson of HomeZada.com, an online hub for tracking home improvement and maintenance projects.
The options for cheap upgrades are endless. New cabinet pulls and light switches might cost just a few dollars apiece. Faucets and doorknobs are two more low-price, high-impact improvements.
---
Related Video
---
The Bath
Rating a close second for ROI behind kitchens, bathroom remodels tend to be less about brands and more about style and features.
A couple decades ago, whirlpool tubs were the rage. No more. Homebuyers want that real estate devoted to larger showers with seamless glass doors, and amenities like steam heads and in-floor radiant heat. But it still pays to keep different kinds of potential buyers in mind.
"If you might be selling your house to a family with children, you need a tub somewhere," Reed reminded us. Similarly, homes in neighborhoods that appeal to boomers and retirees benefit by having accessibility features for aging in place—standards that companies like Kohler are starting to address. The best of these designs look straight out of a boutique hotel, not a nursing home.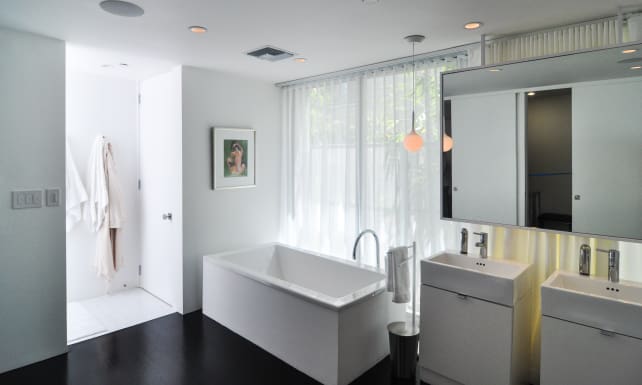 Quality brands still matter—like Moen for fixtures and Toto for toilets—though not as much as they do in kitchens. But after you've spruced up the kitchen, financial resources for a bathroom remodel might be tight.
"A fantastic investment is re-glazing the tubs and tile floors," suggested Hart, who says an entire bathroom can be re-glazed for about $1,500, a fraction of what it would cost to gut it and replace everything. "Re-glazing doesn't create a dream bathroom, but it can make that porcelain tub look almost new."
As with kitchens, neutral color palettes reduce the risk that your bathroom will look like the last decade's leftovers.
When remodeling an older bathroom, don't cut corners with the budget. In older homes, galvanized steel plumbing may need upgrading, in addition to other potential surprises that might be revealed once drywall is removed.
---
---
And Beyond...
There are other improvements that offer impressive bang for your buck when it comes time to sell. According to Remodeling, a quality wood deck can return 87.4 percent of its cost (estimated to average $9,539). Not usually counted in the square footage for a home, a deck not only adds usable space to a home's living area, but also makes it seem like a better entertaining venue.
And there are plenty of ways to improve a home's value without dipping so deep into the piggy bank. Take refinishing hardwood floors, for example.
"In the 50s and 60s, the trend was to cover up hardwood with carpeting," said Seus. "Now it's the opposite; buyers want to see that living room and dining room with beautiful, finished hardwood floors." Experts say leaving hardwood in suboptimal condition means leaving money on the table.
Lighting fixtures are another modest investment that can pay off handsomely—especially in the entryway and dining room. "Plus, you can exclude them in the sale price and take it with you to your next place," said Hart. "Or use them as a negotiating point to sweeten the deal."
But don't overlook less sexy repairs that need to be tackled to make your home salable. Your front door may not need to be replaced, but a quick paint job will make the entryway—the first thing visitors see—more attractive and inviting.
"The old adage that kitchens sell homes tends to be true," explained Cincinnati realtor Jake Cain. "But if you have a pristine kitchen and have drywall in the bathroom that needs to be patched, you still need to fix that before you sell."
If that front door or drywall is an eyesore, repairing it now—before you have to—means you get to appreciate the benefits while you still live in the home.
Hero image: Flickr user "remarketingexpert" (CC BY-NC-ND 2.0)
Our editors review and recommend products to help you buy the stuff you need. If you make a purchase by clicking one of our links, we may earn a small share of the revenue. Our picks and opinions are independent from any business incentives.