Laundry
Everyone can see your sweat stains—here's how to get rid of them
Because your white t-shirts shouldn't have yellow armpit stains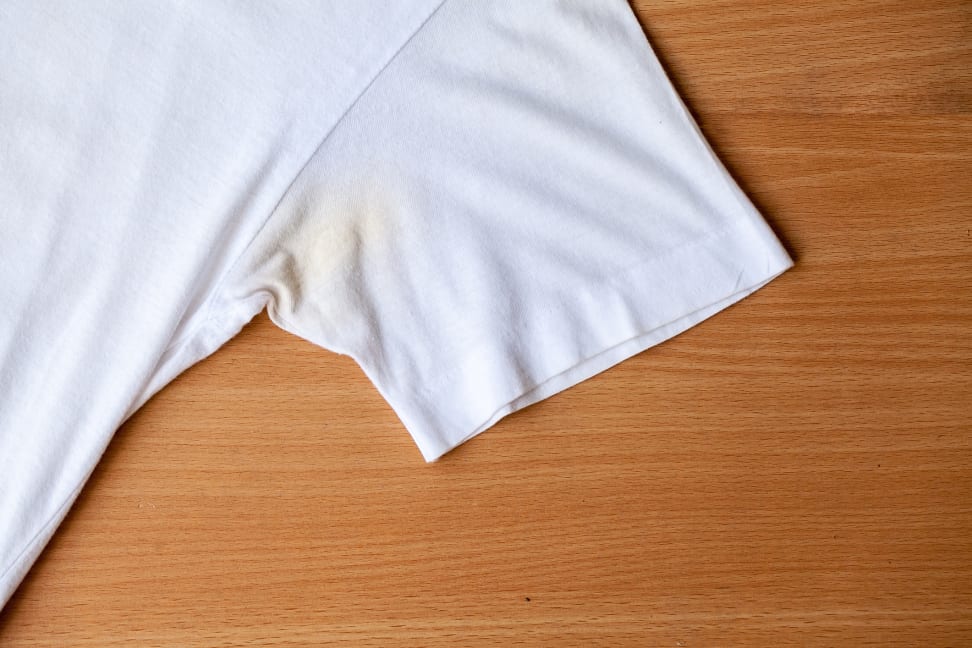 Credit: Getty Images
Summer means it's time to break out those white t-shirts. But if your favorite tees have stains under the arms, don't fret! With a little help from some common household ingredients, you can have your shirt looking as white as new in about 40 minutes.
While they're commonly known as "sweat stains," those ugly yellow discolorations that appear on the underarms of a shirt are actually the result of a reaction between aluminum-based antiperspirants and your body. Here's how to remove them from a white shirt.
What You Need:
1 cup vinegar
1/2 cup baking soda
1 tablespoon salt
1 tablespoon hydrogen peroxide
Prep Time Needed: None
Total Time Needed: Approximately 40 minutes, plus laundry time
Difficulty: Easy
Mix vinegar and two cups of warm water in a bowl.

Soak the shirt the mixture for at least 20 minutes.

While the shirt is soaking, mix together the baking soda, salt, and hydrogen peroxide until it forms a thick paste.

Remove the shirt from the vinegar water and gently squeeze until the shirt is just damp.

Lay flat on a towel-covered work surface and saturate the stains with the mixture.

Let the paste-covered shirt sit for at least 20 minutes.

Toss the shirt in the laundry with a load of white clothes and wash.
Related Video